Dublin weddings are so versatile! A luxurious affair at the Merrion or an intimate dinner at a cosy restaurant? Saying your vows in the grand rotunda of the City Hall or the hip Medley? It's no wonder city weddings are on the rise, and more and more couples want to tie the knot there!
Then there are the practical reasons. If you live in Dublin it's easy to invite all your friends and family to a venue in the city centre. It's also handy if you are planning an international or a destination wedding and your guests are flying over. Or maybe your heart is just set on Dublin, its quirky streets and beautiful urban atmosphere. One way or another, there are plenty of fantastic Dublin wedding venues to choose from.
If you are still undecided between a city or a country wedding, check out my list of best wedding venues in Ireland.
DUBLIN CITY HALL
Another iconic ceremony space, Dublin City Hall on Dame Street is hard to miss. This impressive temple was built in the 18th century, and the light-filled Rotunda will take your breath away every time. It's a really popular ceremony venue in Dublin, with dates getting booked up at least 6 months in advance.
The City Hall doesn't host dinners but most couples are happy to use it for their vows and drinks reception afterwards. Besides, there are multiple restaurants available in the city for your evening meal. Weddings at City Hall are held over 3 hours – you have an hour before your ceremony to dress the Rotunda and an hour after to mingle with your friends, have a few drinks and take some stunning photos. The set hire fee is €1250, and the City Hall seats up to 200 guests.
My favourite part about Dublin City Hall is, of course, the endless photo opportunities! The building is stunning both inside and out, there is ample space for both group photographs and couple portraits, and the light from the tall windows is probably the best in Dublin!
THE MERRION HOTEL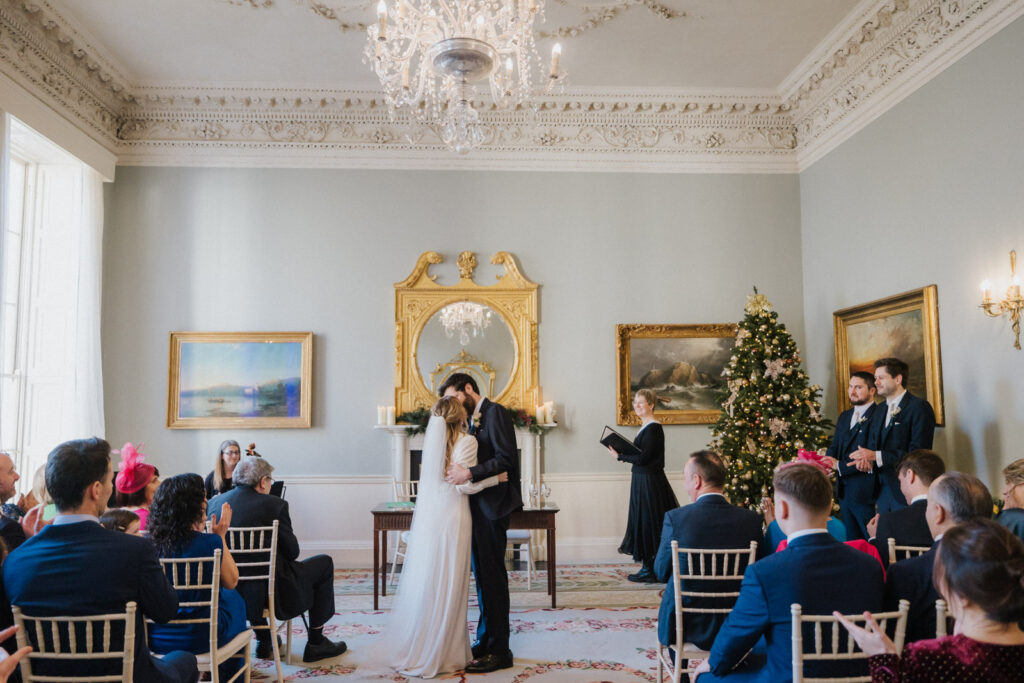 If you're creating a truly elegant and luxurious celebration in the heart of Dublin you couldn't find a better venue than the Merrion Hotel. Located just in the iconic Georgian quarter of Dublin, it offers charm and some of the best service in the city, as well as award-winning food.
The Merrion hosts weddings of up to 80 guests with packages starting from €159pp. The Welllington Room is one of my favourite ceremony spaces in Dublin – it's elegant and airy, with stunning artwork and original plasterwork.
After your ceremony you will come down the grand staircase to enjoy your drinks reception. In summer you can head on to the outdoor courtyard and in winter there is the cosy Fitzgerald Room on the first floor. The drinks reception is followed by an amazing four-course dinner – I have heard more than once that the food at the Merrion is divine!
FALLON & BYRNE
Located in the very heart of Dublin, on Exchequer Street, Fallon & Byrne is one of the most popular Dublin wedding venues. It's an iconic spot for city foodies – there's a supermarket on the ground floor with high quality artisan foods, and a cellar wine bar in the basement. The first floor is a restaurant, and the Ballroom is on the second floor – a popular space for weddings, ceremonies, and events. The large windows let in plenty of light and overlook the historic George's Arcade. With its focus on great food and wine, you can have a truly sumptuous wedding party.
Fallon and Byrne hosts both ceremonies and wedding dinners in the ballroom, starting from 50 guests midweek and 80 on weekends, with its maximum at 120 guests. For the drinks reception you'll need to book a space in one of the city centre pubs – the Stag's Head is a popular choice and it's just around the corner. During this time Fallon and Byrne can change the layout of the room to serve dinner.
There are no set packages, as they like to tailor everything to each individual couple. Most couples go for a sit-down meal but there's also a banquet option with pod tables and a banquet menu where guests are free to walk around and mingle. There's also a sumptuous wedding desert table option that you really can't miss! Food and wine is at the heart of everything they do at Fallon and Byrne.
The open space Ballroom with its white walls is the perfect canvas for personalizing your wedding day. You can keep it simple and elegant or add colour for a festival theme. And there are amazing photo opportunities of Dublin city right on the doorstep.
http://www.fallonandbyrne.com/weddings-events/weddings/
WRIGHTS ANGLERS REST
If you want to enjoy the best of both worlds Wrights Anglers Rest in Strawberry Beds is just a 15-minute drive from Dublin centre. Yet it feels like you're miles away from the city. Perched on the edge of Phoenix Park, this bright yellow cottage oozes traditional Irish charm. The open fires will make you feel right at home, and the golden chandeliers will give your party a luxury feel.
You can host both your ceremony and your dinner at Anglers Rest. There are two rooms upstairs – the striking Phoenix Room with golden chandeliers, and a smaller ceremony room with vaulted ceilings, accommodating up to 150 guests. In between is a cosy space for your drinks reception and dancing later. You have the first floor all to yourself for your wedding day, and there are lots of attractive midweek and off-season packages available. Another part I love about Anglers Rest weddings is that the dinner and dancefloor are separate areas, so your band or DJ can set up without having to wait for the room to be rearranged.
Anglers Rest focuses on creating a traditional Irish experience – warm and cosy but with added luxury at the same time. The menu is full of mouth-watering quality meats, game and fish options. As for the photos, Phoenix Park is right on the doorstep, and who wouldn't want deer in their wedding photos??
NATIONAL GALLERY OF IRELAND
National Gallery of Ireland is an elegant and unique option for an intimate city wedding. Just across the street from Trinity College, it hosts ceremonies, drinks reception and wedding dinners for up to 40 guests.
There are 3 main options – ceremony and light refreshments (3 till 5pm), drinks reception (till 7pm) and dinner (till 10.30pm). The wedding is held in the Lavery or Purser room, and you'll have to organize your own catering. As part of the reception you can even arrange a private tour of the National Gallery for your guests. As for the photos, the Georgian rooms are absolutely stunning, and Merrion Square Park is just around the corner for some outdoor options.
https://www.nationalgallery.ie/what-we-do/civil-ceremonies-national-gallery-ireland
THE SHELBOURNE HOTEL
With its rich history spanning over 200 years, the Shelbourne Hotel has witnessed incredible events. It was in the centre of the conflict during the Easter Rising of 1916, and then in 1922 it played host to the historic meeting when Ireland's first constitution was drafted. The Constitution Suite still contains the original table and chairs, and you can have both your ceremony and reception in this historic room!
Now a stunning modern venue, the Shelbourne weddings are relaxed and elegant. There are multiple suites available for both smaller and larger weddings, with the most lavish celebrations hosting up to 300 guests.
https://www.theshelbourne.com/meetings-special-events/weddings
25 FITZWILLIAM PLACE
One of the most elegant wedding venues in Dublin City Centre, 25 Fitzwilliam Place with its original Georgian decor is absolutely perfect for a more intimate celebration. Hosting up to 90 guests, you can have both your ceremony and reception in its beautiful interiors.
https://www.25fitzwilliamplace.ie/weddings/
MEDLEY
A chic event space just across the street from the Temple Bar, Medley is stylish urban Dublin wedding venue. Spread out over 2 floors, Medley has a lot of space and is great for both intimate and larger weddings. They even include it in their package options – you can host your ceremony there, have drinks reception and dinner, or invite a larger group to an afterparty for up to 250 guests.
There are several distinct packages available. You can have a laid-back celebration with a cocktail reception, a picnic basket starter and a sharing main. You can go for a more traditional celebration of up to 100 guests with a sumptuous five-course meal and perfect wine pairing for every course. I can attest that the food is absolutely to die for. You can even have a 2-day celebration if you have a lot of guests staying overnight and you want to extend the party into the next day.
http://www.medley.ie/weddings/
MARCO PIERRE WHITE, DONNYBROOK
Marco Pierre White has two restaurants in Dublin. One is located on Dawson Street but it's the Donnybrook location that acts as a really popular wedding venue. As you enter you are welcomed into a beautiful lush courtyard, perfect for an outdoor drinks reception. There is an indoor bar to the side in case of less-than-perfect weather and a covered terrace. The atmosphere is chic, urban and swank. It exudes traditional old-school charm but there is nothing old-school about the amazing contemporary menu!
The historic dining room seats up to 160 guests. It boasts some amazing decor elements of antique finds from all over the world with a reclaimed wooden floor rescued from an old church in Kerry. I particularly love the stained glass sky-light letting in amazing light, combined with colourful uplighting.
The restaurant is the perfect option for your drinks reception, and there are multiple options to host your ceremony in the city – from the City Hall to beautiful churches like the Unitarian Church on the Green or Trinity Chapel. Marco Pierre White is an easy 15-minute taxi, or even bus ride to Donnybrook.
https://marcopierrewhite.ie/donnybrook/
CLONTARF CASTLE
For those of you who are after a more traditional wedding venue but don't want to leave Dublin, there's a real 12th century castle just 15 minute drive from the city centre. Clontarf Castle is timeless, historical, and the service is top-notch.
In addition to its historical part, Clontarf Castle has added a hotel extension, combining both old style and modern comfort. There are a number of function rooms available. The recently renovated Great Hall seats up to 360 people but there are smaller rooms for more intimate weddings. Fahrenheit Restaurant, located in the original 800 year old wing, is a striking option for wedding dinner up to 60 guests. You can also use the space for your wedding ceremony for a supplement of €500. The Viking Suite flooded with light is normally reserved for wedding ceremonies and drinks reception. There's also the glamorous Indigo Lounge on the ground floor – perfect for a post-dinner party and dancing.
All Clontarf Castle packages include a mouth-watering 5-course meal. You can add canapes, cocktails and seasonal drinks. Being a hotel, Clontarf Castle is also one of the few Dublin wedding venues where you and your guests can stay the night.
https://www.clontarfcastle.ie/
---