Dublin City Hall wedding is always a really unique celebration. Originally built in the 18th century as the Royal Exchange, it has an impressive history and even more impressive interiors. The famous Rotunda never fails to take your breath away. So many couples dream of saying their vows in this elegant hall that dates get booked many months in advance!
Clare and Duncan dreamt of getting married in the iconic Dublin City Hall but it's not so easy to find an available date there. They almost gave up and opted for a registry office wedding when suddenly the City Hall had a cancellation, and on a Saturday too! If you want a wedding with city vibes you couldn't pick a more impressive location. Surrounded by marble walls, columns and murals, it's an especially elegant building. No more elegant than Claire herself though! Her Folkster Bridal gown fits her like a glove.
Dublin City Hall Wedding Ceremony
So what's involved in getting married at the Dublin City Hall? First, you'll need to contact the HSE to inform them of your intention to marry, minimum 3 months beforehand. This is a standard procedure for any wedding in Ireland. You will then be able to choose between holding a Civil ceremony (Mon-Fri) or Secular ceremony (Mon-Sat). If you opt for the latter you'll need to organize your own registered Secular Solemnizer from the Humanist Association of Ireland.
Dublin City Hall Wedding Cost
It costs €1250 to get married at the Dublin City Hall, including a deposit of €550 to secure your date.
The hire fee includes approximately 3 hours at the City Hall – 1 hour prior to the ceremony to decorate the venue and allow the guests to take their seats, the ceremony itself and an hour after for a drinks reception and photographs.
The City Hall will also provide an antique table and antique chairs for the bride and groom, along with 200 black fold-out chairs for the guests laid out in theatre style. If you'd prefer to use different chairs, there are several hire options recommended by the City Hall.
There is a PA system that you can use to play music from your iPod.
The main thing that comes along with your Dublin City Hall wedding is, of course, the inimitable architecture and atmosphere of the historic Rotunda, clad in marble, surrounded by beautiful statues and filled with light.
Do's and Don'ts for Dublin City Hall Wedding
Every couple want to make their wedding day look as personal as possible, and the Rotunda is certainly a beautiful place for it. You'll have an hour before the ceremony to put your own stamp on the space. You are welcome to
use encased lanterns for candles,
hang aisle markers,
place flower arrangements on tables, and
dress ceremony chairs.
However, being an official building, the City Hall has certain restrictions that you might want to consider before hiring it for your wedding ceremony.
There are no open flames allowed on the ground (you can still light candles for the ceremony).
You can't bring balloons or inflatable decorations (have a look at the height of the Rotunda dome, and you'll see why!).
You're not allowed to bring confetti, rice and loose petals.
Don't attach anything to the floor or walls with blu tac or masking tape
No pets allowed.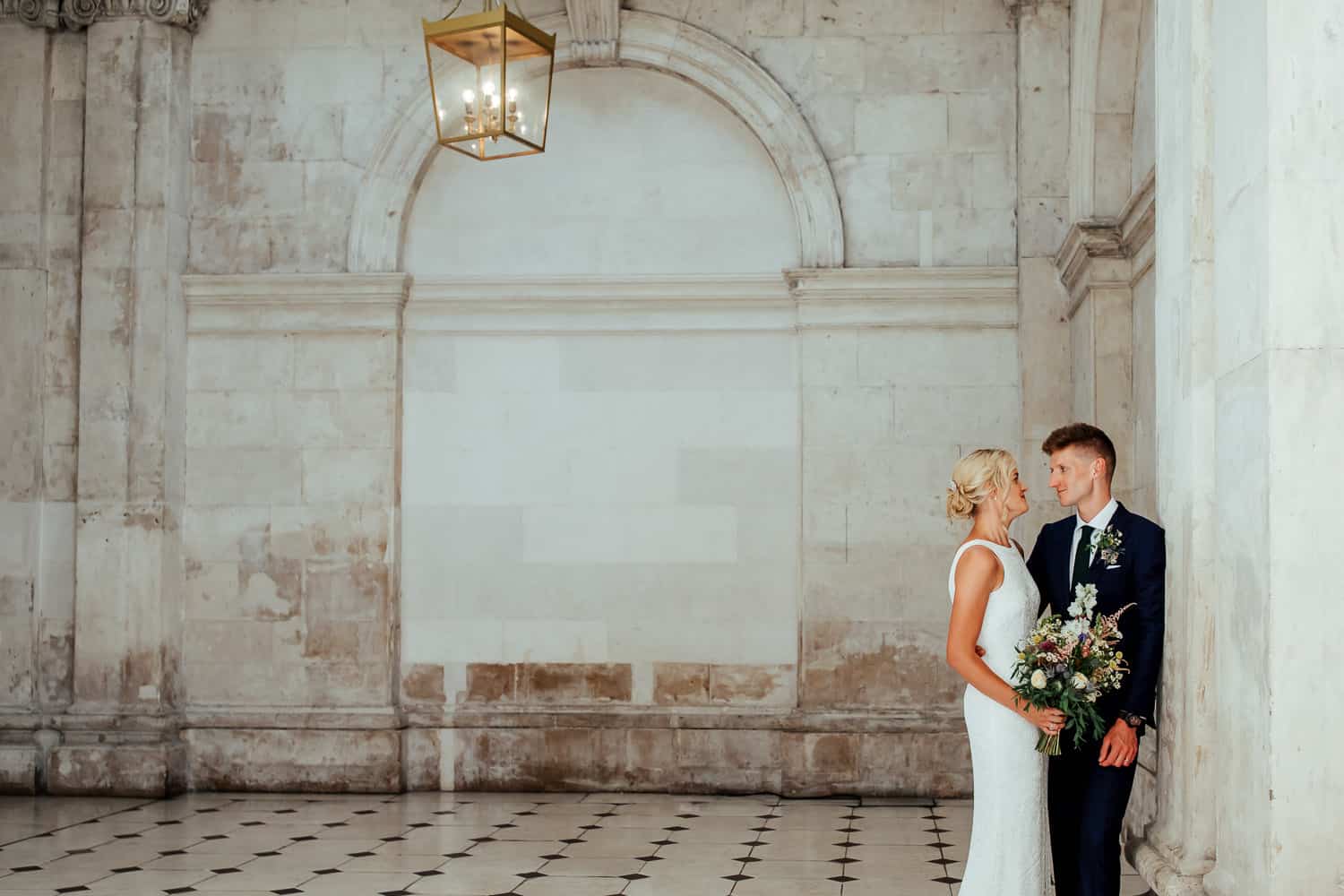 Photography at Dublin City Hall
One of the main reasons so many couples dream of a Dublin City Hall wedding is, of course, its unique aesthetic. Capturing the fantastic surroundings in photographs is certainly one of the highlights! Besides documenting the ceremony itself, it's great to spend a couple of minutes afterwards to capture the beauty of the Hall. The drinks reception is normally held in the East Wing of the Rotunda (to the left of the entrance). This leaves the West Wing the perfect space for photos. The Rotunda is filled with light from all over, making it ideal for natural photographs. You'll have access to the staircase in the West Wing for more angles. I also recommend to my couples to let all the guests leave the City Hall first so you can have the space to yourself for some stunning shots.
Drinks Reception at Dublin City Hall
The hour after your ceremony is normally dedicated to a drinks reception when your guests have a chance to get some refreshments and catch up with you. Whatever catering company you choose to go with, there are a few common sense rules to follow in regards to hosting your reception in the City Hall.
Cooking and gas cylinders are not allowed on site but food reheating is permitted. More often than not couples choose cold canapes.
Alcohol is allowed, with the exception of draught beer.
Any vendors working at the Dublin City Hall are required to have public liability insurance for the amount of €6.5 million. Make sure you check that your vendors are covered for it, including your photographer!
The Bridal Morning Swim
Clare and Duncan's awesomeness doesn't stop there, by the way! The bridal morning was one of the most exciting I got to photograph. It started by the bathing spots in Bull Island. Clare brought all of her family and the bridal party for a morning swim! I can't help admire Irish people even though I'd never dare get into the cold water myself 🙂 Both Clare and Duncan are keen swimmers, it's no wonder they decided to name their wedding tables after swimming spots around Ireland. Such a cool idea!
Brother Hubbard Wedding Reception
As Dublin City Hall does not provide space for an evening meal, most weddings are held in restaurants in Dublin City centre. I was really excited when I learnt that Claire and Duncan's wedding dinner would take place in one of the most beloved brunch spots – the famous Brother Hubbard on Capel Street! Clare and Duncan approached the restaurant about hosting their wedding there, and the guys totally jumped on board the idea. They put on a Middle Eastern feast for almost 200 of their friends and family!
We had a bit of time between the ceremony and the dinner at Brother Hubbard. What followed was a relaxing stroll through the streets of Dublin. Or as relaxing as it can be on a Saturday afternoon with a hurling match on! We discovered that most of the time Dublin people prefer not to draw attention with cheering or clapping but Dame Lane and the Temple Bar are the exceptions. If you want lots of love from total strangers, head there in your wedding attire 🙂 So much fun!
An hour later, we ended up in Brother Hubbard on Capel Street, and the place looked absolutely transformed. It's a bright and airy space filled with greenery and decorated with gilded Moroccan-style mirrors. The terrace is really inviting and was bustling with guests by the time we got in. The table decorations looked gorgeous. Having been to the restaurant for brunch on several occasions, I couldn't imagine how they would fit almost 200 people for their first Brother Hubbard wedding. Yet they absolutely did! The place felt really spacious with the multiple windows and skylights. I hope Brother Hubbard becomes a new cool wedding venue in Dublin because I can't wait to be back there!