We all know that a photo is worth a thousand words but it's also worth a thousand memories. They are like good wine – getting better and more precious with age. Being young and crazy in love is probably one of the most important memories! Whether you are dating or recently engaged, you don't need an excuse to have a couple photoshoot and make memories together. More than that, a wedding should not be the only occasion to have professional photos of the two of you. If you agree and want to go on an adventure together, here is a list of locations where to take couple photos in Dublin!
Where to Take Couple Photos in Dublin
Classical – Dublin Castle / Trinity College
We all love Dublin for its mixture of old and new, classical and contemporary. I was really excited to finally move to Ireland and continue exploring the city not just someone who lives here but as a wedding photographer Dublin. I found that I saw the city in a completely different light and I continue to rediscover it with each of my couples. The columns of Trinity College and the colours of Dublin Castle are amazing spots to get some inspiring shots.
Traditional – Guinness Storehouse / Temple Bar
How about playing tourist and rediscovering Dublin from another angle? You probably can't remember the last time you ventured to Guinness Storehouse except maybe with some friends visiting from overseas. Yet those cobblestone streets and industrial architecture look amazing in photos!
Grunge – Temple Bar / Wicklow Street

Are you young, cool and full of creative ideas? Dublin city centre is full of amazing street art backdrops! I love walking around familiar streets, turning into small alleyways and finding absolute gems. Join me for an afternoon and show me your favourite spots!
Wild – Phoenix Park and Killiney Hill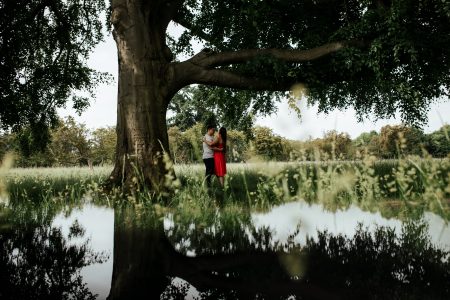 How about some countryside feel in your photos? Dublin's Phoenix Park is the perfect choice! You'll be spoiled for leafy trails, quirky stone bridges, open field and (best of all) deer!
Breathtaking – Howth & Bray cliffs
As a wedding photographer Ireland I travel a lot around the country but I soon learnt one important fact: you needn't drive 4 hours out of Dublin to see amazing scenery. I know Howth cliffs may not sound as impressive as the Cliffs of Moher but they're also much easier to get to, look beautiful in any weather and you might actually stay dry! Howth is one of my top spots to go to for couple photos in Dublin, and the view takes my breath away each time… As a south side alternative, try Bray Head – a bit more of a climb but gorgeous views as well. Have a soft spot for boats and lighthouses? With Dublin being so close to the seaside, there are plenty of cute fishing villages and lighthouse piers. Check out Howth village to chat with the seals or Dun Laoghaire for its elegant promenade.
What are your favourite places in and around Dublin? Tell me in the comments!