An exclusive country house wedding venue,
Horetown House
is like no other. If you are looking for an amazing elegant experience with a vintage touch, read on! Horetown House wedding is warm, friendly, fun and most importantly super relaxed! Located in Ireland's romantic sunny South-East, Horetown House in Co. Wexford doesn't feel too far (just 2 and a bit hours from Dublin straight down the M11). Yet when you get there, you are almost transported into another era. This beautiful stone mansion in the midst of rolling hills and lush birch trees will make you believe you jumped 100 years back in a time machine. C&S fell in love with Ireland so much that they decided to create a truly Irish experience for their wedding guests. They fell in love with Horetown House on their first visit, and it surely didn't disappoint.
Civil Ceremony at Horetown House
Horetown House has two dedicated areas for wedding ceremonies, and both of them are absolutely stunning. The White Room (photo above, you can see where the name comes from!) accommodates between 130 and 150 guests. It's a photographer's dream, and you can be sure you'll have gorgeous ceremony photographs with all the natural light flowing into the room.
The outdoor option is Ceremony Garden where C&S were dreaming of having an outdoor ceremony. We kept checking the weather all morning.
Niamh the superstar wedding coordinator was ready to move the whole ceremony indoors a few minutes before it was due to begin
. And yet Irish luck worked its magic, and the sun came up
just
as the bride walked up the aisle. The Ceremony Garden is a sheltered area with wooden benches and straw bales for seating, perfect for a relaxed garden wedding ceremony.
Horetown House Wedding Reception

Horetown House has delightful vintage feel to it anywhere you go. From heavy curtains and plush sofas to coupe champagne glasses and oldie board games, it's a dream come true. There are plenty of little touches and photo-worthy spots, and I'm a huge fan of their choice of wallpaper!
For your post-ceremony drinks reception the beautiful drawing room is the perfect choice. Besides the traditional prosecco you can organize buckets of beer or a styled Gin Bar – a very popular option. The guests can garnish and mix gin drinks as they wish. Mulled wine or spiced cider are both great choices for an autumn and winter weddings. You can even hire a hot chocolate van with you own personalized paper cups. They use high quality Belgian chocolate spiced with orange, chili and cardamom. Don't know about you, but I think it sounds absolutely delicious!
Dinner is served in the Garden Room. It looks like a marquee at first glance but it's a actually a solid structure with wooden floors, air-conditioning and heating. So you definitely needn't worry about those annoying drafts or the wind shaking the building! The space is lined with cotton drapes, fairy lights and some design elements to create a feel of a tent. The Garden Room is decorated differently for different season, and has a partition for smaller weddings. It also has a PA system for speeches and a full bar so your guests can all stay together. Table decor is included into the exclusive venue hire, and you pick various types of table runners, glassware, personalized menus, props and candles. The place is also decorated with locally grown flowers, which means you can have floral centrepieces at no extra cost.
Niamh the wedding coordinator is an added bonus – she is an absolute star, and her attention to detail is superb. She'll make sure everything goes smoothly and make the day super personal. For example, by handing out these ice cream brunches straight after the ceremony. The bride was obsessed with them and she couldn't be more delighted!
Accommodation at Horetown House

Horetown House gives you exclusive use of their 10 bedrooms, accommodating up to 24 adults. All the rooms have unique decor full of antique elements and character. Each room is en suite, with cosmetics and hairdryers. You can hire the venue the day before and stay the night, or you can get ready elsewhere and arrive at Horetown before your ceremony to put on your dress. That's what C&S opted for – they stayed in a local hotel with their bridal party, but the Horetown bridal suite is just too beautiful not to use for photos. It was perfect to use it for the final touches and relax a little before the ceremony.
For the rest of your guests a mini bus is there to drive them to various B&Bs around the venue after 1.30am. Meanwhile, you can move your more intimate party session into the 1692 bar downstairs. It's the original cellar of the house, converted into a traditional Irish pub! The vaulted ceilings, stone walls and open fires make it the perfect atmosphere for a late session.
Where Can I Take Photos?
One of the most picturesque wedding venues I've been to, Horetown House has plenty of little photo spots. They are are both outdoors and indoors, in case the weather isn't favourable on the day. The rolling hills and birch trees make for a beautiful green backdrop. The fairy lights are super pretty for evening pictures, and the vintage drawing room with large windows is a stunning location. It's a huge advantage to your wedding day that you don't have to go far for wedding photos and can spend more time with your guests. While your guests are having a drink in the drawing room you can enjoy an intimate stroll around the grounds, and all the little nooks and crevices are really close. After everyone goes into the marquee to sit down for dinner, the house is fully yours, and you can grab lovely indoor portraits with a vintage feel. And if you opt to do
a first look
there are plenty of intimate spots where you can avoid your guests before the ceremony and have a bit of privacy.
Horetown House Wedding Menu. What is the Food like?
The best part of wedding planning is, of course, food tasting! You'll be blown away by the massive selection of canapés, starters, sharing plates and main courses. Most of the produced is sourced locally, and we know Wexford is famous for its food. I love the idea of red wine poached pear, Croszier Blue cheese and toasted walnut salad. The mains include 8 hour slow-cooked short rib of Wexford beef, crispy confit of Duck and Grand Marnier roast fillet of Hake. And for dessert there is apple and frangipane tart with apricot glaze, or vanilla panna cotta with Wexford strawberries. Mouth watering yet?
Some menu excerpts below:
Starters:
– Country style terrine of Wexford pork, chicken liver and pistachio served with chutney, pickles and toast
– Bluebell Falls Goats cheese in herb crumb, bacon and onion jam, baby leaves, hazelnut vinaigrette
– Salad of red wine poached pear with toasted walnuts, soft Crozier Blue cheese, red wine vinaigrette
Sharing Boards:
– Italian Board: Parma ham, fennel salami, buffallo mozzarella, vine tomatoes and basil, olives, mushroom tostada, sourdough bread
– Winter Board: Irish Oak smoked salmon, smoked mackerel pate, goat's cheese in herb crumb, cucumber pickle, balsamic roast beetroot, sourdough bread and garlic mayonnaise
Main Courses
– Roast loin of local pork with crispy crackling, pine nut and apricot stuffing, sweet apple jelly
– Crispy confit of duck, potato gratin, spiced cabbage, grand marnier roast fillet of hake, crushed new potatoes, pea puree, herb veloute
– Grilled organic salmon, crushed new potatoes, roast cherry tomato, beurre blanc
– Creamy risotto with vegetables from the garden, mascarpone, parmesan, fresh herbs
Dessert
– Belgian chocolate and pistachio brownie with homemade vanilla ice-cream
– Apple and Frangipane tart with apricot glaze, creme anglaise and whipped cream
– Tunisian orange cake, spiced syrup, berries and creme fraiche
Horetown House Wedding Cost
Similar to other exclusive wedding venues, Horetown House charges exclusive wedding day hire fee. Menus start at €85.99pp, depending on how many course options you pick and whether you include wine and canapes. The house hire includes a lot of extras. Besides 10 bedrooms and freshly cooked full Irish breakfast the next day, you also get use of fresh flowers and candles throughout the house. The use of ceremony space is at no extra charge. The wedding coordinator will arrange a planning meeting, and also be with you from check in until dinner to make sure your day runs smoothly. Bathrooms are stocked with guest baskets. And then, of course, there's food and wine tasting leading up to your wedding!
You also have the option of day before and / or day after house hire, to relax, do a barbeque and play garden games!
Scroll below to get some inspiration of what your Horetown House Wedding could be like.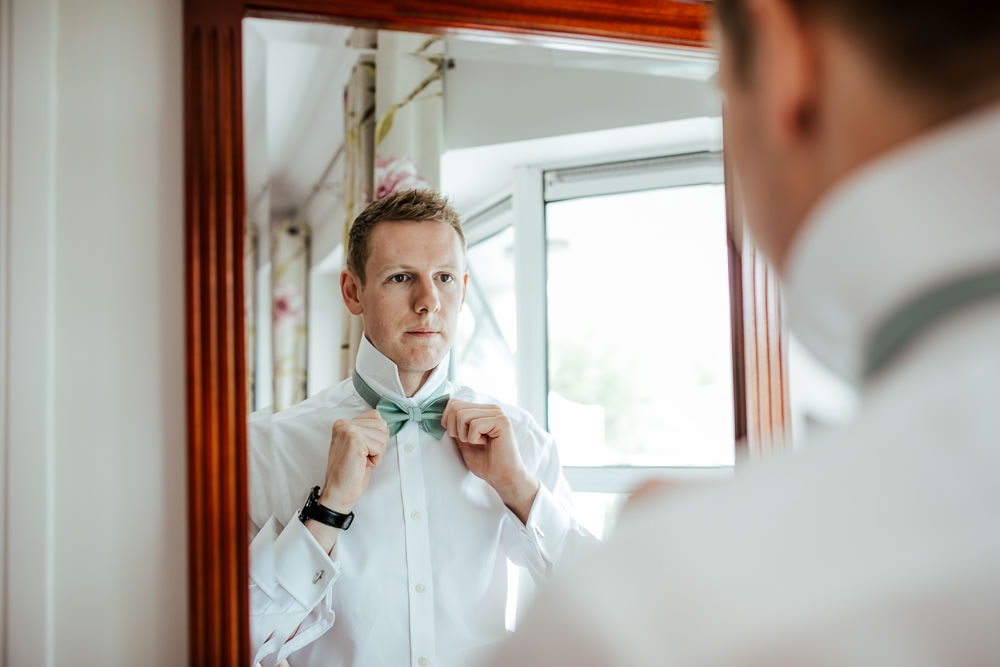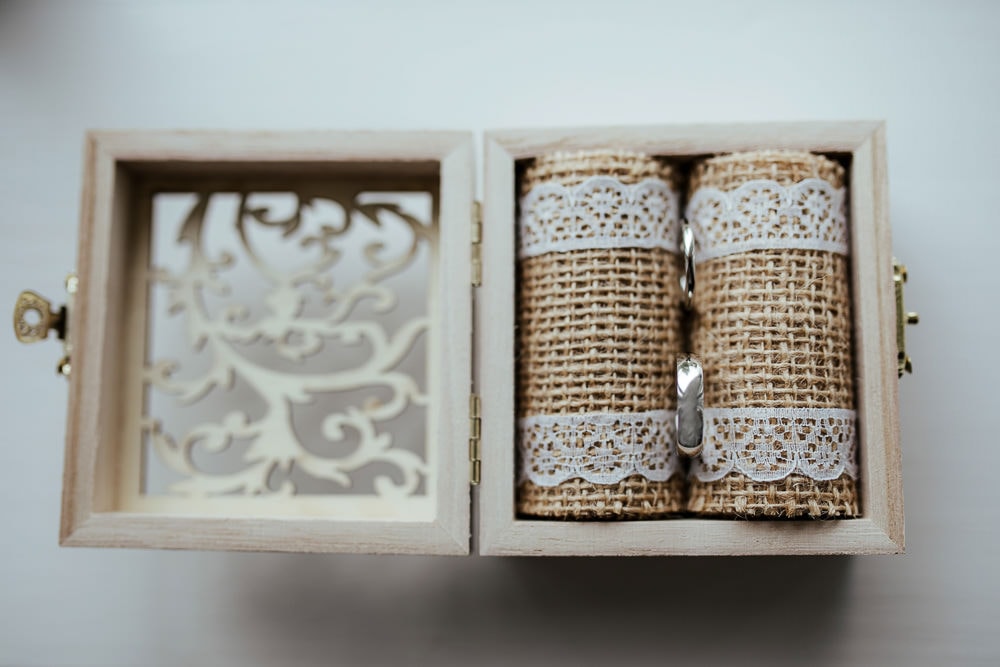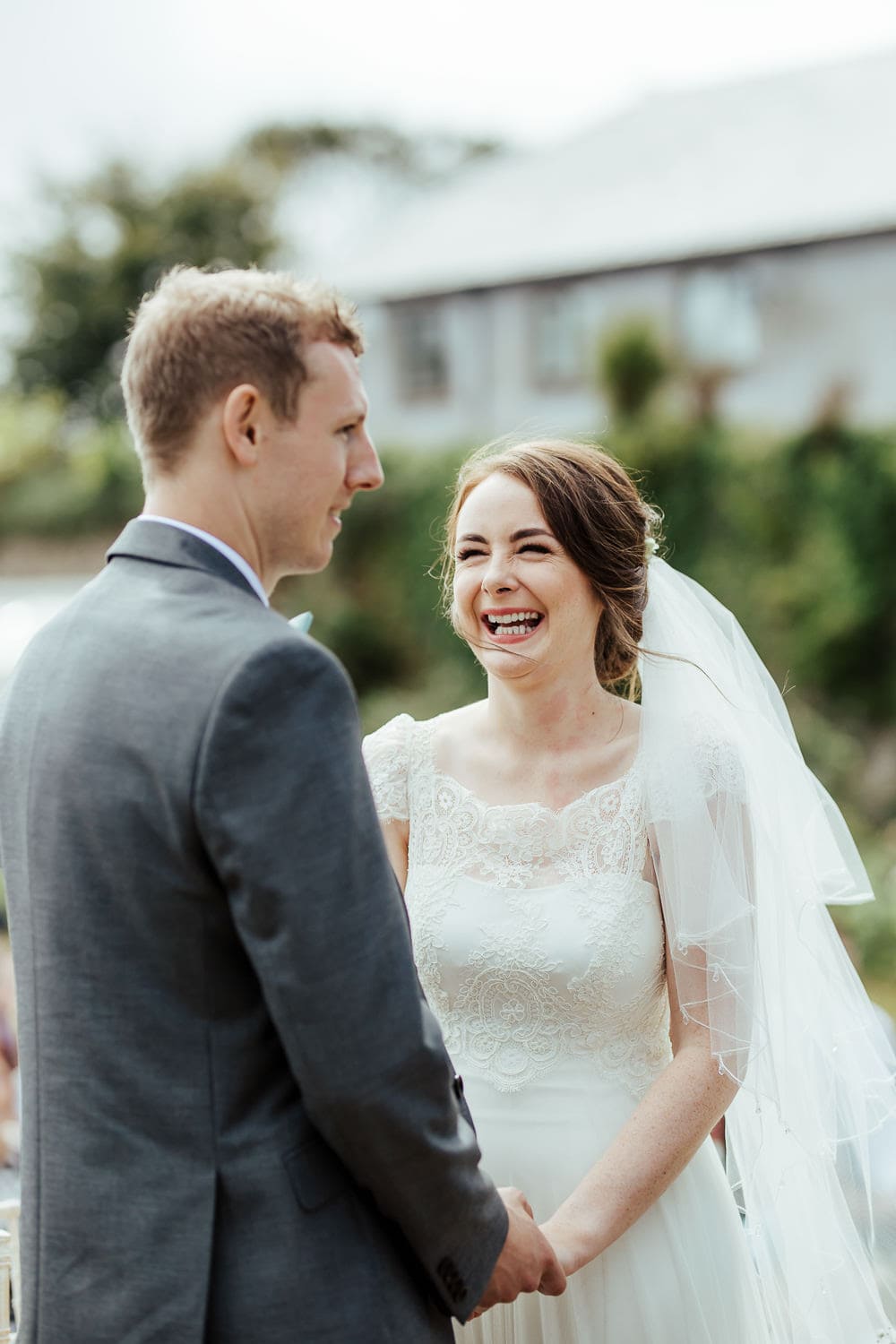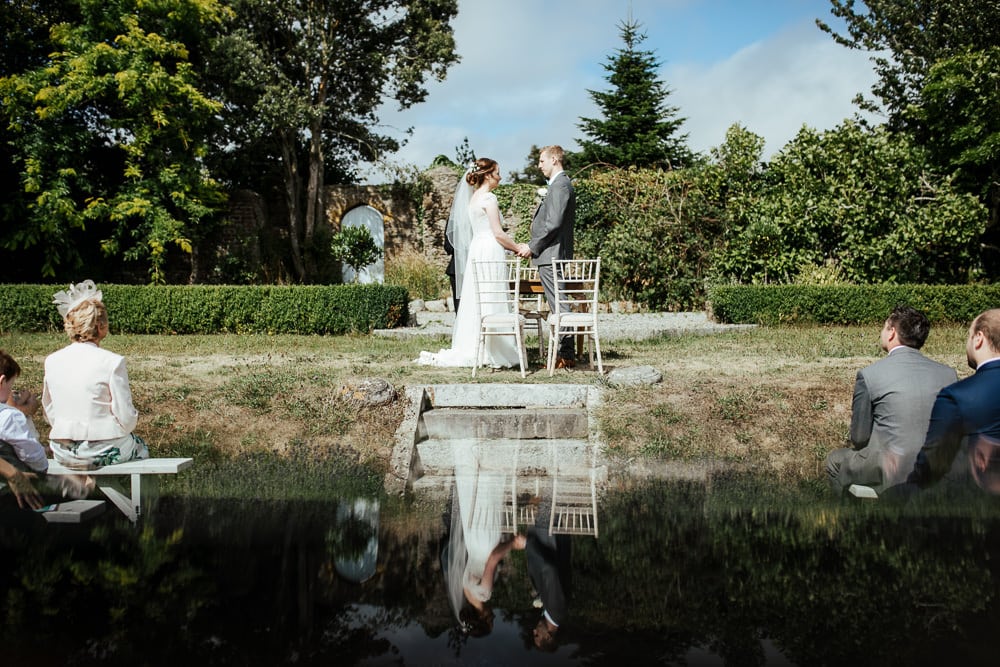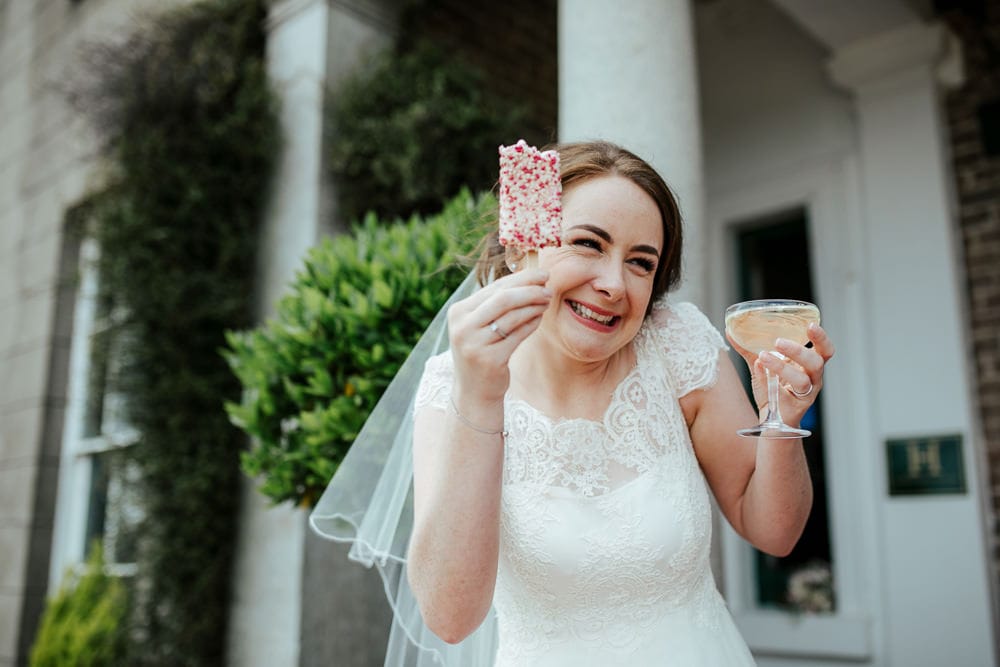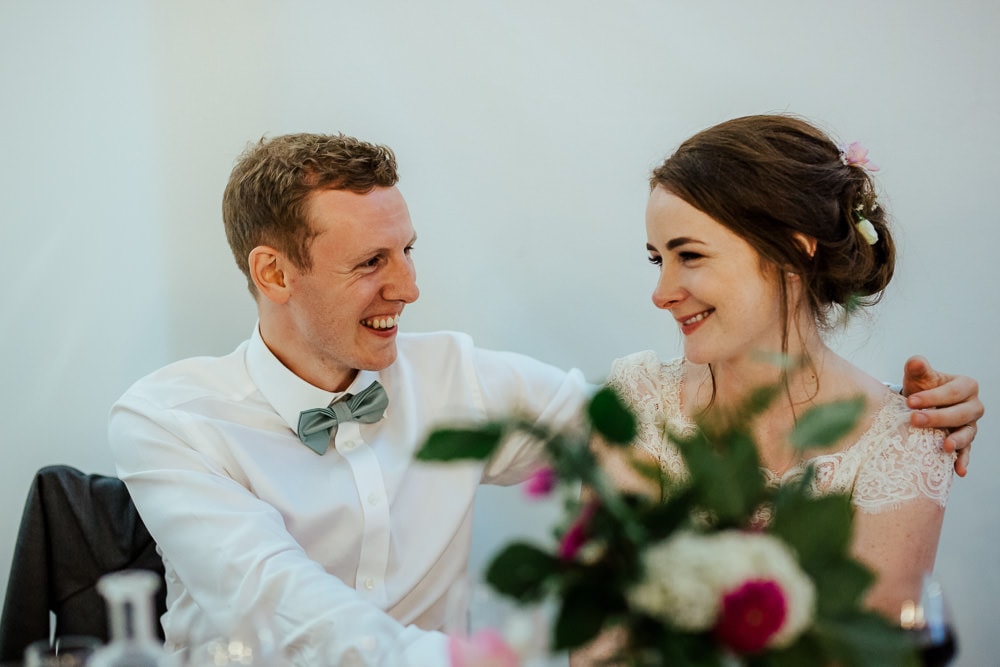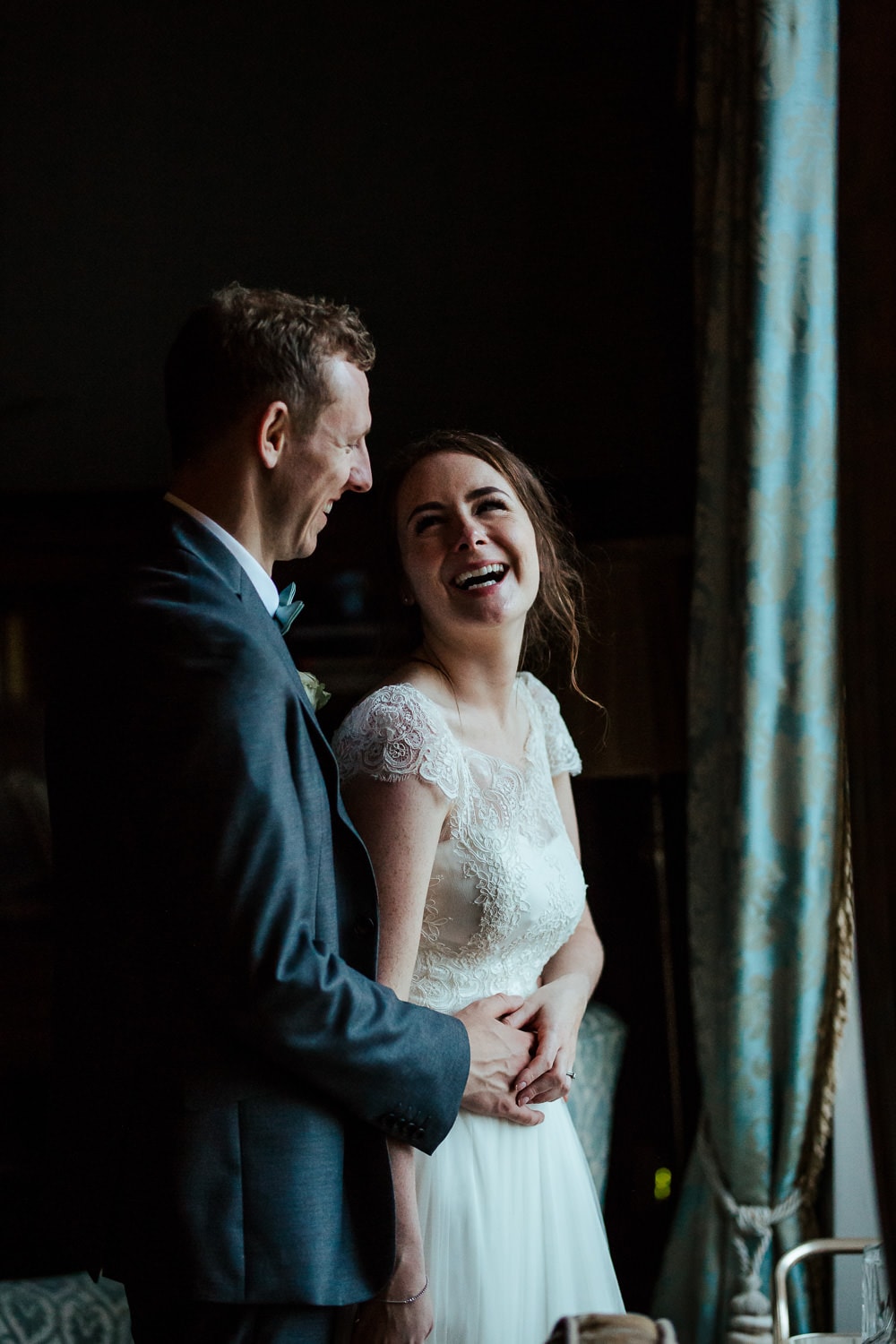 OTHER REAL WEDDINGS AT HORETOWN HOUSE