The wedding day timeline is incredibly important, not just for your photographer and videographer but for everyone else involved. No matter how laid-back and relaxed you want your wedding to be, coordinating more than one person always requires a certain bit of planning. It helps us to be on the same page and coordinate with each other. It helps YOU avoid stress on your wedding day and not worry precious time slipping away. Most importantly, it helps you enjoy every moment of your day. As a wedding photographer in Ireland, I've seen a good few weddings. So here is a list of 9 most common wedding day timeline mistakes that you want to avoid!
9 Fool-Proof Ways to Avoid Stress on Your Wedding Day
1. Time for Hair and Make Up: How long is long enough?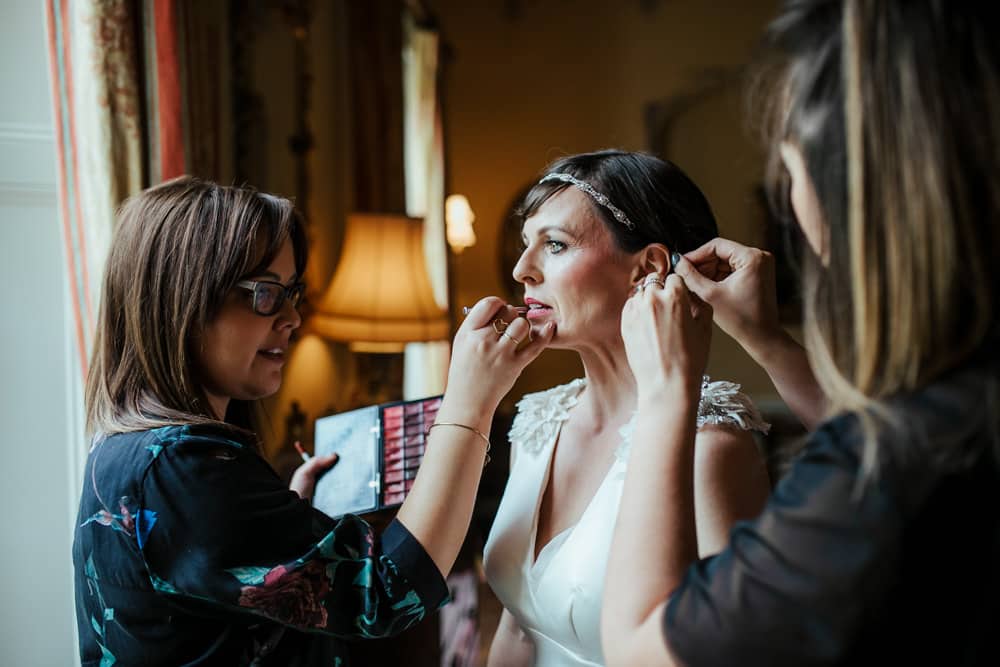 You have probably planned this with your hair and make-up team and they gave you accurate estimates of when you should expect to be done. However, things often tend to run over on the morning of the wedding day, and the last thing you want is feeling rushed. Arrange to start a little earlier (30 minutes to one hour) and give yourself a chance to have some fun, candid photos with your girls without rushing off to the ceremony.
2. Did You Just Forget About Morning Photos?
Your make-up artist might suggest being the last to get make-up on. It's not a bad idea in principle but trust me, if you're having professional make-up done, half an hour won't make a difference! Having your full look ready earlier will give you more time for those magical morning photos. Even though putting on your dress and shoes might not sound like something that will take that long, I always advise to give yourself a full hour before leaving the house . Besides the fact that things tend to take more time than you thought, this is also a very emotional time. You want to take time putting on your favourite jewellery, breathing in the perfume, giving your Mum a hug and seeing your Dad cry when he sees you for the first time! These are the type of memories you won't be able to experience again.
3. How Traditional Do You Want to Go?
It's perfectly fine to be traditional and not want to let your partner see you before you walk down that aisle. However, I'm delighted to see that first looks are becoming more and more popular, and there's plenty of reason why. An intimate location will allow your fiance to be more emotional, and your make-up will be perfect and fresh. It also lets you have tons of time to get photographs taken beforehand without skipping time with the guests during your wedding reception. This could also be the perfect option if you're having a winter wedding when it gets dark early! As wedding day timeline mistakes go, this little trick one could really help you avoid stress on your wedding day. If you're not having a traditional ceremony or planning to arrive to the wedding together, there's no reason not to have the first look!
4. More Than 50% of My Couples Forget About the Greeting Line!

When you plan your day, make sure to not only take into account the ceremony time but add at least 45 minutes to it. The idea of hugging and thanking everyone at the exit from the church might feel so natural that you may not realise the time you spend with each guest. Imagine having 120 guests and spending just 30 seconds to say hi and accept their good wishes. That's already an extra hour! Depending on the weather, receiving lines can be slower (on a nice summer's day) or quicker (when it's nippy or rainy in winter). In any case, don't expect to be out of the church 10 minutes after the end of service. Unless you want to skip the tradition completely and jump straight into the car, make time in your day for it. As a photographer, I see it as the perfect chance to get candid and emotional pictures of your guests!
5. Bride's Biggest Nightmare – When Family Photos Take an Hour.
So many couples tell me about a friend or family member who missed all of their drinks reception because they were taking family photos the whole time! With the right planning it really doesn't have to be this way. Planning your family photos is one of the easiest ways to avoid wedding day stress. Getting everyone together in the same photograph, especially if you have a large bridal party, will not be easy. Prepare a list beforehand! This is the ONLY list of photos I ever ask my couples for, but it's an extremely important one. Know exactly who you'd like to see in each of your group photos because it's not something your photographer will ever be able to guess. Make sure you have one or two helpers – they can be your sibling or someone in your bridal party. They should have a copy of the list and know who is who (your photographer probably won't know all of your family and friends). Communicate to your families beforehand when you need them – for example, be on the front steps of the hotel at 4pm sharp.
6. Can They Really Kick You Out of St Stephen's Green for Taking Photos?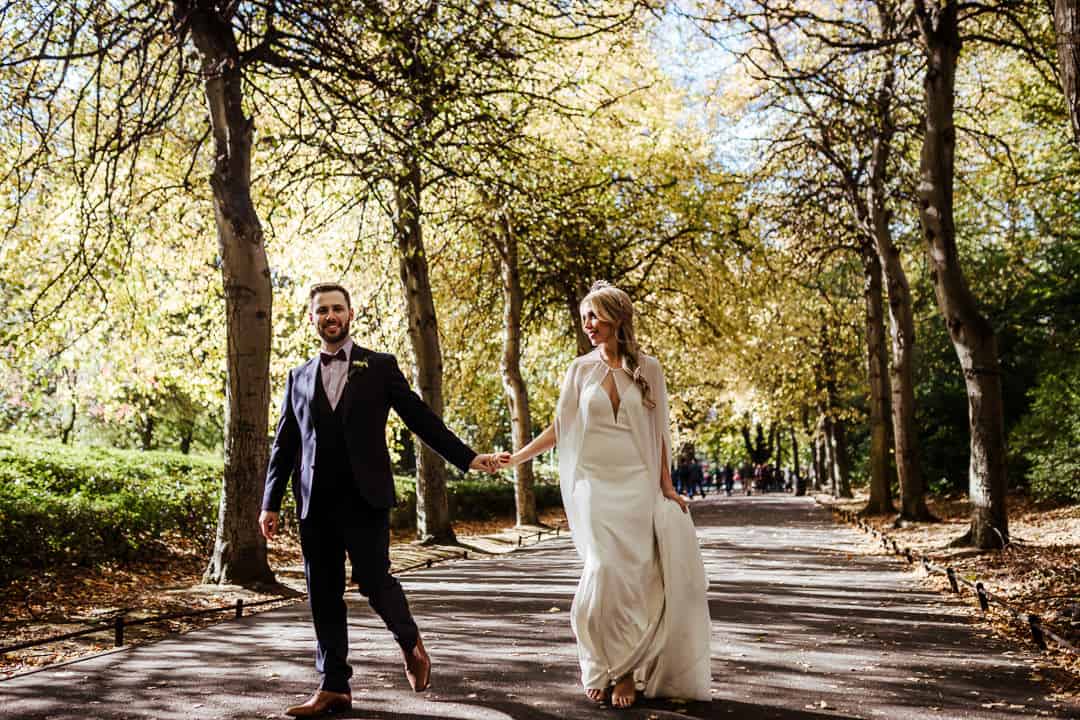 Perhaps especially relevant for city weddings, you want to make sure that the places you want to have taken photos in are available on the day. As a wedding photographer in Dublin I come across this hurdle all the time. It's rarely a problem when you plan a country wedding, but in cities you need to know opening times and get permits from the city council in advance. Park wardens can be strict, and you will definitely stand out on the day! Most of the time the permissions are free, all you need to do is organize them ahead of time. Check with your photographer if you need permits – they should have experience and be able to direct you to the relevant authorities. 99% of the time it's a simple e-mail to OPW.
7. What, It Rains in Ireland?!
Ireland sadly cannot boast the perfect Californian climate, and having some bit of rain on your wedding day is a very likely possibility. I always say that sometimes a bit of dramatic skies make for the best photographs! In any case, have a plan B for your ceremony and photo locations in case of a downpour. Or alternatively grab a pretty umbrella and embrace the elements like Aoife and Matt did! But definitely don't sweat it about the weather, this will definitely help you avoid stress on your wedding day!
8. How to Avoid a Drunk Bridesmaid and an Ambulance!
You don't want to leave your guests restless and hungry. Plan for about 90 minutes to 2 hours for your drinks reception, plus travel time from your ceremony location to the reception venue. Having speeches before dinner might be a tempting idea but don't forget what happens when people drink on an empty stomach! I once photographed a wedding where the couple changed their plans on the day and decided to do speeches before dinner. They ended up starting only after 6pm, and the first two speeches lasted the guts of an hour each! With wine flowing but no food in sight, you can imagine the outcome… One of the bridesmaids ended up being taken away in an ambulance!! So if you have a big line-up for speeches think about splitting them before and after dinner. And definitely plan to sit down for dinner earlier – by 7pm your guests will be starving!
9. Avoid Stress on Your Wedding Day: Big Little Things
To say that a wedding day is busy would be an understatement. At the end of it all, it's not about saying hi to every single guest or making your family happy. It's not even about creating epic photos. Your wedding day is about you and your love for each other. Don't let the stress and the planning overwhelm you. Avoid stress on your wedding day by taking breaks for just the two of you and savouring the intimacy. Take it all in, enjoy the quiet moment and go back to the party!
LOOKING FOR WEDDING PHOTOS LIKE THESE?
GET IN TOUCH!
[flo_form id='10992′]