So, you are getting ready for one of the biggest and most beautiful days of your life… No pressure! I know you and your other half have put heart and soul into planning this day and you have thought through every little detail. I've been there and I remember the months of planning and all the "brilliant" ideas I came up with at 2 am! I also know (from experience) that no matter how much you plan, your big day will go so much more quickly than you think. So what happens after? The photos, of course! The photos that will help you remember all the amazing array and whirlwind of emotions you experienced. It probably makes sense that if you are wondering how to get the best wedding photos you should do just a bit of planning here, too! And here are my 10 best tips.
1. Find the right style of photographer
When looking for your perfect photographer, decide on the style you like best. Nowadays there are three main types of wedding photographers – traditional, who direct and take mostly posed photos; documentary photographers, who apply the "fly-on-the-wall" technique and capture the day and its emotions; and creative photographers who set up unusual and artistic shots. Of course during the day a single photographer may transition from one style to another (posing the bridal party for the perfect group shot, then trying some artistic shots with lights at nighttime). Still, before booking a photographer think about the way you would like your big day to be captured. Pay attention to the visual side – do you like soft and airy photos, dark and moody tones or vibrant natural colours?
Most of my work is candid and relaxed documentary photography. If that's the style you are going for, have a look here for my secrets of how I capture natural images!
2. Explain to your photographer what you want them to focus on
We may have a distinct style which you chose us for but we still try to adapt our photography to every single unique wedding. We're also not mind readers! While we try to get to know you and your idea of the perfect day, it's really helpful if you just tell us what you'd love your wedding photos to look like. So we know how to get the best wedding photos for YOU! Some couples want a lot of photos of themselves looking spectacular, romantic and crazy in love. Others put a lot of thought into the fun of the day and the guest entertainment so they love to have lots of candid images of everyone laughing and having fun. To some of you the day is about the connection of the two families, and you may want lots of photos with your parents, cousins and adorable nieces and nephews. Whatever is most important to you, we'll try to pay more attention to it and plan the day accordingly.
3. Have a realistic schedule
On your wedding day things will take longer than you planned. Trust me. From hair and make up to the priest rambling on and guests gathering slowly for dinner. Make a strict plan of the day but leave room for change and most importantly – don't panic! If something is delayed – you are covered and if everything goes to plan you'll just enjoy some romantic and relaxing time with your other half. Check out this post about how you can avoid common wedding timeline mistakes.
4. Make a reasonable shot list
Some couples come to me asking if they need to provide me with a "shot-list". Generally the answer is no – I know that you probably want candid photos of you and your bridal party getting ready and I'm not going to miss the vows and the first kiss. But when it comes to more personal shots it's great when you let me know about your grandmother's necklace you are wearing on the day or a close family friend singing at your ceremony. I'll do my best to photograph every little aspect of your wedding but please let me know of anything that is of special importance to you.
5. Prepare for group photos
Few people say that group photos were the highlight of their wedding day, but these are also the photos you might find yourself turning back to the most and the ones that will hang above your mantelpiece for many years. Organizing them beforehand will help save a lot of time and hassle on the day itself. Make a detailed list of everyone you'd like to see in a photo together, then share it with both your photographer and a designated member of the bridal party. Most of the times I won't know the names of everyone on the list so it's really helpful when a "wrangler" gets a group together for the next photo.
6. Check with the church
Sometimes you know exactly which priest you'd like to pronounce you husband and wife. If you have a choice, however, check about photography rules before booking it. Some priests are more open to having photos taken, others are stricter. This will not only help us plan for the kind of photographs we can take but will also let you avoid any disappointment afterwards.
7. Consider the first look
To me, the first look is very often the best answer on how to get the best wedding photos, and I'm excited to see more and more couples going down this route. If you don't want to miss a minute of your pre-dinner reception consider scheduling your portrait photos taken before the ceremony. There are numerous advantages to doing "the first look" before the church. You'll have a wider choice of locations for romantic photos, your hair & makeup will be as fresh as possible, and seeing each other in privacy (as opposed to in front of 200 guests) will make for an especially emotional moment. Bonus points: you'll be less nervous walking up the aisle.
8. Think about the right light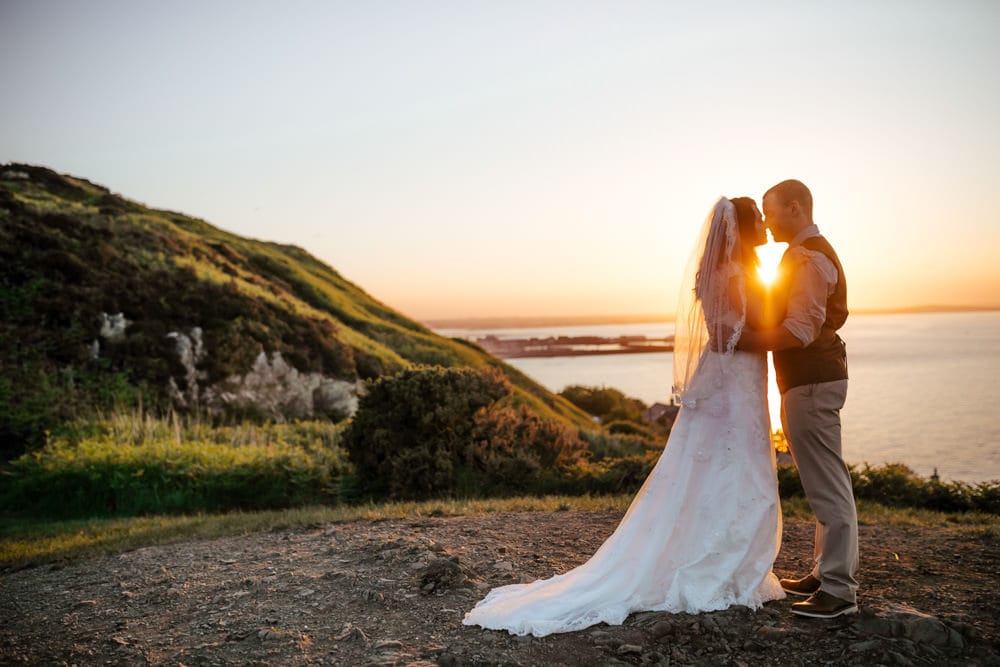 It's usually the photographer's job to find the perfect light, however you should still consider a few factors when planning your big day. Natural light is always best, so if you can, plan your getting-ready photos in a brightly-lit room. While your hotel has the most magnificent staircase, the artificial light might be far from ideal and group photos will probably look much more flattering in an outdoor setting. Bright sun is rarely a huge problem at an Irish wedding but if you're planning an outdoor ceremony and are lucky enough to have the sun blazing on you for the whole day, consider moving to a location in shade to avoid harsh shadows. For romantic indoor photos try to stay away from overhead lamps and think candles, candles, candles. Lastly, if I interrupt you during dinner and beg to come out for a few minutes for the most epic sunset – just trust me.
9. Strike the right pose
I'll surely give you a few pointers and directions on the day but knowing a little about how to pose can go a long way. Hold your head straight to avoid a double chin. If you go with a sleeveless dress keep your arms slightly bent and away from your body – holding them flat along your sides may make you look heavier. If you're unsure what to do with your hands just make sure to hold on to something – your flowers, the veil or better yet, your husband! He'll appreciate it. And most importantly, don't forget to smile! Nothing makes you look more beautiful than a genuine smile but sometimes it's easier said than done. If you feel nervous in front of the camera, just giggle! 9 times out of 10 a fake laugh brings on a real smile!
10. Don't stress!
I know this might sound easier said than done but being relaxed is key to how to get the best wedding photos! Try not to get upset about small things, such as moving your ceremony indoors because of wet weather or your page boy having a good cry during group photos. Allow your photographer to help you stick to schedule and take the necessary photos – remember, that's why you hire us! Don't spend time constantly worrying about what's going on around you. Enjoy the day, every little moment of it, and I'll make sure to capture those moments!
Does this sound like the type of wedding photography you are looking for?