Unless you happen to work in the wedding industry planning a wedding might suddenly feel like the most complicated project you've undertaken! Knowledge comes with experience but few of us – thankfully! – have much experience at getting married! My own wedding came before I started doing wedding photography, and when I look back there are so so many things I wish I'd known! So when I meet my wedding couples for a pre-wedding consultation or even our initial meeting I love to share the knowledge I have now as a wedding photographer Dublin. So here they are, the most common wedding tips I tell my couples. Because, thankfully, I now have a lot of that valuable experience without having to get married more than once 🙂
10 Most Common Wedding Tips
Getting ready
1. Let's start with bridal prep. A lot of brides like the idea of getting ready at their family home, adding that feeling of nostalgia to the big day. While it's a lovely idea, keep in mind how spacious your place is and how far it is from the church or the venue. Hotel rooms and wedding venues often have much more space, large windows that allow beautiful light into the room, exquisite decor (especially in exclusive wedding venues), and you don't have to worry about doing a big clean at your house beforehand! If you are having a civil ceremony at the venue keeping everything in one place really helps to save time, makes the day feel longer and more relaxed. What's more, if your husband-to-be is at the same location you can get the photographs of both bride and groom – otherwise you'd probably need to hire a second photographer.
2. Wherever you decide to get ready, make sure to keep your room clean, or at least the area where you're having your hair and makeup done. Nothing limits me more than having to work around cluttered spaces, and nothing will annoy you more in your photographs than having boxes and plastic bags lying in the background. Obviously I always try to make the frame look nice and tidy but things often move so quickly on the wedding morning I may not have a chance!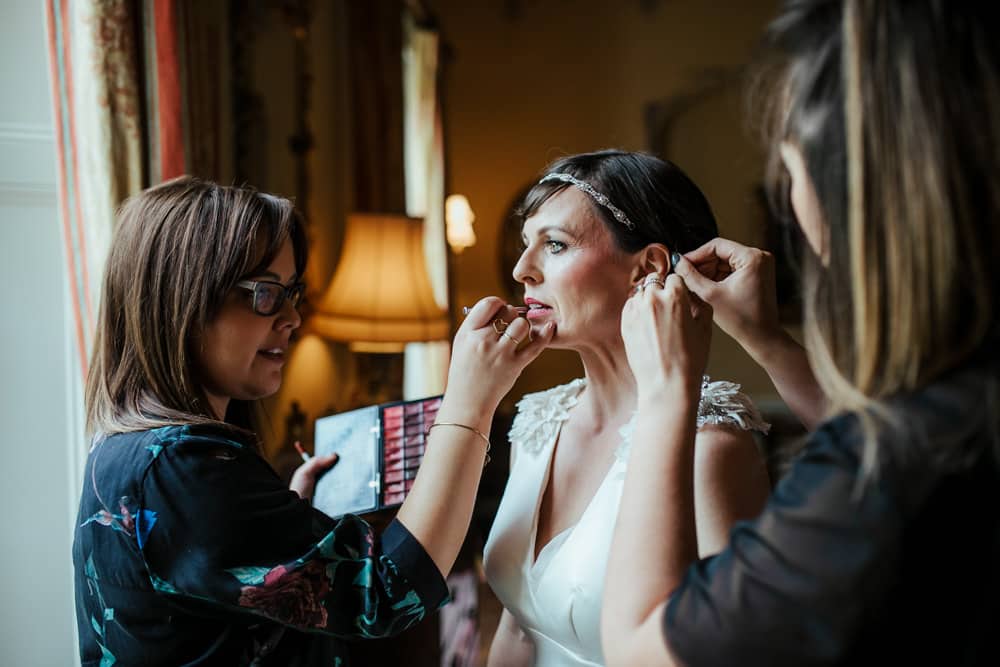 3. Think about getting into your dress in the living room rather than the bedroom – it often has more space and better lighting, and you might be surprised how small your childhood bedroom suddenly gets with all your bridesmaids there!
4. Your hair stylist and make up artists will probably plan to have your look done last. Don't be afraid to ask them to have you ready first! With professional products, however, you needn't worry about it staying fresh that hour longer, and you will be incredibly grateful for the extra time on the wedding morning. Not only will this allow for a few relaxed portraits in your wedding dress, but you'll also have a chance to calm down the nerves and take it all in. You don't want to worry about being late for your ceremony because your lipstick isn't on yet!
Ceremony
5. Ceremony time! Hold on a second, what is your ceremony time? One of the most common wedding tips I give my couple is to start planning their wedding with the ceremony time. Make sure to check for sunset if you're having a winter wedding. A 3pm ceremony in December means that you have literally no daylight hours for photos afterwards. To be honest with you, just plan your ceremony to start early no matter the time of year – you'll enjoy the extra time with the guests so much more! When it's not possible to bring the ceremony forward, maybe consider the first look? As a wedding photographer Ireland, I've seen a lot of amazing and intimate locations around the country that would be perfect for your first look.
6. Don't rush down the aisle! You've probably heard it a million times, but repeat it to your bridesmaids like a mantra and don't drag your father along no matter how much you want to reunite with the love of your life after the morning apart. And don't forget to smile!
7. While you may not have much choice for a church ceremony, a civil ceremony gives you a lot more variety. Use it! You don't want it to last a full hour (the guests will stop yawning), but you don't want it to be over in 10 minutes either! Unless you add a few readings or rituals, it just might, and you won't realise it's over. Ask your friends and family if they want to contribute by reading a poem or saying a few nice words – they might be delighted to be part of your wedding ceremony. Add one or two rituals that have meaning for you as a couple – a unity candle, ring warming, hand-tying, a sand ceremony, tree planting… As an added bonus you get to keep the symbol as something physical from your wedding day.
8. Do you want a good photo of your first kiss? That makes two of us! Unfortunately, as much of a ninja that I am, I can't guarantee I'll get the perfect photograph if your first kiss is a quick peck with the priest's head right behind you! Savour your first kiss and make it last 🙂 I think this is one of my most common wedding tips!
Guest shots
9. When you plan to get group photos with family and friends, keep in mind venue and light limitations. Indoor group photos are made very difficult by unflattering and uneven lighting, so I usually insist on doing them outdoors. Make sure that your venue has enough space for a large group photo and if it doesn't consider breaking it into a few smaller groups. As for taking a photo with all your 100+ guests, just consider how much you need the extra hassle of getting everyone together and the fact that everyone's faces will be very very small 🙂 If you still want to go ahead with it, I'll probably need a very good vantage point like a first floor window overlooking a lawn or a church balcony.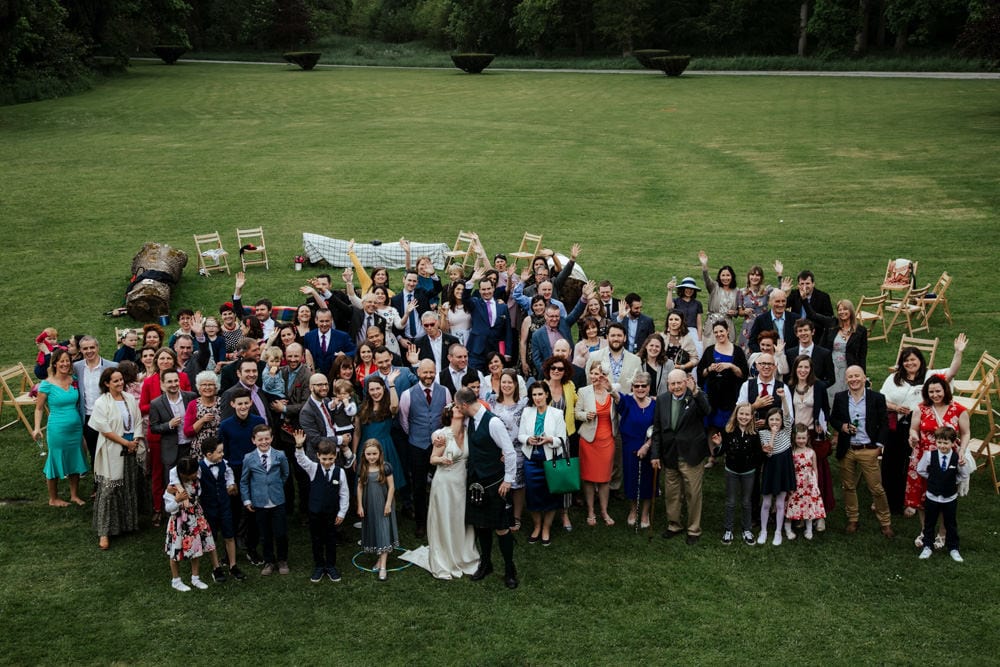 10. Both receiving line and speeches are great opportunities for candid guest photos. You might choose to skip the greetings if your wedding is over 200 guests but definitely don't skip the speeches! If you have a lot of people speaking, think about breaking it up into two parts – one or two before dinner, and the rest after. This way the guests will still be in the focus and won't grumble about a late dinner or fall asleep after a big meal.
So here they are, my most common wedding tips! Make sure to head on to my Info Section for more advice straight from the field.