Wrights Anglers Rest wedding always has a certain magic to it – it's relaxed, cosy and warm. This charming Irish restaurant, nestled just beside Phoenix Park in Dublin, is a hidden gem. If you're unwilling to travel far from Dublin but don't fancy celebrating your big day in the hustle and bustle of the city, Anglers Rest is an obvious choice. With its picturesque location, a charming exterior and one of the cosiest rooms I have been to, this place is superb. It combines a convenient city location with a true country feel – the best of both worlds.
Wedding Reception at Wrights Anglers Rest
When you come into the Anglers Rest you feel like you found yourself in a traditional Irish pub. But that's before you make your way upstairs! The first floor is reserved for functions, and it's the perfect space for both your ceremony and wedding reception.
The Phoenix Room is indeed one of the most stunning wedding function rooms I have seen. With light brick walls, its main feature is gold, and I couldn't imagine a more flattering and festive colour. The ornate mirrors make the room look even more spacious, while the gorgeous chandeliers totally elevate the atmosphere. Even the pillars and chairs are matching. The Phoenix Room seats up to 150 people. Adjecent to it there's a bar area that turns into a dancefloor after dinner.
When is the Best Season to Get Married at Anglers Rest?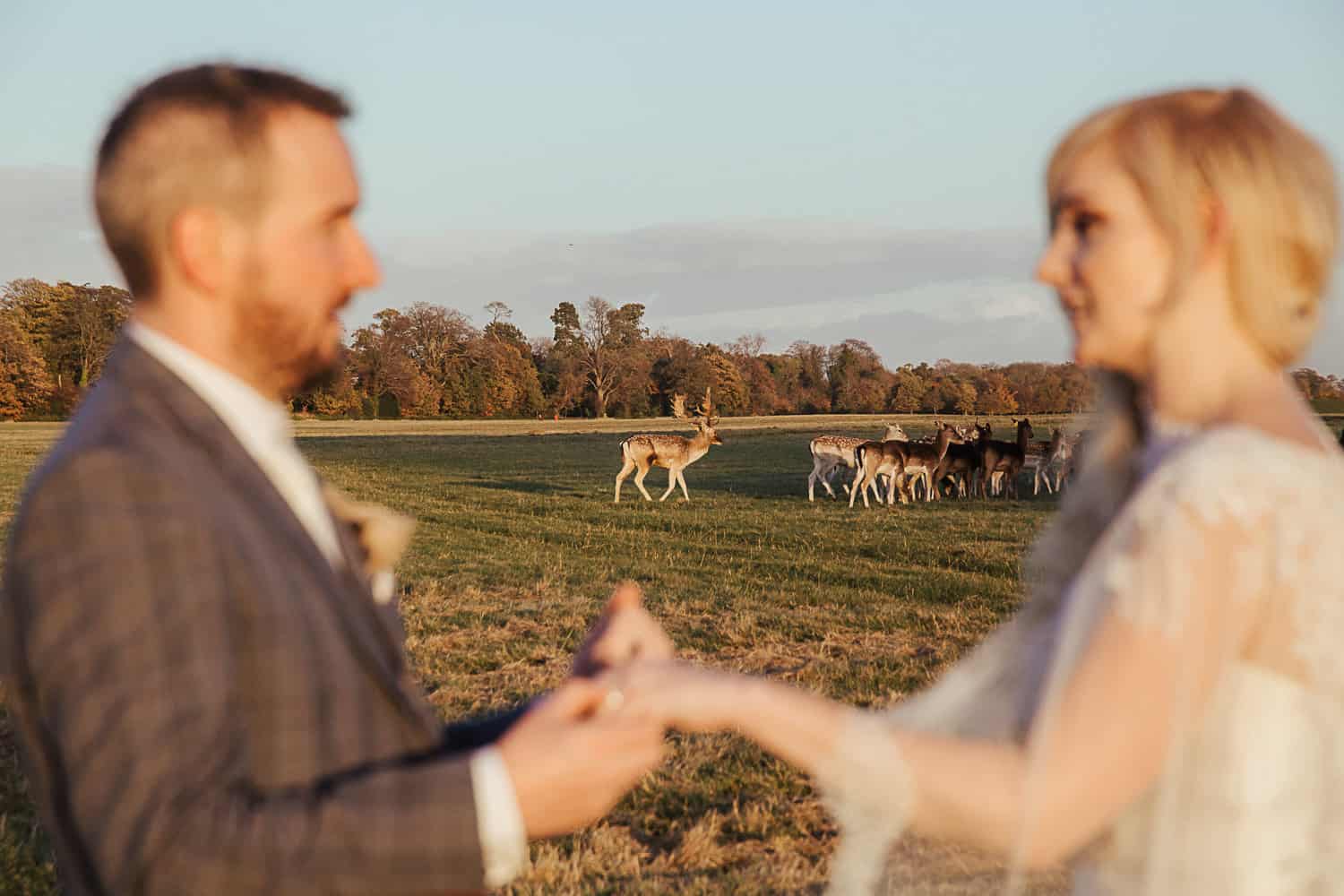 I love Anglers Rest in any season, though perhaps autumn and winter weddings there are my favourite. Phoenix Park is gorgeous at that time of year, especially with the low sun shining through the trees. One of the most beautiful sunsets I've seen there was in November! The Anglers Rest doesn't have gardens or lush grounds around it, so I find it especially inviting on a cold day when you want to nestle by an open fire. There's even a wood oven just outside, where you can warm up with a glass of wine on a winter's day.
Where Can I Get Ready and Stay the Night?
Wrights Angler's Rest doesn't have any accommodation options on site, but it's so close to Dublin city that you are spoiled for choice. Besides the obvious numerous options of hotels in Dublin City Centre (just 20-minute drive), there are other options close by. The Castleknock Hotel and the Carlton Hotel in Blanchardstown are just a 10-minute drive. All of these are great accommodation options for your guests, and for you and your bridal party to get ready. Another option is to rent a little airbnb for everyone and have everyone stay together.
Where Can I Take Wedding Photos?
Maybe one of the most common questions I get asked is where to take photos at the Anglers Rest since there are no grounds beside the venue. Thankfully, there are so many options close by! Phoenix Park is the most popular choice, with its multiple picturesque spots and intimate settings. It looks really pretty in any season, and you can get lost among the trees for as long as you'd like! It also has some of the most beautiful sunset light in all of Dublin.
A lot of couples who pick the Anglers Rest as their wedding venue choose to do a first look and do wedding photographs before the ceremony. This option allows you to not only spend more time with your guests during the drinks reception but also to pick multiple locations for your photographs, from Dublin City Centre to Guinness Brewery and Irish War Memorial Gardens. The latter are just on the other side of the Liffey, a short drive away.
Doing a first look also gives you the chance to grab a quick pint together in Chapelizod, on the way to your ceremony! How fun does that sound??
As for family photos, the ceremony room at the Anglers Rest is ideal. With it's beautiful warm backdrop of golden brick and a fireplace, it's great for photographing groups. While the drinks reception is happening at the bar, the room can be yours to gather the family and have a bit of privacy for quick group photos. And then everybody can get back to having fun!
Civil Wedding Ceremony at Wrights Anglers Rest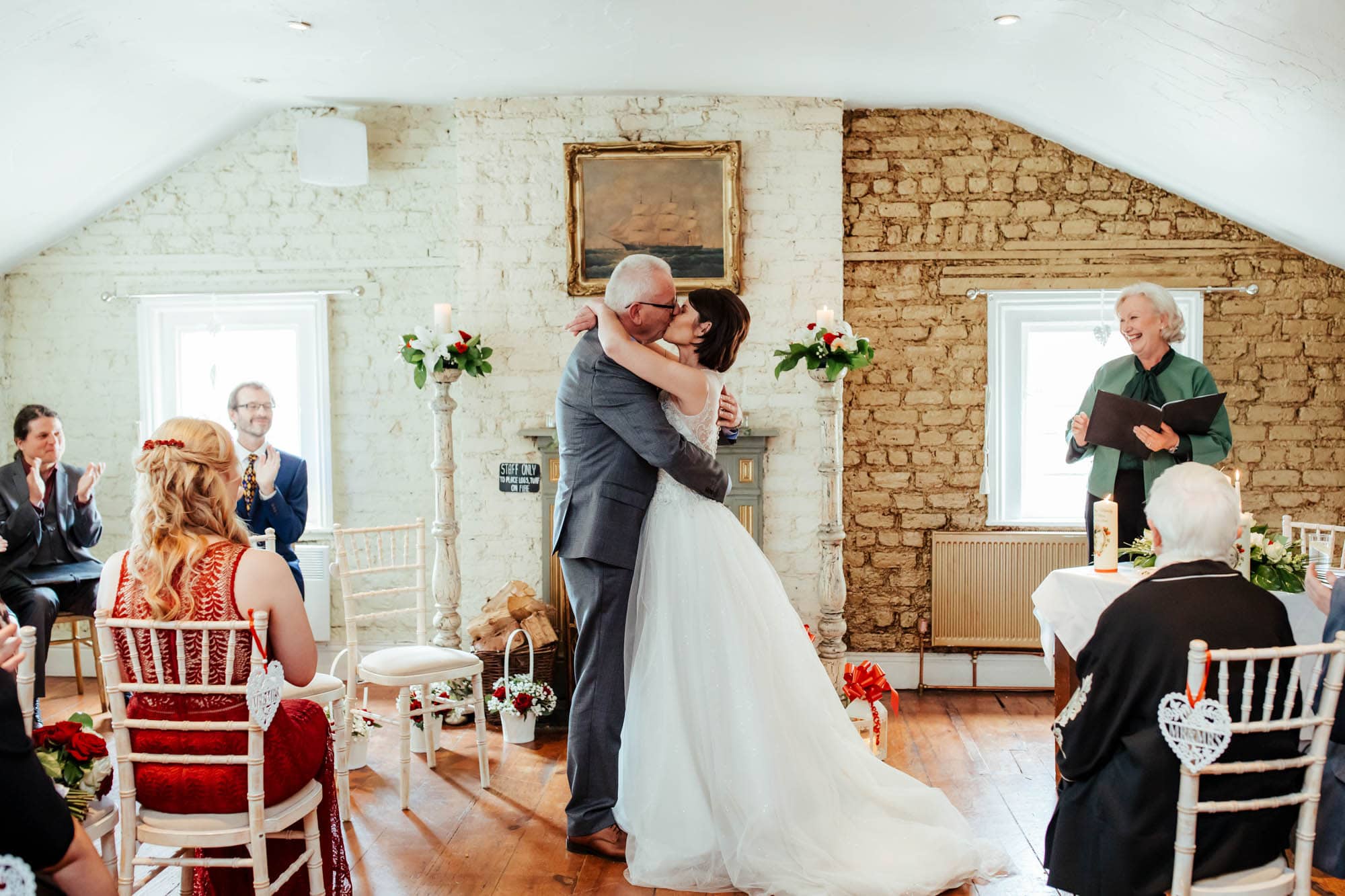 Wrights Anglers Rest has a dedicated ceremony space on the first floor, which is perfect for civil ceremonies. With cream and gold brick walls and a cosy fireplace in the centre, it has a lovely rustic atmosphere. The size makes it perfect for weddings of various sizes. From as intimate as 6 guests (hello Covid-19!) to larger ceremonies of 80, you can transform the room using partitions to the side. I have captured a lot of beautiful personalized ceremonies at the Anglers Rest, but Ann and Dave of Ceremonies for All always create an especially memorable experience!
The Anglers Rest are perfect for all types of weddings – from really small family celebrations to 100-person parties. Their packages are extremely flexible, too. Starting from €45 per person on midweek weddings, they include a personalized 4-course meal, decor, flowers and centrepieces. Just get in touch with their coordinator and tell them what you're dreaming up!

REAL WEDDINGS AT
WRIGHTS ANGLERS REST