Dublin city weddings are definitely unique! Among tourist crowds and passers by there are so many cool and quirky spots. Depending on what you love the most about Dublin you can show parts of it or all of it – but there's definitely something for everyone. Below are some of my favorite locations for wedding photos in Dublin.
ST STEPHEN'S GREEN
You can't imagine a more iconic Dublin park. St Stephen's Green is recognizable in every photo and beautiful in every season. There are cherry blossoms in spring, greenery and swans in summer and the most gorgeous colours in autumn. If you don't mind having a few passers by in the background, it's one of the easiest locations for wedding photos in Dublin. Don't forget to notify the OPW and apply for a permission before your big day – they grant it with no questions asked.
IVEAGH GARDENS
A less known spot a stone's throw away from St Stephen's Green, Iveagh Gardens is quieter and more intimate. Yet it's one of the best locations for wedding photos in Dublin if you want a little oasis of calm in the middle of the city. It even has a magnificent fountain. The schedule of when it turns on is Dublin's best kept secret. But you might just get lucky and get this magnificent cascade as your wedding photo backdrop!
DUBLIN CASTLE
A little oasis right in the centre of the city, the Dublin Castle is one of the best locations for wedding photos. Besides the beautiful courtyard and period buildings, there's a lovely garden hidden away at the back. It's normally pretty quiet – unless it's a very hot summer's day. But even then the lawns have a lot more space than the more well-known St Stephen's Green. Don't forget to check around the side of the Chester Beatty Library for one of my favourite Georgian doors in Dublin.
TRINITY COLLEGE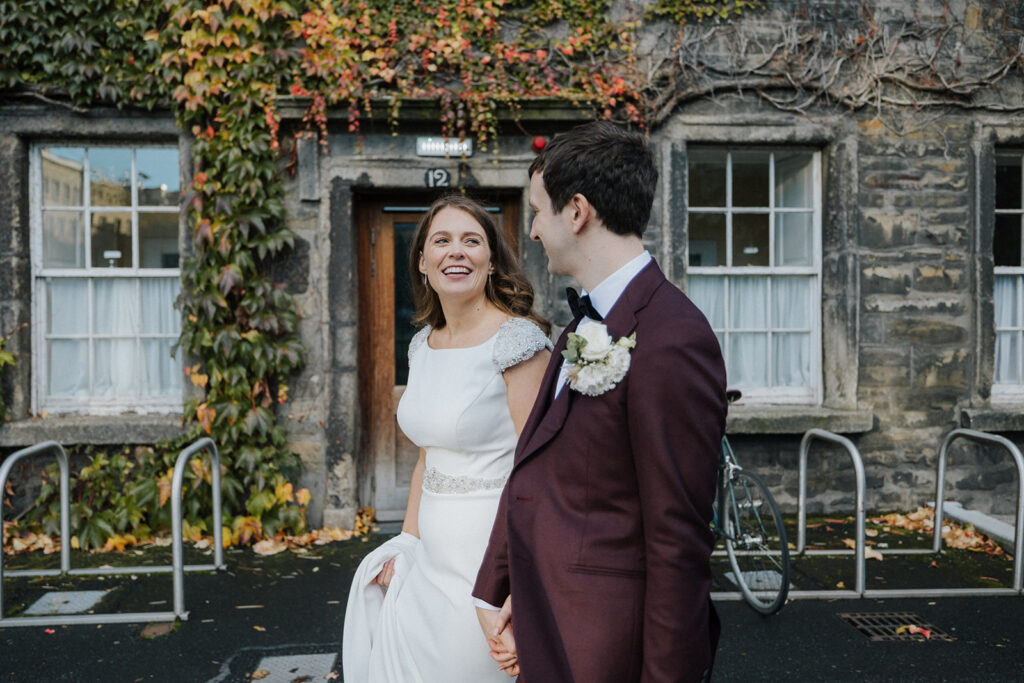 One of my favourite locations for wedding photos in Dublin, Trinity College is only accessible for those who can call it alma mater. But if you or your partner went to Trinity, the opportunities are endless. From the iconic and unique Trinity College Library to the Museum Building, from the quiet Rose Garden to the classical columns. It's also a great hide-away on a cold or rainy day. If you have a chance to get your wedding photos there, don't miss it!
TEMPLE BAR
Looking for colourful backdrops, urban graffiti and cobblestones? You won't find a better spot than the Temple Bar in the heart of Dublin. On a Saturday afternoon it will of course be full of tourists but just embrace it as part of the city life! In return you'll get lots of cheers and good vibes. Oh, and wear comfortable shoes because those cobblestones will wreck your heels.
DAME LANE
Dublin's South Side has a lot of cool street spots, so if the urban scene is your cup of tea the photo opportunities are endless! The area south of Dame Street is the perfect location for wedding photos in Dublin. It's lovely to stroll around familiar spots wearing your wedding dress – it makes Dublin look and feel so different. Don't miss the designer coffee shop fronts and the redbrick facade of St George's Arcade.
GRAFTON STREET
These cute umbrellas are just off Grafton Street, near Zozimus bar, and are a really cool photo opportunity. Grafton Street itself is, of course, iconic. Yes, it's full of shoppers, but the hustle and bustle is the beauty of Dublin and you probably love it so much you decided to celebrate your wedding there! Don't miss Grafton Street around Christmas time – it has some of the best lights.
HA'PENNY BRIDGE AND THE LIFFEY
Strolling along the Liffey on a sunny day – what could be more romantic? The boardwalk and the bridges across the river are one of the best locations for wedding photos in Dublin. You'll get a fantastic view of the city and some of its most iconic landmarks.
THE CITY HALL
Located in the very heart of Dublin, this gorgeous period building with its impressive ceiling will steal your heart. If you're lucky enough to have your ceremony there you'll have the opportunity to use its interiors as your photo backdrops. If you're just passing by you can always get a cheeky photo from the stairs overlooking the iconic Parliament Street.
GUINNESS STOREHOUSE
Brick walls, cobblestone streets and the smell of barley. This iconic spot is one of the best locations for wedding photos in Dublin if you want something different. I love the way the dark tones of the rough buildings contrast with the whiteness and elegance of wedding dress. It's a bit out of the way but Guinness Storehouse is definitely worth a trip. The area around St James's Gate is always relatively quiet, so you needn't worry about flocks of tourists invading your wedding photos!
PHOENIX PARK
A real oasis in the middle of the city, Phoenix Park is the perfect location for wedding photos in Dublin if you want to feel like you're away from the city! The area is so vast that you can truly feel alone together. Some of my favourite spots there look like a forest in the middle of the country. If you're lucky you'll even spot some deer in the background!
IRISH WAR MEMORIAL GARDENS
Just on the other side of the Liffey from Phoenix Park, in Kilmainham, the Irish War Memorial Gardens are a beautiful quiet spot for a first look or your wedding portraits. Just like with St Stephen's Green and Iveagh Gardens, you'll need to get permission from the OPW. In return you'll get one of the most beautiful backdrop of wisteria, roses or ivy – depending on what season you find yourself there!
SANDYMOUNT STRAND
A little trip away from Dublin City Centre, it's the perfect romantic location for beach strolls or some sunset portraits. It has the tall grass, sea air and the iconic Poolbeg Towers as the quintessentially-Dublin backdrop! A great spot for an engagement session, an elopement or a lovely portrait spot on a wedding day if you're driving in from the south side.
YOUR FAVOURITE PUB
After a nice stroll around Dublin pop into an iconic pub for some truly Irish photos. The Stag's Head on Dame Lane or The Long Hall on George's Street have amazing interiors. Try to grab a seat by the window to soak in the day and watch the world go by as you prepare to spend a lifetime with your favourite person in the world.