"I was doubled over with nerves ahead of the wedding, the photos before the ceremony in Stephen's Green made all my worries disappear. You really saved the day".
What is a First Look Wedding?
A "first look" is the time when the couple sees each other on their wedding day before the ceremony. It's a intimate moment, away from their family and bridal party. It's also a chance to spend some emotional time together. A first look wedding a tradition has only appeared in recently, but it's becoming more and more popular with each year, especially overseas. It's not something that's yet the norm for Irish weddings. Some couples don't want to do a first look for many reasons. Others get very excited about the idea as soon as I mention it.
If you want to do a first look wedding, it's a good idea to look into all the pros and cons. Having photographed a variety of weddings, I've put together a list for you to consider and see if this is something you'd like to add to your wedding day. It's cool if you do and cool if you don't! A first look may become the highlight of your day (as a lot of my couples have mentioned), but it might not be for you at all. Have a look at the pros and cons below!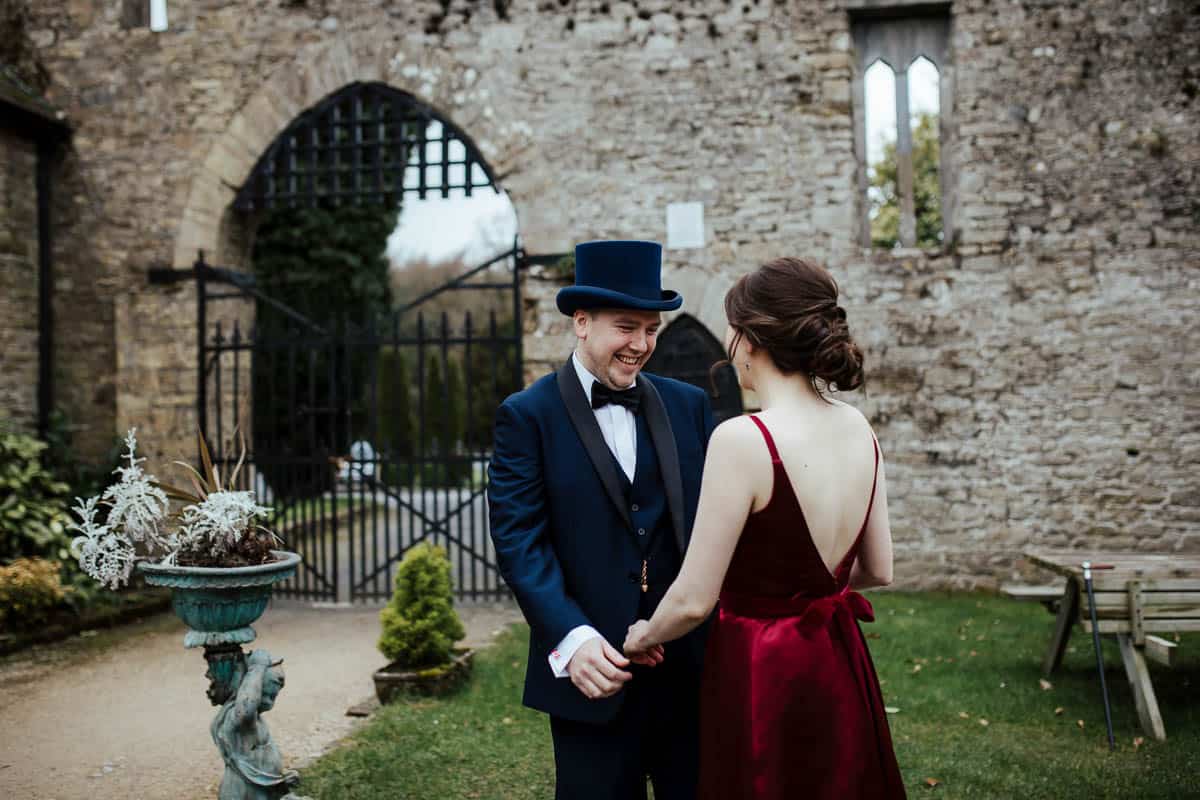 Why You Should Do a First Look Wedding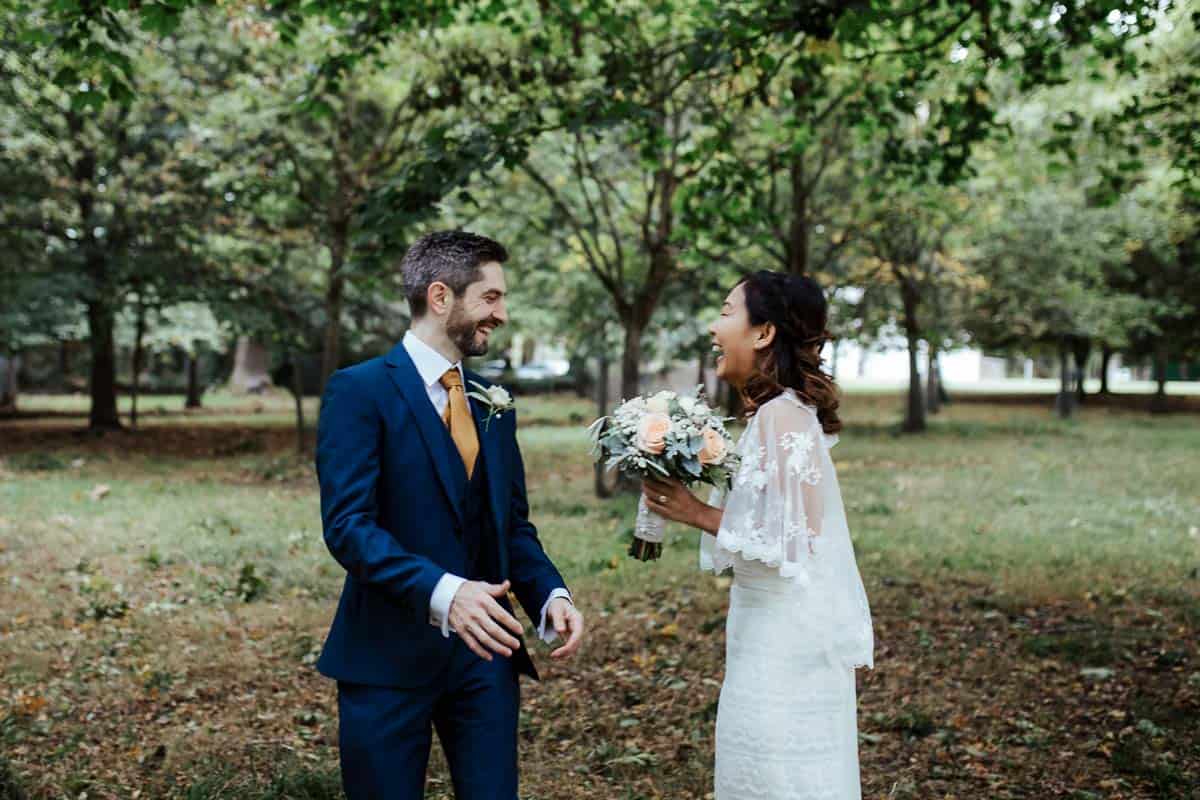 1. You'll get to spend some intimate time together before the ceremony. You might be worried about feeling nervous and having all your eyes on you coming up the aisle. In this case having each other's support before the ceremony will help a lot. It also means you'll feel calmer and be more present during the ceremony itself.
2. You might think you or your partner are going to get teary and emotional when you see each other for the first time. It might be a relief to do it away from everyone's eyes and have a chance to freshen up before the ceremony.
3. A first look wedding timeline is more smooth. You can get all the couple photos done before your guests arrive, and you won't miss time with them during the drinks reception.
4. If you're having a winter wedding, a first look will allow you to have your wedding portraits in daylight rather than rush them before sunset.
5. You'll have more couple portraits done – you can spend as mush time as you want to your first look. When we get photos done after the ceremony, you want to mingle with your guests so we usually only have about 20 minutes. With a first look you can even pick a few different locations and travel there before your ceremony.
6. You can choose the perfect location for your first look. Churches and ceremony rooms are often dark and have back light. With a first look you can choose any intimate and picturesque spot you want.
7. A first look allows me to photograph both the bride's and groom's reaction as they see each other for the first time. It's usually not possible during the ceremony as I try to be discreet and not to block the guests' view.
Why You Shouldn't Do a First Look Wedding
1. The most common reason is always tradition. You've been dreaming about the walk up the aisle since you were a child, and this is how you want to see each other for the first time. Your family might be very traditional. They might get upset if they don't see this emotional moment between the two of you.
2. Logistics don't work out. There's no intimate spot around your ceremony location, or you're worried the guests will arrive early and see you there. The groom is often expected to be at the ceremony early to bring the papers and greet the guests, and there's no place for the bride to wait.
3. A first look wedding means an earlier start. I usually recommend allowing at least 1 hour for first look photos, which means bringing your hair and make up an hour early.
4. Your dress might get a bit dirty. Let's face it, if you're getting your photos done outdoors the hem might pick up some dirt. I'm always very careful and won't suggest going out on a wet morning, but you never know with Irish weather. If having a pristine white dress for the ceremony is of utmost importance to you, you might not want to take the risk.
5. If you have wedding photos taken before the ceremony, you won't actually be married in them and you won't be wearing your wedding bands. Of course it's still your wedding day, and most couples have no problem with it. Still, it's something to keep in mind.
It's Up to You!
My husband and I did a first look wedding, and I absolutely love our couple portraits. We had an early morning and took a good 2 hours travelling around the Irish country side. We got photos with church ruins, gorgeous valley views and even some local cows! I loved the time alone and the admiration in his eyes, and the rest of the day with our friends was very relaxing. We're not a very traditional couple and love creating our own traditions! But there's nothing to say that you shouldn't stick to the day you've wanted since childhood or follow century-long traditions. Listen to your inner voice and most importantly make plans together!
WONDERING IF YOU SHOULD DO A FIRST LOOK WEDDING YOURSELF
GET IN TOUCH, AND LET'S CHAT ABOUT YOUR PLANS!