It was literally raining sideways. But not even the rain, the blustering wind or the January temperatures could hinder the warmth of the hugs that kept enveloping Brigid and James at the little church in Bushypark, Co. Galway.
When James left Dublin 5 years ago to pursue his career dreams across the Atlantic, little did he know that he would find not only a great job but his partner in crime. Nor that his partner's father would turn out to be an Irishman himself! It was only fitting that when James and Brigid decided to tie the knot they would do it mid-way between Boston and Dublin, in Brigid's family church that saw so many generations of her loving family. It was a true cultural melting pot, with friends and family gathering from all corners of the world. But what's a better excuse than an Irish wedding?
Glenlo Abbey Wedding
Steeped in history, Glenlo Abbey was the perfect venue for Brigid and James' family-focused big day. It's been a place of many celebrations in Brigid's family, and it's absolutely splendid as a wedding venue! Decorated for Christmas, the fairy lights make it look absolutely enchanting.
The hotel's location makes it a really attractive option for couples looking to get married in Galway. Situated just 2 miles outside the city, it's gives an easy access to international guests. At the same time, it's outside the centre you have a lot of space and the feel of privacy and countryside.
Brigid and James both got ready at Glenlo, surrounded by their awesome bridal parties. I don't think anyone could tear their eyes off Brigid's absolutely stunning custom-made wedding dress with lots of lace detail and a showstopper of a train. But it was the little details that made her look so extra special. The gorgeous drop earrings were picked by her Dad, and her Mum hand-made a beautiful beaded bracelet with a single blue bead in it – so subtle! James, in his turn, picked an amazing Tiffany necklace for his wife-to-be featuring two interlocked rings.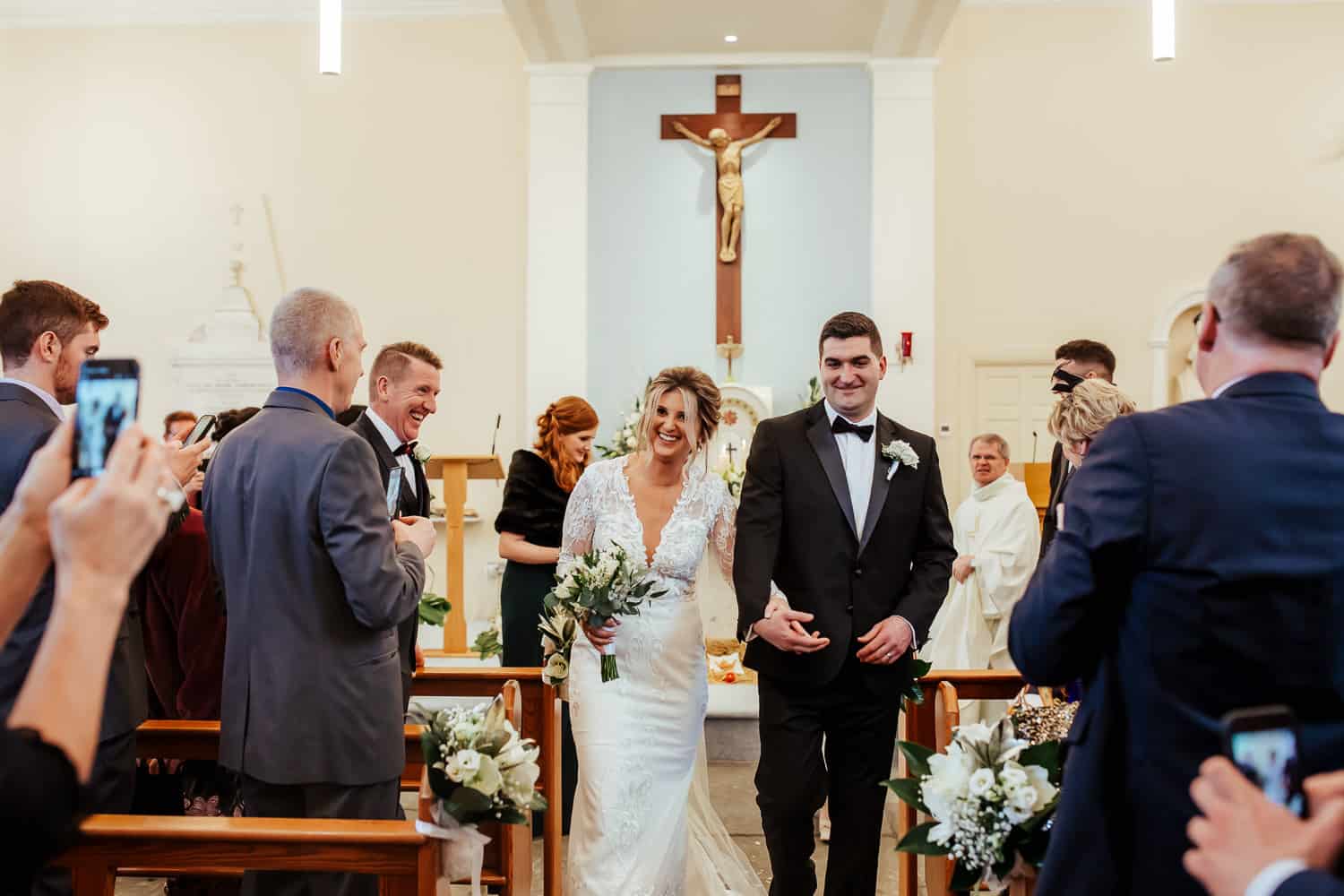 Wedding Ceremony at Glenlo Abbey
The most impressive feature of the venue is of course the historic abbey itself. It was built in 1790 for the private use of the Lady of House, it has a gorgeous interior. The vaulted ceiling and stained glass windows are really impressive. Currently the abbey can be used for intimate wedding ceremonies of up to 50 people or rehearsal dinners for 28 guests. Brigid and James used the abbey interiors for their post-ceremony drinks reception.
Brigid and James had a beautiful religious ceremony at the local St James' Church, just 3 minutes away from the venue. It's a special place for Brigid as her grandparents are both buried on the church grounds. If you choose to have a civil ceremony the Glenlo Abbey organizes them in the Corrib Suite for up to 170 guests. With large windows overlooking Lough Corrib and the abbey grounds, it's a beautiful ceremony space.
Wedding Photos at Glenlo Abbey
With the rain lashing against the windows, we had little hope of enjoying the beautiful grounds of Glenlo Abbey. Thankfully, the beautiful chapel and drawing rooms have plenty of spots for some intimate portraits. My personal favourite is a spacious conservatory on the ground floor. That leafy wallpaper is such a stunning backdrop! I was delighted to have the option of natural light for indoor photos when we suddenly noticed the rain cease, only to be replaced by the most beautiful evening light! So of course we wasted no time and took a quick walk outdoors.
Though we hardly had the time to check out the 138 acre of grounds that Glenlo Abbey has access to, the area in front of the hotel is more than enough. The eye is always drawn to the unique Pullman train. The two carriages retain the original decor of the Orient Express, so stepping aboard is like time-travelling!