As soon as La La Land came out I couldn't wait to watch Emma Stone and Ryan Gosling's new movie – I'm a big fan of them both, and having them in one film sounded super exciting. I heard both raving and disappointed reviews about it and, as I watched the first half, I didn't think it would become one of my favourite films. The ending changed it all – I'm not going to spoil it for you if you haven't seen it but I did cry. A lot. It's still not one of my favourite films but it's definitely one that has had a really lasting impression on me. I still listen to the soundtrack regularly and even recently picked it up on the piano, after years of not playing!
A few months later I realised that the movie just wouldn't let me go. The music combined with the visuals is so strong and inspiring that my mind returned to them almost every day, in one way or another. And even though La La Land is definitely not a wedding movie, I couldn't help but start planning a wedding-themed shoot inspired by those vintage LA vibes.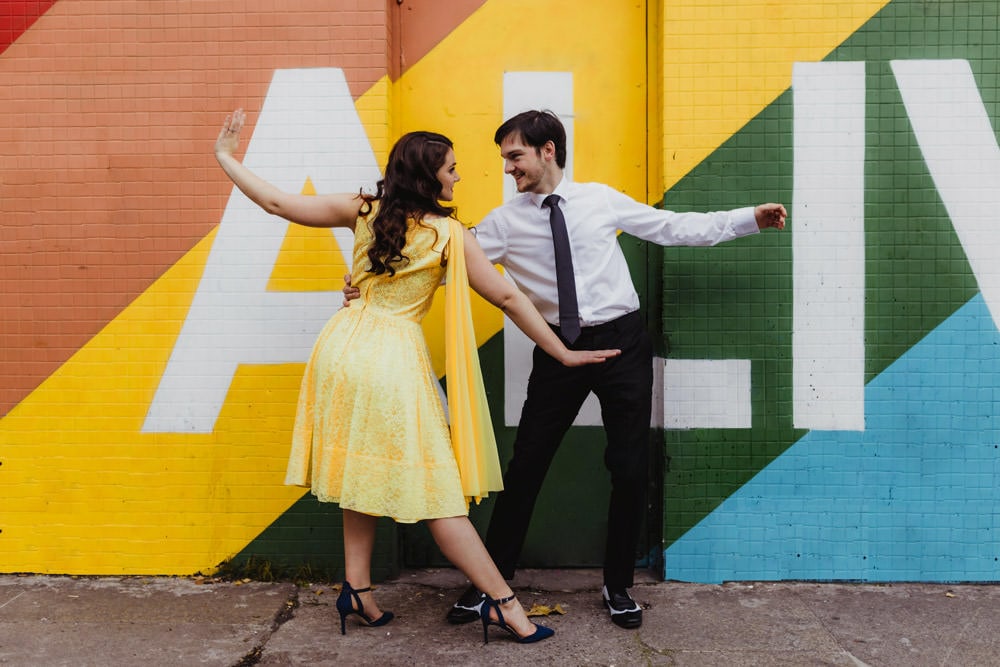 Finding a suitable space in Dublin was the hardest part – Ireland is not exactly full of American jazzy vibes and purple sunsets that are so prominent in the film. Completely by accident I stumbled across the Odeon bar and was delighted when they agreed to collaborate. They even have a piano upstairs, it was definitely a good sign! It was wonderful to meet so many vendors who were just as in love with the film and couldn't wait to channel their creative vibes. Appleberry Press designed mind-blowing La La Land-inspired stationery and Austen Flowers went all-out with colour in their floral arrangements. I absolutely loved the look of the cake designed by Cake Sugar Babes, and we couldn't help adding some cupcakes to the scene.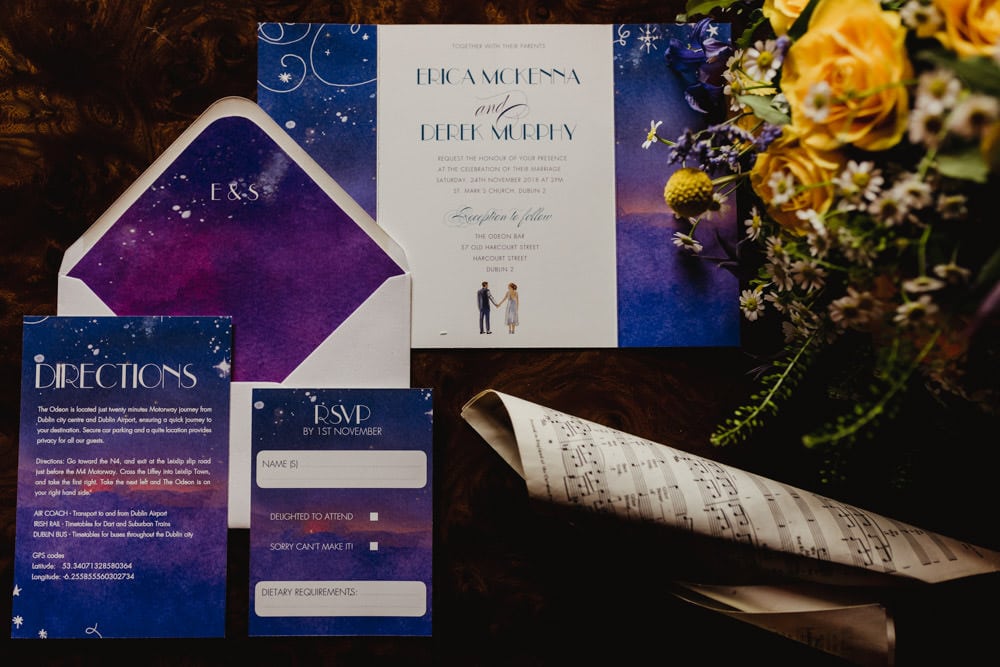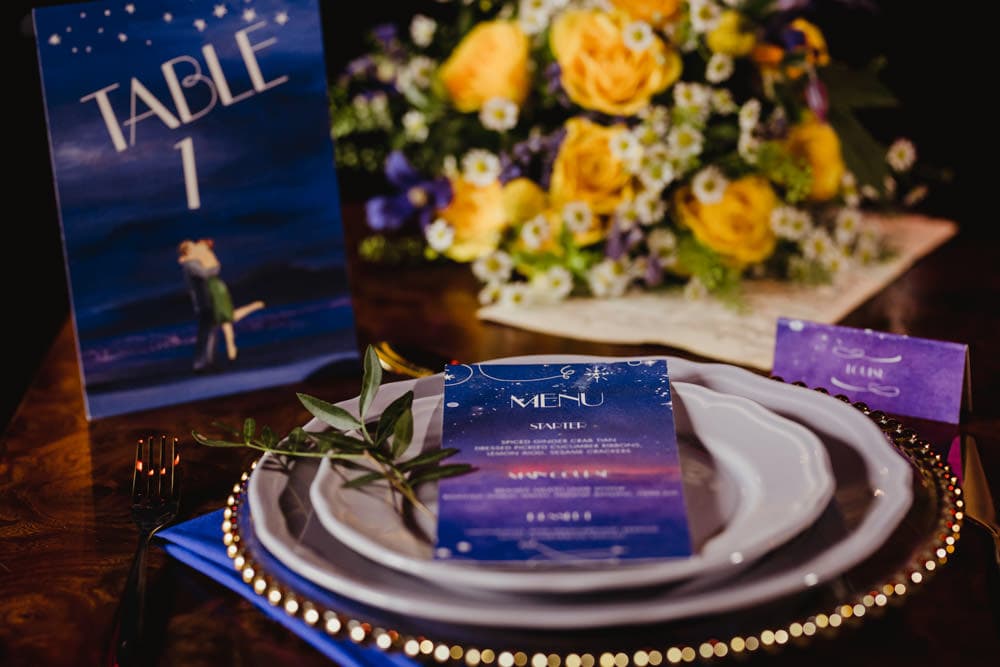 The next hardest part was getting models – you won't believe how difficult it proved to find a red-head, or at least someone with Emma Stone vibes! Completely by chance I came across Sonya, an American actress studying in Dublin, and we decided that hair colour didn't matter. I think she looks totally the part in that yellow Dirty Fabulous frock and fabulous Natasha Sherling jewellery.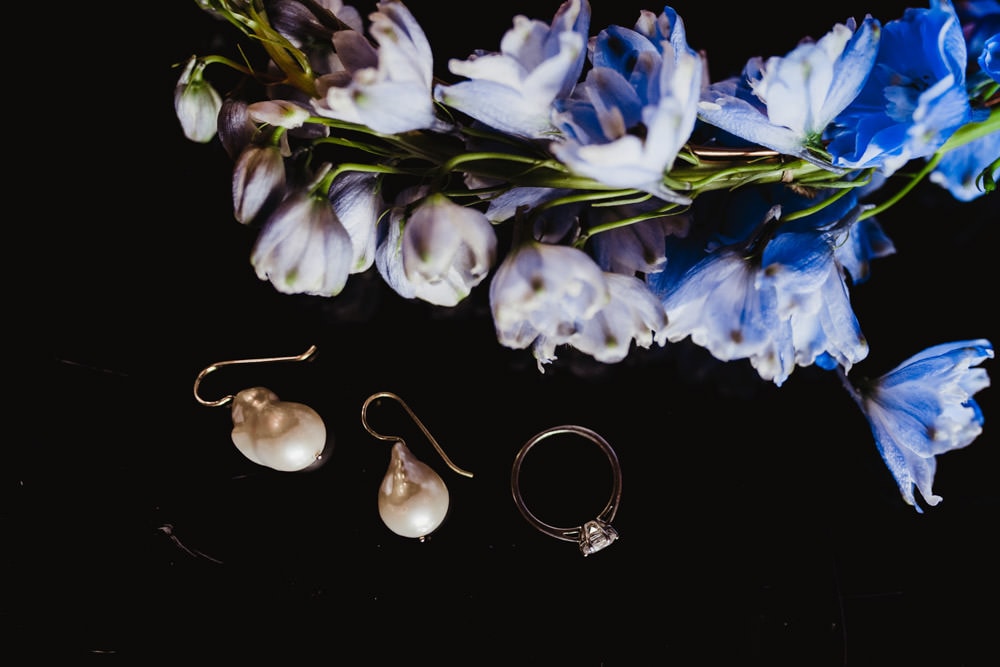 And then came the turn of the "groom" – and that's where it gets fun. After a good think I contacted one of my husband's friends to see if he'd like to play the part. The promise of sporting a tux and getting awesome Tinder profile pics seemed to do the trick, and Protocol for Men generously agreed to lend us an amazing suit for the day. Only the day before the shoot it turned out that there was a work emergency and I was left without my Ryan Gosling… I looked around and saw the only person who could help me at such short notice – my husband.
You probably think it was super weird to photograph my husband holding a very pretty girl, haha. I thought it would be, too. And then on the day I realised how differently I see things through the camera – how I almost forget who I am as soon as I enter the "photography mode". I see light, I see colour, I see expressions and emotions – I see things that make for a good photo. Honestly, it was a totally amazing experience and maybe I even fell in love with my husband all over again. Or at least found out that a black suit makes him look very handsome indeed!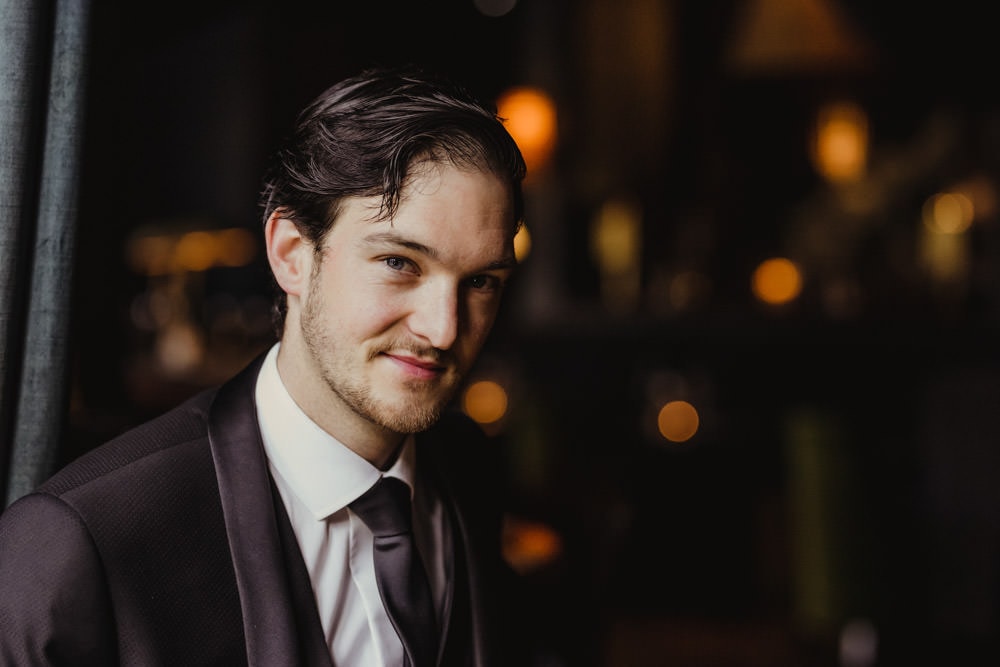 Styled shoots are an incredible amount of work and an incredible amount of fun. As beautiful and diverse as real weddings are, it's often easy to forget the creativity that brought us into photography in the first place. Working on something that you create from scratch and that really inspires you can be incredibly rewarding. Who is up for a collab??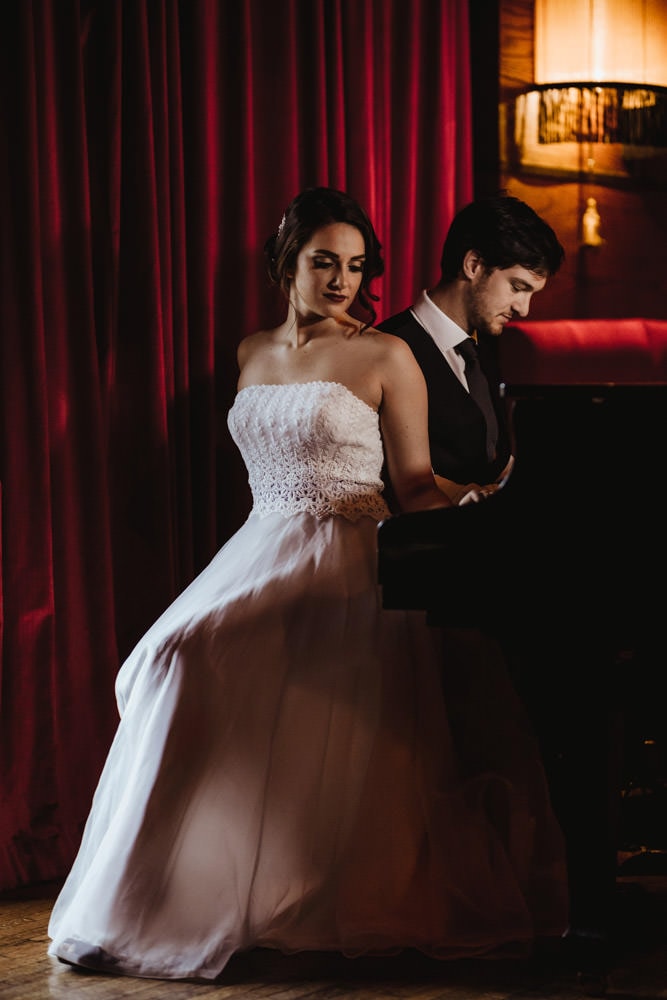 Venue: The Odeon Bar
Florist: Austen Flowers
Hair: Hair by Shauna Lawlor
MUA: Louise McMahon
Cake: Cakes Sugar Babies
Stationery: Appleberry Press
Dresses: Dirty Fabulous Vintage
Menswear: Protocol for Men
Jewellery: Natasha Sherling