I know a lot of couples aim for a relaxed wedding day. That's a phrase I hear a lot when I chat to my brides and grooms when I hear about their plans. I couldn't wait to capture Hazel and Eoin's Rathsallagh House wedding. Being such a gorgeous and affectionate couple, I knew they would create the ultimate relaxing and romantic wedding day. I certainly wasn't wrong!
Hazel and Eoin met at their friend's goodbye party and hit it off almost straight away. Eoin was smitten with Hazel's beauty (who wouldn't!), and they went on to have a beautiful romance. I loved the way they named their tables after significant places in their story – where they met, first date, first match, first holiday together. Then Eoin proposed in 2017. They decided to have a Rathsallagh House Wedding, blown away by the gorgeous house and all the greenery around. I love Rathsallagh House in late spring, with all the trees covered in fresh leaves and the apple trees blooming in the walled garden.
Hazel matched the season with the beautiful green and white colour palette of her flowers and the blush pinks of the bridesmaids' dresses. Hazel herself went for a gorgeous nude and lace bridal gown. With her hair flowing, she was a total vision!
What is the Best Season to Get Married at Rathsallagh House?
I've photographed a few weddings at Rathsallagh House, and the grounds are one of my favourite parts. The House has so many beautiful outdoor spots that would be a shame to miss! April through October is probably the best time to fully enjoy your wedding at Rathsallagh House. Besides the beautiful interiors your guests can enjoy garden games on the lawn, drinks outdoors and walks around the beautiful grounds. You can have an ice-cream van set up during the drinks reception that will definitely wow your guests!
The orchard in the walled garden is an amazing place for wedding portraits and private enough for a first look. The blossoms are gorgeous in April/May, and in August/September you'll see real apples!
Accommodation and Getting Ready at Rathsallagh House
Rathsallagh House can sleep over 90 guests in their 39 rooms on site. This is a great option for a large number of your wedding guests, although you are not required to fill all the rooms. Depending on the wedding package you choose there are minimum numbers. For those guests who need to stay in the area there are over 10 B&Bs available in the area, accommodating another 90+ guests.
Freshly cooked breakfast is included in your overnight stay. The good news is that you can even have your non-resident guests come over for breakfast the day after the wedding and share the morning meal with you! I love the idea of continuing the party the morning after, up until 11am. There are also packages available if you'd like to book exclusive use of Rathsallagh House the day before or the day after your wedding. You can also opt for non-exclusive stay if you and your bridal party would prefer to spend the night before your wedding at the venue. Obviously, that option would only work mid-week when the house isn't busy with a wedding the day before.
While the official check-in time is 3pm, do check with Rathsallagh House as sometimes they can let the bride check in early before a church or civil ceremony. Hazel and Eoin stayed in the House the night before their wedding on Friday, and they were able to use the rooms for their morning preparations. It was great that the room for make-up and the room for getting dressed were two different rooms. You don't need to worry about tidying up for pretty getting ready photos!
Civil Ceremonies at Rathsallagh House
Civil ceremonies are really popular at Rathsallagh House, with lots of locations available. It's also great that all of these locations are different from the ones you'll use for your reception and dinner. Hazel and Eoin held their wedding ceremony in the Granary, an indoor option that can seat over 200 people. If you're looking for a brighter, more airy feel I absolutely loved the Orangery, which can seat up to 100 guests. On a fine day the walled gardens are a beautiful option, with an apple orchard as your romantic backdrop. The walled garden also accommodate over 200 guests.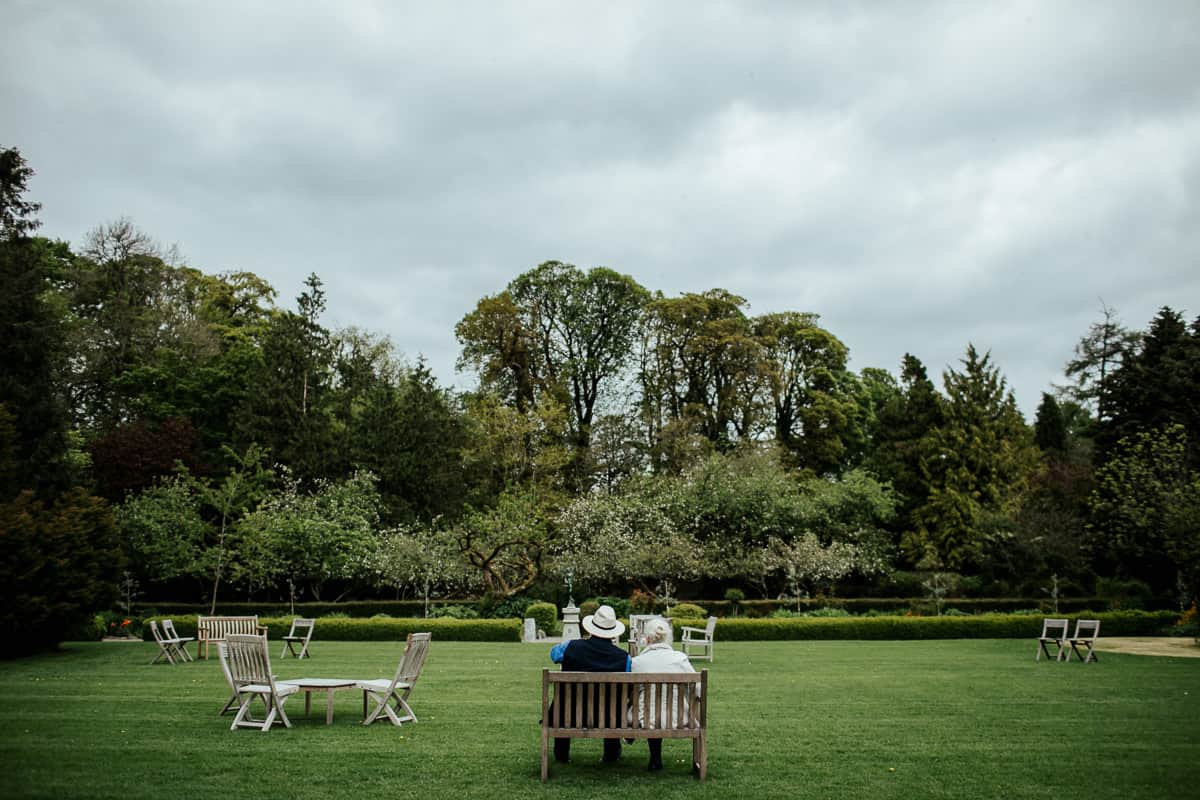 Wedding Reception at Rathsallagh House
Your main wedding dinner can take place in the Dining Room (up to 120 guests) but most weddings use the wedding Pavilion. It seats up to 250 people, making Rathsallagh House one of the largest wedding venues in Wicklow. The room is set with chivari chairs and round tables. I love the chandeliers illuminating the room, and you can also pick coloured uplighting for your first dance. The speeches & dancing both happen in this room long into the night, as the bar stays open until 3am. Rathsallagh House asks you to free the Pavilion by 4am but if you still want to keep partying you can bring any leftover drinks back into the house.
Where to Take Wedding Photos in Rathsallagh House
With their extensive grounds, Rathsallagh House offers plenty of choice for your wedding portraits. There are dozens of little nooks and crannies around the house and in the gardens. I personally love the private walled garden where you can escape for a bit of intimacy after the ceremony. The group photos are easy to do in front of the house as most guests enter the bar from the courtyard. You can get your family photos done in peace, and the ivy backdrop is gorgeous. There's also amazing lawns and beautiful trees. One particularly famous tree is lit up at night so make sure to get that iconic Rathsallagh House Night Tree shot!
If the weather made a turn and you have to run for cover, I love the option of the Orangery. It's a beautiful room that's not immediately obvious, so you'll have some privacy from your guests. The light coming in through the windows and skylights is beautiful, so it's a great option for a rainy day. And then of course there's the house itself with tastefully decorated living rooms. You can always use window light to create some amazing portraits!
As for Hazel and Eoin's wedding there was absolute magic. As everyone sat down for dinner, the most beautiful sunlight flooded the room. We kept watching it with trepidation, expecting clouds to cover up the sky at any moment. But they didn't! At the perfect time – just after dessert – the sun coloured the clouds in the most beautiful pinks and golds. Look at the photos and tell me it's not pure magic! So when your photographer suggest a few quick photos after dinner, just listen to them 🙂 It's so worth it!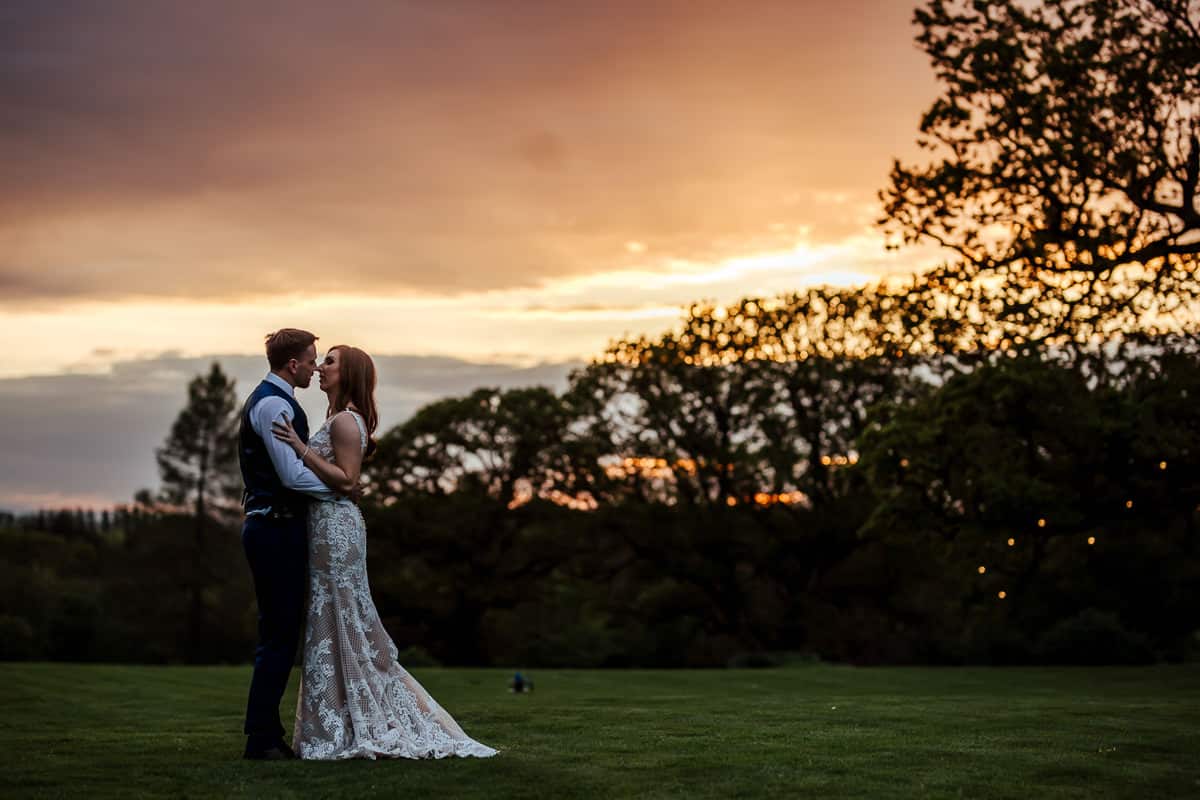 Scroll below for some more beauty from this Rathsallagh House Wedding!