Vow Renewals are an amazing way to celebrate a milestone in your marriage, reaffirm your commitment to each other and have a wedding ceremony all over again, your own way! Of course, what better way of organizing it than while on holiday, in a beautiful country? Mark contacted me a few months before he and his beautiful Danielle were planning their trip to Ireland to celebrate their 10th wedding anniversary. They wanted to do their vow renewal at Cliffs of Moher. I couldn't wait to show them around Co. Clare and get some amazing photos 🙂
What is a Vow Renewal Ceremony?
A vow renewal ceremony is a beautiful way to reaffirm your marriage vows. Couples often plan it to commemorate an important date or event in their marriage. It may be an anniversary or the birth of their children. You might have an intimate ceremony for just the two of you, or invite some special people who hold a place in your relationship.
The most beautiful aspect of a vow renewal is that it doesn't have to be legally-binding, so you can have whatever wording you like. Some couples choose to repeat their original wedding vows. Others write new vows and letters to their partner. It's a beautiful opportunity to not only reaffirm your commitment but also to reflect on the years of your marriage, all the obstacles and victories. Many people feel like marriage is the happy ending, the final chapter on a couple's journey. But really it's just a beginning, right?
Mark and Danielle were planning an intimate vow renewal at Cliffs of Moher, and my husband Ciaran agreed to be their solemnizer! Before the ceremony I sent each of them a list of questions about their story and their feelings for each other. I also asked them to answer the questions in secret, so on the day they heard their partner's words for the first time. We laughed and chatted all throughout the evening, exploring beautiful Clare. Then we arrived at the Cliffs of Moher, and magic happened. Mark and Danielle's ceremony was one of the most powerful I have ever witnessed. The love they have for each other and the depth of their feeling were so obvious in the way they look at each other. Hearing their partner's words, they couldn't hold back the tears for the whole ceremony. I swear I had to fight tears as well!
If you are planning a vow renewal ceremony, take time to make it personal! Trust me, it will make all the difference. It's not about the ceremony or the locations, it's about telling each other how you feel and reflecting on your journey together.
Traditional Irish Handfasting Ritual
Mark and Danielle decided to add something unique to their vow renewal at Cliffs of Moher – an Irish handfasting ritual. The tradition gave origin to the phrases "tying the knot" and "bonds of matrimony". Way before rings were a part of every wedding ritual (and when they weren't easily available), a couple used handfasting cords to symbolize their union. This ritual is common at Irish weddings and vow renewals to this day. You can make the cords yourself or order them made in your favourite colours and design. It's a beautiful ritual that also leaves you with a physical memory of the ceremony.
When is the Best Time to Do a Vow Renewal?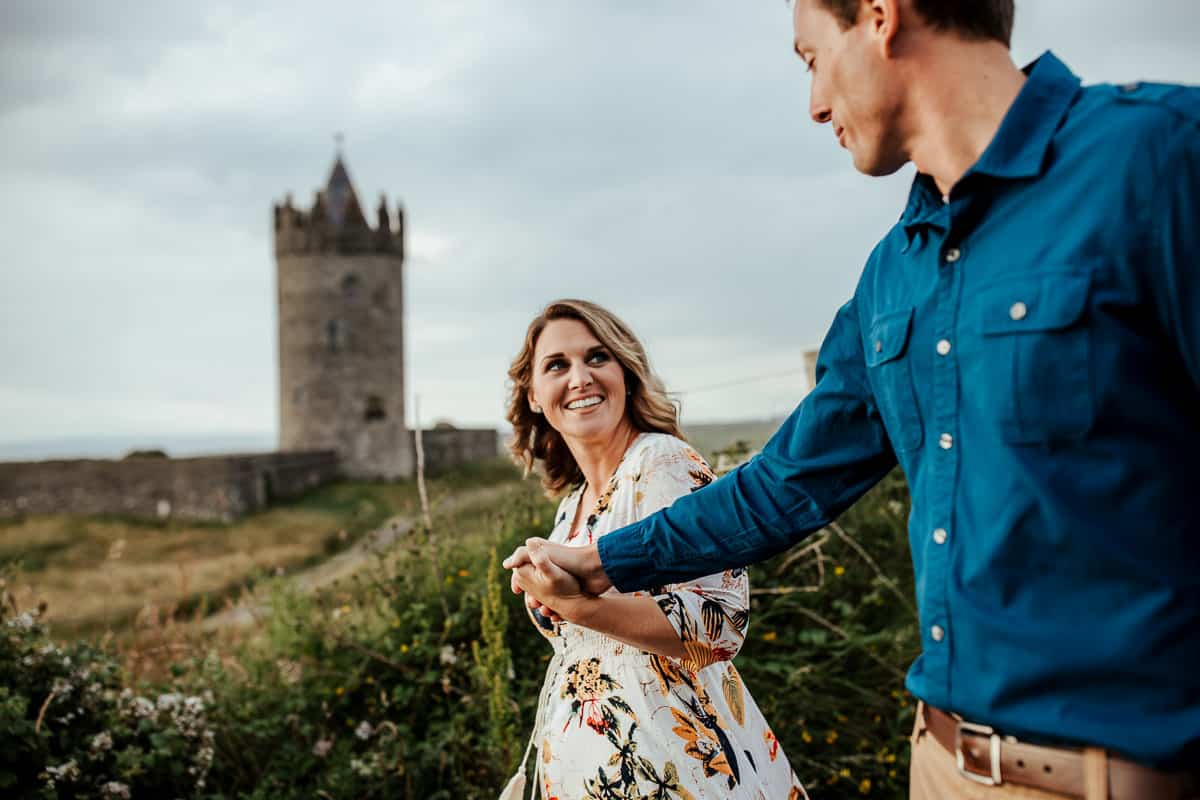 I often get inquiries for surprise proposals and photoshoots at the Cliffs of Moher, which are a gorgeous location. I hope you won't be surprised to hear that you're not the only person to think so! If you're planning to combine a photoshoot with a bus tour to the cliffs from Galway or even Dublin, you might want to reconsider. When I met Mark and Danielle on the day, they mentioned to me they'd visited the Cliffs at 2pm that same day and it was "a madhouse"! Summer is especially busy with tourists coming from all over the world. While we cannot guarantee perfect weather and visibility at the Cliffs of Moher, we can definitely guarantee herds of people! So if you crave some intimacy plan your visit well.
I generally recommend sunset as the best time for photos at a vow renewal at Cliffs of Moher. Not only is the light a lot softer and better for photos, you might also get lucky and have a gorgeous sunset as your backdrop! The cliffs are relatively quiet in evening time when bus tours are on their way back to big cities. I'd also recommend avoiding the Visitor Centre part of the cliffs as that area is always busier. But if must, check their opening hours which vary from month to month.
We met Mark and Danielle at 6pm, and we had a gorgeous evening. Even though we didn't get to see the perfect sunset, the light was perfect and soft for the whole evening. We got to drive around Co. Clare. There are so many beautiful spots just a short distance from the Cliffs of Moher. It would be a shame to miss them!
What is the Weather like at the Cliffs of Moher?
You probably won't be surprised if I tell you that Ireland is a rainy country, haha! The West Coast boasts particularly dramatic weather. It's the first piece of land for the clouds coming from the Atlantic. It's no wonder that the Cliffs of Moher do not get the perfect weather all year round. The weather is often windy and blustery, there can be rain and mist. On particularly bad days the visibility is so poor you might not be able to see the cliffs at all. Then again, the weather at the Cliffs of Moher is really changeable. The mist can come down and then lift within 15 minutes! Just be prepared for any possibility. Clare is gorgeous in any weather! What I would definitely recommend though is to have a backup location for the vow renewal ceremony itself and then judge the weather on the day.