Co. Kildare is the perfect choice if you want to have your wedding close to Dublin yet enjoy a countryside feel. See the 8 best wedding venues in Kildare and some practical info to organize your wedding there!
| | | | |
| --- | --- | --- | --- |
| Venue | Distance from Dublin | Capacity | Price per person |
| Martinstown House | 60km (about 50 min) | 240 | from €4850 for exclusive venue hire |
| The K Club | 30km (about 30 min) | 350 | from €115 |
| Cliff at Lyons | 30km (about 30 min) | 200 | from €135 |
| Carton House | 30km (about 30 min) | 300 | from €105 |
| Barberstown Castle | 30km (about 30 min) | 220 | from €85 |
| Celbrige Manor | 20km (about 20 min) | 300 | from €65 |
| Leixlip Manor | 20km (about 20 min) | 110 | from €59 |
| Burtown House | 70km (about 50 min) | 120 | price on application |
Martinstown House
My absolute favourite wedding venue in Kildare, Martinstown House is located just an hour's drive from Dublin and exudes country house charm. If you look out of your car window you'll see clouds of sheep, idyllic green pastures and cosy country cottages. Can you imagine a more idyllic setting? Sunny Martinstown House charms everyone on arrival with its understated charm. And as soon as you see the ceremony space, you'll be absolutely hooked! 
Martinstown House was built in the early 19th century on 140 acres of farmland and woodland. The combination of the stately rooms with period furniture and a green lawn with a firepit make it perfect for both formal and festival-style weddings. The house itself has 7 gorgeous bedrooms, sleeping 14 people. The Bird Room is wonderful for getting ready in the morning, and the balcony has a great view over the main lawn so you can peek at all of your guests arriving. It's also a great vantage point for a group shot of everyone at your wedding! Additionally, there are 3 more bedrooms in the stone yard accommodation plus camping options for your guests. 
One of the most charming spots in Martinstown House is its Secret Garden, an Italian-style walled garden. It's the perfect spot for family portraits away from the rest of the crowd, for couple photos and especially for a first look. One entrance is located close to the house while the other leads directly to the Woodlands. You can spend some intimate time together and then head directly for the ceremony without running into your guests. 
What makes Martinstown House one of the most unusual wedding venues in Kildare is its ceremony space – the Woodlands. Edward, the owner, began the construction to celebrate his son Andrew's marriage to Jessica. Now the family have turned the space into a true hidden gem. A walk through the woodlands leads you to a roofed wooden structure with a spectacular chandelier and a view onto a covered stage. It seats over 250 guests, and is perfect for a nature-inspired outdoor ceremony. The best part – even if it rains, you are (literally!) covered. And more good news, there's no additional charge for hosting your ceremony on site. 
The drinks reception is held on the main lawn, with a large fire pit in its centre. Your guests can warm up around the fire on a colder day, or enjoy the sunshine and refreshing drinks if the weather is warm. There are also beautiful rooms inside the house for a rainy day. If you'd rather host your ceremony indoors or you're celebrating an intimate wedding, the Drawing Room has capacity for up to 60 people and the Dining Room – for up to 35. 
Most weddings, however, are held in the designated Tent, a beautiful vintage-style marquee with carpeted floors. The wooden beams and greenery decorating the ceiling support the nature-inspired feel of the venue. The Tent seats up to 180 guests at round tables, and up to 240 guests (with a possible extension) at long tables. There's a cosy lounge area, a state for your band and a wooden dancefloor. Martinstown House pride themselves on amazing food made with fresh, seasonal produce either grown on their own land or sourced from local suppliers. All the food is prepared from scratch by their Ballymaloe-trained cook. The menu-tasting is an important part of your wedding planning, and you will certainly be blown away! 
As an exclusive venue, Martinstown House has a venue hire fee of €4850, plus €500 for Friday, Saturday or Bank Holiday wedding. There is a minimum number of 110 guests for weekend weddings and no minimum during the week. The venue fee includes full use of the house and grounds on the day of your wedding, flower decorations around the house and an entire shed full of wedding decor that you or your wedding decor team are welcome to. 
See this real festival wedding from Martinstown House.
The K Club
One of the biggest wedding names, the K Club just outside of Straffan takes your breath away at first sight. Originally modelled on a French palace, this stunning hotel provides exclusive luxury service and is bound to wow both you and all of your guests. 
The gardens around the house provide ample photo opportunities. From a romantic walkway bridge over the Liffey, to the carefully manicured gardens and beautiful woodland areas, there are 550 acres of land for your to explore! The house itself is absolutely stunning and so spacious that you won't even miss the grounds on a rainy day. The Old Entrance Hall and the Yates Room are gorgeous spaces, and for winter weddings there are candles and open fires to set the mood. 
You are just as spoilt for choice if you're planning a civil wedding at the K Club. The Garden is a popular space for an outdoor ceremony. You can walk down the grand staircase of the main house and meet all of your guests in front of the beautiful fountain. Another, more intimate, outdoor option is to say I Do's on the island, with beautiful music and the sounds of the river flowing in the background. If you'd rather opt for an indoor ceremony, there are several period rooms available. The John Jefferson Room is the most popular choice, with its Waterford Crystal Chandelier, Georgian decor and floor to ceiling windows for plenty of natural light. For more intimate ceremonies there is also the Garden Room with views over the stunning gardens, or the Library for a real Downton Abbey experience. 
For your wedding banquet there are 3 distinct options available, depending on your numbers and the atmosphere you'd like to create. The most popular choice is the Legacy Suite, just beside the Smurfit Golf Course. It is a stunning space decorated with white fabric and filled with natural light. There is a beautiful outdoor terrace, its own bar and even a fireplace for colder days. It seats from 80 to 350 guests so it's perfect for even a very large wedding! 
The other two options for more intimate weddings is the wood-panelled Palmer Room, for up to 110 guests, or the opulent John Jefferson Smurfit room, for a decadent meal for 12-60 guests. 
The K Club boasts 140 luxurious bedrooms – enough to accommodate even a very large wedding party. There are different wedding packages available, with a minimum of 80 guests for Thursday weddings and 150 guests for Fridays and Saturdays. 
Cliff at Lyons
Utterly romantic and stately elegant, Cliff at Lyons is one of the most unusual wedding venues in Kildare. Set in the old Shackleton Mill that has been luxuriously renovated, it features an array of stone cottages, a real waterfall, an elegant orangery and an intimate chapel in the middle of a lake. The setting is impossibly romantic!
As you arrive at the Village at Lyons, you are greeted by cosy stone cottages. There are 38 guest bedrooms on site and the main building – the Mill – to host your wedding reception. The photo opportunities are endless – from a stunning waterfall at the back of the Mill, to a vegetable garden, to an intimate lake with a fountain and a chapel in the middle. Cliff at Lyons is available for exclusive use for weddings over 130 guests, with the maximum capacity for 200 people.
There are a few civil ceremony options available. The most intimate and unusual is, of course, the chapel on the lake. It's impossibly romantic and seats 20 guests (the hire fee is €700). For the other spaces, there is a €1200 hire fee. You can get married in the luxurious Shackleton Mill with the cascading water in the background(seats 130), in the sun-filled glass Orangery (100 guests) or outdoors, in the gardens.
Drinks and canapes are usually served in the Orangery or in the 17th century courtyard, if the day is warm and dry. The main banquet is normally held in the Mill, a 2-level space with tall ceilings and views over the waterfall. The Village at Lyons are famous for their exquisite gourmet food, with a lot of produce being grown on site. The Head Chef is happy to work with you closely to accommodate any dietary requirements and listen to your wishes. 
Carton House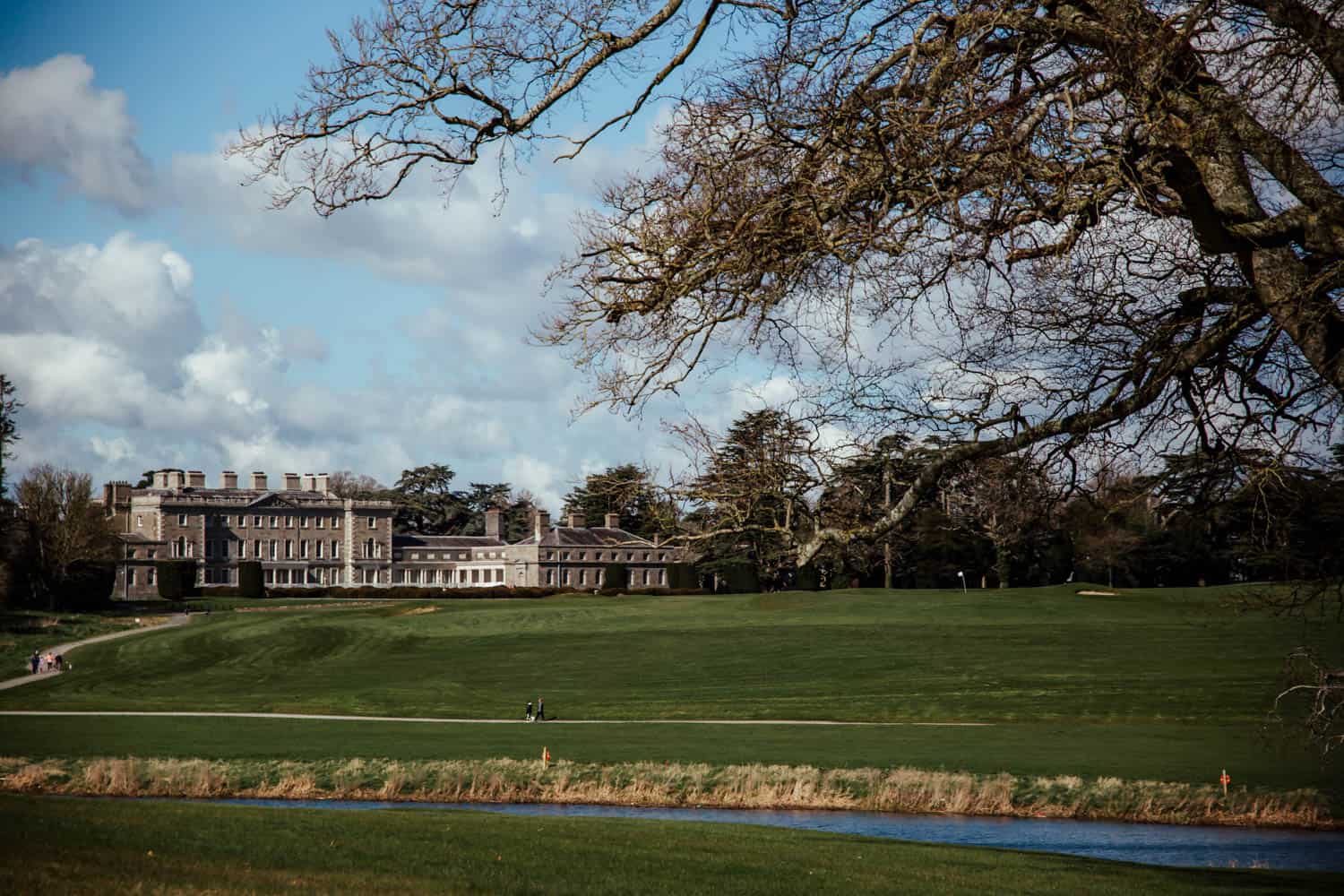 If you want to have a truly regal wedding, Carton House is one place you really can't miss. Located just outside of Maynooth, a very short drive from Dublin, this stunning Palladian manor exudes history and royalty. Once home to the famous FitzGerald family, Carton House was founded almost 300 years ago. The gardens are spectacular, the interiors jaw-dropping, and all of this is matched by the top-notch level of service.
The house is expansive, offering different wedding spaces for both intimate and extravagant weddings. For smaller weddings of up to 100 guests you can have the whole celebration in the Palladian manor house. It's fully licensed by the HSE, and you can have both your civil ceremony and the reception there, with a view out onto the stunning rose garden. The house is grand and royal, perfect for a truly luxurious and elevated celebration. Larger weddings of up 300 people are hosted in the classic and glamorous Carton Suite. It has its own terrace, a pre-drinks area and an outdoor ceremony space should you wish to say I Do's al fresco. There is a beautiful lawn with Linden trees, or the iconic boat house – both provide a stunning backdrop for your ceremony.
The food at Carton House is absolutely stunning and on par with the rest of the service. Every wedding package includes a 4-course meal, and the choices are exquisite. There are fois gras, seared tuna steak or grilled asparagus for starter; beef wellington, wild seabass or truffle ricotta and celeriac as your main course. It's all followed by mouth-watering desserts – chocolate marquis, salted caramel delise or white chocolate and raspberry tart… These are just some of the examples!
Another highlight of having your wedding at Carton House is your accommodation. You simply can't help being wowed by the magnificent bridal suite, one of the most spectacular bedrooms in the country. It's filled with period artwork and antique furniture, and once was the Lady of Carton's favourite room. The guest rooms are just as exciting, with four-poster beds, floor-to-ceiling windows, fireplaces and freestanding bathtubs. Besides the Old House, Carton House has also added a new wing with 148 newly renovated rooms, so your guests definitely don't have to worry about their accommodation options.
Carton House offers wedding packages all year round, from €105 to €140 per guest. During warm months you can swap prosecco for summer punch and have your drinks reception in the rose garden. Winter Romance package is available between November and March, excluding Christmas wedding. The house is full of romantic open fires and the scent of mulled wine everywhere. The minimum numbers are 60 guests midweek and 80 at weekends. 
Barberstown Castle
Have you been dreaming about tying the knot in a real medieval castle? Barberstown Castle, with its 700 years of history, might be just what you've been looking for. As you enter its vast banqueting hall and see the antique chandeliers it feels like you've travelled in time as well as space. In reality, you are just 30 minutes away from Dublin city centre! It's really handy if you've chosen Barberstown Castle as your destination wedding venue – your guests will have no problem getting there.
Unlike other medieval castles where you might have to put up with the old ways for the sake of preserving the original atmosphere, Barberstown Castle is also a modern hotel. You and your guests get to wake up in beautiful but comfortable rooms with four-poster beds. There are 55 bedrooms in this 4-star luxury hotel.
The wedding celebration itself takes place in the historic part of the venue. Barberstown Castle is registered to legally host civil ceremonies. You can tie the knot under the ancient ash tree on the lawns or in the private evergreen gardens. My favourite option, however, is indoors in the light-filled conservatory. With a beautiful stone wall and a medieval tapestry as the centrepiece, this room is absolutely beautiful for civil ceremonies. Holding your ceremony at Barberstown Castle is an additional fee of €450.
The conservatory is directly connected to the stunning medieval banqueting hall, seating up to 250 guests. You can create a real medieval feast there, with romantic candlelight reflecting off the original stone walls. The drinks reception is normally held on the lawn outdoors or in the cosy medieval rooms. Barberstown Castle has several wedding packages with bespoke options available. They require a minimum of 50 guests mid-week and 110 over the weekend.
See this real destination wedding at Barberstown Castle.
Celbridge Manor
Located just on the outskirts of Dublin, in Celbridge, this beautiful 4-star venue is a great choice both for an intimate celebration and a larger party of up to 300 guests. As you enter through a tree-lined driveway, you are greeted by a gorgeous view of the ivy-covered Georgian house. Around, there are landscaped gardens with roses and fountains, perfect for romantic wedding photos on site.
If you choose to celebrate your wedding vows at Celbridge Manor Hotel, there are a few civil ceremony options. The Speaker's Corner room is ideal for intimate celebrations, while for larger numbers you can choose between the light-filled Garden Room or the more royal-looking Aisling Suite.
Celbridge Manor has different wedding package options, ranging from €60 to €80 per person. They are also happy to offer tailored packages and revise their minimum numbers for different times of year. Each package includes a seasonal drink on arrival, homemade scones for your drinks reception, use of one of the suites for your wedding ceremony, fairylight backdrops and a sumptuous 5-course meal.
There is also ample accommodation at Celbrige Manor Hotel – with 66 elegant bedrooms your guests will be spoilt for choice. The bedrooms combine the historic elegance with modern day conveniences, and each package includes 20 discounted bedrooms as well as three complimentary suites.
Leixlip Manor
One of the best small wedding venues in Kildare, Leixlip Manor is absolutely charming and perfect for an intimate celebration. It's a cosy period house hidden among 27 acres of woods and greenery. There is a beautiful Victorian walled garden, perfect for romantic bridal photos. The view over the Dublin Mountains is absolutely spectacular, and there are friendly horses grazing just outside the house.
There are beautiful options for hosting your civil ceremony. For outdoors, the Victorian garden is intimate and private, while the front lawn can facilitate a larger celebration. You can also set up a marquee or a tent there, and use it for your day-after festivities. Inside the manor house, the Courtyard Room is a great indoor option to tie the knot.
The wedding reception itself is kept intimate, for up to 110 guests, and is hosted in the manor house itself. The wedding packages are tailored to your individual plans and start at €59 per guest.  
Burtown House
One of the more unusual wedding venues in Kildare, Burtown House is not yet a big name in the wedding world. Yet if you're on the lookout for a venue that's truly green, organic and rustic, Burtown House is a hidden gem. With the house itself – a Georgian villa – as the centre, the venue has designer accommodation in the Stable Yard, lush gardens, a charming fruit & vegetable garden and the organic Green Barn restaurant. The restaurant and the gardens are open to the public 7 days a week but you can have it all to yourself for an outdoor wedding celebration.
There are several areas that provide the perfect backdrop to outdoor weddings. The sundial garden is hidden behind hedging and provides a lovely intimate setting. There is an enchanting woodland island. You can also use the courtyard beside the main house for a sun-filled celebration or drinks reception.
Another highlight of your wedding would be the wonderful organic dinner in the rustic and Scandinavian-inspired Green Barn. The food is real delight – all the produce is picked fresh directly from the garden. The menu is obviously seasonal, and the restaurant is almost 100% self-sustainable with food coming from the walled kitchen garden, the polytunnels and the 4 acres of fields around the house.