Martinstown House truly is one of my favourite venues to work out, both thanks to the atmosphere of the place and the truly amazing owners. With its wonderful countryside charm, Martinstown House is located just an hour away from Dublin, Co. Kildare. As you drive towards it there are fluffy sheep grazing among green pastures and handsome cottages with wisteria climbing the walls. You couldn't imagine a more idyllic setting for a countryhouse wedding. The house itself has seven charming bedrooms sleeping 14 people and a gorgeous drawing room. You can use it both for your morning preparations, drinks reception and an intimate wedding dinner.
There are also a few smaller rooms, super quaint and with ideal light for couple photos. Its beauty, however, is outdoors as much as indoors. A vast lawn with a firepit in the middle is ideal for entertaining your guests and enjoying some garden games. The charming walled garden to the side is great for photo opportunities and as a first look location. At the bank there is a woodland area with a roof for an outdoor ceremony. You are able to use it in any weather without worrying about Irish temperamental climate. And then for dinner, of course, you have the option of a large marquee in the garden with a little drawing room-like area to the side.
What is the Best Season to Get Married at Martinstown House?
Martinstown House is mostly a summer venue, with weddings taking place from April to October. The gardens are especially stunning on a fine day, and having your drinks reception on a sunny lawn is a dream. But with Irish weather being quite unpredictable you still don't have to worry – there are lots of unique spots around the house, both indoors and outdoors. And on a lovely autumn day you can enjoy the amazing colours of leaves!
I've had a chance to photograph weddings at Martinstown House on both sunny and rainy days. Even on a gray day the bright yellow house and the greenery around it make your photographs look more sunny. For Claire and Enda's September wedding we had to move the first look from the Secret Garden to the drawing room because it was lashing rain outside. As soon as it cleared up a little we still got to spend a little time outdoors. There are pebbled paths everywhere so you needn't worry about your dress getting dirty. The drinks reception was also mostly hosted outside – even though it wasn't the warmest of days, the fire pit really enhanced the atmosphere and everyone was happy to be out and about.
The best part about Martinstown House is that you don't need a Plan B for your outdoor ceremony!
Civil Ceremony at Martinstown House
Civil wedding ceremonies are some of my favourite, as I find them a lot more relaxed than church weddings and there's no travel time needed. However, finding the perfect civil ceremony location isn't always easy. Martinstown House is a gem in this regard. The Woodlands area with its rustic wooden pavilion and a ceremony stage is a an absolutely unique spot. The roof makes sure you can hold your ceremony in any weather and not have to worry about the rain option. The Woodlands area is connected to the main house via a magical walkway, and the stunning chandelier gives this rustic place a truly luxurious look.
The first part of the Woodlands ceremony space was built for Andrew, the son of Edward the owner, and his bride Jessica. They went on to enhance the space, put in the mind-blowing chandelier, and now it's the perfect nature-inspired location for an outdoor wedding ceremony seating up to 250 guests. Unlike many other venues, the use of the ceremony space is also included in the venue hire fee.
For smaller parties the Drawing Room is another good option if you want to host your ceremony indoors. It seats up to 60 people and can also be used for intimate dinner reception instead of the marquee.
Accommodation at Martinstown House
If you book your wedding at Martinstown House the place is exclusively yours for the day. The Bird Room is beautiful for getting ready, but you can also use the Drawing Room – make up and hair stylists always appreciate extra space! The groom usually stays in the Stone Yard house, which makes it very easy for me to photograph both the bride and groom getting ready. In total there are 10 bedrooms on site, so you can enjoy being together with your family and bridal party. Other guests are welcome to use numerous B&B's nearby, the Keadeen Hotel in Newbridge or – better yet! – set up camp. Camping at Martinstown House is a very popular option, in full spirit with the rustic and festival wedding theme.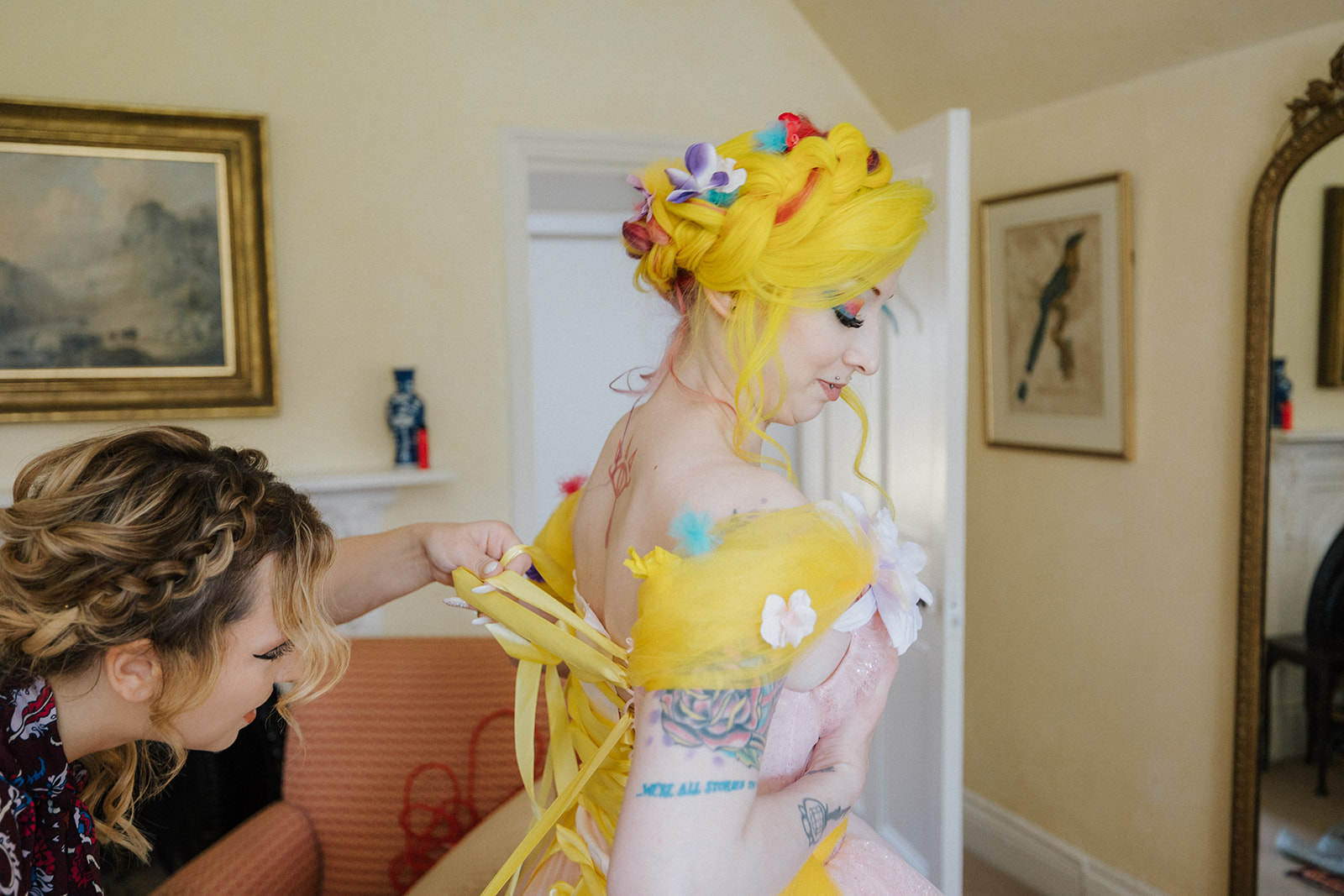 Do I Need to Hire Decor for My Wedding?
If you're looking for a luxurious yet personal wedding at Martinstown House the place will really makes you feel like the lord and lady of the manor! I loved the decor and the little touches they had in every room – from animal-themed coasters and antique chests to gilded mirrors and vintage window panes. Edward and his daughter-in-law Jessica give you an incredibly warm welcome. The whole place is wonderfully homely and comfortable, elegant and indulgent without being too posh or opulent. You'll also be able to decorate the venue with fresh flowers from the garden. Martinstown House is beautiful both by day and by night – there is plenty of natural light and equally plenty of light features for the evening like candles, fairy lights and even lamp shades hanging off the trees in the garden!
Where to Take Wedding Photos at Martinstown House
With gorgeous grounds and acres of land, there are plenty of options for wedding photos. The best part? There are a lot of secluded areas to have some intimacy and stay away from prying eyes, yet everything is really close by.
The Secret Garden
One of my favourite spots at Martinstown House, the Secret Garden is perfect if you two decide to do a first look. There are two entrances to this walled garden. One comes almost directly from the house, the other leads towards the Woodlands ceremony area. You don't need to worry about bumping into early guests, and you can literally hide away behind the stone walls, then make your way directly to the ceremony. The garden feels very private and intimate, and I also like to use it for family photos later, away from the rest of the party.
The Woodlands
This part of the grounds steals my heart every time. The walk to the Woodlands feels so intimate and rustic. There's a quirky piano filled with flower pots, lampshades hanging off trees and views over rural Kildare. I love it all! If you've picked Martinstown House as your wedding venue, you probably love nature and the outdoors. This area makes you feel like you're right in the middle of the woods!
Donkeys!
They are in the field at the back of the house, and if you ask nicely they'll come and pose for some pictures. They are also quite partial to wedding flowers. Don't say I didn't warn you!
Front Lawn
The expansive lawn with a fire pit in the middle is the first thing you see as you drive up to the iconic yellow house. This area is normally used for your drinks reception but after the guests are called to the tent for dinner it's great for some photos, too! There's a romantic swing (if you can get the kids off it), and on a sunny day you'll be greeted with gorgeous sunset.
Food at Martinstown House
No wedding is complete without a feast, and a feast you shall have. Marstinstown House prides themselves on their fresh and quality food, and the flavours do not disappoint. From the start of the drinks reception with platters of meat and cheese to a gin bar and gorgeous dinner courses. All the food is homecooked, and the ingredients are all organic and mostly local. Edward, Jessica and Andrew grow a lot of vegetables, herbs and fruit in the Walled Garden and source other food from local farmers. The fresh eggs for breakfast are laid by Martinstown House own hens and you can try homemade jams and preserves. It's hard to beat the delicious flavours of fresh food, and you couldn't ask for better! For your wedding dinner you can go with a classic menu of dishes like organic guinea fowl with mushroom and pancetta, or striploin of beef with yorkshire pudding and homemade horseradish sauce. Another popular option is Spit Roast Dinner of Curragh Lamb or Suckling Pig on the spit with a beautiful selection of garden vegetables.
Martinstown House Wedding Reception
While you are welcome to use the Drawing Room in the house for an intimate wedding dinner, most weddings are hosted in the Tent. It's a gorgeous vintage marquee with carpeted floors, set up in the middle of the Secret Garden. The wooden beams have greenery hanging from the roof and enhance the nature-inspired atmosphere of the venue. The Tent accommodates up to 180 guests at round tables and 250 guests at long times. There's a bar, a wooden dancefloor and a lovely lounge area to the side.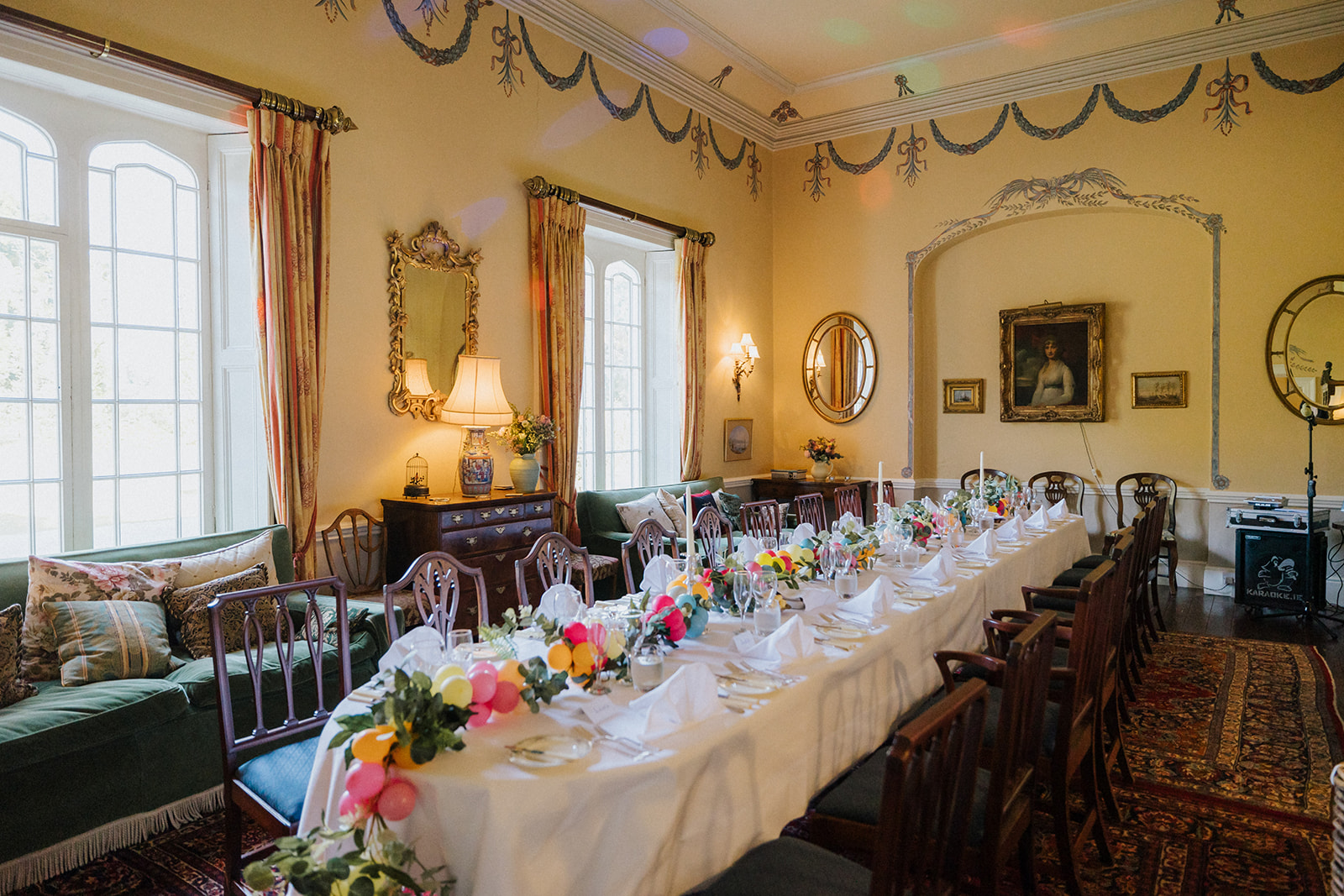 Martinstown House Wedding Cost
Being an exclusive wedding venue, Martinstown House has a flat hire fee. It's €4850 for mid-week weddings and an additional €500 for celebrations on Fridays, Saturdays, and bank holidays. This includes full use of the grounds (including the ceremony space) as well as the bedrooms in the house on the night of your wedding. Martinstown House also provides seasonal flower arrangements in the house, and you are welcome to use their available wedding decor. There are several menu and pricing options for your drinks reception and main feast, depending whether you want to go with buffet-style, BBQ or a different type of dinner. On weekends you'll also be asked to have a minimum 110 guests.

REAL WEDDINGS AT MARTINSTOWN HOUSE