As you drive through a tree-lined entrance that winds its way along a peaceful brook a beautiful manor house comes into view. Boyne Hill House is stunning on first impression and gets even better as you explore it further. Situated in Co. Meath, just outside of Navan, it's an easy drive from Dublin but features the best a country house wedding venue has to offer.
The Coolest Feature of Boyne Hill House
Let's jump straight to the good stuff. My absolutely favourite feature of Boyne Hill House, and something I've never seen at any other wedding venue, is the Secret Tunnel. I immediately had the Harry Potter soundtrack playing in my head as I stepped into it!
Besides being infinitely cool and magical, it's also extremely practical. The Tunnel connects the Manor House to the Conservatory and the Banquet Room where you'll be having your wedding dinner. Which means that on a rainy day you wouldn't need a single umbrella, and your guests could stay nice and warm throughout the whole day! 
Accommodation and Getting Ready at Boyne Hill House
One of the best features of the venue is its ample accommodation. Between the Manor House and the Courtyard Mews there are 43 bedrooms – 35 guest rooms in the Mews and 8 period suites in the main house. The luxurious Bridal Suite is perfect for you to get ready in, but should it be unavailable for your wedding morning there's also a dedicated prep room for the girls and a snooker room for the guys. Essentially, you can spend the whole day on the grounds of Boyne Hill House and enjoy every minute of it!
Civil Ceremony at Boyne Hill House
Hopefully, rain won't make an appearance on your wedding day, and you can have a choice of where to host your wedding ceremony – indoors or outdoors. If you want to be surrounded by nature the Secret Garden is a gorgeous option to wed amid a romantic apple orchard and century-old trees. If you opt for the indoor ceremony this Victorian walled garden is still a place to escape to during the drinks reception for a bit of peace and quiet and some spectacular photographs!
The Conservatory that you enter via the Secret Tunnel is one of my favourite rooms in Boyne Hill House and it's perfect for your ceremony. It's filled with natural light from the windows on one side and a magical fairy light backdrop against an exposed stone wall on the other. It's a real fairy tale setting for your Boyne Hill House wedding.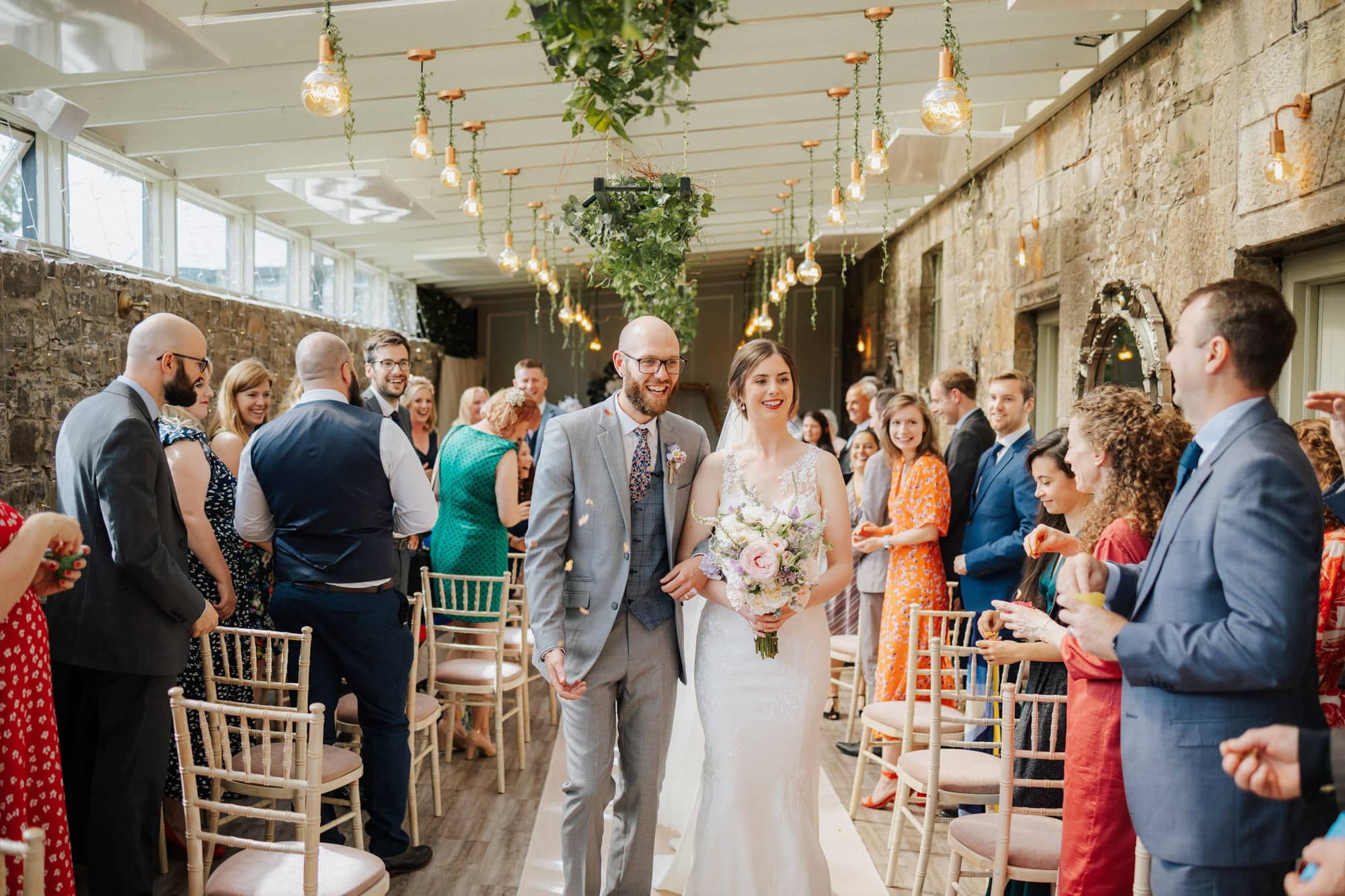 Drinks Reception and Dinner
After your ceremony you and your guests can head back into the Manor House and enjoy a few drinks in its stunning period rooms. This is another stunning feature of the venue. All the rooms are unique and beautifully decorated with intricate wallpaper, antique furniture, gilded mirrors and artwork. The turquoise drawing room takes your breath away as soon as you enter it!
The Boyne View Banqueting Suite seats up to 170 guests and is perfect for your wedding dinner. For smaller celebrations you can also use the Conservatory with its fairy light backdrop. Packages for Boyne Hill House weddings include full access to all these features as well as a six course dinner. 
Another part I love about Boyne Hill House is that after dinner you and your guests move downstairs for the crazy party you have planned! It's spacious and fun, and best of all there is no lull while the tables are being moved and the band are setting up. A smooth transition like this always makes the evening a lot more fun!
---