Whenever you are reading this blog, you will be hard-pressed to forget the year 2020. Our lives were turned upside down by a completely unexpected worldwide pandemic. As I'm writing this in spring 2020, I know that the idea of an intimate wedding is on a lot of brides' minds. After all, whether you have 10 or 110 people witnessing your ceremony doesn't change the fact that you're marrying your best friend and enjoying the best day of your lives. Dublin Registry Office wedding is one of the most popular options for an intimate celebration.
The Practical Side – Dublin Registry Office Wedding
Dublin Registry Office is located quite centrally, a short walk from the Grand Canal Dock, right next to Sir Patrick Dun's Hospital. Unfortunately, there's not much on-street parking around. You might be lucky to get an on-street parking spot in Albert Court just around the corner. Most couples come in a taxi, and the closest car park is Q-Park by the Grand Canal Square. If you're feeling adventurous you can also get there by the DART! The station is less than 10 minutes away, and it could be an opportunity for some really cool wedding photos.
Once there, you'll go through a little courtyard into the registry office itself. There's a waiting room and the ceremony room behind double doors, accommodating up to 60 of your guests. At the top of the room there is a wooden desk with 4 chairs in front of it, for the couple and the witnesses. The registrar sits in the chair behind the desk. You can use flowers for decoration but no confetti or rice is allowed.
Wedding ceremonies take place from Monday to Friday, between 9am and 4:30pm, at 30-45 minute intervals. The ceremony itself is quite straightforward as the legal wording must remain the same, and you're not allowed any religious music, readings or candles. Most couples still use their own music (normally on a CD), and the registrar will prompt your guests to do a reading if organized.
Civil Marriage Ceremonies in Ireland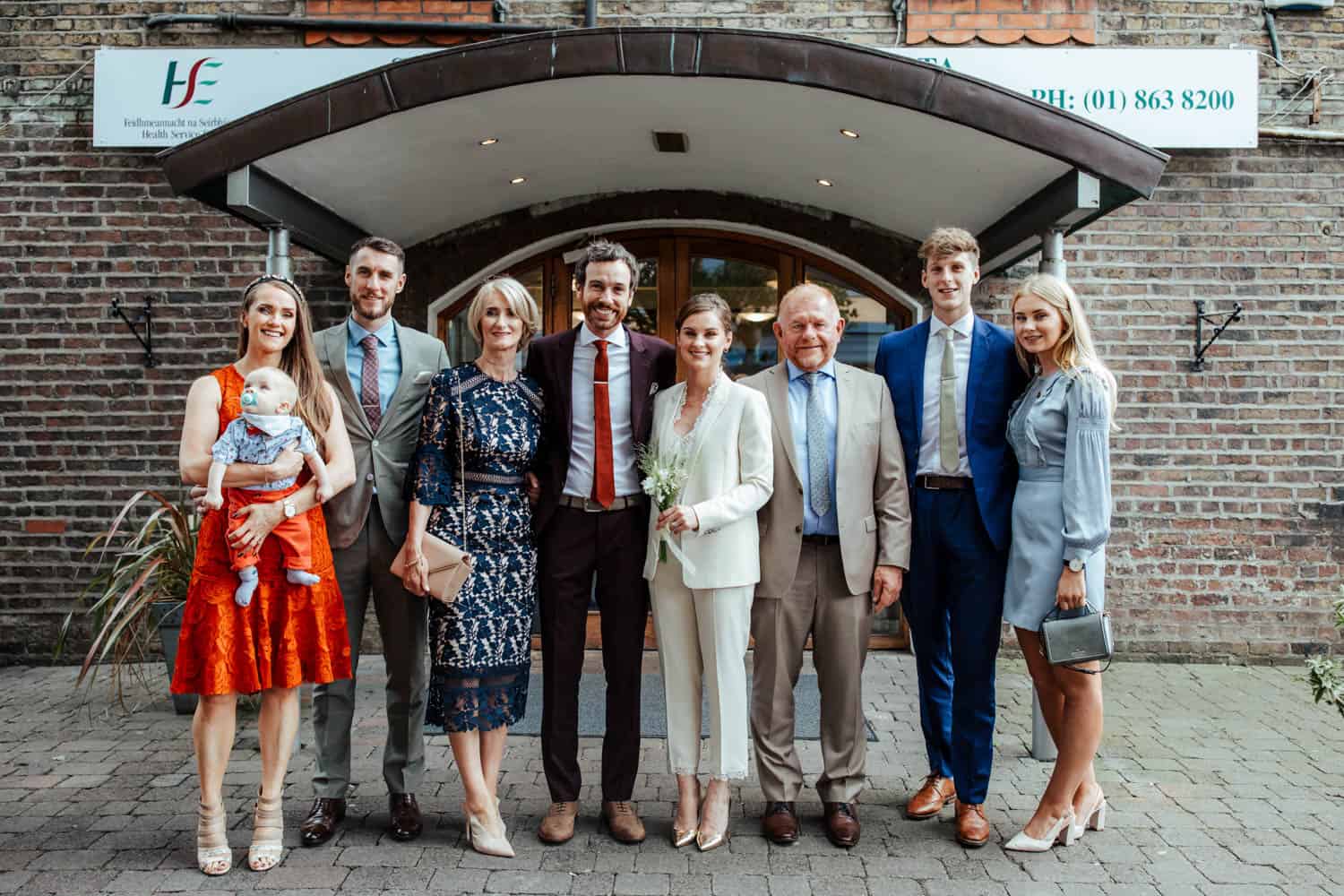 In order to get married at Dublin Registry Office, the requirements are the same as for any other civil wedding. After you've decided on when and where you'd like to get married (i.e. which county) you'll need to make an appointment with the Registrar to give them your 3 months' notice. At the appointment you'll be asked to provide a list of documents (passports, birth certificates, your PPS numbers and any documents related to previous marriages) and pay a non-refundable €200 fee. For civil weddings outside of the registry office you may have to pay additional fees. Registrars normally charge for travel to outside venues, depending on where they are located. This makes Dublin Registry Office wedding the most affordable option. You won't have to pay anything on top of the standard €200 Marriage Registration fee.
At your appointment you'll also give the registrar the date of your wedding ceremony and the names and dates of birth of your witnesses. Legally you have to give at least 3 months' notice. However, Dublin registry office is incredibly busy so it's a good idea to schedule your appointment at least 6 months prior to your intended wedding date.
Where to Take Wedding Photos
Dublin Registry Office is located right in between Grand Canal Dock and Dublin City Centre. There aren't that many spots right on its doorstep but within a 10-min walk you can find a lot of beautiful locations. We usually start by taking a few photos with your family and witnesses right outside of the Registry Office. Then your guests can make their way to your reception venue while you can enjoy a bit of privacy and a walk around town.
Sometimes it makes sense to have a car or a taxi bring you to your favourite spot, however on a nice day it can be lovely to take a stroll and enjoy the city. The walk isn't very long but you definitely want to consider bringing a spare pair of flat shoes for in-between locations! Depending on where you are organizing your reception, there are a few different itineraries:
Walk south along the canal, taking in the greenery, then head back into the city centre for some Georgian Dublin architecture along Baggot St/ Fitzwilliam St.
Head straight for Merrion Square (10-min walk). Then walk along Merrion St Upper to grab a pint at O'Donoghue's Bar!
Walk to Grand Canal Square (10-min walk) for some modern architecture, then continue along the Liffey Boardwalk to take in Dublin's skyline and the famous Samuel Beckett Bridge.
Head west to Grafton St (15-min walk) to get photos among colourful South Dublin streets, the cobblestones of the Temple Bar and the iconic Ha'Penny Bridge.
---
Planning a Dublin Registry Office wedding? My intimate wedding collections start at €1800
---
Intimate Dublin Registry Office Wedding
Dublin Registry Office is a very popular choice for an intimate mid-week wedding for those couples who, for one reason or another, don't feel like throwing a huge party on a Saturday.
SARAH AND DARRAGH: ABSOLUTE ELEGANCE
When Sarah opened her social media to find a poem in her inbox she knew something special was about to happen 🙂 She and Darragh found soulmates in each other so for their wedding they wanted to create a really personal celebration. While they looked forward to having a party with all their friends (this happened in the evening) they also wanted to enjoy an intimate celebration with their closest family and friends.
So why not have both? Sarah and Darragh stayed at the beautiful Intercontinental Hotel in Ballsbridge, had an intimate and emotional ceremony with their families at the Registry Office and then enjoyed a romantic stroll through December Dublin on their way to one of their favourite restaurants – The Pearl Brasserie. And then a big party all night long!
BELEN AND ABEL: HOME AWAY FROM HOME
Belen and Abel both come from Argentina but after a long-distance relationship they made Dublin their home. They wanted to celebrate their marriage in the city that helped them build a life together. After an intimate registry office ceremony we went to take a few photos at Iveagh Gardens just a short drive away. Belen and Abel made a lunch reservation at Fallon & Byrne. Their after-party was at a private room at the Oak pub on Parliament Street. With small numbers it's very easy to find private spaces at Dublin restaurant and pubs, and the city streets offer a great backdrop for urban wedding photos.
SIOBHAN AND GAVIN: DESTINATION WEDDING IN FRANCE
Siobhan and Gavin are both from Ireland but they were having a big destination wedding in France. They decided to have a Dublin Registry Office wedding with just the closest family and friends followed by lunch at the Alex hotel. It's an easy 7-minute walk from the Registry Office. We popped into Merrion Square across the street for a few wedding photos. As a bonus, Siobhan got to have two outfits for her wedding – how cool is that?
IOSUNE AND EOGHAN: INTIMATE CHRISTMAS WEDDING
Iosune and Eoghan both wanted to keep their wedding simple and intimate. They knew if they were to go back to Iosune's hometown in the Basque country a small wedding would not be possible. Instead, they chose to have Dublin Registry Office wedding at Christmas with just the immediate family and closest friends, followed by drinks and dinner in Clontarf Castle. For wedding photos we drove to Bull Island. Eoghan has lived in Clontarf all his life, and the sight of the Poolbeg Chimneys is Iosune's favourite view in Dublin. And even though the December day was meant to be wet and foggy, the skies cleared up just give us a glimpse of the most glorious winter sunset!