Ireland truly is a fantastic place to get married. Never mind the gorgeous landscapes and the mild weather all year round (we won't mention the rain!), there are some of the best wedding venues Ireland. The great thing about them is the sheer variety. From your local hotel to an intimate country house, and from a medieval castle to a luxurious period manor – the choice is entirely yours. Some might even say the choice is a bit overwhelming!
So how do you pick one of the best wedding venues Ireland to host your big day and make it unforgettable? Here are a few tips to start you off:
1. What do you want your wedding to look like?
Before you start off googling and making a shortlist of the best wedding venues Ireland you'd like to visit, sit down with your partner and have a good long chat. What kind of wedding are you really dreaming about? This is the point when you might have different ideas but be open to each other's suggestions. They say picking a wedding venue is like buying a house. You might have an extensive Pinterest board ready to go but as soon as you walk into "the one" you'll know!
But while you should stay open to each other's ideas, you might still rule out some options. When I was getting married, both Ciaran and I knew we wanted a relaxed day outdoors in the sun as opposed to a dark medieval castle. Maybe you've always wanted to tie the knot in a pagan ceremony in the middle of the forest, or maybe being beside water is something that's really important to both of you. No point spending time seeing hotel function rooms if that's something you're both against!
2. How big is your wedding going to be?
That's another question that you might have different ideas about! My two friends who recently got married thought it might be a sticking point – she wanted a big wedding, he was hoping for a more intimate affair. In the end they had a lovely celebration of just over 100 people. What felt like a big party to her (being an only child) was an intimate day for him and his large family!
So before you start putting labels, sit down and make a list together of everyone you're planning to invite. You don't have to finalize the numbers the day after you get engaged, and you're likely to cull them down. But at least if your guest list is closer to 180 you'll be able to rule out the venues which only accommodate 120. Or, as was the case with our wedding, we set out to look for an intimate wedding venue straight away. We both wanted a really intimate party and ended up with 30 guests, so having a ballroom all to ourselves didn't seem like a good idea!
3. What kind of ceremony are you having?
Church or civil wedding? The choice might require some logistics when you're picking one of the best wedding venues Ireland. If you're going with a church ceremony you may end up going with a church that's local to your venue. But often it might be the church that will determine where your wedding reception will be held. In general, I would recommend looking at the travel time between the two locations. Ideally, the shorter the better and you definitely don't want to go over an hour's drive. When I say an hour – that's an hour in that beautiful vintage car you'll hire for the day, not in your everyday hatchback. Think of all the quality time with your guests during the drinks reception that you could be missing out on! If you're having an autumn or winter wedding make sure you account for daylight time, as well. You don't want to arrive at the venue only to see the sun set and have no chance to enjoy the grounds in daylight.
Civil ceremonies are easier as they are usually shorter and can be held directly at your venue. You (and your guests) don't have to bother with travelling, expensive car hire or taxis. You also get to save a lot of time by spending the whole day in one place. At the same time, when looking for your wedding venue, the ceremony space options could be a deciding factor. Often the ceremony rooms are smaller than reception rooms, so they wouldn't be able to accommodate the maximum number of guests. Other times you may need to pay extra for ceremony room hire.
4. Where is everyone going to stay?
One of the big perks of getting married in a hotel is the number of rooms available. This gets a bit more complicated as soon as you start looking at other types of venues. Country houses and castles may only be able to accommodate your immediate family and bridal party on site, so your guests will be looking at options nearby. Thankfully most venues will give you a list of local hotels and BnBs. They also usually have an arrangement withtransport companies for picking up your guests at certain times during the night.
5. How flexible are the wedding packages?
When they say your wedding day is your day, it's absolutely true. It's going to be one of the most important and happiest days in your lives, and you want it to be your dream come true. And while I always say you shouldn't get hung up and stress about the tiniest details, you also want to make sure your venue is happy to accommodate your dreams! So check the different packages your venue offers and see what you're happy with. Some venues will have a one-size-fits-all package which might work great for you. But if it doesn't – be sure to check if they can tailor a package to your needs. Most of the time the coordinator will be happy to do a swap or come to some agreement.
So here we go, some initial tips to go by! Below I'd love to show you some of my favourite and best wedding venues Ireland I've had a chance to visit and photograph at.
Best Wedding Venues Ireland – Country Houses
Martinstown House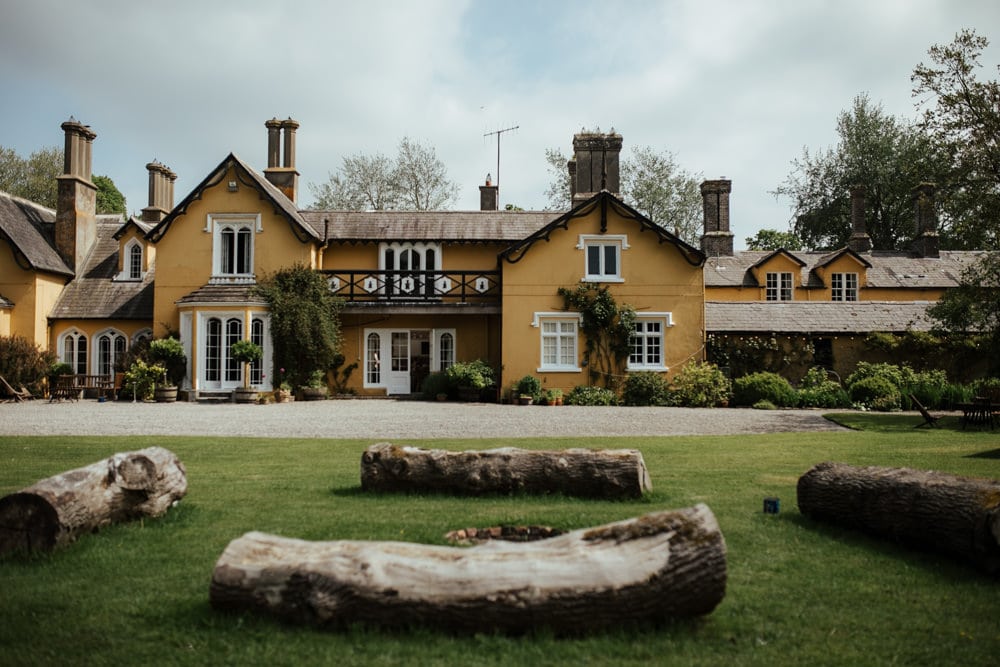 Just a short drive from Dublin, this cosy and charming family-run country house just beckons you in with its sunshine-coloured appearance. Jessica and Edward who run Martinstown House are absolute pros at making your wedding day super relaxing and running smoothly at the same time. Jessica's husband Andrew is head chef, and the food with its focus on organic local produce is to die for.
Why it's unique: The Woodlands ceremony space is nothing I've seen ever seen before! If you love being surrounded by nature it's the perfect backdrop for your wedding vows, and you don't have to worry about the weather as there's always a roof over your heads.
What I love about it: The atmosphere is just so relaxing and homey. It really feels like having a gorgeous period house all to yourself for the day, rather than renting a wedding venue. But then there's the added benefit of having an amazing coordinator and staff to ensure you don't have to worry about anything!
Capacity: 220.
Tinakilly House Hotel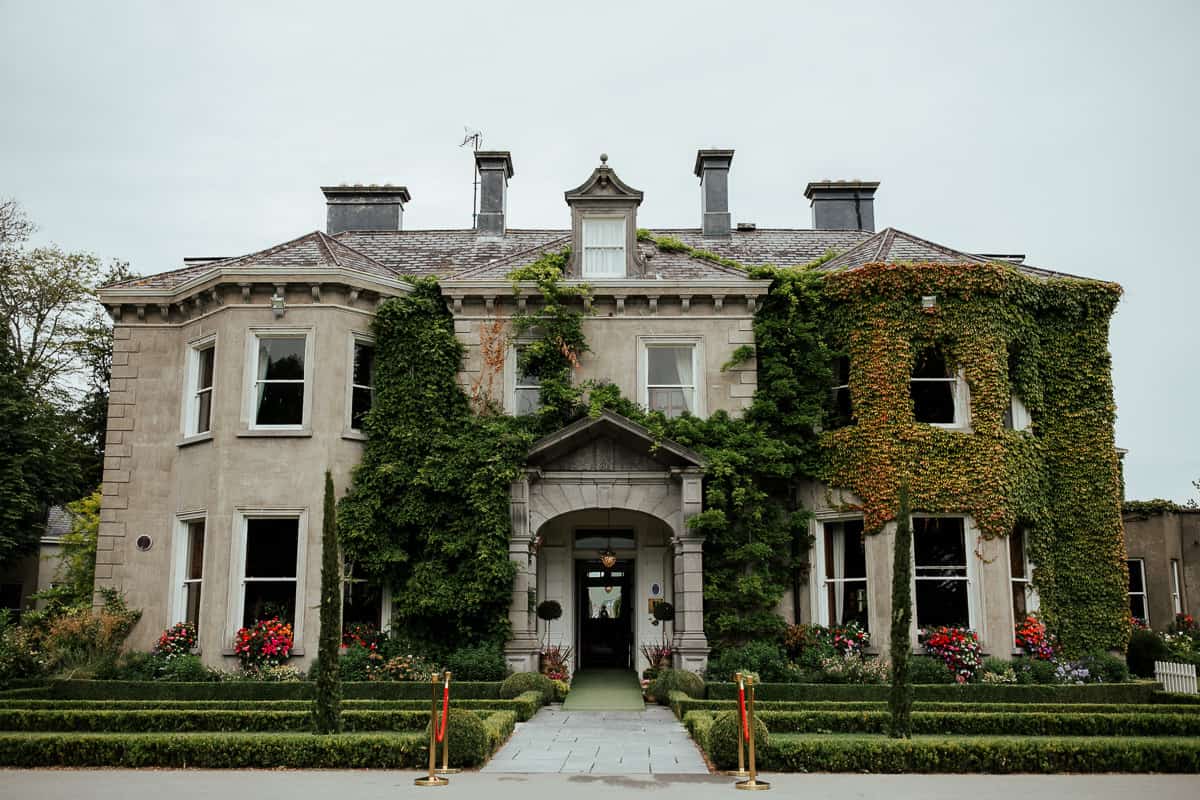 Nested in the middle of Wicklow mountains, with views over the Sugarloaf, Tinakilly House combines the beauty of a manor house with the convenience of a hotel. You get to enjoy the beautiful hallways and drawing rooms while also having access to 51 bedrooms, plus glamping tents, that can accommodate the majority of your guests. The grounds are also stunning so you don't need to drive far for beautiul portrait backdrops.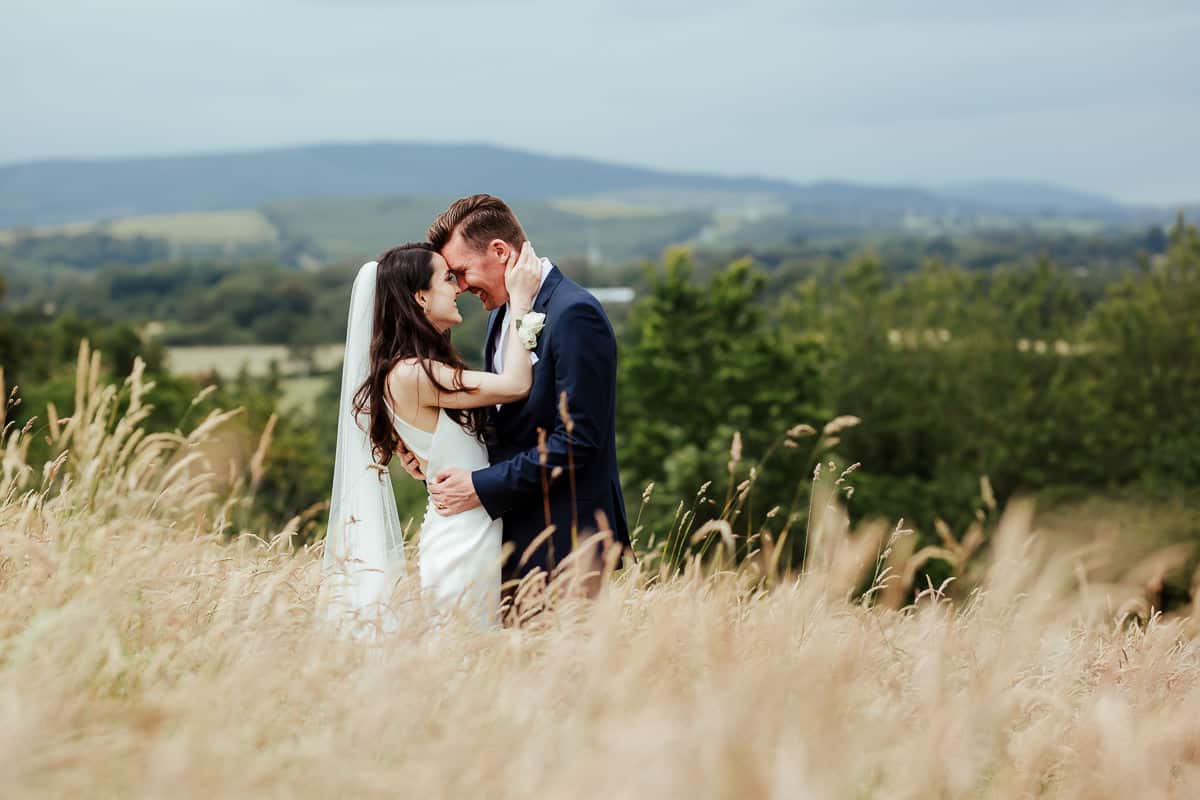 Why it's unique: It's not often that you find a period home large enough to accommodate all of your wedding party on site. There's no need to worry about getting your guests to their BnBs and interrupting the party in the middle of the night.
What I love about it: The fields of wheat overlooking the Wicklow mountains offer one of the most amazing views. It's a little area tucked away behind the main house, a little hidden gem to take a break and soak in the day!
Capacity: 260
Lisnavagh House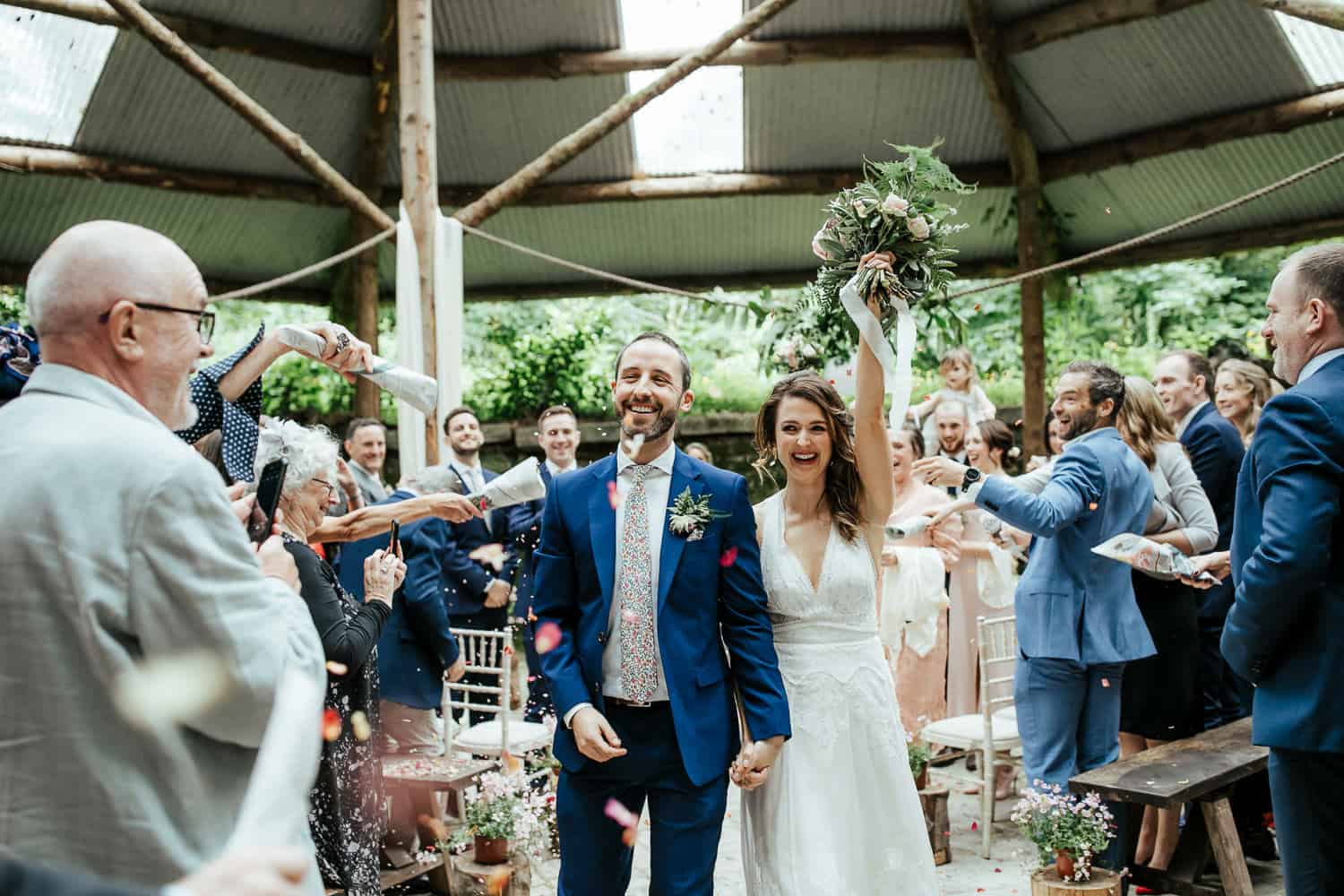 A magnificent manor house in Co. Carlow, just on the border with Wicklow, Lisnavagh House blows you away with its interiors and details. The grounds are spectacular, full of different areas and backdrops. The rhododendron walk draws you in May, the wisteria covers the walls in June, and later in summer the whole place is filled with lush green colours. It's also a venue where you can make absolutely any vision of your wedding day come true. The house is absolutely yours, with no packages attached, so you can bring in whatever decor and food you'd like!
Why it's unique: The old brick-walled reservoir and the Yew Walk are both incredibly unique ceremony locations. The former is an industrial-looking circular structure covered with what looks like a massive Vietnamese rice-hat, perfect for changeable Irish weather. The latter is a magical walkway created by rows of 160-year-old yew trees. It really feels like you're in the middle of an enchanted forest!
What I love about it: When I saw it for the first time the Library Room in the main house took my breath away. It's complete with floor-to-ceiling windows, amazing tapestries and a secret door in the bookcase!
Capacity: 170
Marlfield House
A light-filled conservatory for your wedding meal, lush gardens that turn all colours of the rainbow in autumn and peacocks roaming the grounds. Marlfield House in Gorey, Co. Wexford is full of eclectic elements of decor and personal touches. It's also one of the most romantic venues Ireland I've been to!
Why it's unique: The bridal suite faces a gorgeous private garden – perfect if you're doing a first look and want some privacy.
What I love about it: The bridal suite is so full of beautiful details it's almost impossible to stop photographing all the little elements!
Capacity: 145
Rathsallagh House
Set over 270 acres of gorgeos parkland, Rathsallagh House is a 17th-century period manor that offers a stunning backdrop for your wedding. The house itself is covered in green ivy all year round, and the orchard in the walled garden is one of my favourite spots for portraits. Apple blossoms look amazing in spring time, and in late summer and autumn the ground is covered with apples!
Why it's unique: The packages are really flexible, and the staff will always go an extra mile to accommodate your requests. That's one of the big perks of working with a family-run venue!
What I love about it: If you get a sunny day you can bet on a pretty epic sunset! The main lawn is perfectly west-facing, so you're sure to get some beautiful light.
Capacity: 250
The Millhouse
The Millhouse in Slane, Co. Meath is often referred to as an "alternative wedding venue", and indeed it is a place like no other. Your ceremony literally takes place in an old mill! There's a massive chimney dominating the skyline as you drive in. I love the contrast of place – old industrial brick buildings are decorated with fairy lights and stand side by side with a luxurious period house.
Why it's unique: Honestly, the Millhouse is everything but ordinary! The old world charm dominates the atmosphere, combined perfectly with contemporary elements and luxury. You just have to go and see it!
What I love about it: All the textures and the backdrops are incredible for creative wedding portraits. Also, the bridal room has the most amazing murals!
Capacity: 240
Horetown House
An exclusive country house with one of the most striking ceremony rooms I've ever seen! Horetown House is absolutely amazing for its vintage vibes and picturesque backdrops. Your ceremony can be both indoor (I can't help mentioning that room again!) and outdoor, with lavender bushes forming a gorgeous aisle. But it's the outstanding hospitality where Horetown House really shines! No request is too big or too small. Also, the bridal suite upstairs has the most divine light.
Why it's unique: The Pavillion that hosts your wedding dinner and party into the night is truly striking. What's more, it can be easily transformed to fit any type of wedding – from an intimate 50-person celebration to a 200-people affair. You'll never have the problem of the room feeling too empty or too crammed. Also, the seasonal decor really is stunning.
What I love about it: The white ceremony room is every photographer's dream! With natural light flooding in, it's the perfect blank slate for your wedding ceremony dreams.
Capacity: 200
Cliff at Lyons
The ultimate romantic venue just outside of Dublin, Cliff at Lyons simply exudes elegance and charm. I love the way the venue consists of many little buildings and cottages. The ceremony and reception take place in the grand Mill with a view over the flowing water. The opportunities for photos are absolutely boundless – there's a quaint vegetable garden, lots of textured walls, romantic-looking cottages, a lily pond with a chapel on an island and even a bridge over a waterfall! Amazingly, all the spots are located just a few minutes' walk away from each other. Your guests are sure to be charmed by the beautiful setting, and then doubly impressed by the elegance of the lavish banquet set up in the Mill.
Why it's unique: The little chapel on the lake is the ultimate romantic setting, you won't find anything like it anywhere else!
What I love about it: So much ivy! The little cottages strewn around the place are absolutely covered with it, and it makes for an amazing view in autumn.
Capacity: 180
Ashley Park House
A wedding by the lake, surrounded by lush Irish countryside? The charming rural surrounds of Ashley Park House are the perfect match to the period beauty of this stunning exclusive country house. With its Pavillion specifically built to host large weddings, it's also one of the large country house wedding venues.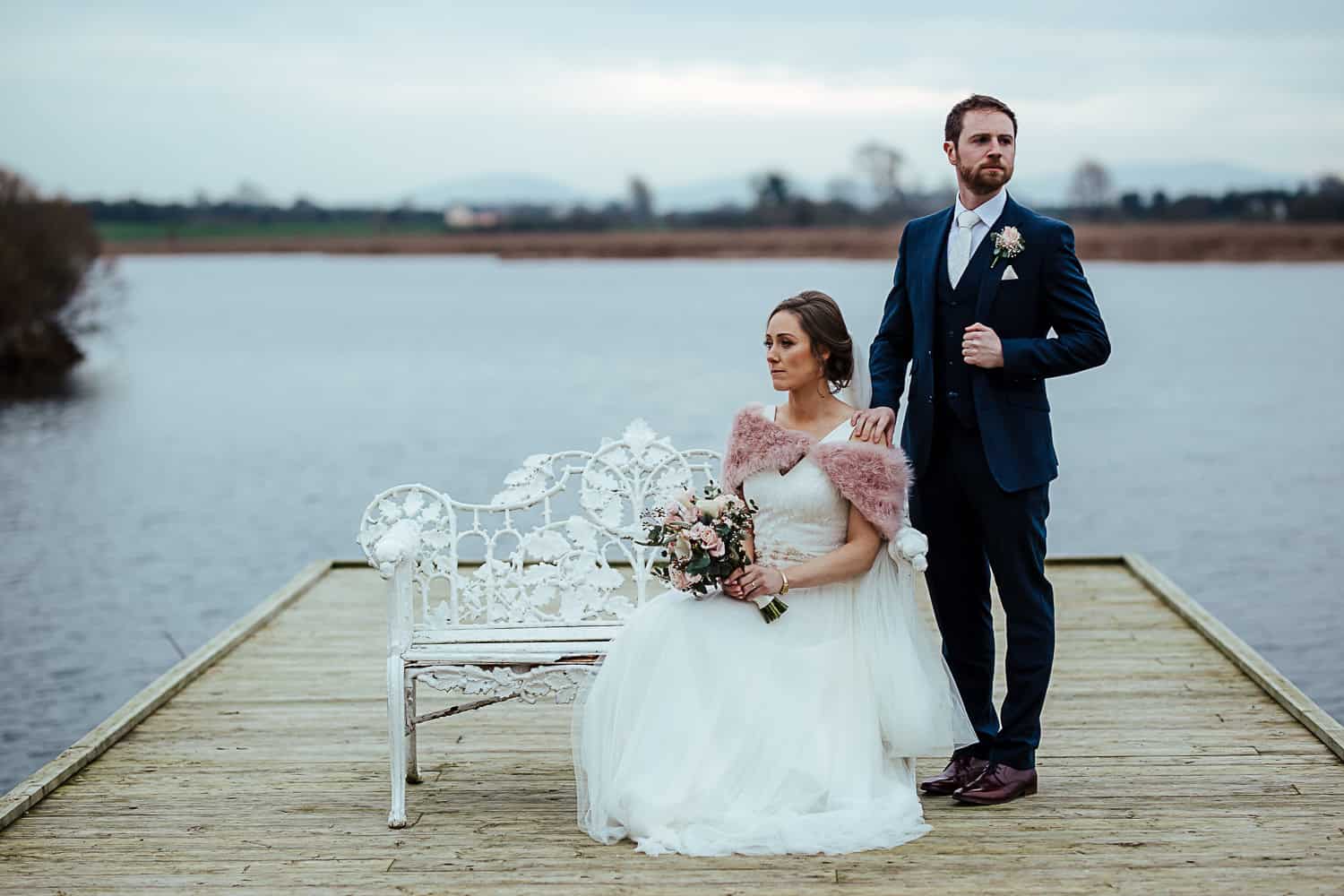 Why it's unique: The Boathouse is a beautiful spot for your civil ceremony. The floor-to-ceiling windows overlook the lake and let in amazing light while the structure provides cover from the changeable Irish elements.
What I love about it: As a family-run venue, the atmosphere at Ashley Park House is really warm and friendly. It's the type of place where you and your guests will feel super comfortable. Perfect if you're looking for a relaxed celebration!
Capacity: 290
Best Wedding Venues Ireland – Castles
Bellingham Castle
When I think of Irish castles, an image of a medieval fortress surrounded by a moat comes to mind. But this picture immediately crumbles as soon as you catch sight of Bellingham Castle. It's the ultimate princess wedding venue! With its regular gardens, light-filled rooms and miniature towers, Bellingham Castle feels like it comes out of a fairytale. As a castle venue, it's definitely one of the best wedding venues Ireland.
Why it's unique: For those dreaming of a luxurious castle wedding without it being too formal or dark, it really is the perfect spot. It's also a family-run venue which always makes the experience more personal and tailored. The castle is yours for the day, so your wedding day can be as intimate as you want it to be.
What I love about it: Do your cake-cutting outdoors, under a tunnel of roses and wysteria. How romantic is that? Also, the Butler's Kitchen is a real castle kitchen that your guests will absolutely fall in love with.
Capacity: 200
Darver Castle
One of my favourite venues for a Christmas wedding, Darver Castle knows how to get in the mood for the festive season! It's a beautiful private castle just an hour away from Dublin, perfect for both an intimate wedding and a larger-scale event. It has its own ceremony room on site, several drawing rooms for your guests to relax in and even a private drawing room for your family and bridal party. It's also perfect for family photos if you're not up to enjoying the Irish weather.
Why it's unique: If you're planning a really big event (like, over 250 guests) you might quickly realise your predicament. The gorgeous vaulted Brabazon hall with a beamed-ceiling is not only a really impressive setting for your wedding banquet, it's also one of the largest in the area!
What I love about it: The staff are absolutely amazing! They'll make sure your every request is taken into account, they'll help your day run smoothly and keep up a good rhythm so you can get the party started! They'll even fix your tyre for you if you got a flat – first-hand experience 😀
Capacity: 280
Barberstown Castle
A beautiful 700-year-old castle with a comfortable contemporary hotel adjacent to it, Barberstown Castle offers the best of both worlds. Your wedding is held in the old part, in a beautiful vaulted banquet hall decorated with lanterns and tapestries. It's a real medieval castle!
A beautiful 700-year-old castle with a comfortable contemporary hotel adjacent to it, Barberstown Castle offers the best of both worlds. Your wedding is held in the old part, in a beautiful vaulted banquet hall decorated with lanterns and tapestries. It's a real medieval castle and one of the best wedding venues Ireland.
Why it's unique: While the reception hall is quite formal and historical, with suits of armour dotted around the place, the ceremony room is airy and full of light. It's such a stark contrast and a perfect backdrop for your wedding vows.
What I love about it: The castle golden retrievers are absolutely adorable 🙂
Capacity: 260
Glenlo Abbey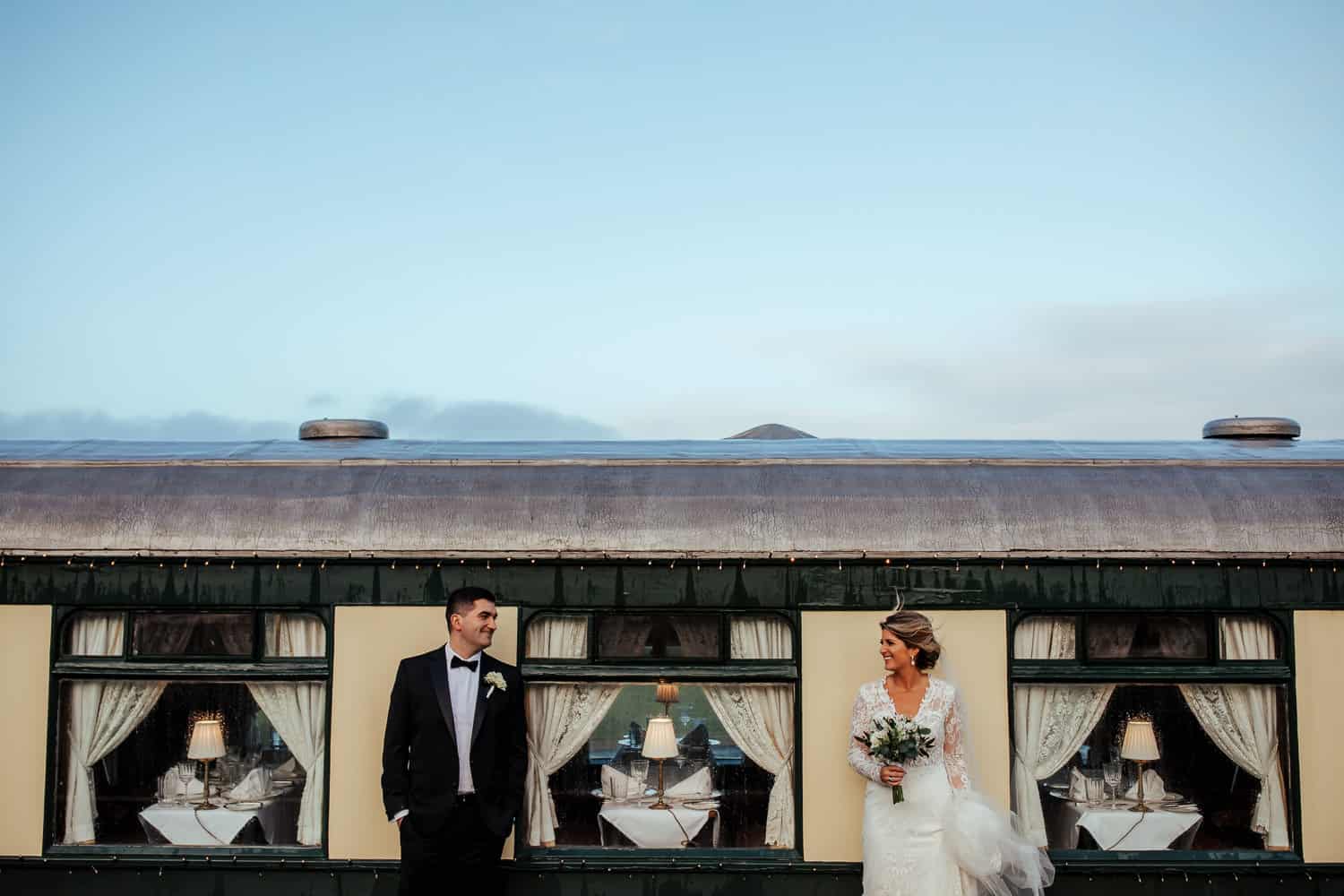 Ever dreamt about getting married in a real Abbey chapel? Glenlo Abbey is one of the most unique and elegant wedding venues in Galway. It's close enough to the city to make it easy to get to but with a touch of luxury to it. The chapel itself is pretty small but it's really cool for an intimate wedding or your wedding drinks reception, and the main Corrib Suite easily accommodates all of your friends and family.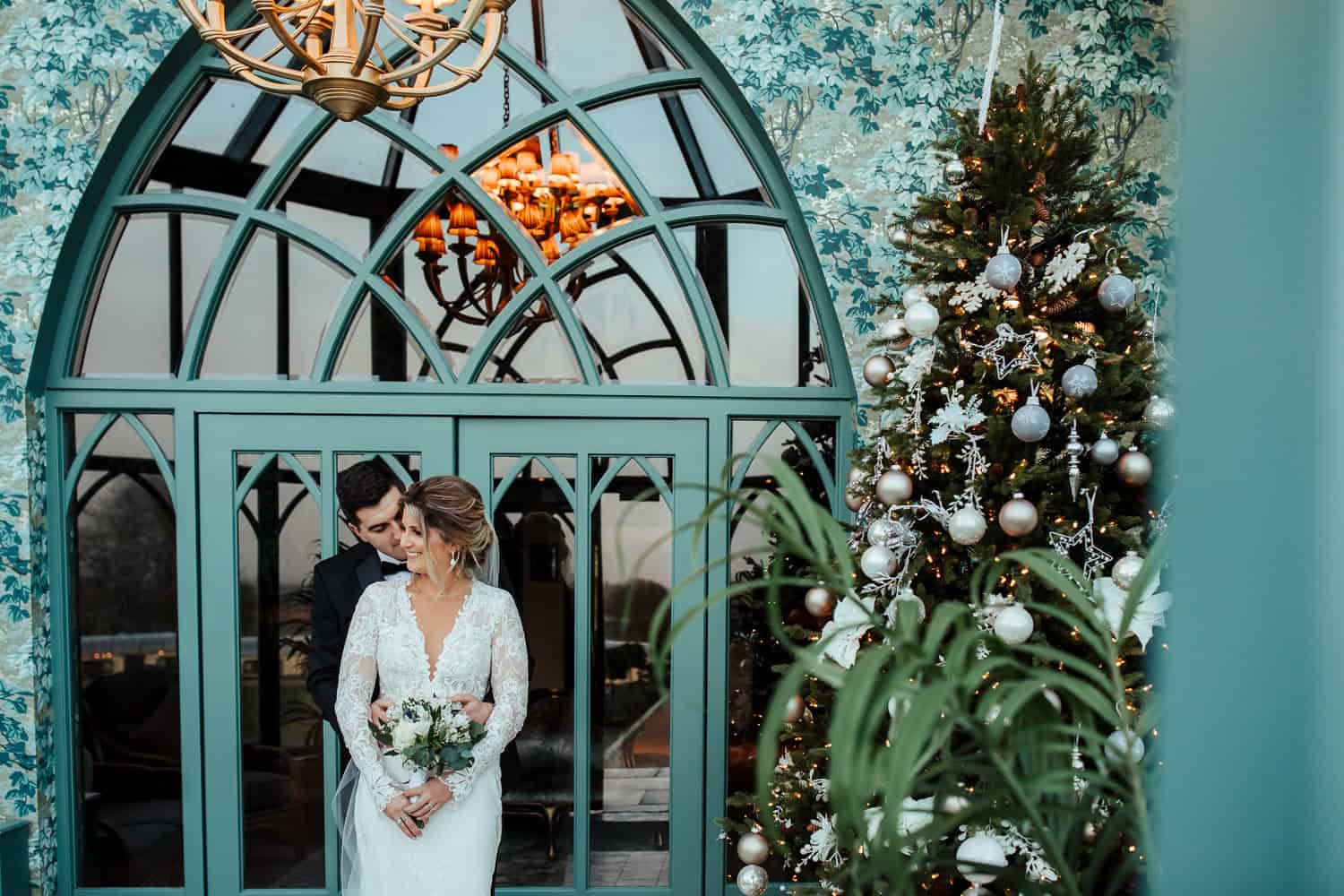 Why it's unique: Can you think of another venue that has real Orient Express carriages on site?
What I love about it: The beautiful conservatory room has the dreamiest decor and is absolutely perfect for your wedding photos. Tucked away from the main reception, it's private enough and full of light when the Irish weather doesn't treat you nicely!
Capacity: 170
Kinnitty Castle
A truly Gothic-looking castle, Kinnitty Castle is over 7 centuries old and creates a striking impression at first sight. It's one of the best wedding venues Ireland, Co. Offaly. From drawing rooms and a library for your drinks reception to a stunning dark-wood panelled Great Hall that can host both your ceremony and dinner, it's sure to impress.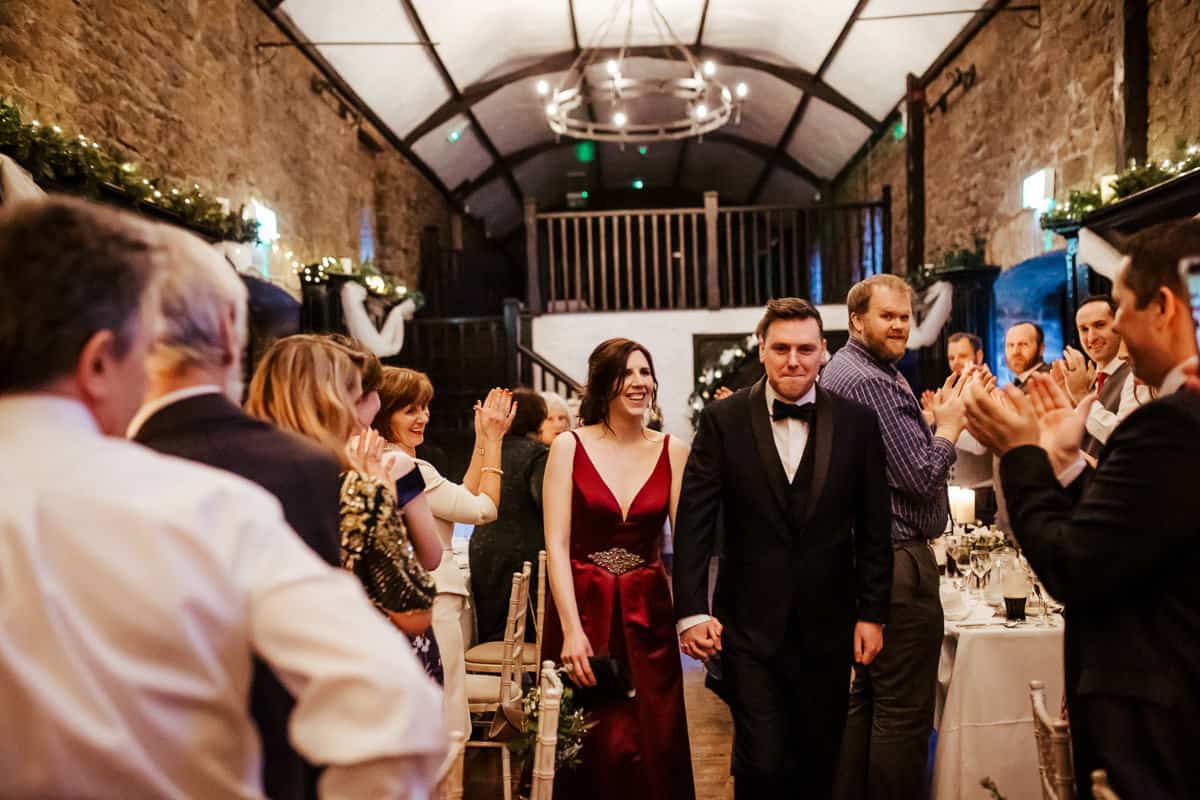 Why it's unique: The Great Hall of O'Carrolls is an amazing backdrop for a real medieval banqueting experience, and the menu is there to match.
What I love about it: The intimate courtyard is absolutely perfect for some intimate portraits or even a first look between you and your partner.
Capacity: 200