Ireland truly is a fantastic place to get married. Never mind the gorgeous landscapes and the mild weather all year round (we won't mention the rain!), we have some of the best wedding venues in Ireland.
The great thing about them is the sheer variety. From your local hotel to an intimate country house, and from a medieval castle to a luxurious period manor – the choice is entirely yours. Some might even say the choice is a bit overwhelming!
Getting married in one of these venues? Let's chat!
BEST 20 WEDDING VENUES IN IRELAND
TANKARDSTOWN HOUSE, CO MEATH
Tankardstown House is a gorgeous 18th century manor easily charms visitors at first sight. The two words that come to mind are elegant and luxurious. The picturesque driveway, the beautiful grounds and the glamorous walled garden are absolutely enchanting. The beautiful drawing rooms are perfect for an elegant drinks reception and canapes, both to hide away on a rainy day and for a luxury winter wedding. But it's the airy sun-soaked Orangery with s capacity for 250 guests that steals everyone's hearts. You can be certain that even on a grey day your wedding will be filled with light.
Why it's unique: Having a conservatory as your ceremony and reception space makes sure there's plenty of natural light. And there's nothing quite so flattering as that for your wedding photos!
THE MILLHOUSE, CO MEATH
The Millhouse in Slane, Co. Meath is often referred to as an "alternative wedding venue", and indeed it is a place like no other. Your ceremony literally takes place in an old mill! There's a massive chimney dominating the skyline as you drive in. I love the contrast of place – old industrial brick buildings are decorated with fairy lights and stand side by side with a luxurious period house and a marquee for 240 guests.
Why it's unique: Honestly, the Millhouse is everything but ordinary! The old world charm dominates the atmosphere, combined perfectly with contemporary elements and luxury. You just have to go and see it!
ADARE MANOR, CO LIMERICK
One of the most luxurious wedding venues in Ireland, this award-winning 5-star hotel looks like a castle and creates a lasting impression at first sight. With 840 acres of grounds on the banks of River Maigue and a Michelin Star restaurant, it is sure to provide a truly once-in-a-lifetime experience.
Adare Manor was recently renovated and is now considered one of the top luxury hotels in Ireland. The grand ballroom has a capacity for 350 guests, so if you're planning a truly lavish affair you couldn't find a better venue.
HORETOWN HOUSE, CO WEXFORD
An exclusive country house with one of the most striking ceremony rooms I've ever seen! Horetown House is absolutely amazing for its vintage vibes and picturesque backdrops. Your ceremony can be both indoor (I can't help mentioning that room again!) and outdoor, with lavender bushes forming a gorgeous aisle. But it's the outstanding hospitality where Horetown House really shines! No request is too big or too small. Also, the bridal suite upstairs has the most divine light.
Why it's unique: The Pavillion that hosts your wedding dinner and party into the night is truly striking. What's more, it can be easily transformed to fit any type of wedding – from an intimate 50-person celebration to a 200-people affair. You'll never have the problem of the room feeling too empty or too crammed. Also, the seasonal decor really is stunning.
CLIFF AT LYONS, CO KILDARE
The ultimate romantic venue just outside of Dublin, Cliff at Lyons simply exudes elegance and charm. I love the way the venue consists of many little buildings and cottages. The ceremony and reception take place in the grand Mill (180 guests capacity) with a view over the flowing water. The opportunities for photos are absolutely boundless – there's a quaint vegetable garden, lots of textured walls, romantic-looking cottages, a lily pond with a chapel on an island and even a bridge over a waterfall! Amazingly, all the spots are located just a few minutes' walk away from each other. Your guests are sure to be charmed by the beautiful setting, and then doubly impressed by the elegance of the lavish banquet set up in the Mill.
Why it's unique: The little chapel on the lake is the ultimate romantic setting, you won't find anything like it anywhere else!
BALLYMAGARVEY VILLAGE, CO MEATH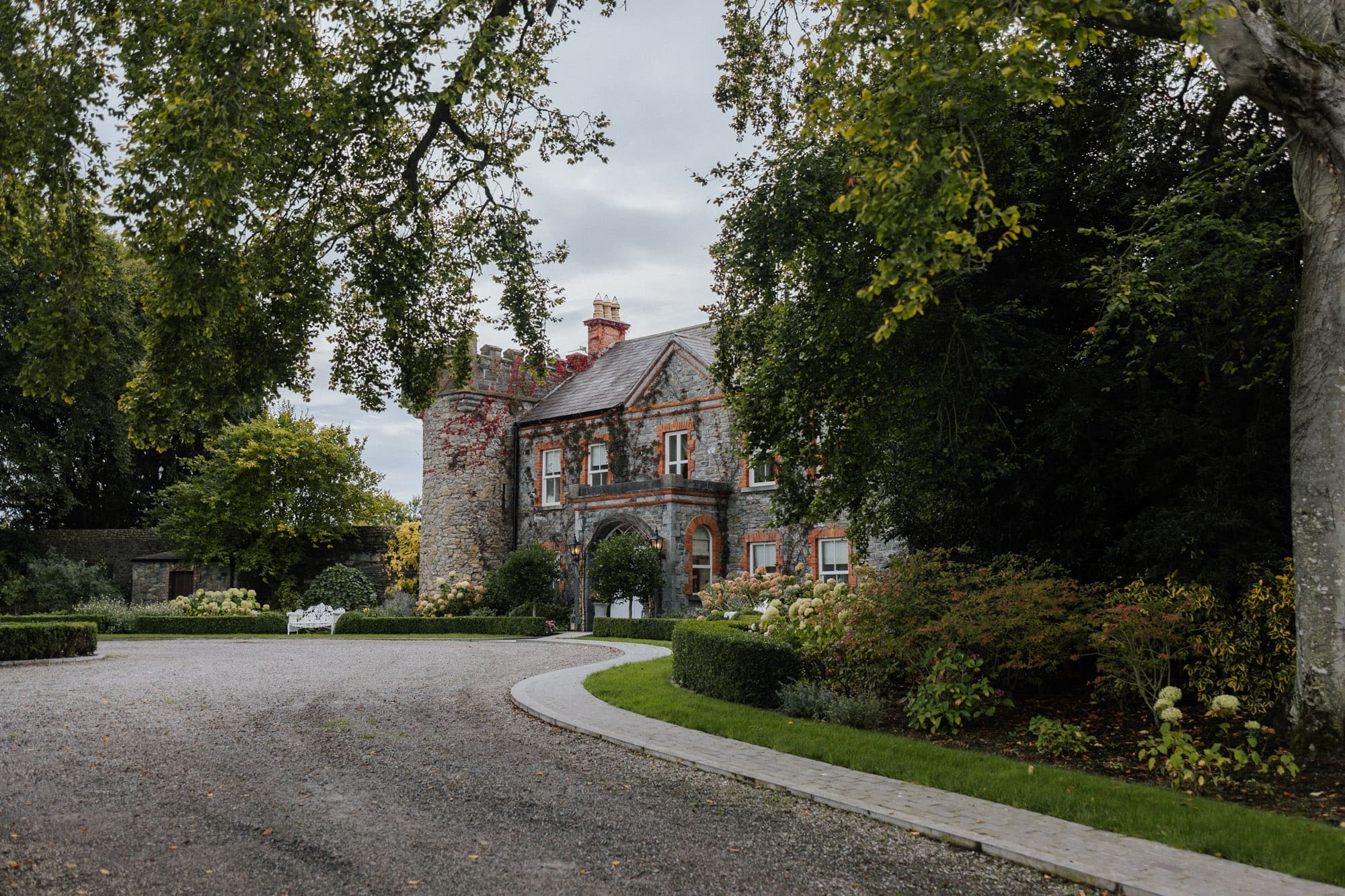 Ballymagarvey Village is a big name on the wedding scene, and you'd be hard-pressed to miss it if you're looking for best wedding venues in Ireland. It's a beautiful private estate with an 18th century manor house nestled among rich farmland, green woods and a Victorian walled garden. The reception is held in the impressive Banqueting Hall that can seat up to 220. The combination of heritage-looking stone, exposed beams and natural light is enough to wow all of your guests!
Why it's unique: The banquet hall (above) is decorated differently for each season and is a real wow-factor for all your guests! Plus, the food is to die for.
TINAKILLY HOUSE HOTEL, CO. WICKLOW
Nested in the middle of Wicklow mountains, with views over the Sugarloaf, Tinakilly House combines the beauty of a manor house with the convenience of a hotel. You get to enjoy the beautiful hallways and drawing rooms while also having access to 51 bedrooms, plus glamping tents, that can accommodate the majority of your guests. The grounds are stunning so you don't need to drive far for beautiful portrait backdrops. Tinakilly House sits up to 260 guests in the marquee and can host intimate weddings in the manor house.
Why it's unique: It's not often that you find a period home large enough to accommodate all of your wedding party on site. There's no need to worry about getting your guests to their BnBs and interrupting the party in the middle of the night. And the fields of wheat overlooking the Wicklow mountains offer one of the most amazing views in the country!
BELLINGHAM CASTLE, CO LOUTH
When I think of Irish castles, an image of a medieval fortress surrounded by a moat comes to mind. But this picture immediately crumbles as soon as you catch sight of Bellingham Castle. It's the ultimate princess wedding venue! With its regular gardens, light-filled rooms and miniature towers, Bellingham Castle feels like it comes out of a fairytale. As a castle venue, it's definitely one of the best wedding venues Ireland. Wth the grand ballroom accommodating 200 guests, it's an all-inclusive venue with a team that will make your wedding planning smooth sailing.
Why it's unique: For those dreaming of a luxurious castle wedding without it being too formal or dark, it really is the perfect spot. It's also a family-run venue which always makes the experience more personal and tailored. The castle is yours for the day, so your wedding day can be as intimate as you want it to be.
https://www.bellinghamcastle.ie/
VIRGINIA PARK LODGE, CO CAVAN
This period hunting lodge is set on 100 acres of gorgeous ground and feels like a perfectly luxurious home away from home. With different wedding packages available and a variety of spaces, couples can celebrate their wedding at Virginia Park Lodge with the reception, have their ceremony there or organize a multi-day affair.
The stunning Pavillion sits 300 people for dinner, and there is ample accommodation for up to 125 guests.
https://www.virginiaparklodge.com/
RATHSALLAGH HOUSE, CO WICKLOW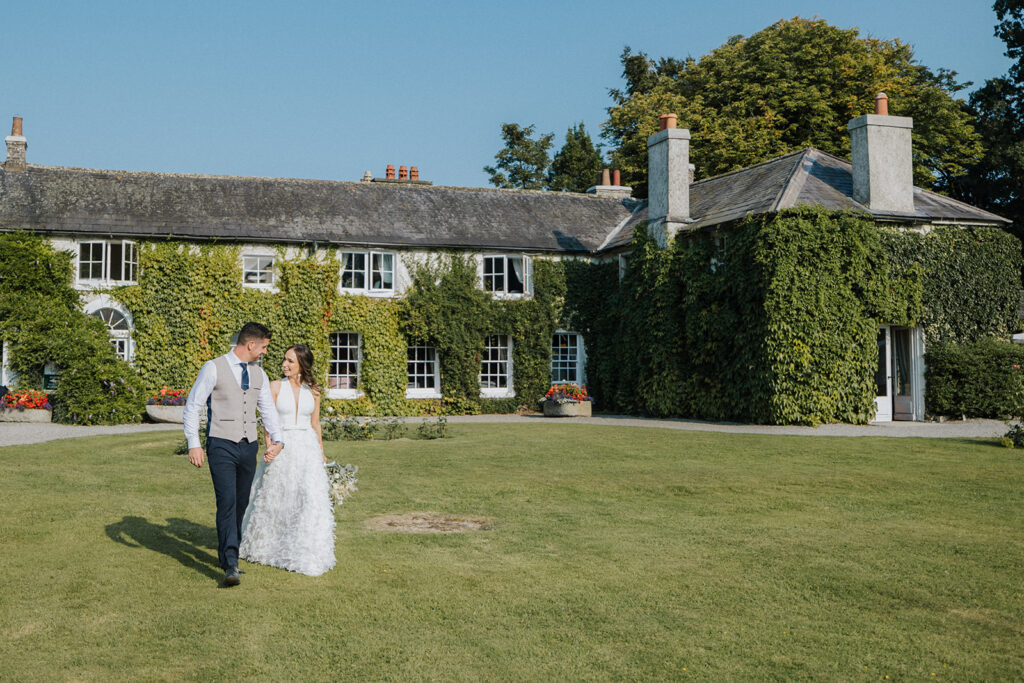 Set over 270 acres of gorgeous parkland, Rathsallagh House is a 17th-century period manor that offers a stunning backdrop for your wedding. The house itself is covered in green ivy all year round, and the orchard in the walled garden is one of my favourite spots for portraits. Apple blossoms look amazing in spring time, and in late summer and autumn the ground is covered with apples!
Why it's unique: The packages are really flexible, and the staff will always go an extra mile to accommodate your requests. That's one of the big perks of working with a family-run venue! And if you get a sunny day you can bet on a pretty epic sunset! The main lawn is perfectly west-facing, so you're sure to get that magical evening light.
LUTTRELLSTOWN CASTLE, CO DUBLIN
15-century Luttrellstown Castle right on the outskirts of Dublin is an obvious choice if you're looking for a luxurious venue that's still close to the capital. The castle has incredible history and charm. It's uniquely suitable for both large celebrations of up to 180 guests and intimate weddings with 20 of your closest family and friends.
Why it's unique: You couldn't find a venue with more gorgeous grounds, championship golf course and a luxurious ballroom any closer to Dublin that this!
https://www.luttrellstowncastle.com/
BARBERSTOWN CASTLE, CO KILDARE
A beautiful 700-year-old castle with a comfortable contemporary hotel adjacent to it, Barberstown Castle offers the best of both worlds. Your wedding is held in the old part, in a beautiful vaulted banquet hall decorated with lanterns and tapestries, seating up to 260 guests. It's a real medieval castle!
Why it's unique: While the reception hall is quite formal and historical, with suits of armour dotted around the place, the ceremony room is airy and full of light. It's such a stark contrast and a perfect backdrop for your wedding vows. Oh, and the castle golden retrievers are absolutely adorable!
https://www.barberstowncastle.ie/
MARTINSTOWN HOUSE, CO. KILDARE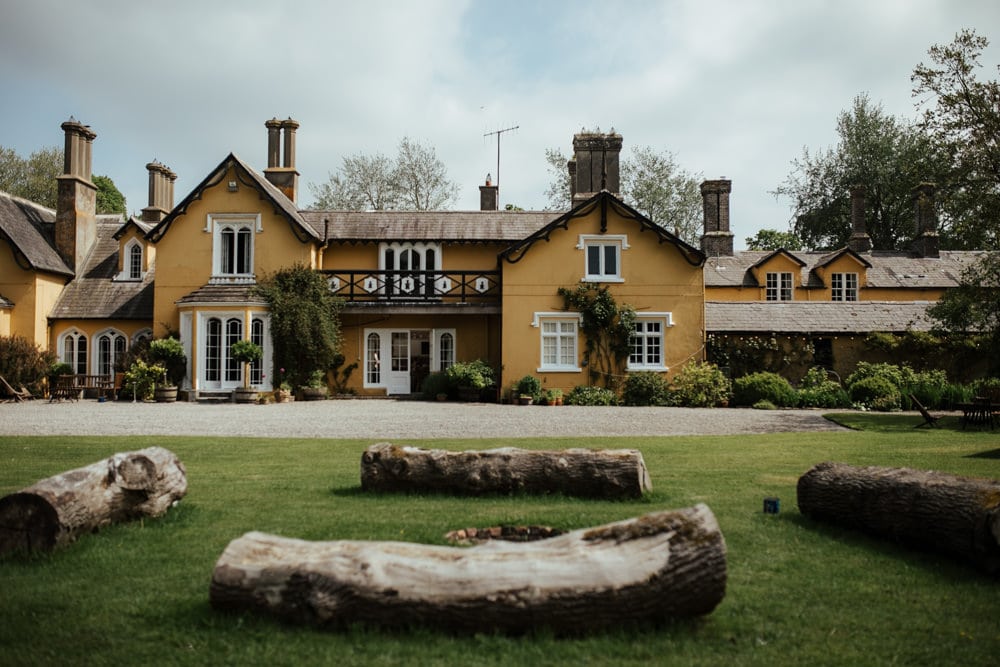 Just a short drive from Dublin, this cosy and charming family-run country house just beckons you in with its sunshine-coloured appearance. Edward and his family who run Martinstown House are absolute pros at making your wedding day super relaxing and running smoothly at the same time. Jessica's husband Andrew is head chef, and the food with its focus on organic local produce is to die for. Martinstown House caters for up to 220 guests in its marquee and can accommodate smaller ceremonies in the main house.
Why it's unique: The Woodlands ceremony space (photo above) is like nothing I've seen anywhere else! If you love being surrounded by nature it's the perfect backdrop for your wedding vows, and you don't have to worry about the weather as there's always a roof over your heads.
Learn more about different wedding option & pricing and get inspired by real weddings I've photographed at Martinstown House!
ASHFORD CASTLE, CO MAYO
This 800 year-old castle on the shores of Lake Corrib is an absolutely stunning backdrop for both a large wedding and a luxurious elopement. The 5 star castle hotel boasts the titles of the most romantic hotel in Europe and the best hotel in the world. best hotel in has been voted the most romantic hotel in Europe as well as the Best Hotel in the world!
Its unique location on the doorstep of Connemara National Park provides a beautiful combination of history, luxury, privacy and connection with nature. It's no wonder it's such a popular choice with couples who want to create a truly unforgettable experience for their wedding.
Why it's unique: The gardens at Ashford Castle are breathtaking in every season!
MARLFIELD HOUSE, CO WEXFORD
A light-filled conservatory for your wedding meal, lush gardens that turn all colours of the rainbow in autumn and peacocks roaming the grounds. Marlfield House in Gorey, Co. Wexford is full of eclectic elements of decor and personal touches. With capacity for 145 guests it's also one of the most romantic venues Ireland I've been to!
Why it's unique: The bridal suite faces a gorgeous private garden – perfect if you're doing a first look and want some privacy.
DARVER CASTLE, CO LOUTH
One of my favourite venues for a Christmas wedding, Darver Castle knows how to get in the mood for the festive season! It's a beautiful private castle just an hour away from Dublin, perfect for both an intimate wedding and a larger-scale event with comfortable capacity for up to 280 guests. Darver Castle has its own ceremony room on site, several drawing rooms for your guests to relax in and even a private drawing room for your family and bridal party. It's also perfect for family photos if you're not up to enjoying the Irish weather.
Why it's unique: If you're planning a really big event (like, over 250 guests) you might quickly realise your predicament. The gorgeous vaulted Brabazon hall with a beamed-ceiling is not only a really impressive setting for your wedding banquet, it's also one of the largest in the area!
BELLINTER HOUSE, CO MEATH
A beautiful combination of a sophisticated manor-style wedding venue and a modern boutique hotel, Bellinter House is perfect for couples who want to celebrate with a difference. The picturesque grounds offer amazing views onto the Irish countryside and the River Boyne. The vast lawn in front of the house is perfect for a summer civil ceremony and a sun-filled drinks reception with all of your friends and family.
Inside, Bellinter House has a few unique drawing rooms with eye-catching decor and the Nunnery Suite (a beautiful option for intimate weddings). The recently renovated Refectory Suite acts as the main wedding dinner area, seating up to 160 guests.
https://www.bellinterhouse.com/
LISNAVAGH HOUSE, CO CARLOW
A magnificent manor house in Co. Carlow, just on the border with Wicklow, Lisnavagh House blows you away with its interiors and details. The grounds are spectacular, full of different areas and backdrops. The rhododendron walk draws you in May, the wisteria covers the walls in June, and later in summer the whole place is filled with lush green colours. It's also a venue where you can make absolutely any vision of your wedding day come true. The house, seating 170 guests for reception, is absolutely yours, with no packages attached, so you can bring in whatever decor and food you'd like!
Why it's unique: The old brick-walled reservoir and the Yew Walk are both incredibly unique ceremony locations. The former is an industrial-looking circular structure covered with what looks like a massive Vietnamese rice-hat, perfect for changeable Irish weather. The latter is a magical walkway created by rows of 160-year-old yew trees. It really feels like you're in the middle of an enchanted forest! And when I saw it for the first time the Library Room in the main house took my breath away. It's complete with floor-to-ceiling windows, amazing tapestries and a secret door in the bookcase!
BOYNE HILL HOUSE, CO MEATH
A romantic gem of a wedding venue in Meath, Boyne Hill House sprawls across a 38-acre estate, filled with beautiful details to create a really memorable day. A winding tree-lined driveway leads you right up to the gorgeous 18th century Georgian manor house. Full of luxurious touches and original decor, the house with its Gunroom bar, billiard room and library is a perfect setting for an elegant drinks reception.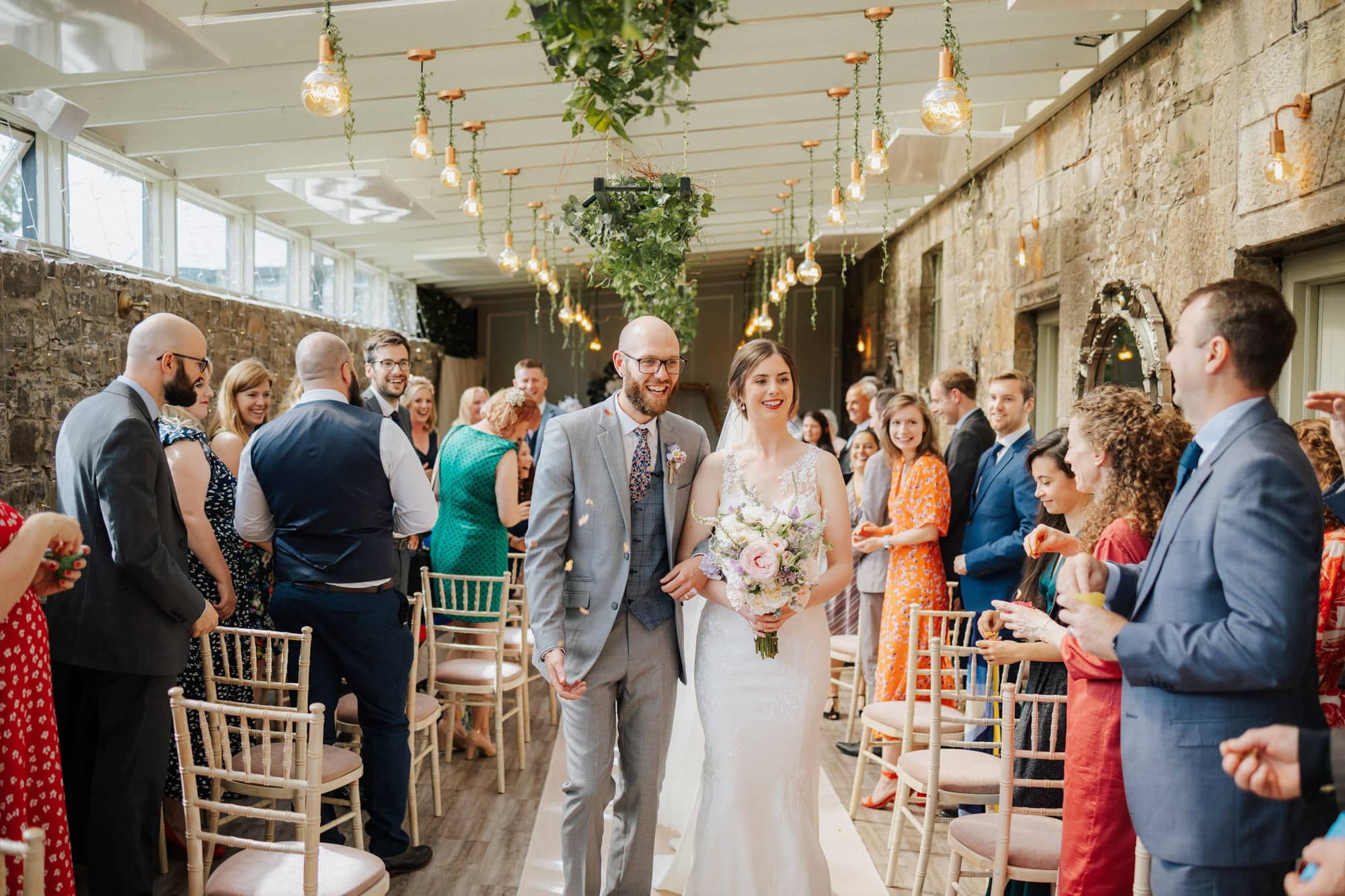 Why it's unique: Boyne Hill House is the fact that there's a covered "secret" tunnel between the manor house and the main Boyne View Suite that will host up to 180 guests for your wedding dinner. This feature makes Boyne Hill House great for both summer and winter weddings, when the weather might not be as pleasing.
LOUGHCREW HOUSE, CO MEATH
A true hidden gem in the middle of Meath countryside, Loughcrew House will really wow your guests. Decorated with enchanting murals and creative furniture pieces, the unique rooms are really inviting and filled with light. At the back of the house there's a spacious courtyard with a fireplace in the middle and the rustic Banquet Hall that can accommodate a wedding feast of up to 140 guests. The Banquet Hall is split into two rooms, with wooden double doors uniting the space. But if you want to host a more intimate wedding celebration, there's the option to use just one of the rooms so it doesn't feel like there's too much space!
Why it's unique: One of the most attractive points of getting married at Loughcrew House is the unique ceremony space among the ruins of St Oliver Plunkett's Church. Set in the beautiful Loughcrew Gardens, it's a truly wow space.

CHECK MORE WEDDING VENUES IN IRELAND BY COUNTY: