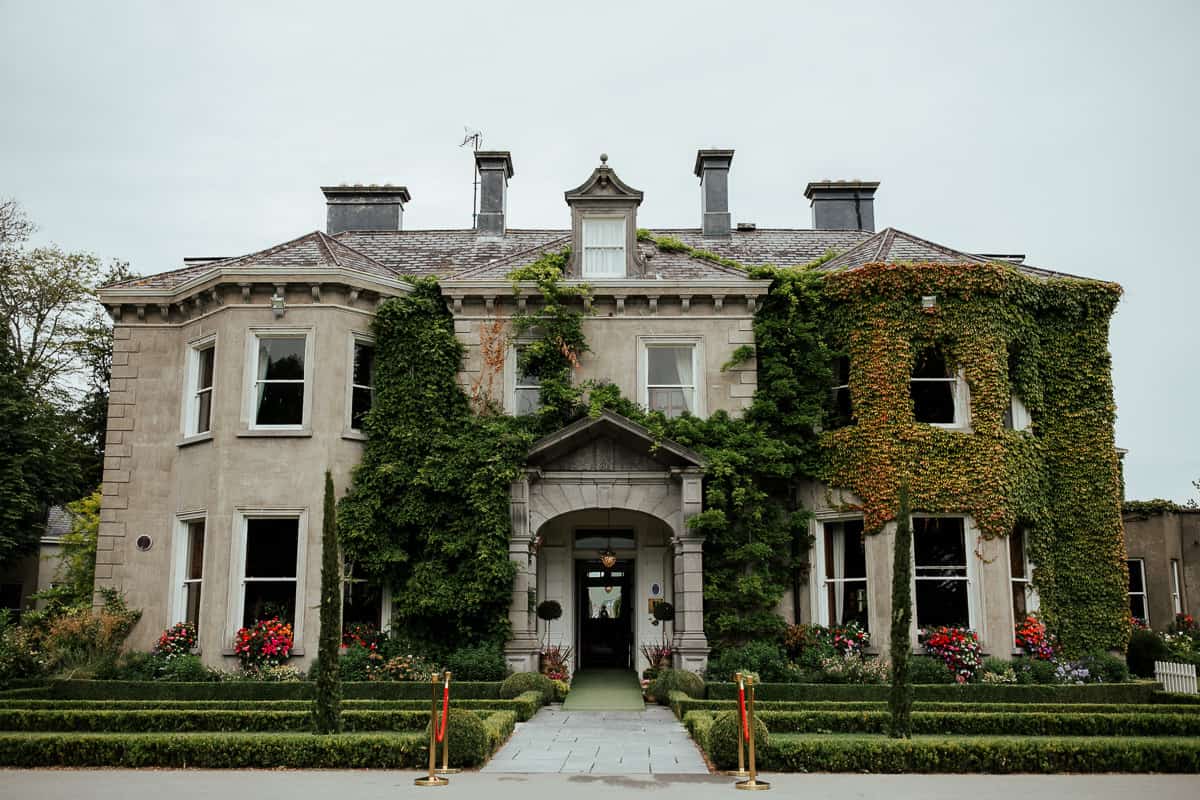 A day full of music and beauty! I couldn't find a better description for Fiona and Owen's Tinakilly House Wedding. They were so relaxed and chilled planning their big day that it couldn't have gone any better.
Located an easy 40 minute drive from Dublin, just outside of Wicklow town, Tinakilly Country House is a dream venue for a wedding celebration. The oak tree-lined driveway leads you to a beautifully restored manor. It's surrounded by a lush garden with mature trees and enjoys stunning views over the Wicklow mountains. The house itself is a fantastic combination of old world charm and modern luxuries and comfort – perfect for a romantic wedding celebration.
Getting Ready at Tinakilly House
Being a country house hotel, I love the way Tinakilly House combines the best of both worlds. There are a lot of rooms and a lot of space for all the guests, and you don't need to worry about finding accommodation for everyone. And as a former manor house, it has absolutely gorgeous rooms, immaculate grounds and lots of amazing features – like that stunning staircase for example!
Fiona and her beautiful bridesmaids got ready at the house, and it was an absolute blast. I couldn't wait to see Fiona in her stunning gown from B Couture Bridal Wear. The train on the dress and the length of the veil are just incredible! I honestly had no clue how Fiona would manage in it for the whole day but as soon as she put it on everyone could see the dress was simply made for her. She looked so effortlessly elegant and comfortable in her gown, it was amazing.
St Patrick's Church Wedding Ceremony in Wicklow
The couple chose to have the ceremony at the local St Patrick's Church. The stunning interior really added to the beautiful ceremony but we were all completely blown away by the music. Both singers, Fiona and Owen asked Habemus Chamber Choir they are part of to sing for their wedding ceremony. There were literal goosebumps in the congregation and definitely not a dry eye… Everyone commented on the music, and it really was the most gorgeous singing I've heard in my life! Such an honour to witness and be part of the ceremony.
Civil Wedding in Tinakilly House
If you're looking to have a civil wedding, Tinakilly House has some great options as well. There are several drawing rooms and suites that, depending on your numbers, could be used for your ceremony and drinks reception.
The Halpin Suite offers an inspiring view of the sea and is decorated in exquisite Victorian style. French doors at the back open up into the garden, and the large bay windows fill the room with light. give direct access to the garden and large bay windows flood this room with natural light. The Halpin Suite is often used for civil ceremonies and drinks receptions in colder months.
The Brunel Suite is another great option, seating up to 160 guests for a civil ceremony. Its warm and cosy atmosphere is less formal than that of the Halpin Suite, and the soft furnishings combined with warm colours feel really inviting.
Last but not least, the Great Pavilion normally reserved for dinner and party can also act as your ceremony room, for ceremonies of up to 260 guests!
Tinakilly House Wedding Photos
Back in Tinakilly House for the drinks reception, Kevin from Little Bear Films and I took Fiona and Owen for a stroll around the grounds. They are so effortlessly good-looking and so in love, we just couldn't stop gushing!
There are a number of amazing spots in Tinakilly for wedding photos. The grounds are stunning and look very different depending on the season. I went for a bit of research in late April with cherry blossoms and rhododendrons in bloom. This time round there were roses and leafy trees everywhere. But best of all, hidden around the corner in the glamping area there is an amazing field with views over the Wicklow Mountains.
The house itself has so many little nooks as well you could spend the whole day taking photos around it. While we didn't have the whole day we certainly couldn't miss the grand staircase in the entrance hallway. That setting was simply made for Fiona and Owen!
Accommodation at Tinakilly House
Unlike many other country house wedding venues, Tinakilly House is quite spacious for accommodation. It offers 52 beautiful guest bedrooms and suites to put up most, if not all, of your wedding party for the night.
The 4 Captain Suites all feature elegant antique furniture, with king size beds, a living room area and even a fireplace. You can enjoy views of the Irish sea from the windows. The 22 Junior Suites are spacious bedrooms with comfortable four poster beds or alternatively queen size beds. Many suites also provides single beds, which is perfect for a family stay.
There are also 15 Deluxe Bedrooms and 10 Four Poster Suites, all furnished in the same elegant Victorian style. Tinakilly House has Hotel in its name but it's certainly not the standard run-of-the-mill hotel – it really is a place of luxury.
Tinakilly House Wedding Reception
Catering for both smaller and larger weddings, Tinakilly House has beautiful options of the Halpin Suite and the Brunel Suite for intimate weddings. Most celebrations however are held in the Great Eastern Pavilion. Located in the gorgeous woodlands, it's a standalone building with a majestic space inside. Not simply a marquee, the pavilion wood-panelled walls, floor to ceiling windows and even a beautiful lounge room. It can even be extended and accommodates up to 300 guests for a really large wedding party.