An exclusive wedding venue just an easy 30-minute drive from Dublin, Ballymagarvey Village is a big name on the wedding scene and one of the best wedding venues in Ireland. And it definitely lives up to its reputation. Specialising exclusively in weddings means everything at the venue runs like clockwork and every detail is well thought through. If you're looking for a relaxed and charming venue that will take care of every aspect of your day, Ballymagarvey Village is certainly worth a visit.
The Ins and Outs of Ballymagarvey Village – Where Will My Wedding Take Place?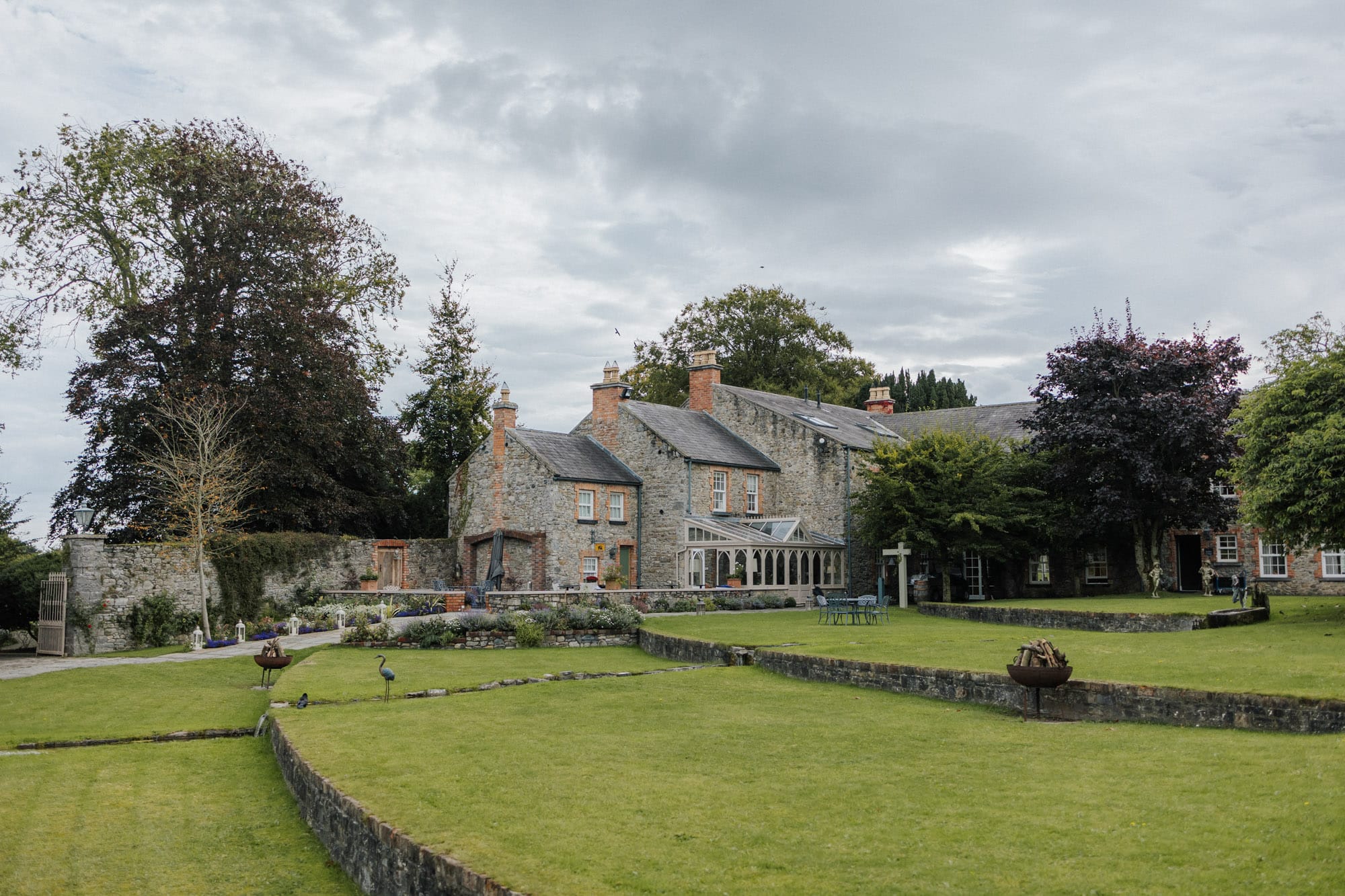 Ballymagarvey Village is a beautiful private estate in the Boyne Valley, Co. Meath.The main building, a historic 18th century Manor House with its medieval round tower, is surrounded by a charming courtyard and view over the far-reaching fields beyond. It is in the Manor House and the beautifully restored courtyard spaces that your wedding will be taking place.
GETTING READY
You'll start your wedding day in the newly built Barn, just off the Reception area. The bright and spacious room is tucked away from the rest of the estate with a little walled garden. It's perfect to make sure no guests can spot you in the morning. You are free to arrive there from 9am, enjoy a filling breakfast with your wedding party and then get ready for the day sipping champagne.
The room has lots of space for even the largest wedding party to get ready, plus a full kitchen with tea and coffee (and a very regal cat if you're lucky!). There is a dedicated member of staff to help you with anything along the way, be it making a cappuccino or fixing a broken necklace!
The groom party normally gets ready in the smaller coach house on the other side of the courtyard. It's a well-decorated space with exposed stone walls, rustic wooden beams, and even a bar counter!
CEREMONY
To the side of the coach houses is the restored two-storey corn and flax Mill. The Mill Loft on the first floor provides a fantastic space for your civil ceremony. Ballymagarvey Village is fully registered to host legally binding ceremonies, so you can have any type of ceremony you'd like. The Loft is a long room you can enter both from indoors and the terrace outdoors. Just like the other spaces at Ballymagarvey, the walls are gorgeous exposed brick and the white wooden beams across the ceiling give the space a rustic historic feel.
MANOR HOUSE DRINKS RECEPTION
After your ceremony and greeting all your friends and family on the (hopefully!) sun-lit terrace you can take a stroll across the courtyard towards the Manor House. It's a beautiful space with period drawing rooms, a spacious light-filled conservatory and a patio at the back. The drinks reception is fantastic and certainly won't leave anyone hungry. The menu changes depending on the season. For example on a cold autumn or winter day you can add aromatic mulled wine or creamy hot chocolate.
WEDDING DINNER
The Banqueting Hall in the restored Mill is probably one of the most impressive spaces at Ballymagarvey Village, certain to impress each of your guests. The large vaulted room with already iconic exposed brick walls is accessible through stunning sliding barn doors.The space is decorated according to the season and lit with medieval-style chandeliers. It's beautifully lit through skylights in summer and feels really cosy in winter.
The Banqueting Hall seats up to 220 guests. For smaller weddings of up to 50 guests you can use the Conservatory Library at the Manor House for your wedding dinner.
Depending on the package, there are multiple options for your wedding dinner, all the way to a sumptuous 6-course meal. While the setting might feel quite traditional, the menu includes some impressive innovative cuisine and there's a lot of room to tailor it to your preferences.
EVENING RECEPTION
After dinner the doors from the Banqueting Hall open onto the courtyard, with its night lights and fire pits. On a warm night you couldn't wish for a better space to enjoy some relaxing time with your friends, gaze at the open fire and of course take some stunning night time photos! Then it's back into the Banqueting Hall for a party of a lifetime.
Accommodation at Ballymagarvey Village
There are quite a few accommodation options at Ballymagarvey Village, making it easier for you and your guests to enjoy the night without worrying about a bed. The Manor House itself has 9 en-suite bedrooms, and additional rooms are available in the Courtyard and the Schoolhouse. There are a total of 40 bedrooms on site, and you'll need to include a minimum of 25 rooms with your wedding booking.
Ballymagarvey Wedding Packages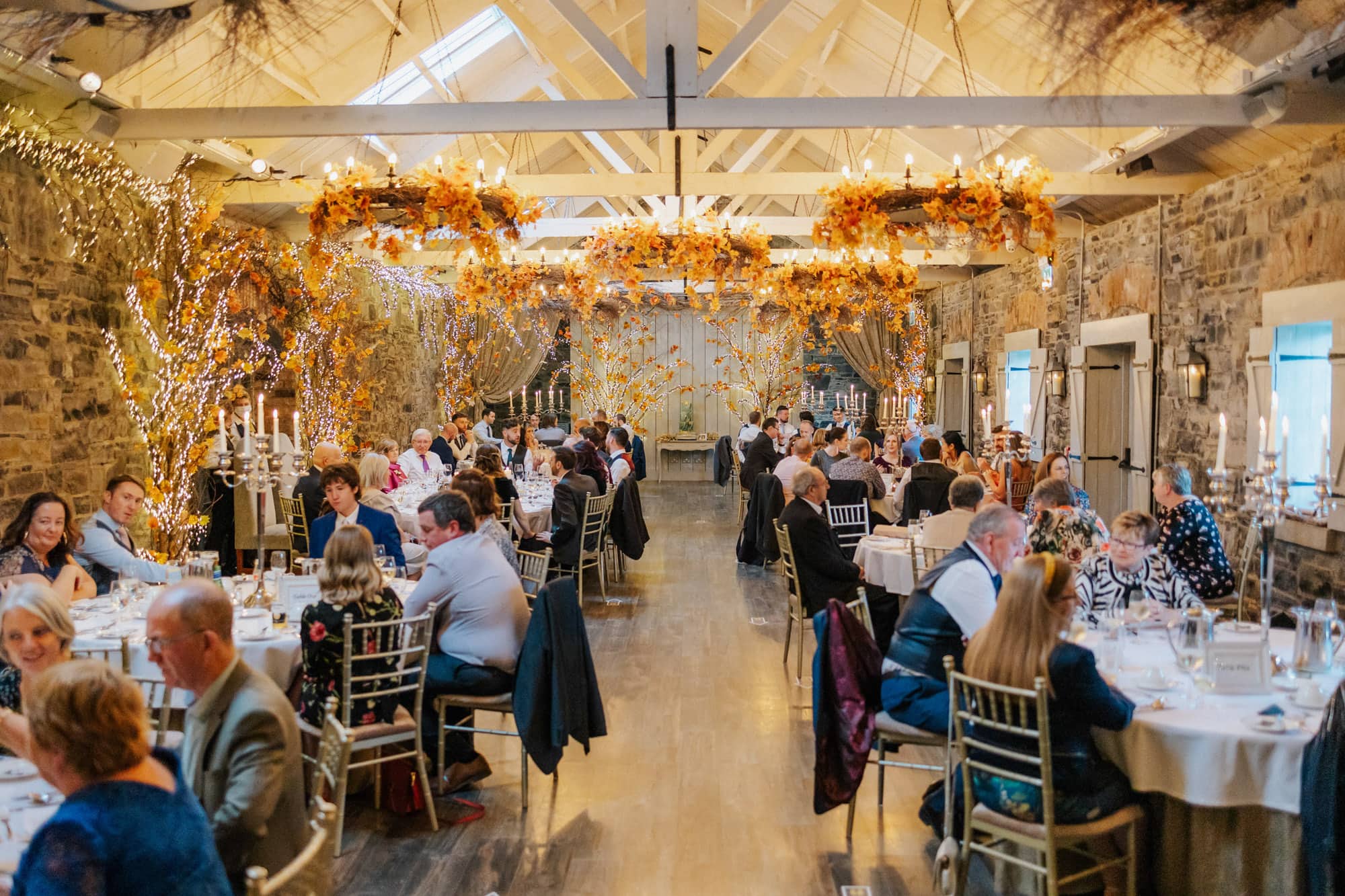 With so many spaces and options available, Ballymagarvey has a huge choice of wedding packages to suit any type of wedding. There are mid-week options suitable for smaller weddings, options for off-season celebrations, dedicated seasonal options like Cherry Blossoms (spring) and Mistletoe Magic (Christmas) and even a special package for weddings planned in under 6 months. Prices range from €99 to €159 per person, depending on the season, day of the week and the number of guests. Minimum numbers apply, especially on weekends, but you'd be best of getting in touch with the fantastic team of coordinators and discussing your plans with them.
Even the minimum package includes everything you might need: complimentary bridal suite for the couple, prosecco reception on arrival, a 5-course wedding banquet with wine and decorations for all the spaces.
Where to Take Photos at Ballymagarvey Village
When it comes to photos, you are absolutely spoiled for choice. There are so many beautiful backdrops it's almost impossible to cover them all! From the tree-lined alleway leading from the stunning Manor House, to the rustic courtyard with its stone buildings, to the walled garden and orchard at the back filled with evening sun. There are lots of private spaces if you'd like to do a first look, and also lots of options for night time photos. And then of course an unforgettable chandelier tree which makes for the most magical photos!