The former seat of Irish kings, Co. Meath boasts a lot of history – and some of the best wedding venues in the country. With most castles and estates under 1 hour away from Dublin, it's the perfect place to look for your dream venue. See the top 8 best wedding venues in Meath and the most practical tips of organizing your wedding there!
| | | | |
| --- | --- | --- | --- |
| Venue | Distance from Dublin | Capacity | Price per person |
| The Millhouse | 45km (about 50 min) | 240 | from €75 |
| Ballymagarvey Village | 35km (about 40 min) | 220 | from €89 |
| Tankardstown House | 65km (about 1 hour) | 230 | from €89 |
| Boyne Hill House Estate | 45km (about 50 min) | 180 | from €85 |
| Clonabreany House | 80km (about 1h 10min) | 220 | from €79 |
| Loughcrew House | 80km (about 1h 10min) | 140 | from €5000 for full venue hire |
| Bellinter House | 45km (about 50 min) | 160 | from €75 |
| The Station House Hotel | 40km (about 50 min) | 200 | from €72 |
The Millhouse
As one of the most unique and alternative wedding venues in Meath, it's easy to see why the Millhouse in Slane is such a popular spot! Located on site of an old mill (as the name suggests), you are spoiled for amazing spaces.
Starting with an onsite ceremony, the Old Mill is just a stunning space. With high ceilings and brick walls, it has an industrial yet elegant feel to it. The Old Mill is a very popular choice for civil ceremonies. But if your heart is set for an outdoor ceremony, the beautiful orchard on the banks of the River Boyne is a wonderful choice. Both spaces are an additional charge of €400/€450 respectively.
After the ceremony, you and your guests will proceed into the beautiful Georgian manor for drinks and canapes. The drinks reception is normally held in the Riverside Drawing Room or the light-filled Orangery but on a sunny day you'll see a lot of people enjoying themselves in the outdoor Courtyard. Dinner is served in the dedicated Pavillion, seating up to 200 guests or 240 with a marquee attached. The Millhouse kitchen serves a real feast, and the food is absolutely gorgeous!
The accommodation in the Main House consists of 15 en-suite bedrooms, which you are required to fill for the night of the wedding. Depending on the availability, you and your family may want to book the rooms the night before or after. But if you choose to arrive on the day there's a dedicated Coachhouse for you and your bridal party to get ready (€200 surcharge). Filled with mirrors and natural light, it's absolutely perfect for getting your make-up and hair done.
See this gorgeous real wedding from the Millhouse in Slane.
Ballymagarvey Village
Ballymagarvey Village is a big name on the wedding scene, and you'd be hard-pressed to miss it if you're looking for best wedding venues in Meath. It's a beautiful private estate with an 18th century manor house nestled among rich farmland, green woods and a Victorian walled garden. The venue has a long and beautiful history – Ballymagarvey Village goes as far back as the 13th century when Princess Gwenllian de Lacy inherited it after the death of her Meath-born husband. Today we can still see the historic buildings, such as the mill, the granary buildings and the Manor House with its round tower – all set around a vast open courtyard. Obviously since the 13th century they all have been beautifully restored and renovated, making them a perfect backdrop for an elegant and luxurious event like a wedding.
Civil wedding ceremonies are now held in the Mill Loft, an impressive stone-walled room with a white beamed ceiling and tall windows running along the side. Larger ceremonies of up to 220 guests can be organized outdoors, in the romantic walled "Gwenllian's Garden".
The high point of every wedding is, of course, the banquet – and Ballymagarvey Village staff certainly exceed in that regard. The venue chefs draw inspiration from local and seasonal produce, creating modern and innovative menus for different seasons of the year. The dinner itself is held in the impressive Banqueting Hall that can seat up to 220. The combination of heritage-looking stone, exposed beams and natural light is enough to wow all of your guests!
Ballymagarvey Village has a few accommodation options across the estate, with 20 bedrooms in the Courtyard Cottages, 11 bedrooms in the School House and 9 suites in the Manor House. Sleeping up to 85 guests, it's a fantastic option.
Ballymagarvey Village is a really popular and busy wedding venue so you may not be able to stay there the night before during the high wedding season, but there's still an option to get ready on site if you and your bridal party want to arrive early and enjoy the full day at the estate. Using the Barn in the morning is an additional €450 that comes with wedding breakfast for up to 10 people and a fantastic area for getting your hair and makeup done. And if you feel like extending your celebration, making it a two-day event, there is a great pre- or post-wedding full day option (from €4500 for full day venue hire) with full breakfast, delicious afternoon tea, BBQ, an acoustic music session and evening pizza!
See this inspiring autumnal Ballymagarvey Village wedding.
Tankardstown House
As the Tankardstown House motto goes, "We came, we saw, we fell in love". And it's not hard to do! The gorgeous 18th century manor easily charms visitors at first sight. The two words that come to mind are elegant and luxurious. The picturesque driveway, the beautiful grounds and the glamorous walled garden are absolutely enchanting. The beautiful drawing rooms are perfect for an elegant drinks reception and canapes, both to hide away on a rainy day and for a luxury winter wedding. But it's the airy sun-soaked Orangery with s capacity for 230 guests that steals everyone's hearts. You can be certain that even on a grey day your wedding will be filled with light.
Being such a high-end venue, Tankardstown House pride themselves on state-of-the-art food and outstanding service. The attention to detail is immaculate, from beautiful cream linens to classical music playing in the walled gardens to welcome the guests.
If you're planning a civil ceremony, there are a few options for on-site ceremonies both indoors and outdoors. They are at an additional charge, and you can have your wedding among the trees of the walled garden, or in the beautiful Orangery filled with light. Depending on the day of the week, there is also minimum number of guests required: 50 for Sunday-Wednesday weddings, 80 on Thursday, 120 on Friday and 140 on Saturdays.
Tankardstown House also has quite a few accommodation options available on site so your close family and friends don't have to leave the venue. There are 7 gorgeous bedroom suites in the Main House (you are required to book them on the night of the wedding), plus the courtyard cottages can sleep up to 36 guests.
Boyne Hill House Estate
A romantic gem of a wedding venue in Meath, Boyne Hill House sprawls across a 38-acre estate, filled with beautiful details to create a really memorable day. A winding tree-lined driveway leads you right up to the gorgeous 18th century Georgian manor house. Full of luxurious touches and original decor, the house with its Gunroom bar, billiard room and library is a perfect setting for an elegant drinks reception.
A highlight of any visit to Boyne Hill House is seeing the magnificent original Victorian Secret Garden. It feels like a place that's just come out of the pages of the novel! This lush, romantic garden is a popular spot for an outdoor ceremony or intimate couple portraits. The indoor civil ceremony option is the Conservatory, providing a neutral backdrop of a white carpeted aisle, natural grey stone wall and lots of skylights to brighten up even the rainiest day.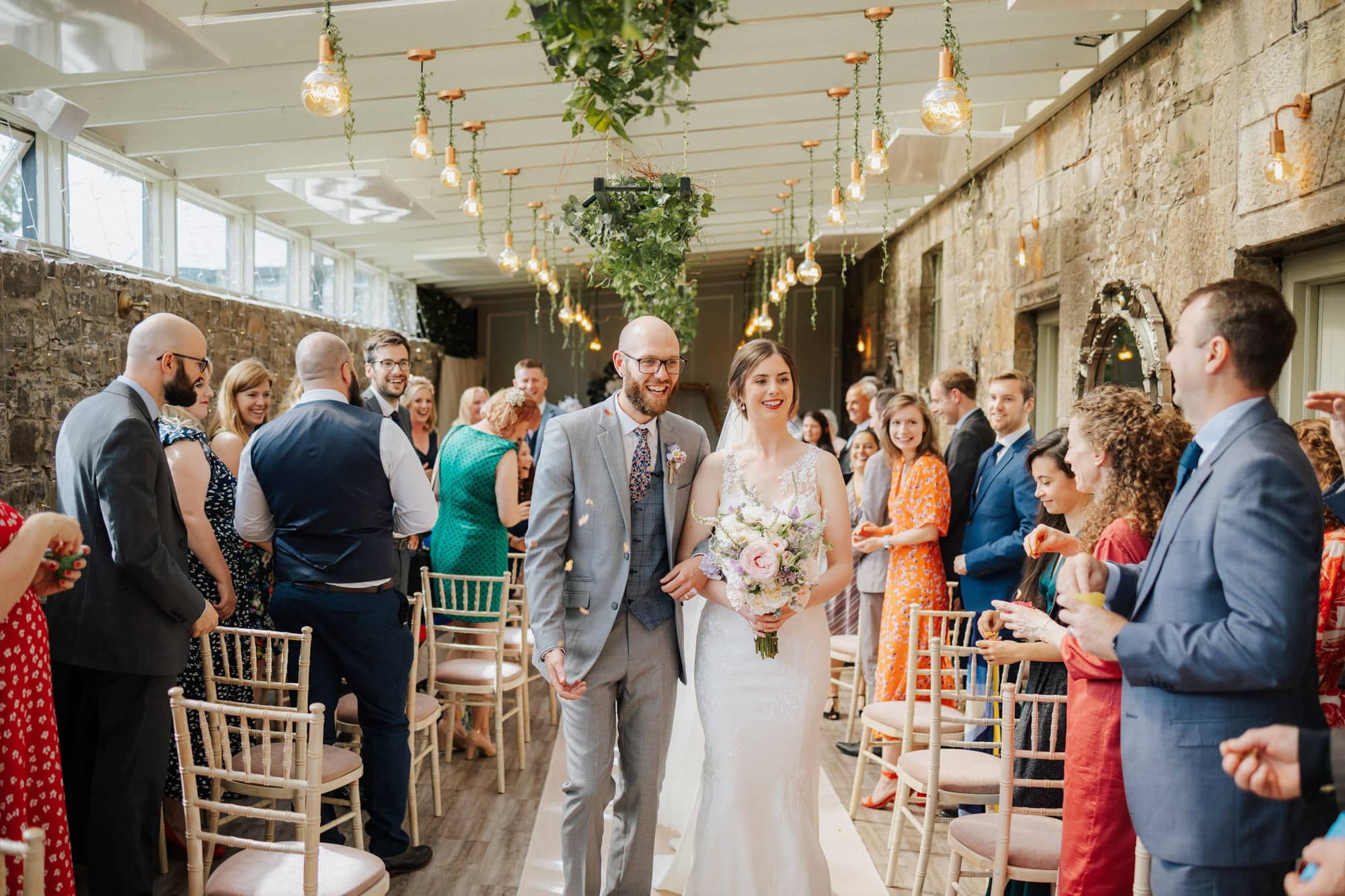 Another feature that I love about Boyne Hill House is the fact that there's a covered "secret" tunnel between the manor house and the main Boyne View Suite that will host up to 180 guests for your wedding dinner. This feature makes Boyne Hill House great for both summer and winter weddings, when the weather might not be as pleasing.
With 43 bedrooms across the estate, both in the Manor House and the Courtyard Mews, the venue can accommodate up to 96 guests. That's a lot more than many other exclusive wedding venues in Meath, making it a great advantage and a hit with couples.
See more photos from this summer wedding at Boyne Hill House.
Clonabreany House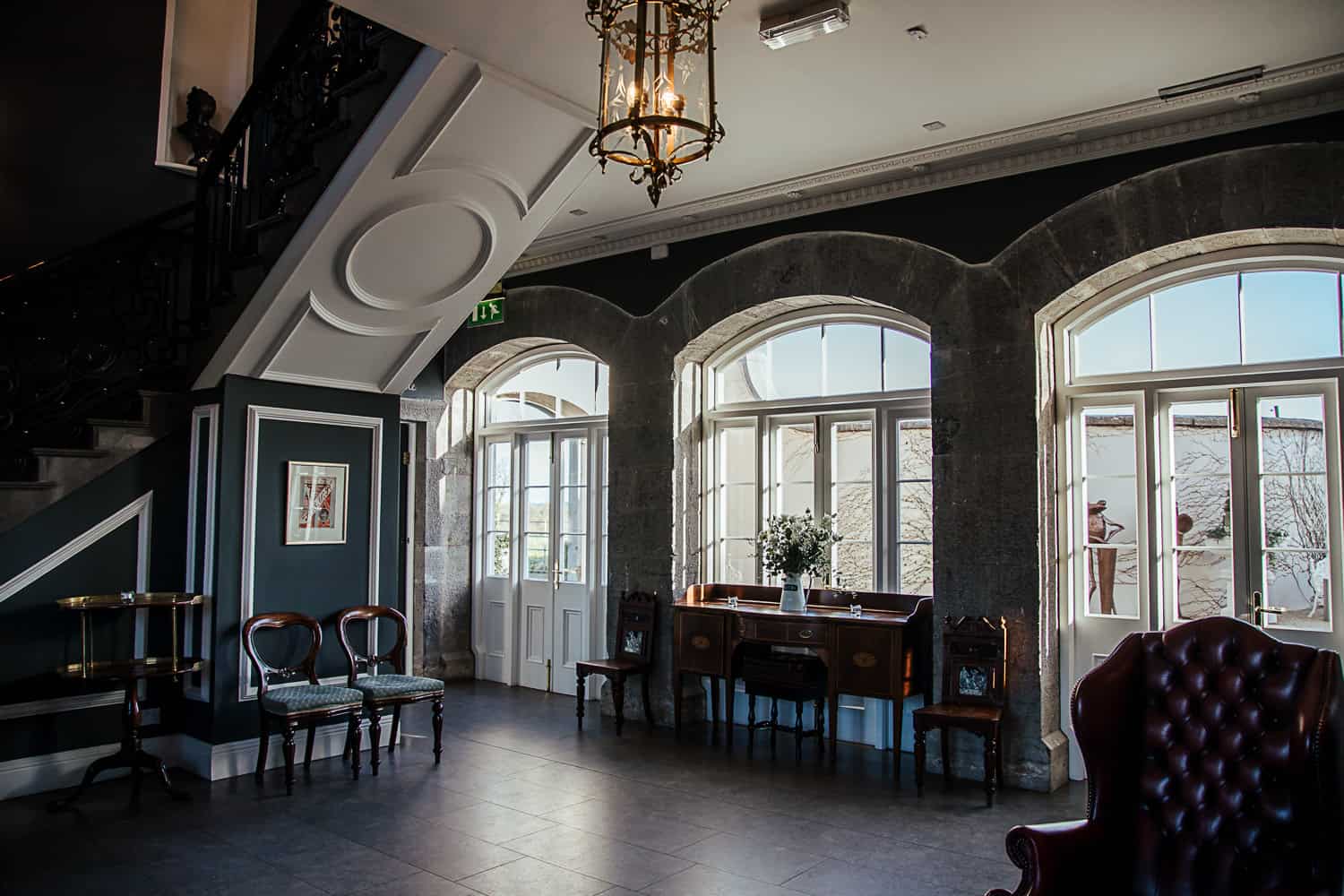 A superbly elegant exclusive wedding venue, Clonabreany House certainly ticks a lot of boxes. It offers everything you could ask for on your wedding day – a dedicated ceremony room with windows running along the side, an elegant Georgian manor for your drinks reception, a permanent marquee that seats up to 220 guests, and enough accommodation to sleep 90 guests. What else could you ask for?
Clonabreany ceremonies are held in the former walled orchard. You can opt for indoors or outdoors, saying I Do's in the middle of an enchanted forest. Right across the road is the main house with a bright Pavillion attached to it. The House is filled with magnificent drawing rooms with open fires, perfect for your drinks reception even on a rainy or cold day. Clonabreany is an exclusive venue, meaning you have your house for you and all of your guests for the day.
Loughcrew House
A true hidden gem in the middle of Meath countryside, Loughcrew House will really wow your guests, not least because they've probably never heard of it before! Once an imposing manor house, after a couple of fires the only part of it that remains is the impressive neo-classical portico. But it doesn't mean the rest of the house is any less inspiring! Decorated with enchanting murals and creative furniture pieces, the unique rooms are really inviting and filled with light.
At the back of the house there's a spacious courtyard with a fireplace in the middle and the rustic Banquet Hall that can accommodate a wedding feast of up to 140 guests. The Banquet Hall is split into two rooms, with wooden double doors uniting the space. But if you want to host a more intimate wedding celebration, there's the option to use just one of the rooms so it doesn't feel like there's too much space!
Loughcrew House can be rented as an exclusive wedding venue so you get full access to the facilities. There are 9 unique bedrooms in the Main House (sleeping up to 17 people), an additional Stable Lodge (up to 6) and Courtyard Apartment (up to 4). As there are no set wedding packages or on-site kitchen staff, you are at full freedom to create your own wedding feast. Loughcrew House has great recommendations for catering companies but you can have your day completely your way!
Perhaps one of the most attractive points of getting married at Loughcrew House is the unique ceremony space among the ruins of St Oliver Plunkett's Church. Set in the beautiful Loughcrew Gardens, it's a truly wow space. Definitely not something that you or your guests will ever forget!
Read more about Loughcrew House here and see their stunning bedrooms.
Bellinter House
A beautiful combination of a sophisticated manor-style wedding venue and a modern boutique hotel, Bellinter House is perfect for couples who want to celebrate with a difference. The picturesque grounds offer amazing views onto the Irish countryside and the River Boyne. The vast lawn in front of the house is perfect for a summer civil ceremony and a sun-filled drinks reception with all of your friends and family.
Inside, Bellinter House has a few unique drawing rooms with eye-catching decor and the Nunnery Suite (a beautiful option for intimate weddings). The recently renovated Refectory Suite acts as the main wedding dinner area, seating up to 160 guests.
If you're planning to host your civil ceremony at Bellinter house there are multiple options available. The most popular is an outdoor ceremony where you get to say I Do under the iconic ancient Weeping Beech Tree, in front of the main house. Another outdoor option is the Back Patio, overlooking the River Boyne. For indoor options you can opt for the Eden Restaurant (a chapel during Bellinter's time as a convent). For smaller ceremonies of up to 70 guests the Nunnery Suite is another great civil ceremony option.
One thing that sets Bellinter House apart from other wedding venues in Meath is the number of luxurious bedrooms that can be booked by your guests who wish to stay on site. In total, this boutique hotel sleeps up to 100 guests. The house has a one-wedding-per-day policy, and while there may be other guests staying at the hotel, you can also book out the venue exclusively at an additional charge.
The Station House Hotel
If the 20th century charm of trains and railways is something you want to incorporate at your wedding you won't find a more suitable place than the Station House Hotel. A former railway junction built in 1862, it was a local stopping point between Dublin and Navan. Kilmessan Junction Station continued functioning for just over 100 years, when it was eventually closed in 1963. The Slattery family bought the 12-acre property 18 years later and have been lovingly renovating and changing it since. First came the Signal Restaurant, on its way to become an award winning restaurant, and then it extended to a unique wedding venue.
Continuing the legacy of a busy railway Junction, the site is full of unusual and quirky features. Imagine having your wedding ceremony at the original Turntable, once used to turn the trains travelling back to Dublin! The Turntable is certainly one of the most unique ceremony spaces in Ireland, seating up to 80 guests plus an additional 30 on cushions.
For the drinks reception, you and your guests proceed to the Platform Bar & Terrace which was once used as the waiting room for Dublin-bound passengers. The dinner reception is held in the old engine room, now called the Carriage Suite. The elegant room is used for most weddings, seating up to 190 guests, but if you're having a smaller party of 90 people or fewer the Signal Restaurant is a great alternative.
Your own bridal suite is probably the most unusual bridal suite in the country. Located over 2 floors, it was originally the Midland Great Western Signal Box! Downstairs is a cosy sitting room while upstairs features a luxurious four-poster bed. Overall, the Station House Hotel has enough accommodation for 82 guests.