A luxurious country house with gorgeous period rooms, a sun-lit orangery and stunning walled gardens – once you see Tankardstown House in Co. Meath for the first time, it's hard not to fall in love! It's certainly one of the best wedding venues in Ireland and has all the elements of the perfect venue:
a short drive from Dublin (just 40 minutes)
large capacity (up to 250 people for both ceremony and reception)
gorgeous ceremony setting both outdoors in the walled garden or indoors in the orangery full of natural light
ample accommodation on site – up to 102 guests on the Tankardstown estate
award-winning food – Tankardstown Houe is included in Ireland's Blue Book, a guide to Ireland's best accommodation and fine dining
stunning backdrops for your photos, both indoors and outdoors
dog-friendly!
So what is it like to have your wedding there?
Accommodation and Getting Ready at Tankardstown House
Located just outside Slane village in Co. Meath, Tankardstown House offers plenty of accommodation options on site. There are 7 rooms in the main house, all tastefully decorated with period furniture and unique details. Together with the Courtyard Cottages, the Lodge, and the newly refurbished Barn & Stables, the estate can accommodate up to 102 guests. For extra rooms you have the options of the beautifully restored Boyne House and Conyngham Arms Hotel in Slane Village.
There is also a recently-refurbished dedicated Bridal Preparation room that you can use to get ready on the morning of your wedding at a hire fee of €400. It's wonderfully spacious and comfortable, perfect for a relaxing morning with your wedding party. This way you can arrive early in the morning and not have to worry about travel for the rest of the day!
Wedding Ceremony at Tankardstown House
A lot of couples choose to hold their ceremony on site, and with such gorgeous options as backdrop it's no wonder!
Depending on the weather, you can hold your ceremony in the airy orangery or in the walled garden among the stunning yew trees (both options have the same €400 set-up fee). The great thing is that the orangery is so full of natural light that your photographs will look perfect regardless where you hold your ceremony. There aren't many venues in Ireland that can boast of such a fantastic ceremony space!
Another unique thing I love about Tankardstown House is how pet-friendly the venue is. Your furry friends can be part of your ceremony both outdoors and indoors! Rebecca and Brian absolutely loved to have Zeus sharing their big day with them. And he behaved like an absolute star!
Tankardstown House Wedding Reception and Packages
After your ceremony you will greet your guests and mingle with drinks & nibbles. The gardens and patio are always full on a sunny day. But if the weather doesn't allow for spending time outdoors, the drawing rooms are wonderfully cozy, especially with the fires lit. There is prosecco, seasonal punch, house cocktails and tea & coffee with scones and homemade shortbreads to choose from, along with mouth-watering canapes.
The staff at Tankardstown House are also top-notch – they always make sure everyone is looked after and the day runs smoothly and on time.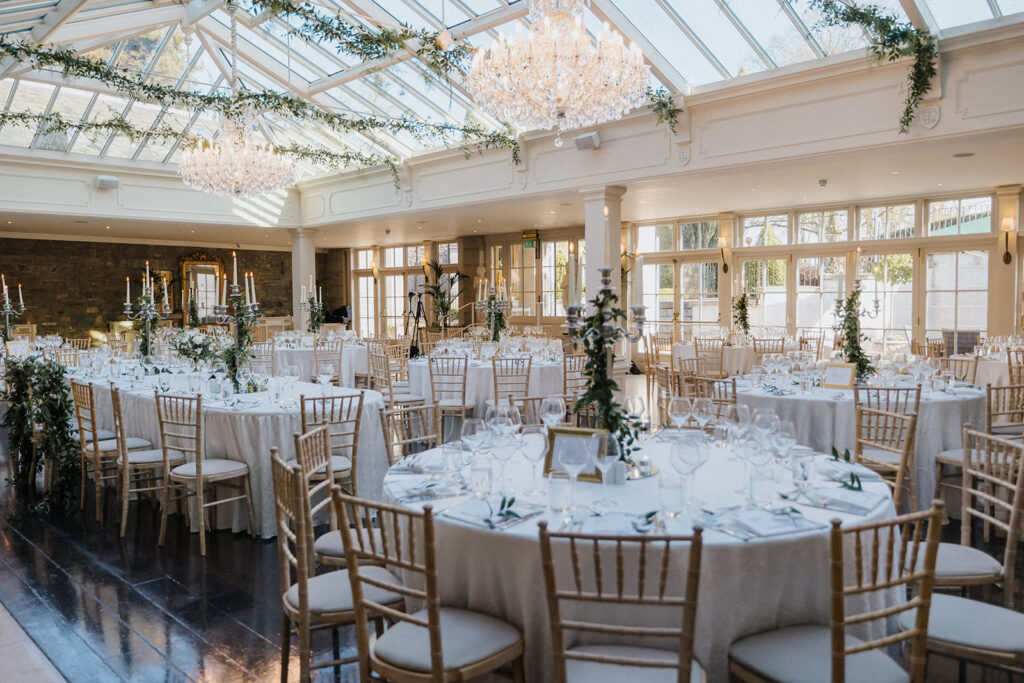 After the drinks reception you and your guests will be invited back downstairs into the orangery for a luxurious meal. Depending on your package, you can choose a 4-, 5- or 6-course meal. The wedding packages at Tankardstown House start from €89 during the off-season or €118 all-year-round. There are also minimum numbers of guests, ranging from 50 between Sunday and Wednesday to 140 on Saturdays.
Wedding Photography at Tankardstown House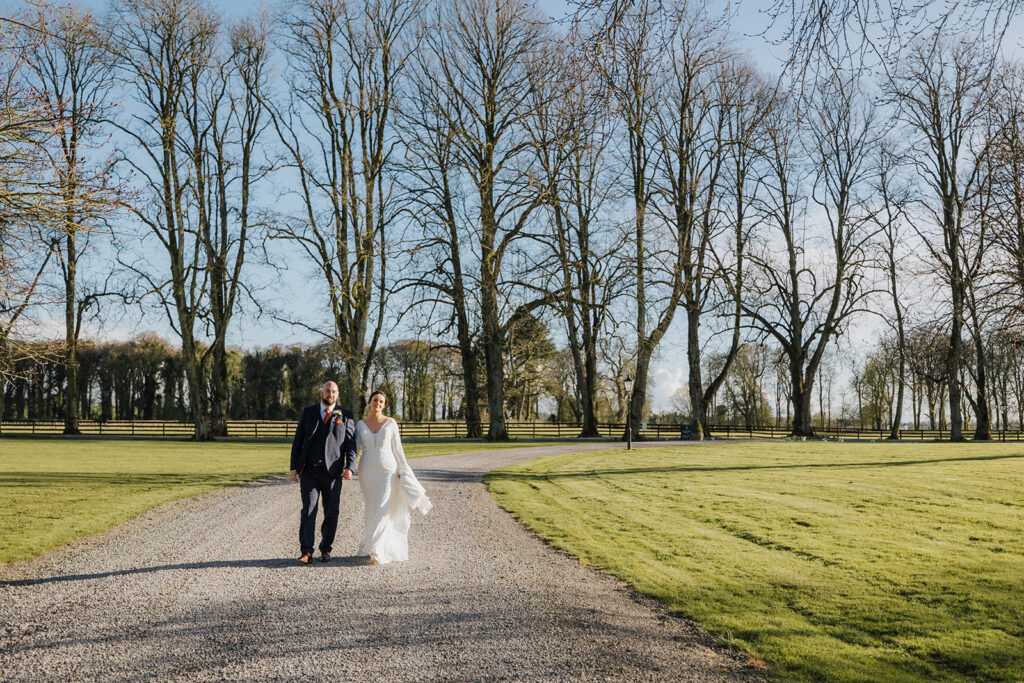 Of course you're first and foremost choosing your venue to have a great day but beautiful photos can't hurt, right? Tankardstown House is so full of wonderful backdrops that it's really easy to get lots of amazing photos in a very short space of time.
The walled garden is a private versatile space to have all your family and couple photographs done a short distance from the main house. The intricate wrought-iron gate is a real eye-catcher, and I love using it as a backdrop.
There is also a romantic tree-lined walkway that is dotted with daffodils in the spring months. It gets the most gorgeous sunset light, and is perfect for a few sneaky portraits just before dinner or even before dessert for a summer wedding!