Wicklow is called the Garden of Ireland for a reason! Home to some of the most beautiful estates, awe-inspiring mountains and striking views, it has some of the most beautiful wedding venues in the country. See the top 9 best wedding venues in Wicklow and all the tips you need to organize your wedding there!
| | | | |
| --- | --- | --- | --- |
| Venue | Distance from Dublin | Capacity | Price per person |
| Tinakilly Country House | 50km (about 50 min) | 260 | from €105 |
| Ballybeg House | 85km (about 1h 30 min) | 160 | from €15,500 for 3-day hire and catering |
| Rathsallagh House | 65km (about 1 hour) | 250 | from €72 |
| Brooklodge and Macreddin Village | 75km (about 1h 10 min) | 200 | from €99 |
| Killruddery House | 30km (about 30min) | 200 | from €2200-€10000 for venue hire and catering |
| Powerscourt | 45km (about 45 min) | 170 | from €95 |
| Trudder Lodge | 40km (about 45 min) | 140 | price on request |
| Clonwilliam House | 80km (about 1h 30 min) | 200 | price on request |
| Summerhill House Hotel | 30km (about 30min) | 250 | price on request |
Tinakilly Country House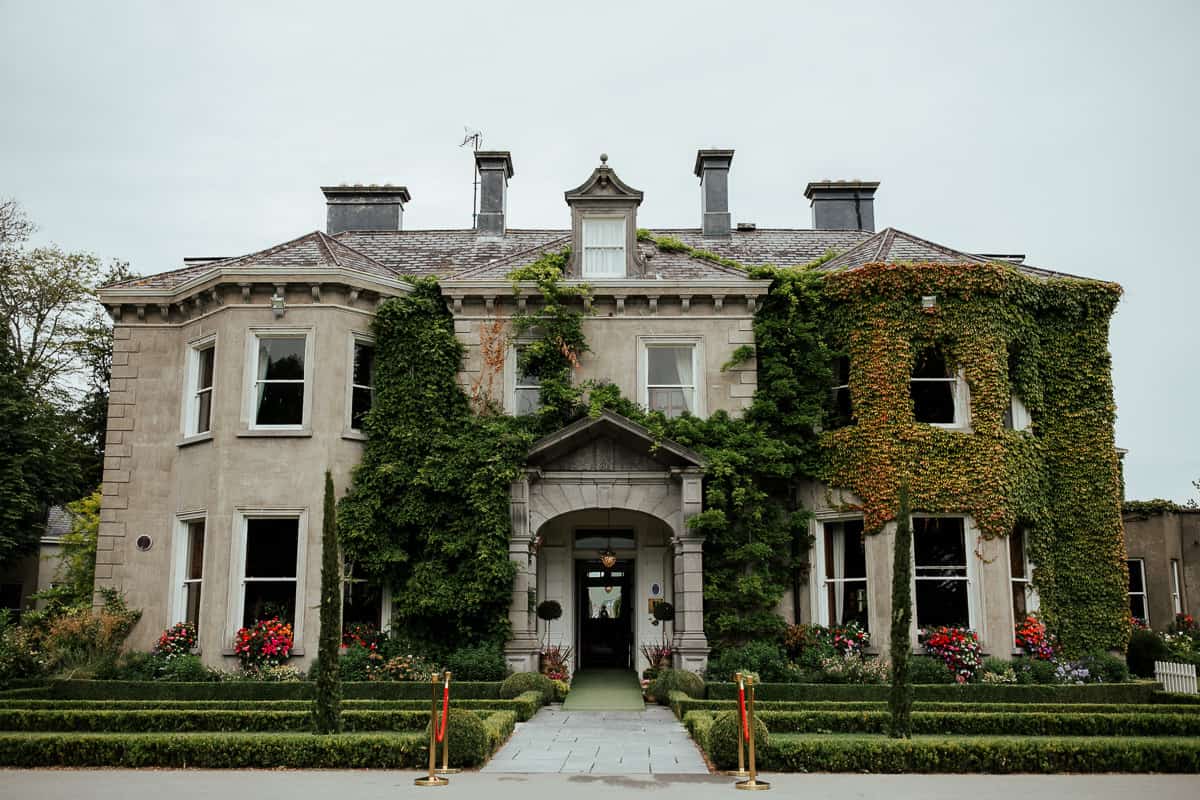 A beautiful country house just outside of Wicklow town, Tinakilly Country House combines the best of both worlds. It's an elegant wedding venue with amazing gardens, views over the Wicklow mountains and a dedicated Pavillion to accommodate a large wedding party. It's also a boutique hotel, which means your guests don't have to worry about where to stay after the celebration!
The winding driveway leads straight to the beautiful country house with an impressive front entrance. From there you can go off to have a drink in one of the beautiful Georgian suite, or explore the French-style gardens. For civil ceremonies Tinakilly House has a few different options, depending on your number of guests. There is the exquisite Victorian Halpin Suite, the cosy Brunel Suite and of course the Great Pavilion which is then turned around to host your wedding dinner. On a nice day there's probably no better option than have your ceremony outside – the gardens are absolutely stunning!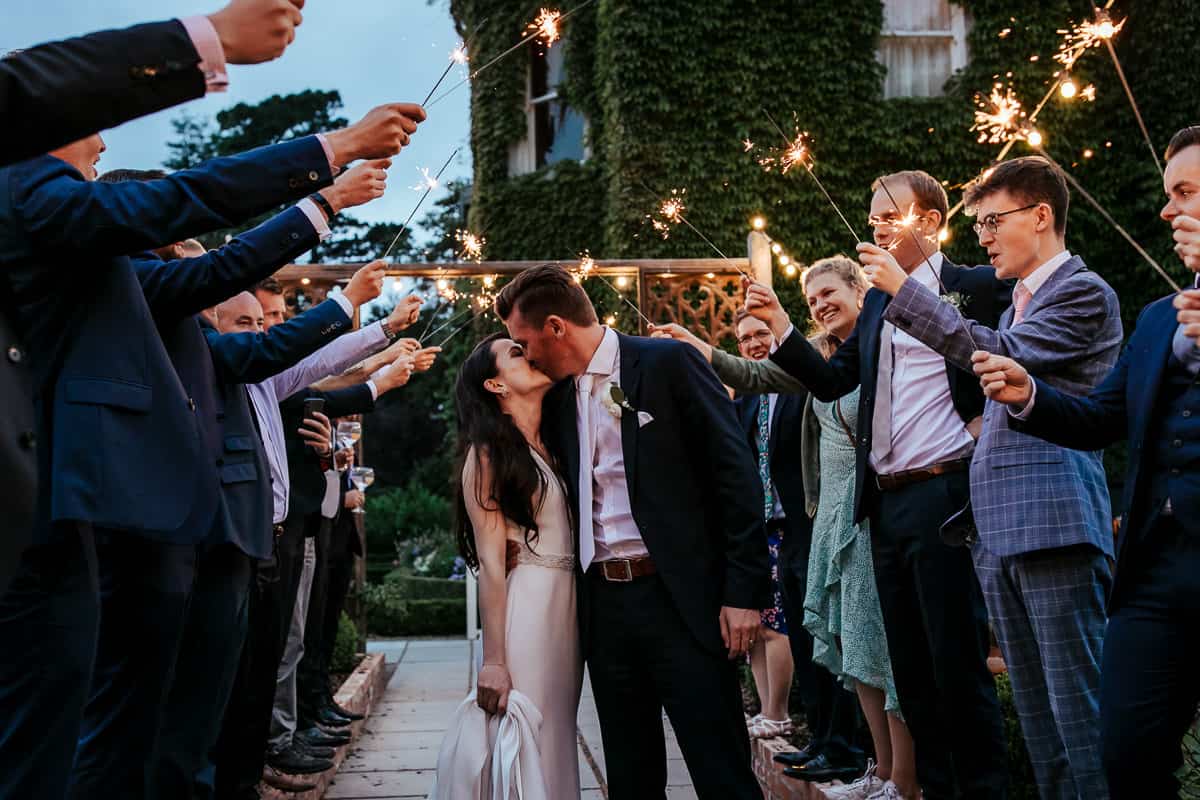 Hosting both intimate and large weddings, Tinakilly House has fantastic options. The before mentioned Halpin Suite and Brunel Suite are perfect for smaller weddings while the larger celebrations are held in the Great Pavilion. It's a permanent structure in the woodlands with wood-panelled walls, tall windows and an inviting lounge room. Normally accommodating up to 260 guests, It can be extended to 300 people.
Unlike other country house venues, Tinakilly House offers a lot of accommodation to your guests. There are 52 beautiful guest bedrooms sleeping over 120 people, and if that's not enough Wicklow town is just a stone's throw away with many other hotel and B&B options.
See this sparkling Tinakilly House Hotel real wedding.
Ballybeg House
For a truly memorable wedding celebration Ballybeg House could not be a better-suited choice – not least because it's one of the few wedding venues in Wicklow offering an extended party rather than a one-day affair. All weddings at Ballybeg have the entire house and grounds for private use over three days and nights, with capacity for 170 guests and accommodation for 16 people. There is the main house with its beautiful grounds, the Dairy and the Grouse Lodge with bedrooms, the marquee for your main celebration and the cosy Shebeen for day-after entertainment.
For civil ceremonies the Ayers Ceremony Room is a beautiful space with a medieval atmosphere. Its original stone walls, turf fires and candlelight offer a really private and intimate experience.
Wedding parties at Ballybeg have the exclusive use of the entire place for a minimum of three days and nights.
Rathsallagh House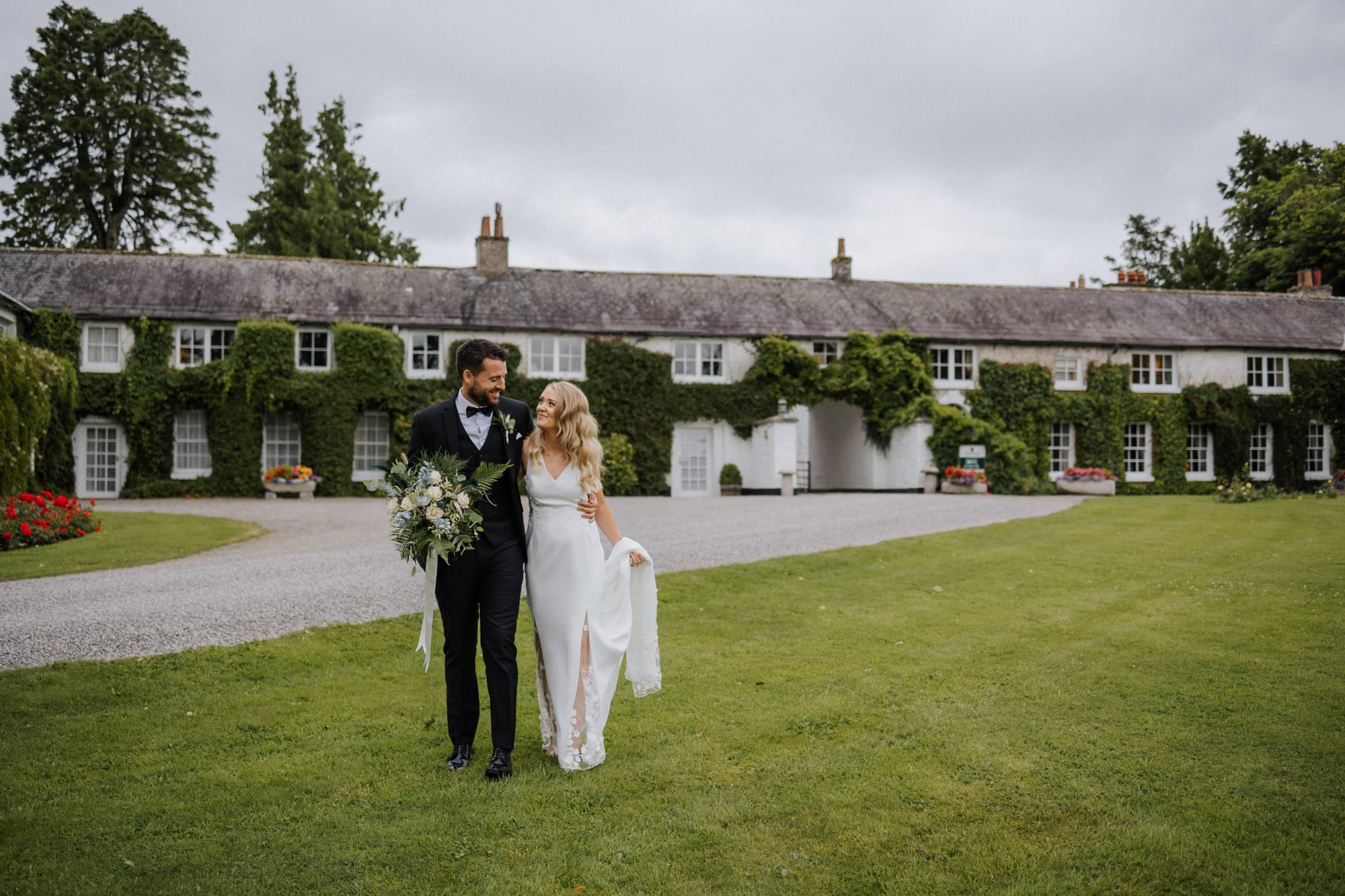 Set over 260 acres of golf courses and parkland to the south of Blessington, Rathsallagh House is like a beautiful oasis. Your exclusive wedding celebration is hosted in a warm and cosy country house with dinner being served in a spacious Pavillion. The gardens and grounds nearby are absolutely gorgeous. There's a walled orchard for beautiful spring and summer wedding portraits, a bright orangery for rainy days and, on the other side of the house, a lawn for the most amazing sunset light on a lucky day!
The orangery is also a beautiful space for an intimate civil ceremony, seating up to 90 guests. For larger weddings there is the option of the Granary or an outdoor celebration in the walled garden, both seating 200 people. For onsite ceremonies it's an extra €500, and there are a lot of beautiful churches in the vicinity if you're planning a more traditional wedding.
For your wedding dinner you have the option of the Fine Dining Room (seating up to 120 guests) and the large Pavillion (250 guests). There is also ample accommodation on site – 39 rooms in the main house and gate lodges, sleeping up to 90 people. Depending on your wedding date and the package you choose, there are minimum numbers of guests and rooms you need to guarantee. However, being a family-run venue, Rathsallagh House are really flexible and accommodating, definitely worth a viewing!
See more beautiful celebration from Rathsallagh House wedding venue.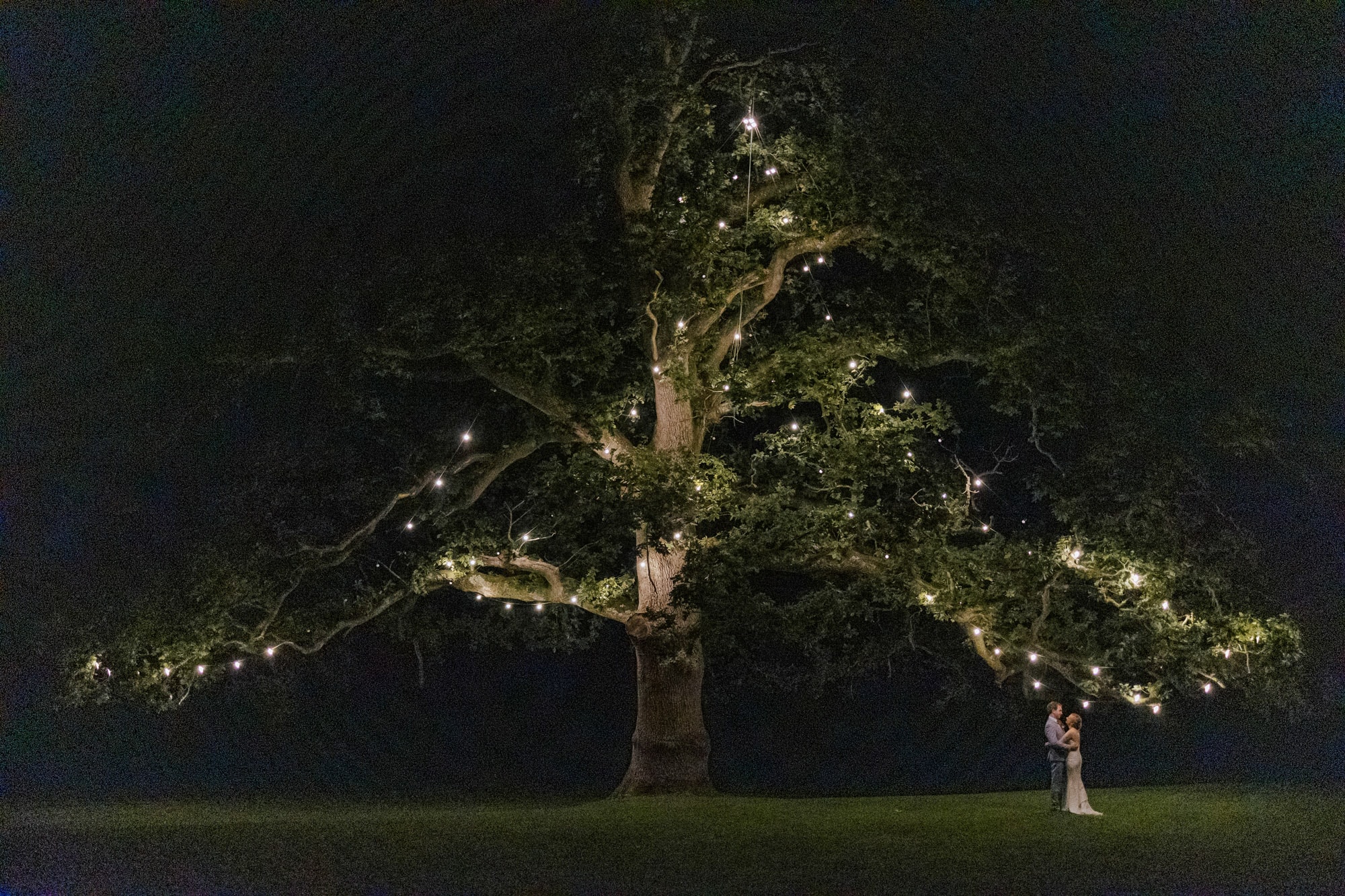 BrookLodge and Macreddin Village
It's not often that a whole village emerges around a venue – but this is exactly the case with the quaint country house that is BrookLodge and Macreddin village. It's a unique wedding celebration space in Wicklow that you'll definitely fall in love with as soon as you lay your eyes on it. As long as you don't mind cute chickens roaming the grounds!
One of the most unique features about BrookLodge weddings is its civil ceremony space. Just on the other side of a romantic brook is a real chapel, for those couples who want a secular ceremony with a bow to tradition. The cosy chapel seats up to 150 guests but if you'd rather opt for an outdoor ceremony (or need more space) there's a beautiful lawn just in front of the chapel.
BrookHall across the green is your main venue for the wedding celebration. Seating up to 200 guests, it features an impressive dark-beam ceiling and vaulted windows overlooking the river. For intimate weddings (up to 44 people) there's a totally different option – the Strawberry Tree Restaurant, with candles reflecting in its mesmerizing mirror ceiling. It also happens to be Ireland's first certified Organic Restaurant, serving only wild and organic foods. All produce comes from local artisan suppliers, so the menu changes with each season.
BrookLodge pride themselves on their food and its variety, so besides all-inclusive packages you can create a full menu and package yourself. Food is so important that you and your partner get a complimentary dinner at the Strawberry Tree restaurant to sample the quality of cuisine and meet with one of the chefs to discuss a personalized menu!
BrookHall and BrookMews also provide ample accommodation for your guests. You['ll have 30 bedrooms allocated on the night of the wedding, plus the option to book more rooms if necessary.
Read more about organizing your BrookLodge wedding.
Killruddery House and Gardens
One of the most renowned estates just south of the Dublin border, Killruddery House and Gardens is a prestigious historic venue. A beautiful oasis for you to take a stroll on any day, it's a stunning option for a truly elegant wedding celebration. Sprawling across 850 acres of carefully manicured gardens and romantic woodland, Killruddery has been owned by the Earls of Meath since the 17th century, and the Tudor Revival style mansion truly wows at first sight.
As the house still belongs to the Brabazon family, it is a private venue that only hosts a limited number of weddings per year. And you could be one of the lucky ones! Imagine saying I do's in the sun-filled Orangery overlooking one of the most beautiful gardens in the country, having a drinks reception on the elegant terrace and then enjoying dinner and dancing in the ancient Grain Store.
Killruddery House has a lot of different options for your wedding celebration, depending on your numbers and the wedding style you'd like to go with. One of the most popular spaces is the Orangery, an inspiring conservatory stone structure inspired by London's Crystal Palace and Italian Renaissance gardens. It fits up to 180 guests and is connected to the formal Dining Room, perfect for a small-party celebration. For your a larger drinks reception there is the opulent Library.
The main feast normally takes place in the rustic Grain Store, a converted 19th century barn seating up to 200 guests. Its long wooden tables and ancient stone walls create a bohemian atmosphere and character. Besides a historic estate and elegant gardens, Killruddery is extremely proud to be a working farm, so all the produce on your wedding table will be organic and fresh. All the beef, lamb and pork is reared, free-range, on the estate grounds, and the seasonal produce comes from the walled garden.
Depending on your numbers and wedding plans, you can hire each of the above spaces individually or as a combined option. For example, the Orangery for your ceremony, the House for the drinks reception and the Grain Store for your dinner would come to €6900. The prices don't depend on the day of the week but there are minimum numbers on different days and seasons (from €3000 to €10000). As the Orangery is not suitable for winter months, all the weddings are held between April and October when the gardens are in their full beauty.
Powerscourt
Another renowned name in Co. Wicklow, the Garden of Ireland, is Powerscourt House. Surrounded by immaculate gardens, it draws many visitors on weekends for a stroll and afternoon tea. Adjacent to the historical house is the Powerscourt Hotel, a beautiful wedding option to combine modern comfort and elegant charm.
Powerscourt Hotel Resort and Spa offers all-inclusive peak and off-peak wedding packages, with access to the stunning Powerscourt gardens, a beautiful Ballroom decorated with crystal chandeliers and the most striking views of Wicklow's iconic Sugar Loaf mountain. For an extra venue hire charge you can host your reception in the historic Powerscourt House itself, accessble via a romantic wooded avenue.
Minimum numbers do apply – from 80 guests midweek in off-peak season to 140 guests on weekends in the summer months. Being a hotel, Powerscourt also offers ample accommodation – 194 bedrooms, so it's well able to accommodate even the largest wedding party!
Read more about organizing your Powerscourt House wedding.
Trudder Lodge
A beautiful country house nestled in the heart of Wicklow, Trudder Lodge really feels like home away from home. Its most beautiful aspect is that you can make it truly your own and plan a very personal celebration. That, and the absolutely stunning gardens!
As an exclusive venue, you hire Trudder Lodge for the day (or two), and the rest is up to you. You have full choice of catering, so you can have a summer garden party BBQ or an elegant 5-course-meal. You also have full choice of decor – add ribbons, flowers, lights, whatever takes your fancy! The stunning courtyard marquee will comfortably accommodate up to 140 guests, while the dining room can host an intimate celebration of 30.
Civil ceremony options are simply stunning. You can have your outdoor ceremony anywhere on the grounds, from saying your vows under and ancient tree to a celebration in the walled garden. The bright Garden room is a beautiful indoor option. It's hidden from view from the main house by old granite walls and rhododendron bushes, and feels extremely intimate.
The house itself has 5 bedrooms, sleeping up to 16 people, so it becomes a charming home for you and your wedding party. For the rest of the guests there is ample accommodation in the surrounding B&B's, and the wonderful team at Trudder Lodge are always happy to help with vendor recommendations.
See more of the charming Trudder Lodge.
Clonwilliam House
Clonwilliam House is one of Wicklow's most stunning country houses and a beautiful setting for a true Downton Abbey-styled celebration. The historical Georgian house with its awe-inspiring lobby and luxurious drawing rooms is ideal for enjoying a drink and mingling with your guests.
Unlike many other private country house wedding venues in Wicklow which provide the house hire and leave the rest up to you, Clonwilliam House offers a full service in the lead up to the wedding and on your wedding day. If you heard your friends say how much more work it involves to hire out a venue rather than go with a standard all-inclusive package, it's certainly not the case here!
For the main event – the banquet itself – the guests normally proceed to the barn and stables, following a real Victorian gong! The space, accommodating up to 200 guests, is absolutely stunning with real trees, fairylights and off-white accents that add to the rustic glamour. The banquet itself is exclusively hosted by Naomi's Kitchen, a real catering guru. This way, Clonwilliam House ensures the highest standard of food and service but also leaves you with the flexibility of creating your wedding menu. Another unusual feature is their drinks policy. There's no corkage fee on pre-dinner drinks, so you are welcome to bring as much wine as you want! During dinner, there is a fully staffed bar but again, there is no responsibility on you – you can provide your own wine, arrange for a bar tab for your guests or have them purchase their own drinks.
The main house has 6 luxury bedrooms and accommodates up to 14 guests. For the rest of your guests, there's ample B&Bs in the vicinity, and Clonwilliam House butler team ensure that your guests are all safely transported to their accommodation.
Summerhill House Hotel
Just across the road from Powerscourt House and Gardens in Enniskerry, there is another charming country house venue – Summerhill House Hotel. If Powerscourt feels too formal, this might be just what you're looking for! A winding forest drive leads you right up to the beautiful mansion. The grounds aren't massive but there is a very pretty wooded area, a lawn for a summer drinks reception, and everything is just a few minutes' walk away. And then if you hop into the car and drive into the Powerscourt estate, you'll be greeted by the most spectacular view of the Sugar Loaf.
The Avondale Suite seats up to 250 guests, with a minimum 80 adults Sunday to Thursday and 100 adults on Friday and Saturday. The Suite is spacious and filled with light, and it is also used for civil ceremonies, unless you decide to opt for outdoors and say I do's on the beautiful lawn. There are stately drawing rooms in the elegant house that are perfect for your drinks reception.
Another great feature of Summerhill House Hotel is the number of bedrooms – with 84 rooms available in the house you'll have no problem accommodating most, if not all, of your guests!