You know the way you meet someone and click instantly, feeling as if you've known each other for years? This was the way I felt when I met Mary-Ellen and Ali for their engagement session on a cold and dark December morning. It was freezing temperatures (which doesn't often happen in Ireland), and the guys rocked up in leather jackets! We had an absolute blast, and I loved getting to know them and their beautiful love story. Their Marlfield House wedding the following year was promising to be epic. I still have goosebumps when I look back to it!
Vintage Style Marlfield House Wedding
Mary-Ellen has three loves in her life: Ali, vintage and peacocks! Check out her awesome peacock tatoo. Marlfied House was the only venue they looked at before calling it the one – it's like stepping back in time. It's both vintage and luxurious, and they have their own resident peacock roaming the grounds! Besides the venue, Mary-Ellen incorporated the vintage theme in her bridal style. She went for an authentic American vintage dress from Dirty Fabulous. Ali wore a fantastic sky-blue suit – I wish more grooms would be daring with colour! The suit was even the perfect match for their wedding car. I'm usually not a big fan of cars (I can tell colours, does that count?) but this time it was quite something! Originally from Cuba, Ali came to Ireland as a teenager. Incorporating Cuban elements into their wedding was a must! Not only did they have cigars, but they also found a beautiful American Vintage Chevy for their Marlfield House wedding! How classy is that??
In general, I find Marlfield House a perfect setting for a vintage wedding. The house is full of little details that make it such an attractive setting, and the gardens are just stunning! Marlfield House are also very flexible with their wedding packages. A lot of country house venues will require a venue hire fee, irregardless of your wedding size. This might limit your options if you're planning an intimate day. Marlfield House can host a party of up to 145 guests, and for larger weddings you get exclusive use of the house. But for intimate weddings of up to 55 people you can use the Print Room (the master suite) without having to rent the whole house.
Getting Ready and Accommodation at Marlfield House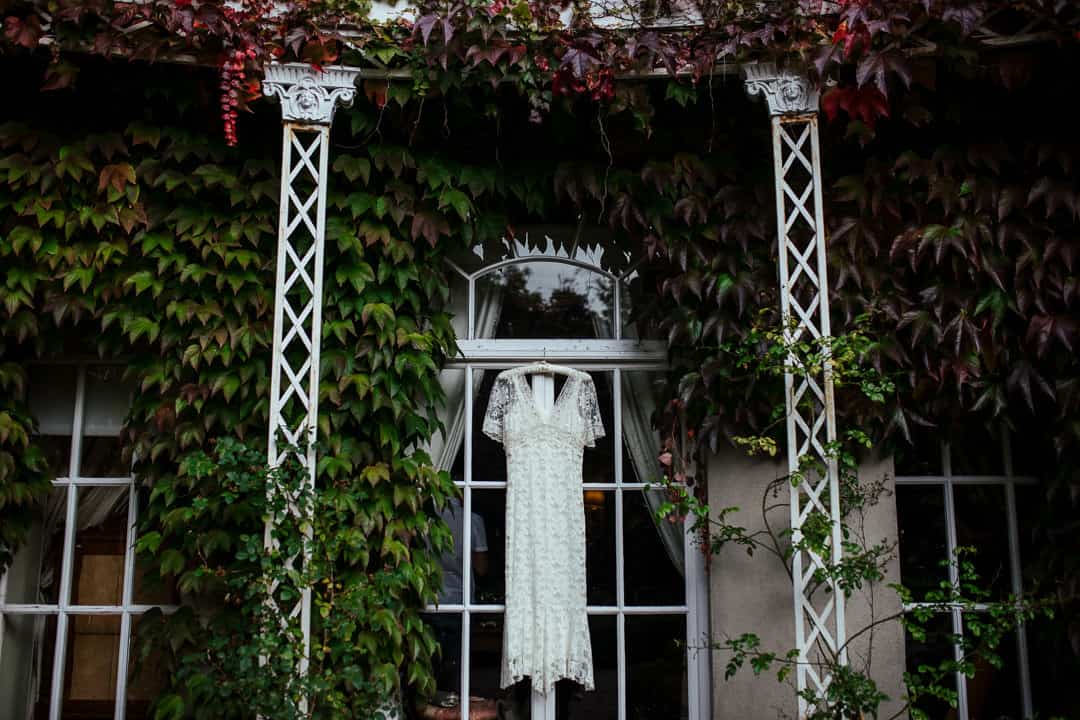 Marlfield House has 19 stately bedrooms, each one with a unique style. They sleep up to 42 people, with numerous B&Bs available in Gorey for the rest of your wedding party. The Print Room is most often used for the bridal morning preparations, and I absolutely loved photographing there. There are so many little details and so many patterns! The room in itself is quite dimly lit but the preparations are usually done close to the large French doors leading into the garden. The room overlooks the gardens so it also helps keep it secluded, without the chance of running into your guests or the groom! I loved being able to photograph some of the bridal details outside, and Mary-Ellen could always open the doors to get a breath of fresh air.
Wedding Ceremony at Marlfield House
While Mary-Ellen and Ali chose to have a church ceremony in Gorey, there are plenty of options to do a civil ceremony at Marlfield House. The venue is fully licensed to conduct wedding ceremonies, and you can pick between the conservatory, the Print Room and the gardens. There are lots of stunning settings and backdrops. The venue is so conveniently located just an hour away from Dublin that you can even have your ceremony there and travel down afterwards! All the options are possible.
Wedding Reception and Dinner
As soon as you arrive back from your ceremony there are drinks and canapes waiting for you in the reception area. You can go with various drinks option (including a very popular gin bar), and tea & scones are always in abundance. There are several reception areas – the main lobby transformed into your private hall, the library bar and State rooms. The open fires around the place make it really cosy, as well as abundant fresh flowers and vintage decor. You might even get a glance at the resident peacock in the garden!
The wedding dinner takes place in a large room adjacent to the conservatory. The conservatory itself seats about 35 people, and is usually reserved for the top table and close friends & family. The wings to the side of the conservatory are taken up with more tables. I loved the dinner setting as it's so bright everywhere! The conservatory and the floor to ceiling windows along the side of the house allow plenty of natural light. The speeches are absolutely perfect to photograph there!
Another great advantage of not having a standard function room is the first dance arrangement. While you are having dinner your reception area is transformed into a dancefloor, so you can go straight into your first dance! No waiting around for the tables to be moved and the band to set up (they can do it while you're having dessert!). It also means your guests won't have the comfortable option of retreating back to their seats and missing out on the dancing 🙂 Of course there's always the library bar and State rooms where you can take breaks or retreat late into the night!
Where to Take Wedding Photos at Marlfield House
With 36 acres of lush gardens surrounding the house, you literally are spoiled for choice! Not that you have to walk all 36 acres, of course 🙂 Just a short walk from the house itself there are gorgeous oak trees, a rose garden, a picturesque pond with a bridge over it and a woodwalk. There's even a little maze! I was lucky to capture this Marlfield House wedding in October, and the colour of the leaves is absolutely stunning. Just look at the orange and red trees reflected in the pond! Around the house itself there are plenty of beautiful nooks and textured walls. Mary-Ellen and Ali took a lovely romantic stroll away from everyone's eyes after the ceremony to enjoy some intimate time together. This venue truly has one of the most romantic settings I've seen!
Marlfield House Wedding Packages
Marlfield House has several weddings packages starting at €95pp, with everything you can expect on your wedding day. This includes refreshments and canapes for your drinks reception, a resplendent 5-course dinner with wine and midnight snacks. The decor is taken care of with flower arrangements from the garden, as well as personalized complimentary menus and menu covers. The best part of wedding planning is certainly food tasting, with wines, prosecco and champagne included 🙂 You also get a complimentary stay in the Master Suite with a bottle of champagne and freshly cooked breakfast in bed the next morning!
Perfect Day
You can plan the way your wedding will look as long as you want but it's the people who make the day. I can't remember photographing a more emotional and fun-filled wedding. Starting with the priest, who engaged the whole congregationg into the memorable mass. He added a lot of personal touches and walked up and down the aisle, asking the guests to give advice! The speeches were so emotional that there wasn't a dry eye in the room, including the bride and groom's. And then came the first dance. Ali plays in a band, so they couldn't possibly do the traditional "Irish shuffle". Instead, they had taken classes and choreographed an awesome dance to "Crazy Little Thing Called Love". Absolutely mindblowing.
I honestly edited the whole wedding over the next 3 days (couldn't stop myself). And then Mary-Ellen's words made my day:
So you did it again, you had us sobbing like the little love birds we are and we LOVED every second.
Seriously Olga these are the most amazing photos , we couldn't have wished for anything more special and magical from you for the best day of our lives. They bring us right back to the moments of our wedding day! And so many shots you took we had no idea about, or We forgot all about them, just brill ,such a nice surprise!
Thank you so so much!
I've showed friends today. Everyone was super emotional looking at them, which for me and my husband is so lovely.
Goosebumps I think everyone said..