Micro-weddings were a thing long before 2020, and they are wonderful! Whether you're having a two-part celebration or simply want to spend the day with truly your nearest and dearest, there are lots of amazing options in Ireland to host an intimate celebration. Some venues cater for both large and small weddings, offering micro-weddings in off-peak times. Others are dedicated to creating the best intimate experience. For all-round best wedding venues in Ireland check out this post.
In no particular order, here are some of my favourite small wedding venues in Ireland to host your intimate and meaningful day.
Planning an intimate wedding in Dublin or nearby?
The Merrion Hotel
One of the most elegant wedding venues in Dublin, the Merrion Hotel provides a truly luxurious backdrop for your wedding celebration. Catering to intimate and medium-sized weddings of up to 90 guests, it features gorgeous Georgian salons with a private entrance and a grand staircase to accommodate your ceremony, wedding reception, dinner and afters. Packages start from €159 per guest.
25 Fitzwilliam Place
No 25 Fitzwilliam Place exudes history and charm. This private venue south of St Stephen's Green just beside the canal features beautiful Georgian style, classic interiors and fine dining. With capacity for 90 guests, it can accommodate both your ceremony, reception, meal & afters, and the iconic locations around are perfect for classic Dublin wedding portraits. Wedding packages with exclusive venue hire start from €105 per guest.
The Shelbourne
The Shelbourne remains one of the most iconic and historic hotels in Dublin city centre. While it can accommodate the most lavish celebration, it's also perfect for an intimate do. The St Stephen's Green suite accommodates 48 guests while the historic Constitution Suite sits a party of 24 guests. The Shelbourne team are amazing at creating the perfect event no matter the numbers and tailoring their packages to each couple. Prices start from €149 per guest. Having St Stephen's Green on your doorstep is a lovely bonus, too.
The Woollen Mills
Overlooking the iconic Ha'Penny Bridge, the Woollen Mills restaurant on the north side of the Liffey is probably one of the most romantic and quintessentially Dublin places you could find. It's so historic that even James Joyce himself worked there! The views are incredible, the food is modern and absolutely delicious, and the space is just perfect for an intimate celebration. The most popular Riverrrun Room faces onto the Ha'Penny Bridge and seats up to 28 guests, while the Roof Terrace is there if you want to host your wedding ceremony on site as well.
Marco Pierre White, Donnybrook
A beautiful restaurant venue in Donnybrook, Dublin 4, Marco Pierre White is renowned for its mouthwatering menu and elegant ambiance. With a few options available for weddings of different sizes, the Library room (up to 20 guests) and the Garden room (up to 60 guests) are both perfect for smaller weddings.
National Gallery of Ireland
Have you thought about hosting your wedding in an artistic space? The National Gallery of Ireland has several beautiful spaces for weddings. No 5 adjacent to the main building is the most popular option for intimate celebrations. The space upstairs houses 3 adjacent Georgian rooms with total capacity for 50 guests. You also have a lot of flexibility when it comes to your celebration. There are half-day and full-day venue hire options available, so you can have your ceremony and reception followed by dinner elsewhere, or have catering for your dinner as well. Daytime rental starts at €1000.
Luttrellstown Castle
This world-famous castle made the headlines around the globe in 1999 when it hosted the spectacular Beckham weddings. And while Luttrellstown Castle certainly suits the most lavish celebration, they are happy to host weddings as intimate as 20 guests. The smaller numbers apply mid-week and during the off-peak months (October – April, excluding December). The vast and grand 15th-century castle is so cosy that it feels perfect for a small celebration. The castle is available for exclusive hire with its 12 bedrooms (from €6900) with tailored wedding packages on top so you can create a fairytale experience for you and your guests.
The Anglers Rest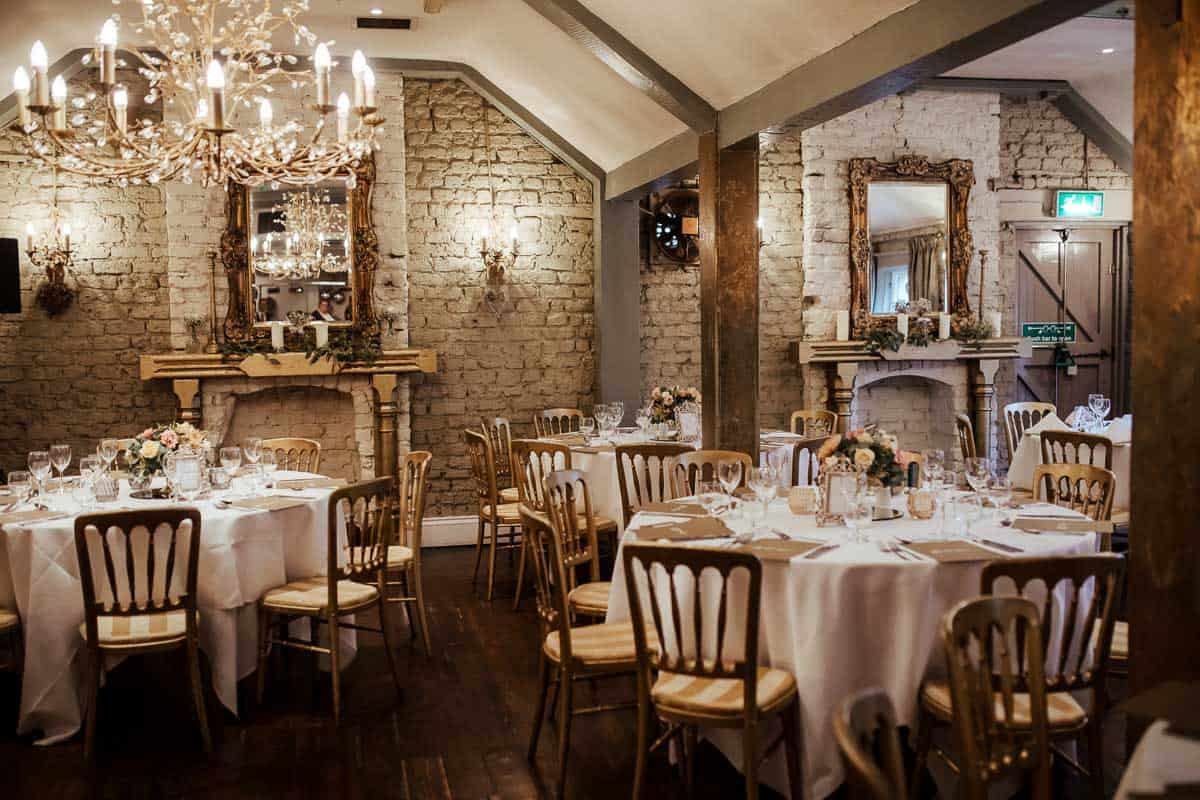 When you come into the Anglers Rest you feel like you found yourself in a traditional Irish pub. But that's before you make your way upstairs! The first floor is the perfect space for both your ceremony and wedding reception. The Phoenix Room is one of the most stunning wedding reception rooms I have seen. With light brick walls, its main feature is gold, and I couldn't imagine a more flattering and festive colour. The ornate mirrors make the room look even more spacious, while the gorgeous chandeliers totally elevate the atmosphere. While the Anglers Rest can accommodate up to 110 people, the venue really is perfect for smaller weddings. They have special packages available for intimate celebration, and Alison & her team will accommodate your every request, big or small.
The Dean Hotel
The chic Dean Hotel on Harcourt Street is perfect for small and mid-size weddings – its gorgeous Blue Room lends itself beautifully to an intimate celebration. The long tables make the place look especially elegant, and the various lighting options can create a different mood throughout the day. You can even use the same room for your wedding ceremony and grab a drink at rooftop Sophie's bar!
Airfield Estate
If you're looking for a rustic, garden-party vibe for your celebration, Airfield Estate in Dundrum is the perfect spot. The historic house is surrounded by a stunning walled garden, greenhouses and open fields so you completely forget you're right in Dublin city! Have your ceremony outdoors with a gorgeous view over the Dublin mountains and soak in the sunshine and the scents of nature. Airfield Estate has wedding packages for weddings as intimate as 30 guests, from €85 per person.
SMALL WEDDING VENUES CLOSE TO DUBLIN
Martinstown House, Co Kildare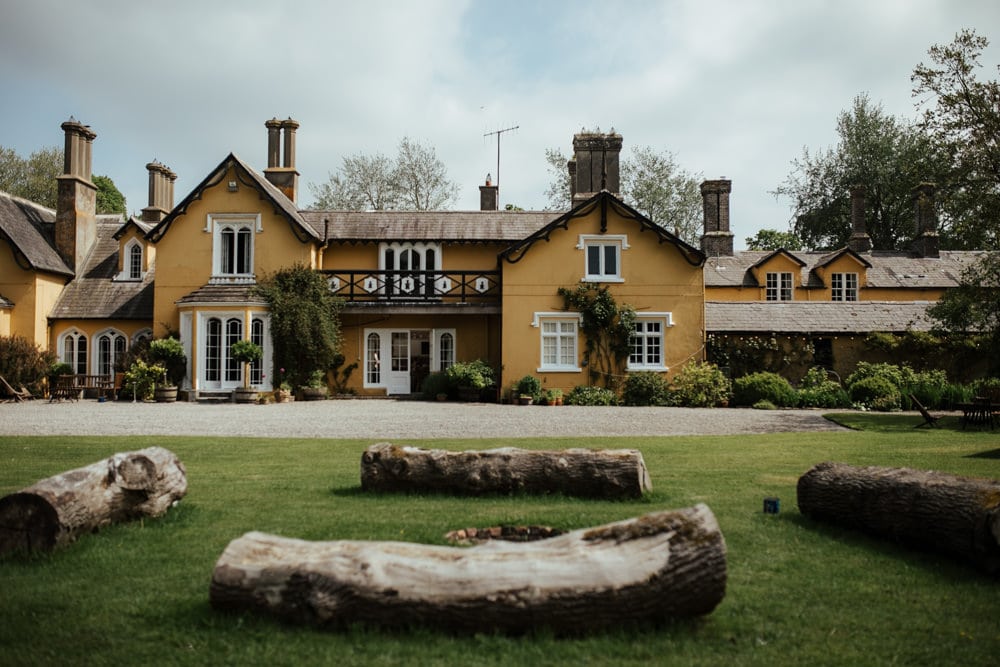 Martinstown House truly is one of my favourite venues to work out, both thanks to the atmosphere of the place and the truly amazing owners, Edward, Andrew and Jessica. With its wonderful countryside charm, Martinstown House is located just an hour away from Dublin, Co. Kildare. The house itself has seven charming bedrooms sleeping 14 people and a gorgeous drawing room. You can use it both for your morning preparations, drinks reception and an intimate wedding dinner. While weekends are normally reserved for larger weddings, you can have a mid-week or an off-season celebration in the house itself even with 15 guests. There's no other venue that could help you create a more amazing and meaningful day.
Knockrose House & Gardens, Kiltiernan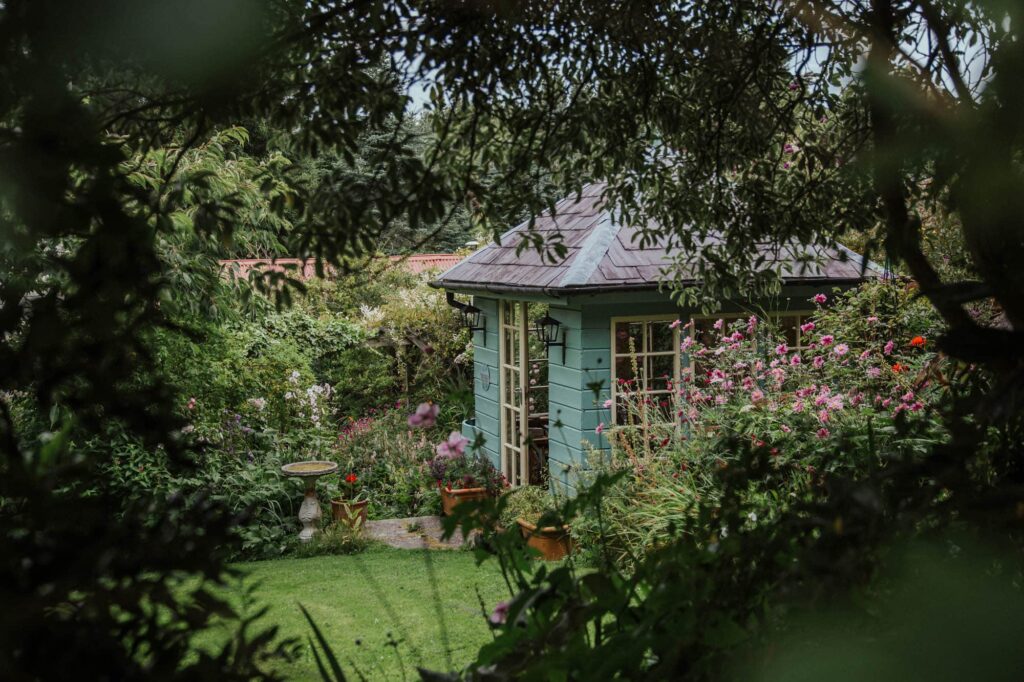 This family-run fairytale garden in Kilternan, on the border between Dublin and Wicklow, is an absolute hidden gem. I was so excited to hear they are now recognized by the HSE as a wedding venue so you can have your legal ceremony there. The Calm House with its gorgeous stained-glass windows provides the perfect option for an indoor secular ceremony. The garden itself is absolutely magical, with several distinct areas, which is perfect for your wedding photographs and a relaxing day to connect with nature.
Brooklodge, Co Wicklow
The Strawberry Tree restaurant at Brooklodge takes your breath away as soon as you enter the magical room with its mirrored ceiling. It's Ireland's first certified Organic Restaurant, serving only wild and organic foods. All produce is sourced from artisan suppliers and local areas, so it's seasonal and fresh. The Big Table, besides being gorgeous, is perfect for intimate weddings. Seating from 8 to 44 people, the Big Table creates the ultimate dining experience (from €85 per guest). After a pre-start, the food arrives together in a sumptuous feast style. Guests can pick whatever food they want and help serve each other. This adds to the festive and warm atmosphere at the party.
Loughcrew House, Co Meath
A hidden gem in the middle of Co Meath, Loughcrew House is historic, artistic and breathtaking. Whether you are planning an intimate wedding or a celebration with all your friends and family, the sky's the limit. You have the full run of the venue as you only pay for the hire, the rest of your day is fully up to you. No set ceremony or speeches times, no set menus (you have a choice of caterers), no packages. The day is entirely yours – how amazing is that? And you can still get married in one of the most unique ceremony spaces in Ireland – the ruins of St Oliver Plunkett's Church.
Tinakilly House, Co Wicklow
Located an easy 40 minute drive from Dublin, just outside of Wicklow town, Tinakilly Country House is a dream venue for a wedding celebration. The oak tree-lined driveway leads you to a beautifully restored manor. It's surrounded by a lush garden with mature trees and enjoys stunning views over the Wicklow mountains. The house itself is a fantastic combination of old world charm and modern luxuries and comfort. It's perfect for a romantic wedding celebration. Catering for both smaller and larger weddings, Tinakilly House has beautiful options of the Halpin Suite and the Brunel Suite for intimate weddings.
Bellinter House, Co Meath
A beautiful Georgian house in Co Meath, Bellinter House features an amazing combination of a period manor with all modern conveniences – even a spa and a hot tub! They host many large weddings of up to 160 guests but are happy to accommodate intimate weddings from Monday to Wednesday any week of the year.
Lisnavagh House, Co Carlow
This period manor in Co Carlow has the most gorgeous gardens and a unique Yew Walk for a stunning outdoor ceremony. Lisnavagh House is yours for the day, and happy to accommodate smaller weddings (up to 35 guests) mid-week in the Library, the Dining Room or the Schoolroom.
Roundwood House, Co Laois
This cosy family-run period home in Co Laois offers some of the best food I've tried in all of Ireland – and I'm not exaggerating! Hannah and Paddy are the most welcoming hosts, and they will organize the celebration you've been dreaming of. Catering exclusively for intimate celebrations (from 16 to 24 guests), they serve incredible dinner in the atmospheric Library and have accommodation for all of your guests so you can have an uninterrupted party with your nearest and dearest. You can pick your own perfect ceremony spot, from a historic courtyard to the brightly-lit main hall of the house.