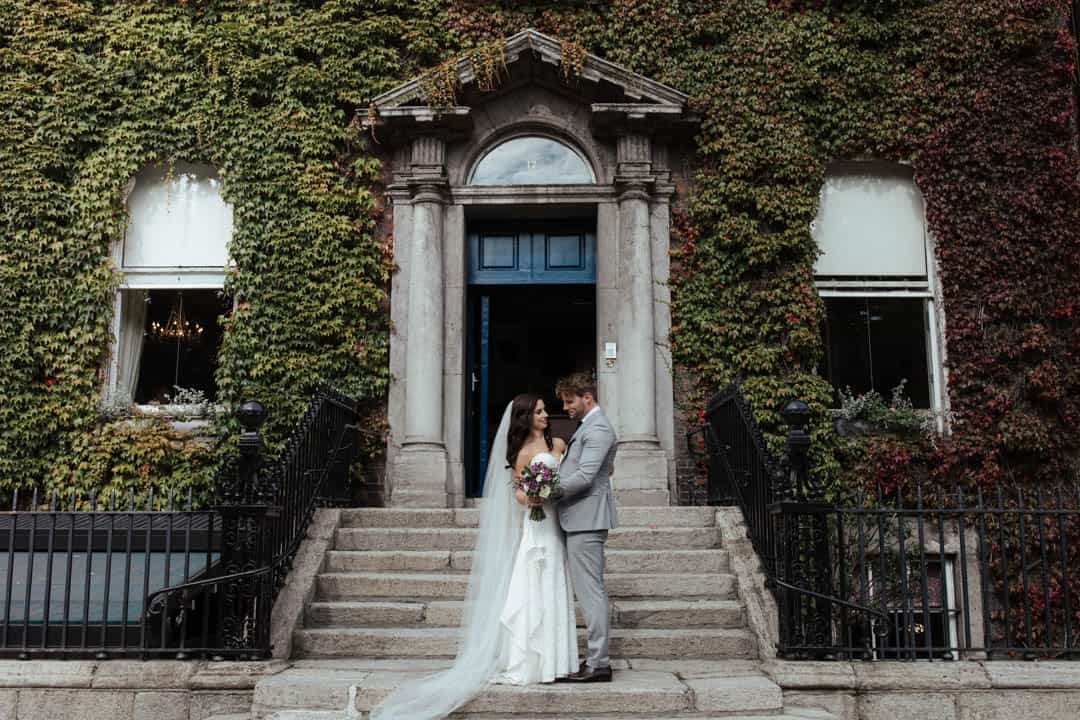 Dublin weddings always hold a special place in my heart, and I was really excited to capture this gorgeous Shelbourne Hotel wedding. Aoife and Tomás's journey to tying the knot certainly wasn't straightforward! As 2020 turned our lives upside down and put all our plans on hold, weddings were some of the hardest events to organize. When Aoife and Tomás realized that their plan to elope to Italy this year wasn't an option anymore they quickly had to make new arrangements. 
With government restrictions changing at a faster pace than any of us could keep up with, they ended up changing their date 3 times! In the end their intimate Shelbourne wedding in the heart of Dublin was everything they could have hoped, and more.
The Shelbourne Hotel: Dublin's Most Iconic Wedding Venue
When Aoife and Tomás made the decision to relocate their wedding to Dublin they couldn't think of a more iconic venue than the Shelbourne. With its rich history spanning over 200 years, the hotel has witnessed incredible events. It was in the centre of the conflict during the Easter Rising of 1916, and then in 1922 it played host to the historic meeting when Ireland's first constitution was drafted. The Constitution Suite still contains the original table and chairs!
Now a stunning modern venue, the Shelbourne weddings are relaxed and elegant – just like Aoife and Tomás themselves. Of course a Covid wedding in the middle of the pandemic is a little different to a normal wedding day. The staff were super helpful and attentive to every detail, making sure that the couple had the absolute best and safest day possible. 
We postponed our wedding three times in the hope of having a celebration with less restrictions. But the truth is, it only added more stress because we had no idea when the world would go back to something approaching normal.

We are delighted we went ahead with it and managed to have such an amazing day. It forced us to be creative and to focus on what was really important. And now that we're married – we're so happy.
The Shelbourne Hotel Wedding Ceremony
Aoife and Tomás had their humanist ceremony in the Adams and Deirdre Suites at the Shelbourne, two gorgeous adjacent suites that felt the perfect size for their intimate wedding party while also giving the opportunity for social distancing. During the drinks reception the amazing staff at the Shelbourne quickly turned the room around and transformed it into a gorgeous dining area full of light.
A humanist wedding allows to make the ceremony really personal, and I loved the rituals the couple included. My favourite (and something I haven't seen before!) was the Wishing Stones. Aoife is an avid rock collector, so the couple asked their guests to pick a stone each and make a wish before dropping it back into the vase. It's like a ring-warming ceremony but each guest gets to pick their favourite rock!
Wedding photos at the Shelbourne
With this iconic hotel overlooking St Stephen's Green it would be silly not to take advantage of the location. So of course we ran over to the park straight after the ceremony for an intimate stroll through the autumnal park. St Stephen's Green is gorgeous at any time of year and in any weather. But even if you need to seek cover on a rainy day, the Shelbourne has a lot of beautiful suites. We ended up using them for family photos. And of course we couldn't miss the Constitution room to pay tribute to Irish history!