Wrights Anglers Rest wedding always has a certain magic to it – it's relaxed, cosy and warm. This charming Irish restaurant, nestled just beside Phoenix Park in Dublin, is a hidden gem. If you're unwilling to travel far from Dublin but don't fancy celebrating your big day in the hustle and bustle of the city, Anglers Rest is an obvious choice. With its picturesque location, a charming exterior and one of the cosiest rooms I have been to, this place is superb. It combines a convenient city location with a true country feel – the best of both worlds.
I was so excited when Mey and Paddy asked me to photograph their big day there, not least because I love capturing intimate weddings
. After a long chat over a coffee I got to know their romantic long-distance story. Born in Taiwan and growing up in Toronto, Canada, Mey met Paddy on a trip in South America! Since that day they've been enjoying a whirlwind intercontinental romance. This definitely sounds like the illustration of "the world is our playground"!
When I met them, Mey was working in Sweden while trying to get all the necessary paperwork from all over the world to marry Paddy in Ireland
! 🙂 I know paperwork is never fun but somehow it sounds
incredibly
romantic!
They chose to have a Wrights Anglers Rest wedding to gather their friends and family from the four corners of the world
. And of course show them true Irish hospitality.

Wedding Reception at Wrights Anglers Rest
When you come into
the Anglers Rest
you feel like you found yourself in a traditional Irish pub. But that's before you make your way upstairs! The first floor is reserved for functions, and it's the perfect space for both your ceremony and wedding reception. The Phoenix Room is indeed one of the most stunning wedding function rooms I have seen. With light brick walls, its main feature is gold, and I couldn't imagine a more flattering and festive colour. The ornate mirrors make the room look even more spacious, while the gorgeous chandeliers totally elevate the atmosphere. Even the pillars and chairs are matching. The Phoenix Room seats up to 150 people. Adjecent to it there's a bar area that turns into a dancefloor after dinner.
When is the Best Season to Get Married at Anglers Rest?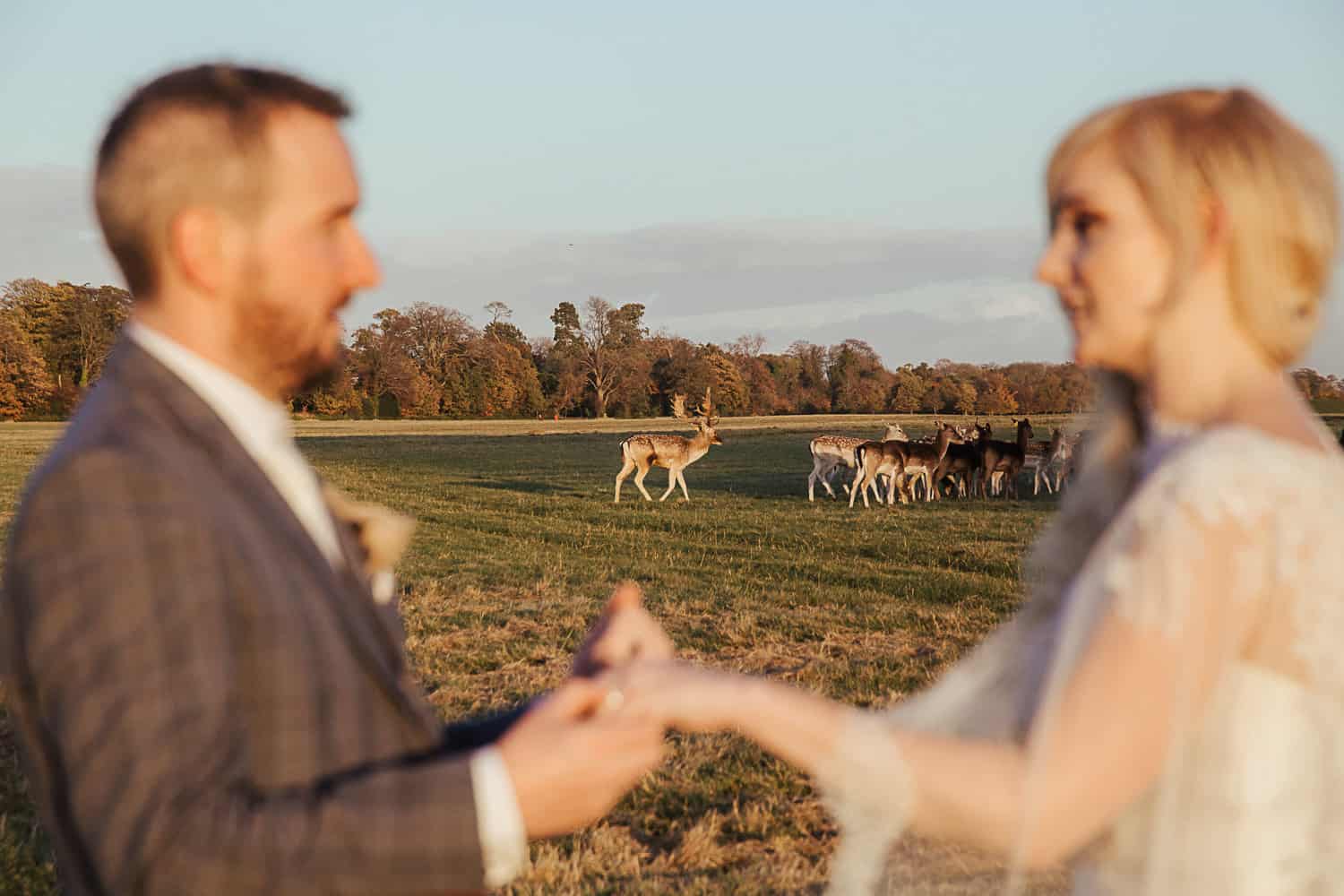 I love the venue in any season, though perhaps autumn and winter weddings there are my favourite. Phoenix Park is gorgeous at that time of year, especially with the low sun shining through the trees. One of the most beautiful sunsets I've seen there was in November! The Anglers Rest doesn't have gardens or lush grounds around it, so I find it especially inviting on a cold day when you want to nestle by an open fire. There's even a wood oven just outside, where you can warm up with a glass of wine on a winter's day.
Where Can I Get Ready and Stay the Night?
Wrights Angler's Rest doesn't have any accommodation options on site, but it's so close to Dublin city that you are spoiled for choice. Mey got ready at the Westin Hotel in Dublin centre, but there are other options close by. The Castleknock Hotel is just 10 minutes drive away, and the Carlton Hotel in Blanchardstown is close by as well. All of these are great accommodation options for your guests, and for you and your bridal party to get ready. Another option is to rent a little airbnb for everyone and have everyone stay together.
Wedding Photos in Phoenix Park
Probably the easiest location for photos on your wedding day, Phoenix Park is less than 5 minutes' drive away. You can sneak away there during the drinks reception but my couples often opt for doing
a first look
there.
I mentioned the idea to Mey and Paddy, and they both loved it! Then the day before we checked the forecast and saw heavy rains forecast for the whole afternoon! We prayed to all Gods we could think of for the skies to hold off until we got to the ceremony. It all worked
perfectly
. Having Phoenix Park almost to yourself was amazing, and I loved seeing Paddy's face as he saw Mey for the first time.
They laughed through the whole morning and didn't care in the slightest about the occasional rain drops
!
Then, when the time came to head for Wrights Anglers Rest, the skies finally got tired of waiting and poured rain onto Dublin
. By that point we didn't care!
Just
look at Mey and her maid of honour enjoying a pint before the ceremony. You don't always see a bride so relaxed, but that's exactly the way to have an amazing wedding day!
Civil Wedding Ceremony at Wrights Anglers Rest
Wrights Anglers Rest has a dedicated ceremony room with a lovely fireplace as a central point.
Ann & Dave
(a lovely married couple themselves!) did Mey and Paddy's wedding ceremony, and they regularly conduct legal civil ceremonies at the Anglers Rest. I also love using the ceremony room as a backdrop for family photos after the ceremony. It's great to be able to have a private area so the rest of your guests can enjoy their drinks and chats. And we don't need to worry about plan B on a rainy day!
Do I need to Decorate the Venue?
With its brick and wood interior, I find Wrights Anglers Rest a very pretty venue that you don't need to spend much time decorating. Of course, you can bring in flowers or even have a themed wedding. Mey and Paddy's wedding decor was travel-themed and masterfully implemented by Once Upon a Wedding. Just look at that dreamy table seating plan! The tables names were inspired by the cities where their story took them. I loved how international the party was. Mey's parents even brought Chinese pastries to share at the drinks reception! Instead of a cake, the couple opted for a donut stand. You can even supply plain donuts and have your guests decorate them as some drinks reception fun!
See their full wedding gallery below to get some more inspiration for your Wrights Anglers Rest wedding!