Congratulations – you are engaged! You probably can't keep your eyes away from your ring, you look at your fiancé in a completely new way (oh my God! Fiancé!) and your pinterest board is full of wedding dress ideas. Your family and friends can't stop asking questions – what's the date? Do you have a venue yet? Am I going to be your bridesmaid? Sounds familiar, doesn't it? Don't feel overwhelmed – planning a wedding should be enjoyable, not stressful, so take things slowly if you want to. And in the meantime – celebrate with an engagement shoot, and I'm going to throw in a few ideas of what to wear for pre-wedding photos!
You might be thinking – she just said to stay away from stressful, why is she suggesting a photoshoot?? Sure, an engagement shoot might sound a bit nerve-wracking, especially if neither of you have had professional photos taken before. Don't worry – 15 minutes into the shoot you'll be having so much fun you won't even remember why you hesitated in the first place! Engagement photos are all about being yourselves, enjoying a romantic time together and being madly in love.  It's something special to look back on and a chance to create those photographs you've always dreamt about. As a wedding photographer Dublin, I do a lot of pre-wedding shoots with my wedding couples, and I love them as a chance to get to know each other before the big day. If you're still not convinced, have a look here for my 7 reasons why you should take engagement photos.
However, here's the big question on every girl's mind. What to wear for pre-wedding photos??
What to Wear for Pre-Wedding Photos
Express who you are
 
The main idea for an engagement shoot is to express you as a couple, and what better way of doing it than through your choice of clothes? Are you both elegant and classy? Do you like to mess around? Are you into alternative underground culture? Pick an outfit that represents you, and you'll look stunning!
Try bold colours
While your wedding day will most likely have you wearing white, an engagement shoot is the perfect opportunity to go for COLOUR! I always encourage my couples to wear something colourful, even if it's an accessory, as the photos just start to pop! With gorgeous green Irish backdrops and frequent mists a colourful dress will look even more stunning and draw attention you deserve.
Try white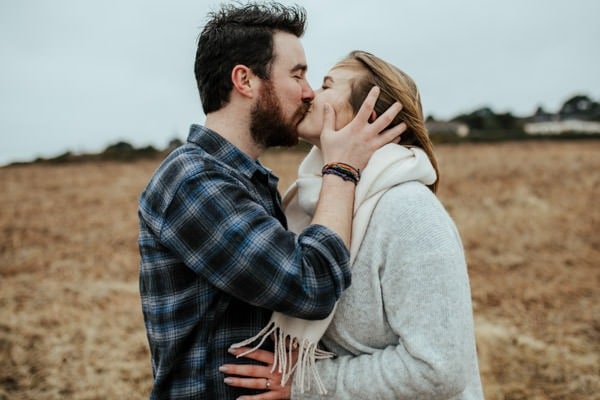 Another way to differentiate your engagement shoot from any other is to wear white! You probably won't go for a full-length satin dress for obvious reasons but a light summer dress looks perfect on a bride-to-be! This option will also answer both your questions – what to wear for an engagement shoot and the day after your wedding.
Let it flow!
You can never go wrong with a classy, elegant and timeless look. What's more, flowing dresses make for absolutely amazing photos, the way they move around in the wind and let you play with them during the shoot. With my job as a wedding photographer Ireland looks absolutely different, and I find it the perfect romantic backdrop.
Complement each other
While you don't necessarily have to match (though some of my couples do, and pull it off spectacularly!) it's always a good idea to wear complementing outfits. Use the same style or the same fabrics, try matching colours or accessories of the same shade. The photos are all about you being together so make sure your outfits express the same idea!
Take the weather into account
As much as you might want to wear that stunning dress, if you plan your engagement shoot for the colder time of year it might not be the wisest idea! Sure, you'll look stunning, but I'll have to work my Photoshop magic on your purple-blue skin and goosebumps! And you sure won't enjoy the session as much as you could if you were wearing something comfortable. Make sure you are warm and cosy (or maybe just a wee bit cold so he can warm you up with his hugs!). Don't be afraid to go with woollen sweaters or an elegant coat – we're not in California after all!
Be comfortable
This is probably my most important tip of all. To get great natural photos you need to feel as relaxed as possible, and how can you be relaxed if you're unsure or uncomfortable in your outfit? Pick something you love, something that you feel especially pretty in – even if it's your favourite jeans and top. An engagement shoot is not a catwalk show, so don't worry too much about what to wear for pre-wedding photos – just enjoy the time together and have fun!