Congratulations – you are engaged! You probably can't keep your eyes away from your ring, you look at your fiancé in a completely new way (oh my God! Fiancé!) and your pinterest board is full of wedding dress ideas. Your family and friends can't stop asking questions. When is the wedding? Do you have a venue yet? Have you picked your bridesmaids?
I'm sure this sounds familiar. Don't feel overwhelmed – planning a wedding should be enjoyable, not stressful, so take things slowly if you want to. And in the meantime, celebrate with an engagement shoot. I'm going to throw in a few ideas of what to wear for pre-wedding photos!
Do I Need an Engagement Shoot?
You might be thinking – she just said to stay away from stressful, why is she suggesting a photoshoot?? Sure, an engagement shoot might not be the first thing on your mind, especially if neither of you have had professional photos taken before. Don't worry – 15 minutes into the shoot you'll be having so much fun you won't even remember why you hesitated in the first place!
Engagement photos are all about being yourselves, enjoying a romantic time together and being madly in love. It's something special to look back on and a chance to create those photographs you've always dreamt about. As a wedding photographer , I do a lot of pre-wedding shoots with my wedding couples, and I love them as a chance to get to know each other before the big day. If you're still not convinced, I have 5 more reasons for you!
Perfect Practice for your Big Day
This one is a no-brainer. As a professional wedding photographer Dublin, I certainly know how to take photos I we also need a bit of time to take those perfect photos of YOU. Chances are you and your partner haven't really had a chance to be in front of a camera for that long, and you really don't want to take precious time on your wedding day to work out your perfect smile. Everyone has a good side but when it comes to finding it, maybe try it before the big day?
Reconnect and spend time together.
I know everyone says the wedding day is all about the Bride and Groom. Or sometimes about the Bride. In reality, you'll probably spend most of your day playing hostess, greeting guests and remembering the names of all those aunts and uncles from Australia who actually turned up! Oh, and there's also the getting married bit. You know, the one with the vows and the rings. And the nerves.
In any case, you'll be lucky to spend 30 minutes alone with your together-forever person. We'll probably use most of it to take romantic photos anyway! An engagement shoot is the perfect opportunity to not only get beautiful images of the two of you but also rekindle that romance without any pressure and at your own pace. It's a chance to celebrate the connection and the union between you, and to hug and kiss more than you normally would. And cuddle. Where would we be without cuddles?
Relive the proposal
Most proposals are either intimate or spontaneous. I mean, if Prince Harry himself did it that way? Taking engagement photos is that it will give you the chance to recreate that perfect moment and capture it in photos. Go back to the place where he popped the question, put on your favourite dress and relieve those emotions!
Dress to Impress
Whatever it means to you. For some it's putting on your best clothes and going to an epic location. For others it's looking cosy and in tune with each other, maybe wearing matching sweaters or rocking that grunge look that you probably won't pull off on your wedding day, no matter how much you secretly want to. In any case, an engagement shoot is a reason to make an effort. Smart-casual is usually the way to go. It's not an invitation to Buckingham Palace but it's also not quite a lazy Sunday afternoon in PJs!
Create the perfect wedding invitations
Last but not least, let's be practical. Engagement photos are great at personalizing your wedding invitations or your guest book. Sure, you can buy a guest signing book at Eason's and hope that some of the guests will want to look through it and leave a note. Or you can have an absolutely unique guestbook or a signing canvas with a stunning photograph that everyone will be dying to see. Which would you prefer?
What to Wear for Engagement Photos
So, you are convinced an engagement shoot is the way to go! The next big question on every girl's mind is what to wear for engagement photos??
Express who you are
The main idea for an engagement shoot is to express you as a couple, and what better way of doing it than through your choice of clothes? Are you both elegant and classy? Do you like to mess around? Do you have a unique style? Pick an outfit that represents you, and you'll look stunning!
Don't blend in with the background
Coordinate your dress with your photoshoot location. Last thing you want is to blend into the background or look out of place. Stay away from green, black or brown if you're going into the hills or forest. Dark colours can look good in an urban environment but mix them up with some colourful accessories. Also be careful with print. It's great against city architecture but can be a bit much for colourful countryside.
If you're unsure, the safest choice is a light dress for you and a nice shirt-trouser combination for your partner. Red, yellow, blue and white work well in any setting!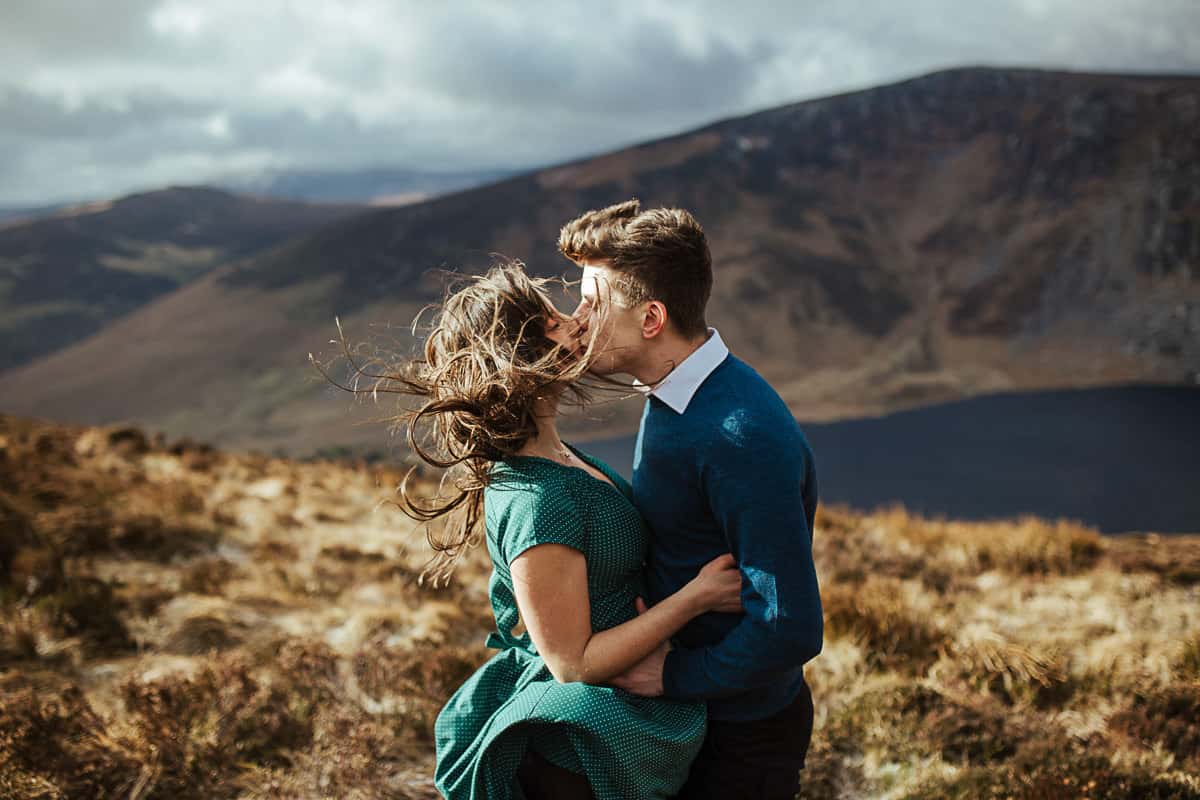 Let it flow
You can never go wrong with a classy, elegant and timeless look. What's more, flowing dresses make for absolutely amazing photos, the way they move around in the wind and let you play with them during the shoot.
Coordinate your outfits
While you don't necessarily have to match (though some of my couples do, and pull it off spectacularly!) it's always a good idea to wear complementing outfits. Use the same style or the same fabrics, try matching colours or accessories of the same shade.
One of the most common mistakes I see couples make is wearing mis-matched outfits. If you go with a cocktail dress and your partner has a t-shirt on, it won't make any sense. The same goes for colours – don't go for completely opposite colours but don't use the same shade either as you'll blend into each other!
Make it special
Probably the most important tip of all, you want to make a little effort. The engagement shoot doesn't start and end in front of the camera. You'll love picking your outfit and getting dressed up, it's part of the process. Besides, no one wants to look back at their professional photos and think "I'm so happy I didn't wash my hair on that day and put on those comfy jeans from 10 years back".