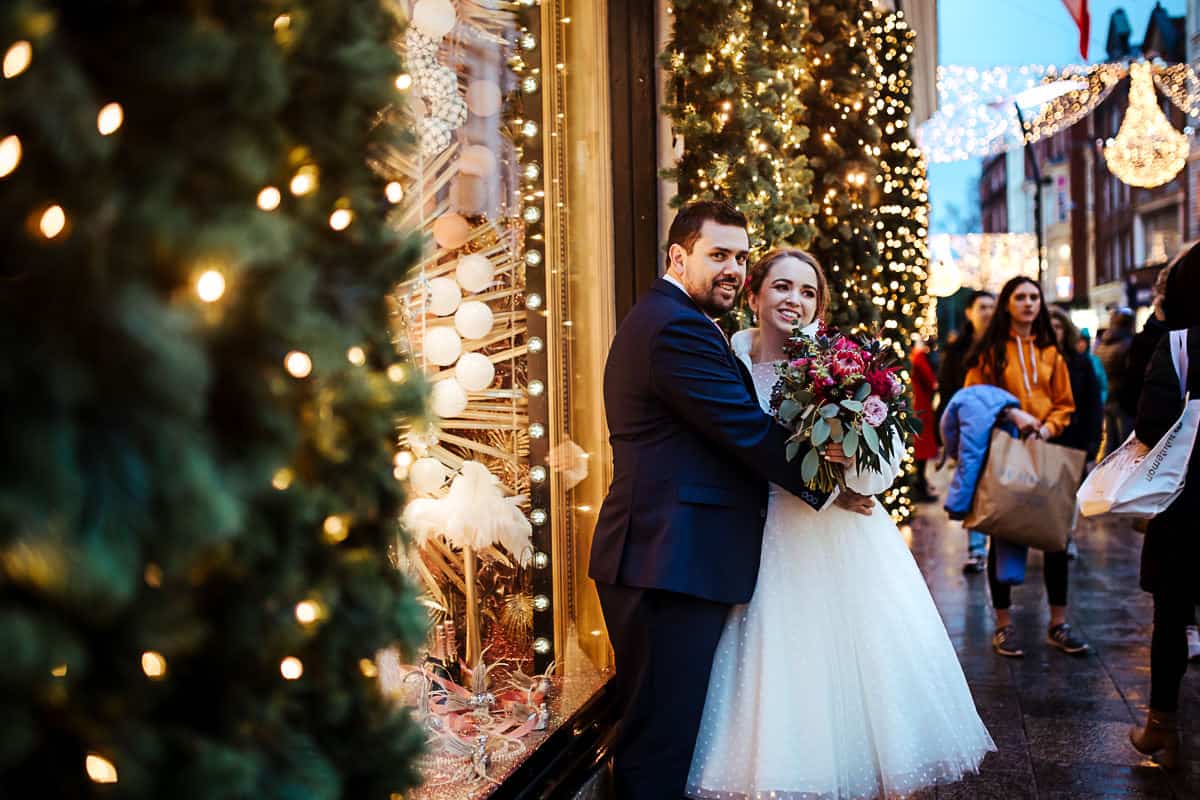 With summer and early autumn still being the most popular seasons for getting married, winter weddings are on the rise. The idea of Christmas lights, crackling fires and everyone being together adds a bit of magic to the idea. A lot of my couples mention that it's convenient for family members living overseas and spending Christmas at home. Winter weddings are certainly different and beautiful, but they do require careful planning. Here are a few winter wedding ideas for you to consider if you are getting married at this festive time!
Winter Wedding Timeline
Probably the main aspect to keep in mind (and not just from the photography point of view) is the daytime length. With the sun setting at 4pm, it's usually pitch black by 4.30, even earlier on a cloudy day. Bear this fact in mind when you are planning your ceremony time! Of course with the temperatures low you are unlikely to be outdoors for long anyway, but it will be a shame to miss outdoor photos completely. Family photos always work better in natural light where you want each person to be illuminated evenly. So here are my best winter wedding ideas regarding the timeline of your day:
– start planning your day with sunset time in mind and go back from there. How long would you like to spend on couple portraits outside? How large are your families? Are you having a church or civil ceremony? I usually recommend allowing at least 30 minutes each for couple photos and family photos.
– are you doing a greeting line after the ceremony? Saying hello to 150 guests will take you another 30 minutes minimum.
– if you are having a church ceremony, consider a shorter mass which skips the Gospel and the Communion. This should save you another 20-30 minutes.
– Don't be late! You might hear that the it's traditional for a bride to be 20 or 30 minutes late, but it's taking time away from your own wedding day. Your groom won't appreciate it either.
– Are you having a civil ceremony at the venue or is your church another hour's drive away from reception? You probably booked your venue because you fell in love with its look. Don't arrive there after dark!
– All in all, you should leave about 90min of daylight after the end of the ceremony, plus travel time to the venue if there's any. 2pm for on site civil ceremony or 12.30 for a church ceremony and a drive to your reception are ideal timings! Check out this brilliant January wedding at Ashley Park House for how perfect your day plans out with an early ceremony!
Or…
Go with the First Look!
First Look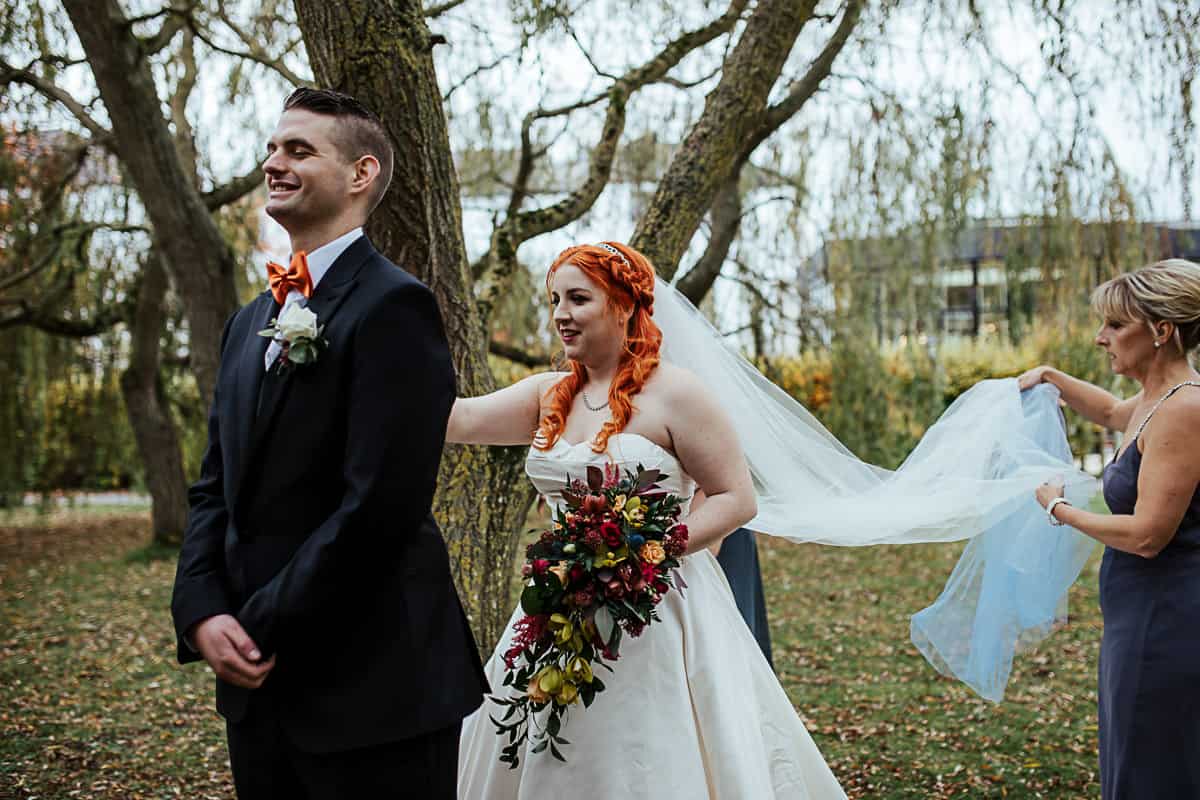 This tradition is slowly making its way to Europe from the States, and for winter wedding it can literally save the day! The idea of the first look is for the bride and groom to see each other in private before the ceremony, have some intimate moments together and get all your couple photos done without rushing back to your guests or chasing after daylight. I know some couples will say that it might take away from the "walking up the aisle" moment, or that it's simply bad luck! I'm a firm believer that there's no such thing as bad luck in a marriage, just bad decisions. And if you decide to share "the first look" in private instead of in front of 150 guests, he might even shed a few tears!
Timewise, the first look can really help the day run more smoothly. You don't feel like you're missing out on the time with your guests. You don't need to worry about getting delayed and the day getting dark before you know it. Definitely something to consider!
Winter Wedding Dress Ideas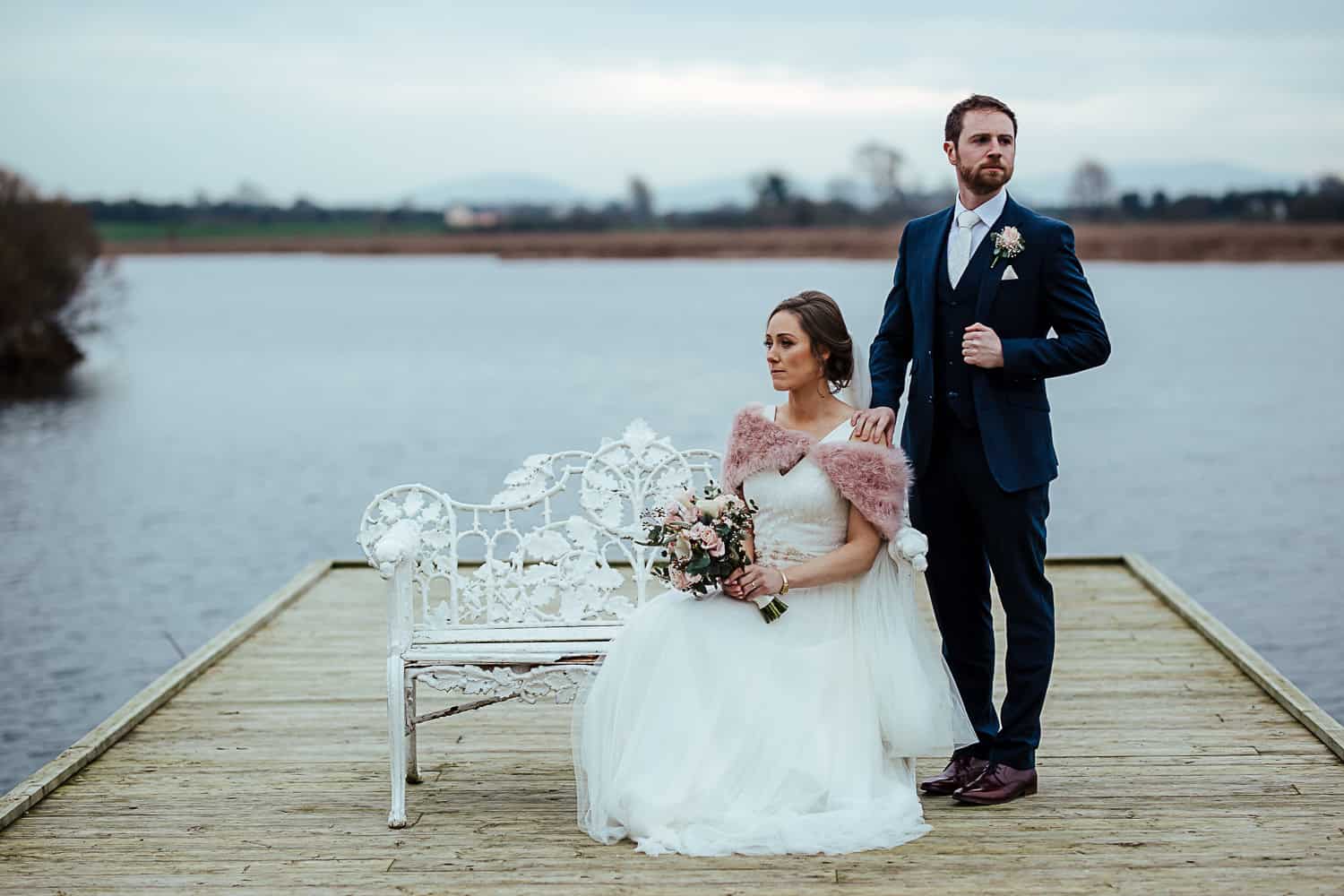 The time of year certainly shouldn't put limitations on your dream dress! There are some elements though that look especially elegant on a winter bride. Consider long sleeve dresses and fur jackets. They'll make you look like Snow Queen and add that little bit of warmth to your day. You can even go with a coloured fur wrap to a spot of colour!
Another type of winter wedding dress that I love is a tea-length dress, and there's nothing more comfortable than that! It allows you to move freely without worrying about getting the hem dirty. Usually they are also nice and puffy for extra warmth! Check out this Dublin winter wedding where the bride and groom embraced the storm to get some amazing photos in the city!
Winter Wedding Colour Palette
With Christmas spirit everywhere, it's no wonder that burgundy and midnight blue remain one of the most popular colours for winter weddings. What you should bear in mind is the weather and light on the day. You might get a crisp and clear winter's day but it's honestly unlikely – December and January in Ireland are often cloudy and grey. With the trees bare and nature taking a nap, it's a great idea to add a bit of colour to your wedding. Don't stay away from greens and other vivid colours, add some fairy lights and go bold!
LOOKING FOR A WEDDING PHOTOGRAPHER?
GET IN TOUCH!