According to this 2019 wedding survey, over 50% of the weddings still take place between May and September, with August being the most popular months. Yet, winter weddings are on the rise! A lot of my couples mention that it's convenient for family members who live overseas but come home for Christmas. The idea of fairy lights lights, crackling fires and everyone being together adds magic to the idea. So what are the main tips you need to know when you're trying to plan a Christmas wedding?
10 Best Christmas Wedding Ideas and Tips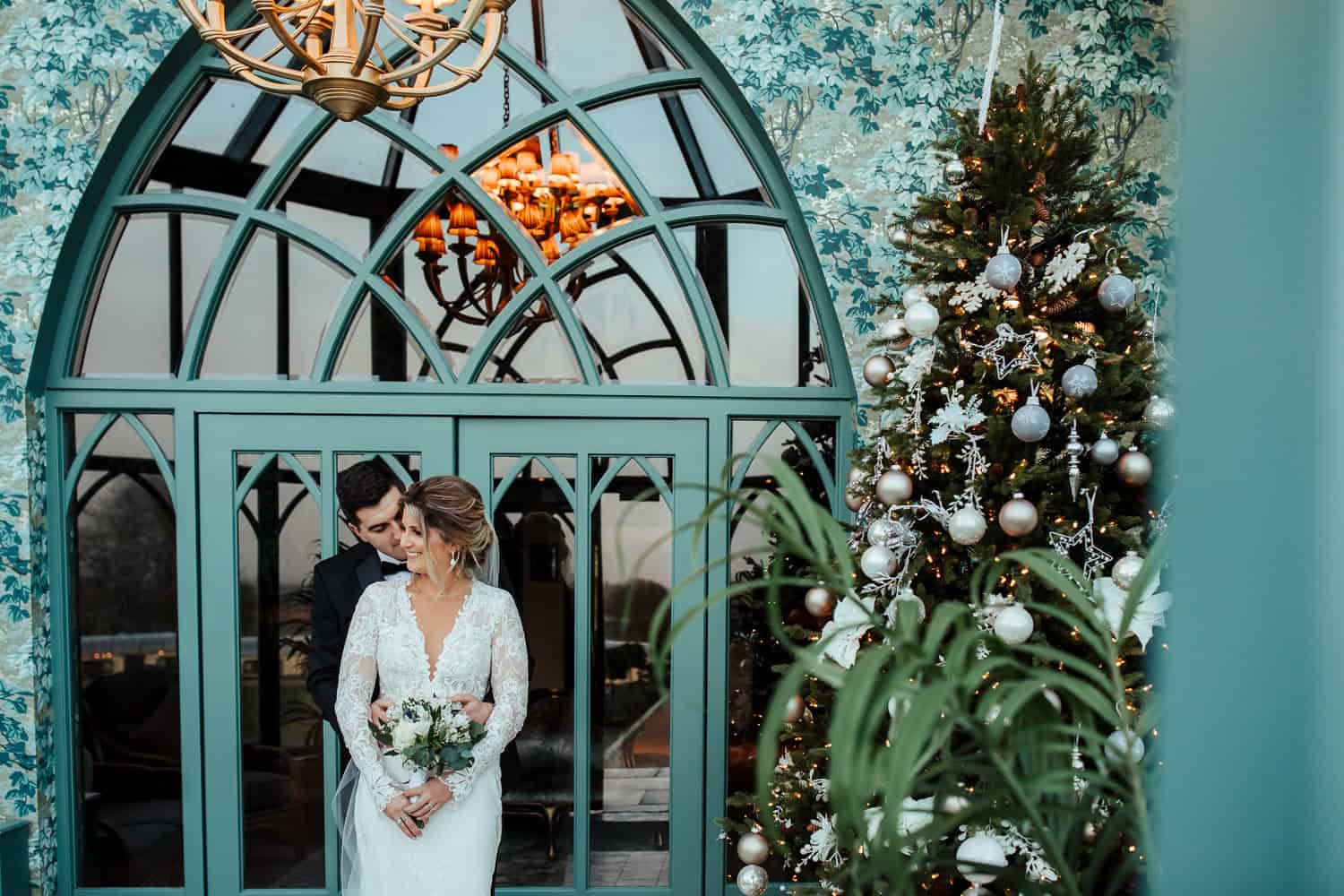 1. Choose the Right Date
Your wedding is the most important date for you and for your family. But the rest of your guests have their own commitments, too. While you certainly can't please everyone, choosing the best date for your wedding is something that requires planning.
During the rest of the year, Friday to Sunday are usually a safe bet but Christmas weddings are different. Think about who you're going to invite, whether they need to travel, and their family commitments. Early December dates are usually a good option and still allow for festive atmosphere, but for this reason these dates also tend to be busier. If you're planning a city wedding you'll also be competing with corporate Christmas parties when trying to lock down your venue. Give yourself plenty of time to book your date, and give your guests plenty of notice – December is one of the busiest months of the year!
If you're planning a full weekend wedding, keep in mind that it might be harder for families with kids to arrange childminders. If many of your friends and family will have to travel for your wedding, try to stay away from dates that are too close to Christmas. You want to give your guests plenty of time to be able to travel there and back before (or after) Christmas, plus you don't want them to break the bank on flight costs!
Keep in mind that the first few weekends in December and the last days of the year (December 28th to 31st) are usually the busiest dates, both for venues and wedding vendors. You might want to consider the last week of November or the first week of January as a good alternative.
2. Layer Up
Winter is the perfect time to experiment with combinations of textures and styles. You want to look amazing (and you will!) but if you're feeling cold and uncomfortable throughout the day, it will be hard to ignore. When shopping for your wedding dress, plan for something that will be suitable both for outdoors and for a heated dancefloor. Think layers! Capes and shawls look amazing and add extra versatility to your look. Consider having a dress with long sleeves and a fuller skirt that you'll be able to bustle up for dancing later. And another little hack – wear tights under your long dress! I promise you, no one will know.
The same goes for your bridal party. When planning the girls' outfits, be creative! Think long-sleeved dresses, thicker fabrics, fur coats, shawls or hand muffs. They will do their best to create an amazing day for you, and they will definitely appreciate the gesture of you taking care of them. Make sure you're happy with the extra accessories appearing in photos – you don't want to make your bridesmaids cold during the bridal party pictures!
Check out Aoife's inspiring tea-length long-sleeve wedding dress – perfect for a city wedding even on a stormy day!
3. Take Care of Your Heels
You don't have to say no to the amazing pair of Jimmy Choos but you do have to take a few extra precautions when it comes to shoes. If your shoes are suede or leather, make sure you spray them well to protect against the elements. You never know when wet weather might hit! Heel protectors are another good idea. As a photographer, I'd recommend bringing an extra pair of pretty and comfy boots with you on the day to wear outdoors. I want you to enjoy your wedding portraits and connect with your partner rather than worry about your beautiful heels!
4. Baby It's Cold Outside
Irish weather is totally unpredictable, and while you may get a beautiful sunny winter's day, it will most certainly be cold. Check with your venue regarding heating, including your church and marquee. Remember that your guests will have coats with them, so you don't want your ceremony to feel too hot. If your venue has any open fires mention it to those guests who will be bringing kids. Consider swapping the welcome prosecco for something seasonal, like mulled wine or hot chocolate. And take care of the older folk, too – organize some space for them away from open windows and drafts, they will appreciate the extra comfort.
5. Glitter is Allowed!
Christmas is the wonderful time of year when glitter and sequin is totally cool! Add to the festive spirit with donning your bridesmaids in sequin or adding some glitter to your own look. Don't overdo it on makeup (you still want to look classy and bridal!) but some sparkle to your dress or in your hair will look amazing in candlelight.
6. Romantic Lighting – Lots of Candles and Fairy Lights
If you're a fan of fairy lights and candles like me, Christmas weddings are a perfect opportunity to indulge in romantic lighting. Unlike in summer when it doesn't get dark until close to midnight, 4pm is the sunset time for most Christmas weddings. Come darkness, your venue will be completely transformed! Fairy lights and candles also look glorious in photos as they provide beautiful warm light that is extremely flattering for any skin tones. Indulge yourself!
7. Seasonal Florals Are the Best
Just like any season, winter brings its limitations and will somewhat dictate the look of your wedding. But you've picked this beautiful time of year for a reason, right? Embrace the Christmas colours! Red, green, burgundy and navy are the safe choices, and nature seems to agree. Think mistletoe and poinsettia, it doesn't get more Christmassy! Sure, these days you can source any flowers from anywhere in the world but how out of place would tulips look at a winter wedding?
8. Don't Forget Umbrellas!
When it comes to Ireland and rain, it's a question of when rather than if. December does to be wetter than the summer months, but all it means is that you should be prepared. Organize a few large golf umbrellas (the small ones are useless in the wind anyway). Your venue may be providing some so make sure to check with them before you go on a shopping spree! As for couple photos, transparent dome umbrellas look seriously cute in pictures so don't even worry about rain on the day.
9. Pay Your Venue a Visit at Night
It's great if you're planning your wedding 12 months ahead so you can see exactly what your venue may look like on your wedding day. But if you're doing viewings in a different season (planning a winter wedding during summer months, for example!) you might find it very hard to visualize your day. You'll spend the bulk of your wedding day after dark, so make sure to visit your wedding venue at night. Pay attention to what lights they already have installed and what you might want to add. This will give you a good base for planning your decor and atmosphere.
10. Organize Coat Check for Your Guests
This is a little detail and courtesy that your guests will appreciate more than you think. You want them to focus on you and your day rather than worry about their belongings, so organizing a coat check for all the extra layers will give them a great peace of mind.
10 Best Winter Wedding Photography Tips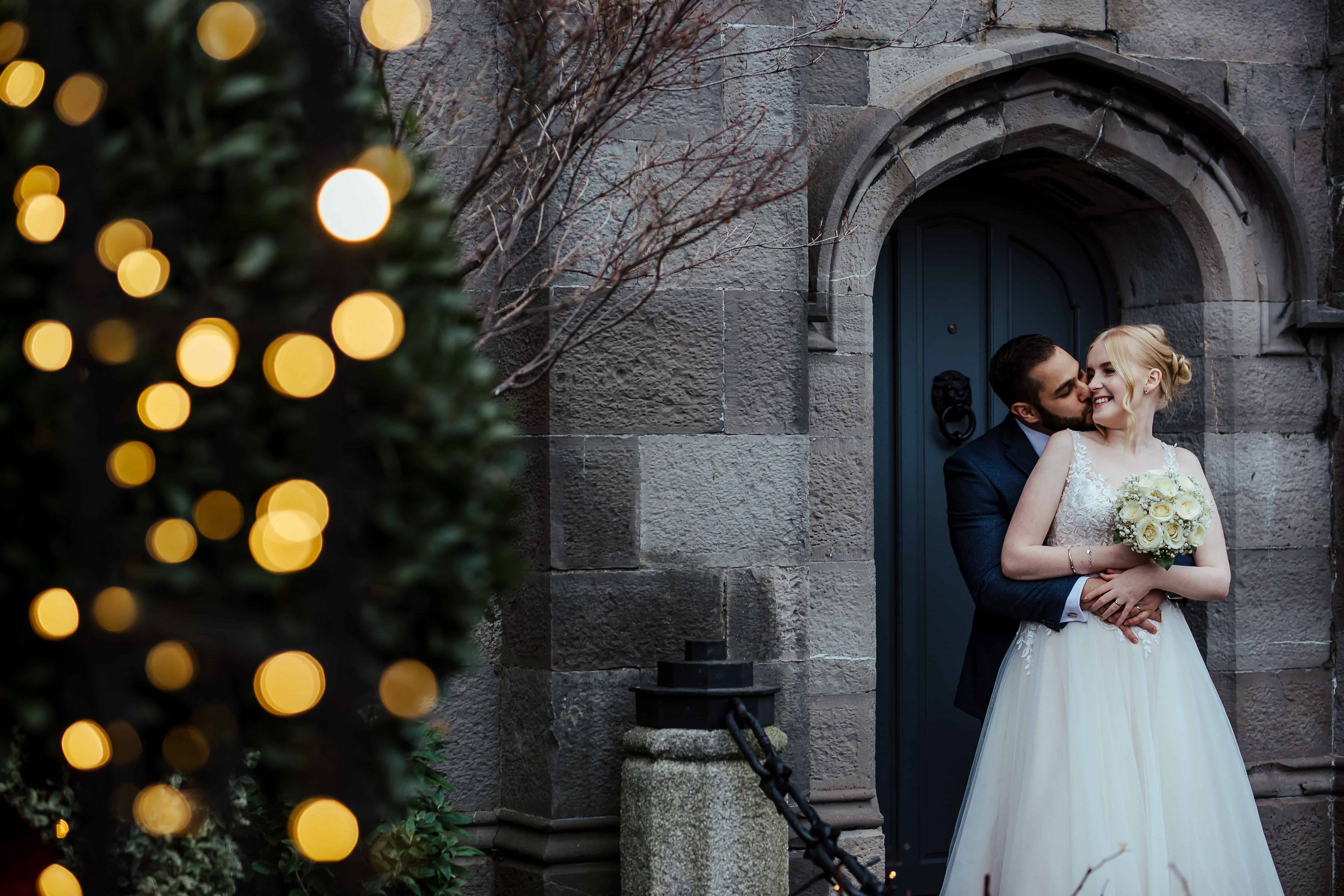 One of the trickiest things in how to plan a Christmas wedding is creating the perfect timeline. You want your day to feel relaxed and well-paced but at the same time not lose the precious daylight hours. As a photographer, I normally also act as time-keeper on a wedding day, and I can definitely attest that when it comes to winter weddings Timing is Everything.
11. Timing is Everything
Normally when organizing the timeline I recommend my couples to plan it around the ceremony time. But when creating your winter wedding timeline, start with what you can't influence – the sunset. From the photography point of view, you want to try to get both couple and family photos done in daylight. But even from the point of view of enjoying the day, you hardly want to spend it all in the dark! Depending on the exact date, sunset in Ireland in December is around 4-4.30pm. Try to allow for at least 60-90 minutes at your venue before dark to let yourself and your guests enjoy the outdoor space. If it's a sunny day you'll also get to see the magical golden hour – it's the perfect time for those really romantic photos in soft light.
12. Account For Extra Travel Time
December is an unusual month for traffic: a combination of Christmas shopping and bad weather could bring roads to a halt. No matter how close or far you are going, plan for some extra travel time. Your church might be just 10 minutes down the road but you don't want those 10 minutes suddenly turning into half an hour! The same goes for the rest of your guests – put a slightly earlier time on the invitations (15 minutes early usually does the trick) and don't have high expectations if there is travel involved between your ceremony and reception.
13. Have an Early Start
With an early sunset and bad traffic, the last thing you want to do is start your day with a 3pm ceremony. An early bird catches the worm, and this applies perfectly to winter weddings. Plan for an early ceremony and don't feel rushed chasing the light! Most venues won't allow you to have a very early civil ceremony but try to push for 2pm rather than later. If you're having a church wedding, 12 or 12.30 is a great time to start. You'll have a good 2,5-3 hours of daylight to get to your venue with no rush and enjoy the outdoor space before dark.
Jen and Brian had a perfect flow to their day with an early church ceremony, even though the reception was an hour away!
14. Go for Civil Ceremony
Civil ceremonies are very popular options for winter weddings, and it's no wonder. They are a lot shorter than church weddings (about 30 minutes vs an hour) and can normally take place at your reception venue which means no more travel required. If you and your partner aren't especially traditional, this could be a great time-saving option.
15. Don't Forget the Greeting Line
A receiving line after the ceremony is something a lot of my couples tend to forget. With light fading by the minute, it's really something you can't miss. I'm not going to tell you to skip your greeting line altogether – that's a decision you need to make for yourselves. For some couples it might be a great option while others really look forward to this part of the day. If you decide to stick to the tradition and say hello to everyone, make sure you allocate enough time and possibly bring your ceremony forward. And remember – the time it takes depends on you as well! Start chatting to each and every guest, and you'll spend ages shaking hands. A quick hello and a hug is enough to keep the line going. I normally recommend allowing about 30 minutes to greet 150 guests. If it's a wet or especially nippy day you'll find the line going a lot quicker!
16. Have Your Day in One Venue
Nothing saves time on your wedding day like staying in one place! If possible, plan your whole day in one venue – from getting ready to ceremony and reception. Not only will it make the day feel longer and a lot more relaxed, but you'll truly be able to enjoy the amazing venue you booked.
17. Have a Plan B for Bad Weather
A mistake I see a lot of couples make is forgetting the possibility of bad weather. And it doesn't just concern winter weddings – you'll get rainy days in summer, too, and the beautiful garden party you planned will have to move indoors. Always have a plan B! When picking your venue think whether the indoor space will feel comfortable for your numbers if everyone were to stay inside for the day. Check for photo opportunities indoors, including having enough space for family photos. Sure the garden looks amazing on a sunny day but will you definitely be able to go outside in the middle of December?
Brigid and James experienced all seasons of Ireland on their wedding day but we got some fantastic indoor photos at Glenlo Abbey.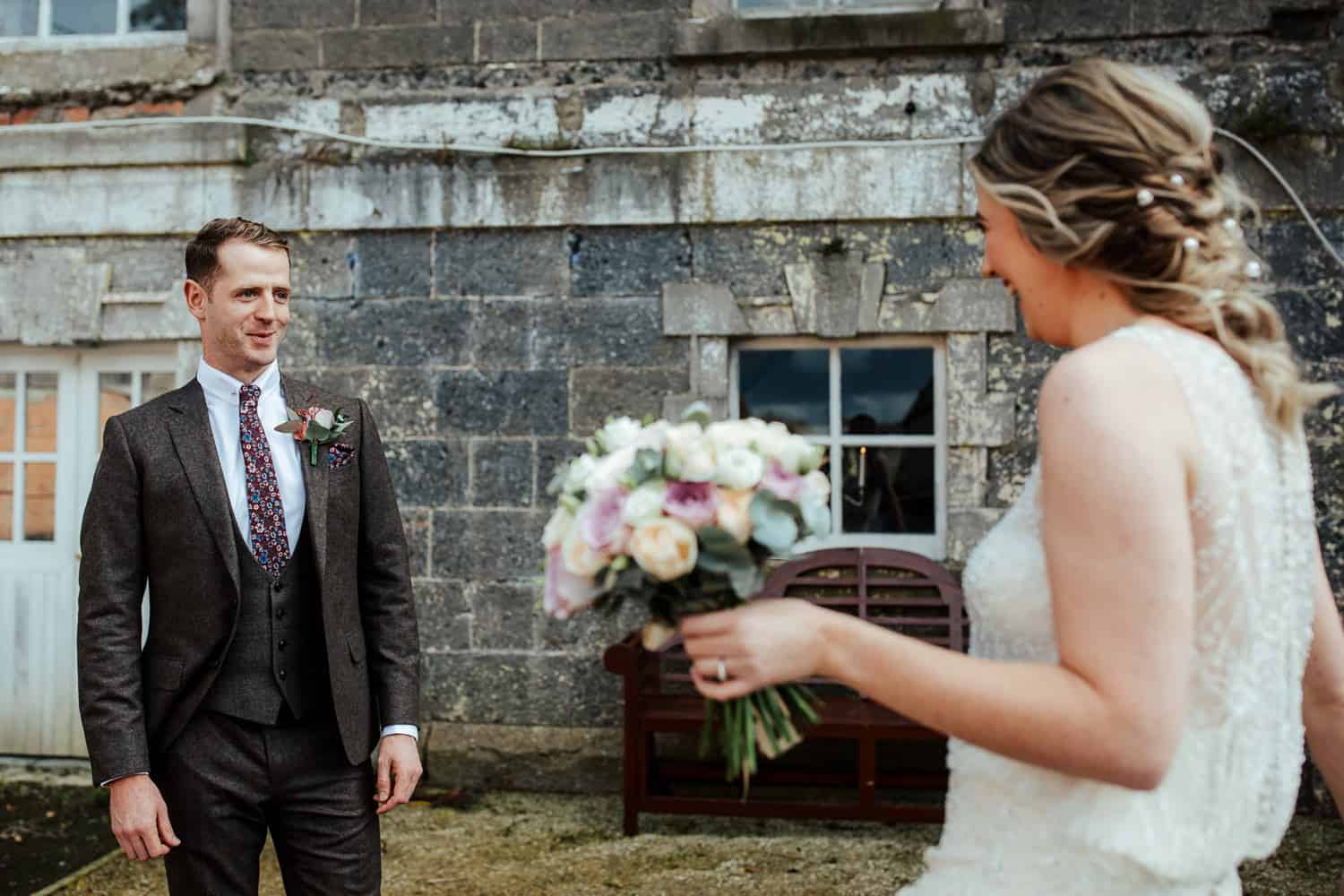 18. Consider Doing a First Look
A new tradition that I love seeing my couples incorporate more and more is doing their couple photos before the ceremony. Besides the added benefit of an emotional connection and extra time to spend with your friends during the drinks reception, a first look adds a massive advantage to any winter wedding timeline. I won't go into all the benefits of doing a first look (just see my full post about it here) but having all your photos taken before the ceremony means you don't have to worry about early sunset, getting to your venue on time and any potential delays. Plus, more time for drinks and chats!
19. Choose an Experienced Photographer
As much as it goes for any wedding, winter weddings can prove especially challenging. You've probably tried taking pictures indoors in less-than-perfect lighting conditions, so you know that it's a lot harder to get a good picture than on a lovely summer's day! We're talking about once-in-a-lifetime memories of your wedding here. Your photographer will have to work a lot with artificial light, and that's something that requires a lot of practice and really professional equipment. When choosing your wedding photographer make sure to ask to see full galleries of other winter weddings they have photographed. They don't have to be from your venue but you definitely want to see how they managed a dark drinks reception, speeches and possibly nighttime photos if that's important for you.
20. Be Careful with Uplighting Colours
It might be tempting to try to create a festive atmosphere with uplighters in your venue but I'll be completely honest – purple and bright red don't scream festive. They also make a photographer's light hell because there's no way to make purple skin look good! If you want to use uplighters, think about the type of light that would look flattering on people's faces. Yellow and warm white usually works great, but candles and fairy lights are even better and more Christmassy. You don't want to look back at your wedding photos and wonder why your father is purple in the face in every picture!