Whenever I ask my couples what kind of wedding day they are dreaming of, almost each of them is hoping for a relaxed day. Marrying your best friend on a beautiful day, seeing all your friends and family gathered in one place, and then spending the whole day with them, then dancing the night away – who could think of a happier wedding day? Yet no matter how informal and fun you want your day to be, a relaxing wedding has one must – proper planning. And figuring out the best wedding day timeline is one of the key elements.
Having been photographing weddings for a number of years, I've had a chance to capture multiple weddings from start to finish. I've witnessed some amazing events that make your heart sing. And occasionally I've always witnessed things go wrong – and usually due to lack of planning. So here are some of my top tips for making your wedding day timeline as relaxing as possible.
8 Tips for the Best Wedding Day Schedule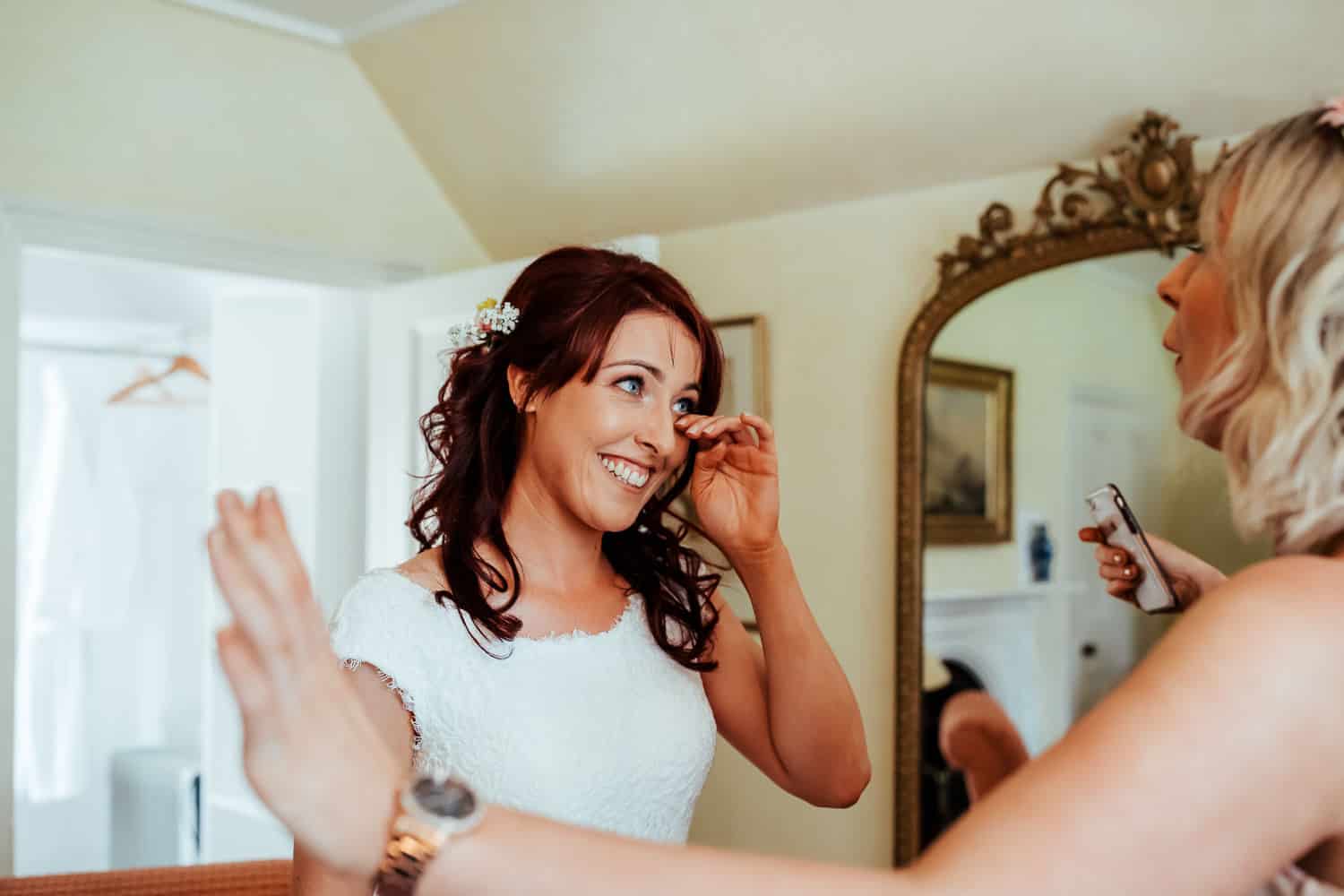 Have a finish time for hair and make-up
Let's start from the beginning! The first people you'll see on your big day (besides your family and bridal party) will probably be your hair stylist and make-up artist. During your trial they'll ask you what time your ceremony is scheduled for but that's not the only thing they need to know! Make sure to tell your morning vendors what time they should be done. I recommend at least an hour before you have to leave the house (for example, if your ceremony is at 1pm and the church is around the corner, tell them you'll need to be done by 12).
Cracking a bottle of prosecco with your bridesmaids, putting on your dress, letting your dad see you for the first time – all those things take time. An hour and a half might sound like a lot but trust me, it flies! If you have some spare time left your photographer will love you for it and you'll get some gorgeous bridal portraits or family photos at home. If anything goes wrong (like the whole wedding party searching the house for your mother's headpiece – true story!), you'll have lots of extra time. The worst thing that can happen on the morning is you constantly checking the clock knowing you're late for the ceremony and stressing out because of it.
Invite your guests 15 minutes before the actual ceremony time
Guests in Ireland are often fashionably late, and there's not much you can do about it. What you can do, though, is just tell them the ceremony is half an hour earlier than is scheduled. This way you won't have stragglers come in 15 minutes after the start of mass.
When it comes to the ceremony time, a lot of couples choose to have a later ceremony. If your venue allows for earlier dinner time consider bringing your ceremony forward as well! If food is served at 5pm instead of 6 or 7 your guests will love you for it, and you can start the party that much earlier! And if it means waking up a little bit earlier on your wedding day – sure you can sleep when you're dead!
Consider doing a first look
If one of your priorities is to spend as much time as possible chatting and mingling with friends, have you thought about doing a first look? Seeing each other before the ceremony has more advantages than one. You get to share a really intimate and romantic moment together; you feel more relaxed when it comes to the ceremony. But most importantly, you don't have to leave your drinks reception to have your photos taken!
Have your timeline displayed at the venue
The easiest way to make sure none of your guests hold up your plan of the day is just to communicate with them. I have at least one guest asking me every other wedding whether I know what time dinner is! Make a sign with a plan of the day to be displayed at your reception
Don't drag out the drinks reception
You probably remember being at someone's wedding at feeling starved by the time dinner time came round! Don't do this to your guests. They say people remember wedding food and music. I'm sorry to say it's true! Don't plan your drinks reception for longer than 2-2,5 hours, that's plenty of time for everyone to mingle and look forward to dinner. And lots of canapes!
Organize your families for stress-free group photos
Wedding family photos are rarely something couples look forward to. You've probably had some experience posing for group photos, and you might even have a painful memory of how long it can take… The thing is, it doesn't have to take ages. There are a few different tricks to make sure your group photos are quick and easy but here are the main tips. Make a list beforehand. Let your families know where and what time the group photos are taking place (straight after the ceremony is the best time). Find a spot away from the rest of your guests (so you don't have to pose for 10 smartphones at once).
Don't let your Dad talk for hours
We've all seen it – the father of the bride getting up to make a speech. 40 minutes and multiple bad jokes later he's still at it. Having super long speeches is one of the quickest ways to annoy your guests!
Don't get me wrong, I truly love speeches. They are one of the sweetest, most emotional parts of a wedding day, and a good speech is something that you will all remember for years. Just make sure you brief your speakers on the timeline. Have them short and sweet – no one likes to sit through a long speech, no matter how funny or personal it is. 10 minutes per speaker is perfect, so give your speakers a limit of 7 minutes. They'll probably double it but at least you won't have a best man who speaks for a full hour (true story – dancing didn't start until midnight!)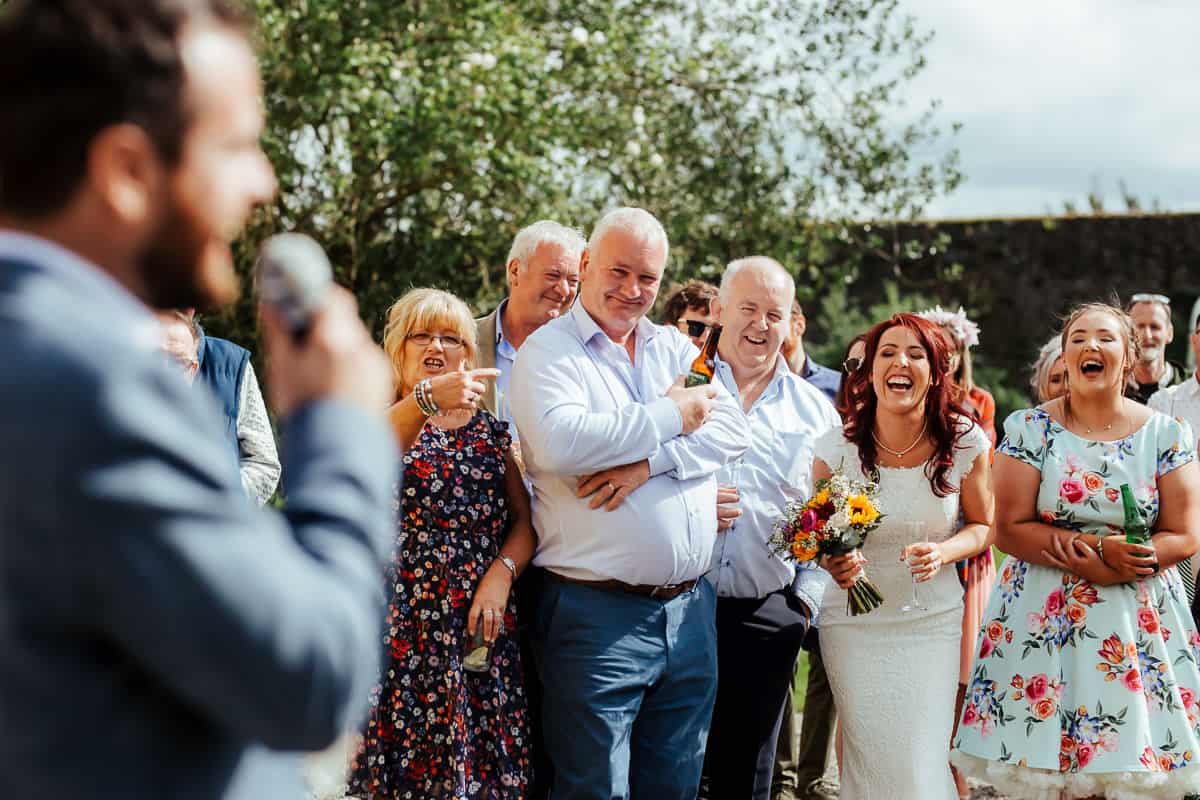 It's becoming more and more popular to move the traditional post-dinner speeches earlier. Couples often want to have the speeches before dinner or even during the drinks reception. There are two things to keep in mind. For drinks reception, make sure your venue has the space to accommodate all of your guests in one room. The last thing you want is for half of your guests to be moving in and out of the room while your partner is trying to deliver the punchline.
That's why I usually suggest having speeches after everyone has sat down to dinner. Your guests are settled, comfortable and can see and hear everything that's going on. But if you are planning for pre-dinner speeches, make sure they take 20 minutes tops. Imagine yourself as a guest: you've been looking forward to your meal since before the ceremony, you excitedly browse the menu, the bread and butter arrives… and then you have to listen to an hour of speeches feeling absolutely starved. Not an experience you want your guests to have! Oh, and while there's no food, alcohol still flows freely – you don't want to call an ambulance for a very drunk guest. Also true story!
Use the time before party starts
You've had an amazing day, enjoyed your dinner, shed a tear at your Dad's speech and can't wait to get the party going. Only now you have to wait for over an hour for the staff to clear and move the tables and for the band to set up! There's nothing that kills the vibe more than a lull before the dancing starts. Don't let your guests get sleepy and bored! If there is no way for the band to set up beforehand, use this time wisely. Get group shots with your school friends, set up sparkler photos, have a few props or activities for your guests to enjoy. Get that party vibe going!
Sample Spring / Summer Wedding Day Timeline
8am – Breakfast and Getting Ready
11.30am – Photographer and Videographer arrives
12.30pm – Hair and Makeup finished, time to put on your dress
1.30-2.30pm – Ceremony (church service usually lasts 1 hour, civil ceremonies 30 minutes)
2.30/3pm – Greet your guests then make your way to the venue
3.15pm – Family photos
3.45pm – Couple photos 
4.15pm – Drinks and chats with your friends
5.30pm – Call for dinner, 15 minutes of photos at the venue while guests are taking their seats
6pm – Bride and Groom announced for dinner, short speeches, starters are served
7.30pm – The rest of the speeches
8.30-9pm – First Dance and Party!
Sample Autumn / Winter Wedding Day Timeline
With daylight hours much shorter, make sure you have enough time for those outdoor photos! Check out my tips for planning your winter wedding.
7am – Breakfast and Getting Ready
10.30am – Photographer and Videographer arrives
11.30am – Hair and Makeup finished, time to put on your dress
12.30pm – First Look
1.30/2pm – Ceremony
2.30pm – Greet your guests then make your way to the venue
3pm – Family photos
3.30pm – Drinks reception
5pm – Call for dinner
5.30pm – Bride and Groom announced for dinner, short speeches, starters are served
7.30pm – The rest of the speeches
8pm – Sparklers or night time photos
8.30-9pm – First Dance and Party!