Congratulations – this has finally happened! Whether the proposal was romantic or hilarious, you'll remember it for the rest of your lives. And now you're engaged to be married to your best friend. You're still admiring the ring, your families are delighted, your friends are super excited and maybe a little envious. Time to enjoy the planning! But how to start wedding planning? Here's a list of questions you should ask yourself first.
1. Where?
I'm sure this is not the first time you've imagined your perfect wedding day. Now, your plans and visions will probably change as you actually start planning your wedding. But it's a good idea to sit down with your other half and discuss what type of wedding you've both envisaged. Do you want to marry somewhere close to home or do you dream of having your wedding in a castle / country house / by the sea? Or are you a cool urban couple planning to celebrate your big day in the city? In any case, this is a great first task of how to start wedding planning.
When it comes to Irish weddings, there are three main types of venues to consider:
hotel
city venues
exclusive country house or castle
Let's have a look at the pros and cons for each!
Hotel Weddings
The main advantage of hotels is the convenience they offer. From a variety of function rooms (both for larger and smaller weddings) to having accommodation on site, it could make planning a lot easier. There's usually a dedicated wedding team with a lot of experience hosting weddings who could give you a lot of tips and help you along the way. At the same time, often people think of hotel weddings as a little unoriginal. There are ways to go around it though!
Pros:
lots of space to accommodate any size wedding party. Check the maximum capacity (and usually take away a 5th if you don't want to feel cramped!) but if you're having a smaller wedding inquire about other rooms available that might suit your party better!
accommodation on site. Hotels usually have a good few rooms for your guests so you don't have to worry about arranging transport in the middle of the night to bring the guests to their BnBs.
decor often included. Most hotels will have a selection of decorations that you can use on the day, such as chair covers, ribbons and centrepieces. Do bear in mind though that there's usually not huge variety so if you're looking for something personal you might still need to outsource!
cost. Usually hotel weddings work out as one of the cheaper options, with a variety of packages available to suit most budgets.
experienced wedding planning team. For most hotels weddings are a huge part of business, and the wedding team usually includes several coordinators with a lot of experience. You can be sure that there will be someone with you on the day to help the event go smoothly.
extra facilities. Maybe not on the wedding day itself, but the idea of enjoying a spa the day before or after the celebration could be really appealing! Few country houses have this option but a lot of hotels have built-in spa suites with complimentary access for their guests.
Cons (and how to work around them!)
lack of privacy. Hotels usually have day-to-day guests and rarely close the site for weddings. You do always have a dedicated area for your drinks reception and dinner but there's not much chance of avoiding other guests in common areas, like the lobby or the grounds. If it's a problem for you maybe look into exclusive venues instead.
less flexibility. Again, due to often hosting other guests and events at the same time as a wedding, most hotels will have a lot less flexibility on timing than private hire venues. You might not have much choice when it comes to the time of your ceremony and drinks reception, or whether you can do speeches before or after dinner. Just make sure to ask the coordinator about different timing options before booking.
photo locations. Probably the biggest difference of hotels vs country houses is the overall look. Hotels are often located in built-up or urban areas and lack gorgeous gardens that many manor houses boast of. The interior can also be less striking, which might be something to keep in mind if you plan to get all the photos done on site. When planning a wedding think of whether you'd be happy to go elsewhere for your wedding photos, and whether there are nice indoor areas for a rainy day option. The workaround? Look for hotels that were originally built as manor houses! Very often they might have modern extensions, giving it the convenience of a hotel, but still preserve the original grounds and luxurious interiors. Tinakilly House Hotel is one such option.
wedding team rather than a dedicated coordinator. Unlike exclusive venues that often host only a handful of weddings a year, you might be in touch with several different coordinators throughout your wedding planning. It's not really a problem as they always keep a folder for each wedding with all the plans and ideas that have been discussed. But it's just something to bear in mind that the person you've been dealing with for the past year might not be the same person taking care of you on your wedding day!
City Wedding Venues
Feeling cool and contemporary? City weddings in Ireland are becoming a really popular options, with couples opting for more intimate weddings instead of traditional 200-guest affairs. It's convenient: you don't have to travel far, and your guests don't need to worry about places to stay. If you have a lot of friends & family flying from abroad there's no hassle with renting cars or organizing buses. At the same time, city venues don't have the space or the relaxing feel of the countryside, and traffic could be a nightmare.
Pros:
proximity. Being able to get ready at your own home and getting to the venue in less than an hour could be a deal-breaker for some! For the rest of the guests, the ceremony is probably just a taxi-ride away which means not having to worry about getting back or designated drivers.
revisiting your favourite familiar spots on your wedding day. A few of my couples who chose to get married in Dublin have a lot of connection to the city, and it meant a lot to them to be able to revisit their spots on the big day. Imagine taking a walk through St Stephen's Green, Grafton Street, or popping into your favourite pub but in your wedding dress! How cool is that?
cost. For you, but also for your guests who wouldn't need to take a few days off work or book accommodation. You can also cut out a few expenses from your list of things to get, like car hire and accommodation the night before/after.
lots of service options available. Getting married in the city means most of your vendors are close by – from hair and makeup to florists and cake suppliers.
Cons (and how to work around them!)
smaller wedding size. It's not easy to find a city venue that will accommodate a large wedding but city weddings are great if you start wedding planning and realise you're only having 100-150 guests.
traffic. Definitely something to consider on the morning of the wedding, or for getting between ceremony and reception locations. It's not uncommon to be stuck in city centre traffic for close to an hour so I'd definitely recommend picking locations that are close to each other and bringing some comfortable shoes with you! It also makes for some lovely city photos 🙂
limited options for couple and family photos. Being in the city means less space all around, and sometimes getting a good location for photos takes a good bit of creativity! Family photos can be challenging as the streets are crowded and there is rarely much space indoors. Make sure you discuss the logistics with your wedding photographer when you start wedding planning.
earlier cut-off time. Most city wedding venues have to comply with noise regulations, so your party might be a little shorter than in an exclusive country venue away from everyone. Just think about starting earlier – bring your ceremony and dinner forward, have an earlier first dance and dance the evening away!
Exclusive Wedding Venues
Probably one of the most popular (and honestly my favourite 🙂 ) wedding venue option around Ireland, exclusive country houses and castles area perfect backdrop for your wedding. Thankfully Ireland has no shortage of unique locations! There are obviously limitations such as size and overall cost but having your wedding in a private location is definitely an experience.
Pros:
exclusivity. As the title suggests, the venue is yours for the day and yours only! There's something really special about having a beautiful place all to yourself and being surrounded only by those you really want to see.
individuality. There are no two venues alike! An elegant manor house, a medieval castle, a rustic house in the woodlands, a fairytale chateau, an old mill – it's your pick!
flexibility. When the venue is yours for the day, it's much easier to create your own timeline and for the coordinator to accommodate your requests. You can pick where and when you have your ceremony, what to include in your drinks reception, and whether you want to do the speeches in the dining room or on the lawn. This helps create a really personal day that really reflects your individuality as a couple.
dedicated wedding coordinator. Very often exclusive wedding venues are run by a small team, often a family, and you meet the same people throughout all planning process. As a result, come wedding day these people feel more like friends than your vendors!
gorgeous backdrops. One of the most common reasons for picking an exclusive wedding venue is that they are simply beautiful! Usually located outside cities, they have magical grounds and luxurious drawing rooms. This makes taking photos a real joy, no matter the weather.
more time on the day! If you opt for having a civil ceremony it could be a fantastic way to add a bit more time to the day. You can get ready at the venue with a beautiful backdrop for morning photos, have your ceremony on site, jump straight into reception and then party long into the night! No need to worry about transport, being stuck in traffic or having to turn the music down 🙂
Cons (and how to work around them!)
accommodation. Probably one of the biggest issues with older venues, they rarely have much accommodation on site. Sure, there will probably be enough rooms available for you, your close family and bridal party. But everyone else will have to find other options. Thankfully most wedding venues provide a list of local hotels and BnBs, as well as contacts for transport companies that can pick up your guests at certain times during the night to drop them off.
cost. Hiring an exclusive wedding venue will usually take up the bulk of your wedding budget. Search around for different options – some venues have a flat hire fee on top of the meal, other places will offer different packages with minimum guest numbers. Another option is to look at having a mid-week wedding as some venues offer lower-priced packages for off-peak times.
2. When?
It's generally a good idea to give yourself a full year to plan your big day, but people take anything from 6 months to 2,5 years! You don't want to rush your wedding planning. Give your friends enough notice, and if you have a specific date in mind it might give you less flexibility. Discuss with your other half if you have a seasonal preference.
Spring Weddings
Spring is a lovely time to get married, a fresh start to your adventure together. Bear in mind that Irish spring doesn't start until well into April, and March might still be quite cold and rainy. The cherry blossom season (usually end of April / start of May) is absolutely gorgeous for portraits!
days become longer and longer, which gives you more light during the day with a chance of some night-time shots.
late spring has some beautiful colours, like cherry blossoms and rhododendrons
wedding season is not yet in full swing, so both your friends and your vendors will have more free time!
at the start of spring nature is still quite bare so if you're aiming for March look for venues with a lot of evergreens!
Summer Weddings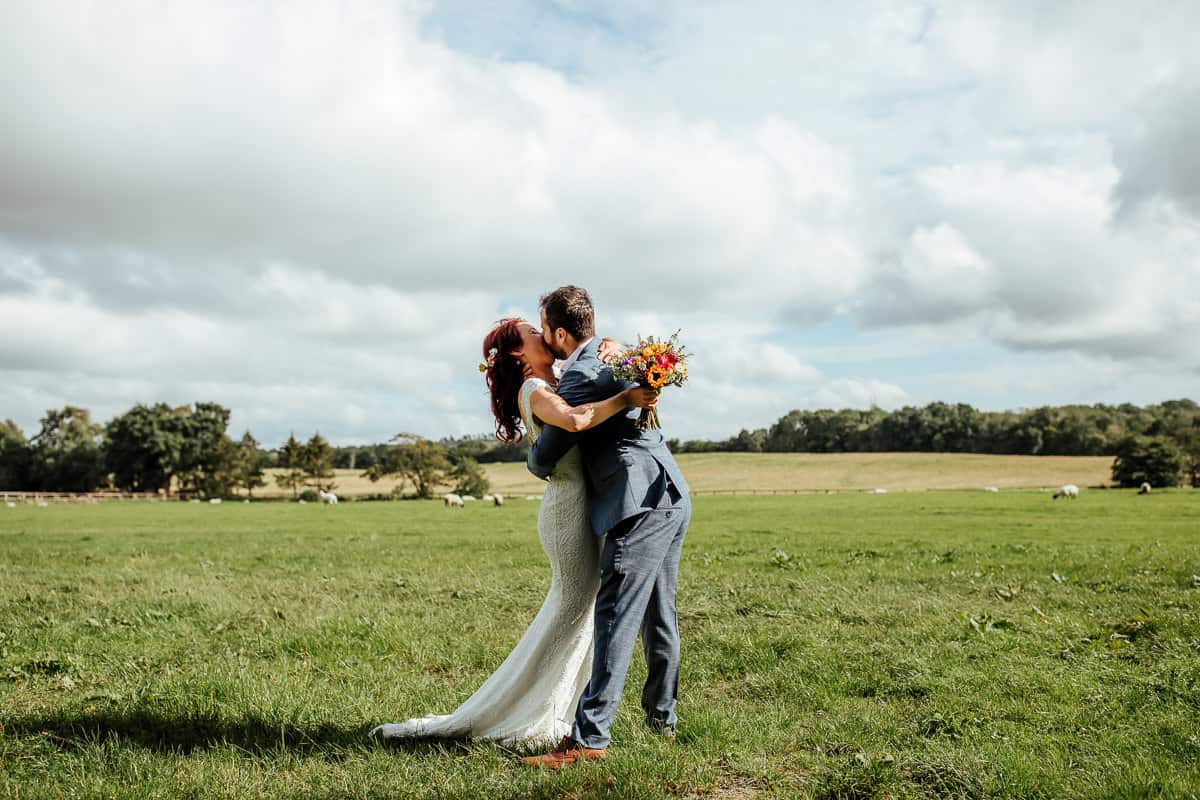 The benefits of a summer wedding are obvious: gorgeous weather, long days and lots of colour! It also means that these benefits are obvious to everyone else so you've got competition 🙂
really long days with daylight extending into the night. No need to worry about the light but you might also end up having your first dance in a brightly lit marquee!
summer is a really popular season so weekend dates tend to be booked very quickly for both venues and vendors. If you're having trouble with availability consider organizing your wedding mid-week!
it might not sound plausible for Ireland but summer days could actually get too hot and sunny! During a dry spell (like the summer of 2018, remember?) all the grass goes yellow, your guests wear shades in every picture, and your photographer frantically searches for shaded spots for photos!
Autumn Weddings
I love autumn weddings! The colours and the light are both stunning, and the air feels really fresh. Then again, the chance of rain increases with each day so it's a bit of a gamble! Have a look at this Cliff at Lyons wedding for some amazing autumn inspiration.
leaves turning colour. Especially true for October weddings in Ireland, the nature completely transforms itself.
the low light makes for stunning photos, especially if you're blessed with a sunny day. No need to worry about finding shade!
days getting shorter. The light may be magical but you still need to be careful to check sunset times and make sure you have enough time post-ceremony to enjoy some daylight!
the weather. It's Ireland after all, so there will be rain. And autumn might mean lots and lots of rain.
Winter Weddings
If Christmas is your favourite time of year you might want to combine it with celebrating your big day! And who would question it? Cosy fires, fairy lights, Christmas trees all around and festive spirit in the air – what's not to love? Winter weddings do come with their own complications though! Check out this guide with my tips for a winter wedding timeline.
friends & family home. A lot of my couples choose to have winter weddings because it means that family members and friends from overseas come over for Christmas. The best of both worlds!
no need for extra decorations. Both the streets and the venues really make an effort to look festive at this time of year!
really short days! With the sun setting at about 4pm you'll need to plan for an earlier ceremony and possibly doing a first look beforehand to save some daylight hours.
unpredictable weather. You might be in for the most amazing sunset but you might also end up having a misty and rainy day. And you most certainly won't be warm outdoors so a wrap is a must!
3. Who?
This may be one of the hardest questions to answer, but who do you want to invite? Is it going to be an intimate wedding with just your closest friends and immediate family? Do you want to have a loud party with all your friends? Will you invite all your neighbours and extended family? Depending on the number of guests you and your fiance are planning to invite, you'll need to figure out your budget and venue. Now that you have these questions answered, time to get into the details.

4. Start researching venues
Setting a date is a great way of how to start wedding planning. Unless you have just one specific date in mind, try to give yourself some flexibility and send venue inquiries about several days. Most venues have minimum guest numbers for Friday and Saturday weddings. Planning an intimate wedding mid-week will be easier. Depending on the size of your wedding and the venue style you prefer you'll be able to make a shortlist of available locations in the area.

5. Book your photographer & music
Bands and photographers are some of the first vendors to get booked, so don't leave it too long after you start planning your wedding. Figure out the style you like best and send inquiries to see if they are available on your date. And definitely organize personal meetings or at least a phone chat! These people will play huge roles on your big day, you don't want them to feel like strangers!
6. Be flexible with your budget
It might sound logical that setting your budget is how to start wedding planning. But it might be not as easy as you thought! Your wedding will probably be the biggest party of your life, and it's also a type of party you've never planned before. It's easy to over or underestimate what kind of budget you actually need. Instead of looking at average costs that wedding blogs frequently share and sticking to those numbers, set your priorities first. Are you looking for an wow-factor venue with an abundance of flowers, or would you be happy with a simpler backdrop? Are photos and video really important to you, or do you want just key moments documented? Will you be looking to splash on a designer wedding dress of your dreams or do you plan to buy a pre-loved dress or rent one?
If you fall in love with a certain venue or certain supplier, just think of ways around. Maybe you can cut down on the number of guests and invite only those you see on a regular basis? Maybe you can cut out little extras like personalized dress hangers and bathrobes but invest in a photographer whose work you love? From a photographer's point of view, I wrote a guide on the average cost of wedding photographer in Dublin and Ireland. And no, it's not as simple as a number! 🙂
7. Get inspired
A wedding day is a very visual affair, and one of the best part of planning is getting inspired by all the beauty! Pinterest is a fantastic tool for it. Start wedding planning by drawing your board with dresses, flowers, decor, cakes and images you love. You can later share this board with your vendors – trust me, we are a delighted when a bride can share her vision.
7. Don't stress!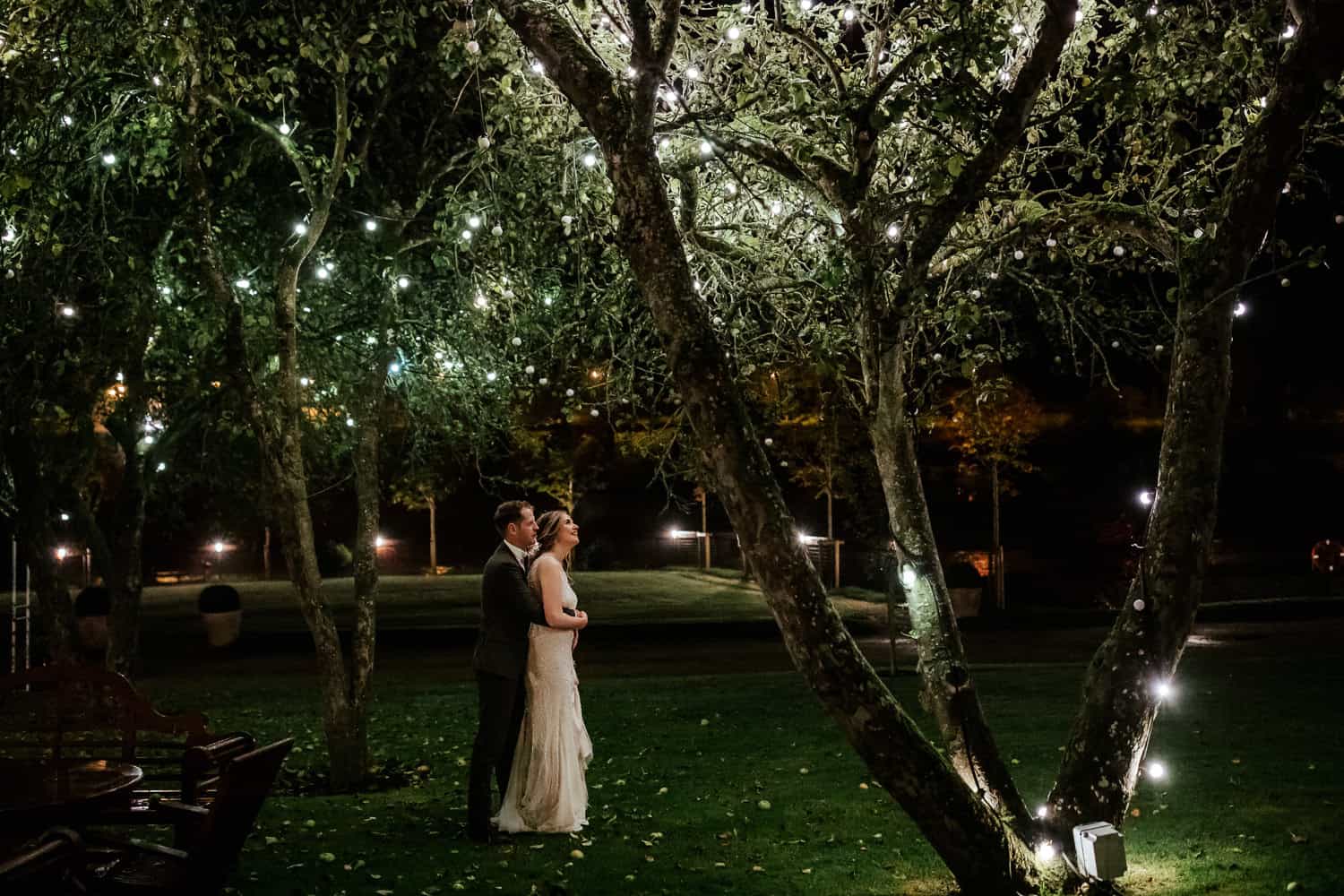 Wedding planning should be anything but stressful, and that's my best advice on how to start wedding planning. You are getting ready for one of the happiest days of your life, so make the lead-up exciting as well! Take up some DIY projects, enjoy research at a leisurely pace and most importantly, do it together. It will be a fantastic bonding experience, and you'll both be super excited when the day finally arrives!