As a wedding photographer, I get to see a lot of beauty on a wedding day. I have to admit, I have a soft spot for wedding flowers! Just like a wedding dress, the choice of flowers is so personal it tells a lot about the bride, and I love to see people's personality reflected in their bouquets. My house is also a bit of a houseplant jungle, so maybe that's why! I also know that when you start planning your wedding and pinning all these gorgeous ideas to your Pinterest inspiration board, it's very hard to draw up a budget and figure out the cost of wedding flowers.
That's why I've put together a few ideas to get you started, to give you the average cost of wedding flowers in Ireland so you can set your expectations. And if you're still looking for your dream florist, check out the best wedding flowers in Ireland!
Cost of Wedding Flowers in Ireland
You might be wondering what portion of your budget you should set aside for wedding flowers. Just like with anything else, the sky is the limit, and you can even pick the colour! Basically, there are a few things that will determine the cost of your wedding flowers, and the main factor is simply the number of flowers.
What looks like a simple bridal bouquet is actually pretty dense flower arrangements that uses a lot of flowers. Combine it with the fact that you're likely to want more than one variety and colour of flowers. Another cost factor is whether your flowers of choice are in season or not (hint hint: go for seasonal flowers, it's more eco-friendly too!).
Traditionally, most couples go for
a large bridal bouquet (€80-200);
smaller bridesmaids' bouquets (€60-150);
buttonholes and corsages (€10-30);
a floral arrangement for your ceremony (€150-700) – you can use it again for your top table later);
reception tables centerpieces (€30-150 per table).
Besides these essential pieces you might go for a few extras:
pew end arrangements for the church (€20-80;
flowers for your cake (€20-80);
floral arches (€300-700);
bride and groom chair decorations (€30-100);
thank-you bouquets for the mothers (€40-60)
Based on these figures, you can easily see the cost of wedding flowers in Ireland for a more or less traditional wedding is in the range of €800-2000.
How can you reduce the cost of wedding flowers?
1. Stick to just a few varieties of flowers
If you want a single protea in your bridal bouquet, your florist will still have to order 10 of them. Try to pick your few favourite types of flowers and use them throughout your wedding arrangements. Mix them into the bridesmaids' bouquet, candle arrangement and table decorations.
2. Use the same arrangements for ceremony and reception
If you're having two different venues for your ceremony and reception you can easily arrange to transport your arrangements from one location to another. You can ask your family or bridal party to help with smaller arrangements but you might want to hire your florist to manage bigger ones, like pedestals or floral arches. There will normally be an additional fee for transportation but it will certainly cut down on your total wedding flower budget.
3. Opt for one or two statement pieces
Instead of spreading your budget evenly over each table centerpiece and pew end, go for a few "wow" pieces that will really impress your guests. Pedestal vases, floral walls, a wish tree or hanging designs are all great ideas to really draw your guests' attention. You can decorate the rest of the place with lanterns or candles (your venue might be able to provide some pieces).
4. Choose flowers that are in season and local
Besides being eco-friendly, this advice will really help you to cut down on the cost of wedding flowers. One of the biggest expenses for the florist is sourcing the flowers themselves. Of course you can get ranunculus for your August wedding but they will have to come from South America, so maybe opt for a different variety! Besides, local and seasonal flowers will look much more natural in your wedding setting – tulips would be really unusual against colourful October foliage, right?
5. Listen to your florist's advice!
I know it sounds obvious but this is probably the most helpful tip of all. Your florist has your best interest, so be open-minded, and you might be surprised at the fantastic options they can come up with. It does help if you give your florist your general preferences. But if you don't force them to replicate the exact bouquets from your Pinterest board the result will be even more impressive than you expected!
Best Wedding Flowers in Ireland
Over the years, I've had a chance to work with some amazing and really creative Irish florists. So if you're still searching for the best wedding flowers in Ireland, check them out!
WALLFLOWER
Lennie Wallflower is an amazing Wexford-based florist and designer who is passionate about sustainability and aims to primarily use locally-grown flowers. Considering that Lennie is from the Netherlands, the flower capital of the world, that's really inspiring! She and her husband Paul have a farm near Tintern Abbey where they have their own cutting garden. Lennie and Paul offer full wedding styling services but is also happy to create a few items if you're working with a smaller budget.
What was your inspiration behind the florals?
"Most of my floral design is based on a colour palette often determined by the bridesmaid dresses and the season of the wedding. As I only got involved in this wedding two days before the big day (due to Covid date changes!) and it being the end of the 'Irish growing season' the florals literally were made with all the local stems available to me. Sometimes working with the actual seasonal flowers available rather than trying to re-create an image or style you have seen online results in a much nicer end result. Individual, unique, natural and textured meadow and garden inspired bouquets are my aim.
The flowers in the bridal bouquet included:
David Austin scented garden roses, Zinnias, Dahlias, Cosmos, Scabiosa, Nigella love in a mist, Ammi Majus, Eucalyptus, Sweetpea, White Hydrangea.
I loved the soft colour palette with White and Peach tones in combination with some stronger Magenta tones and a hint of blue. The roses bring beautiful scent, the Ammi Majus adds texture, the Nigella and Zinnias add delicacy and interest".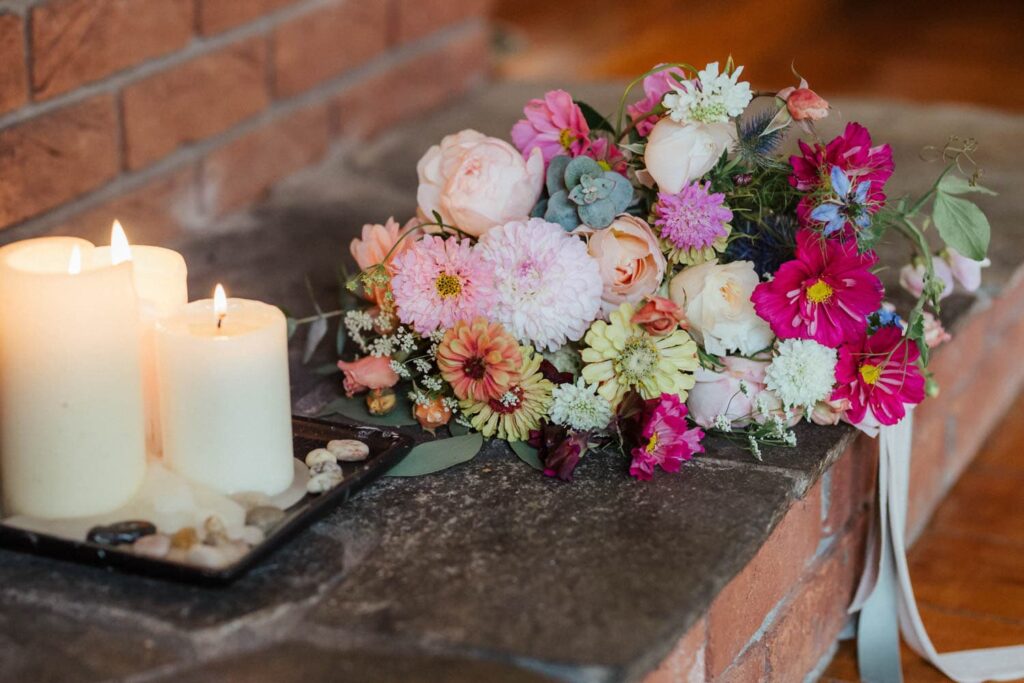 Lennie's best tips?
When it comes to wedding flowers try to be open minded. Check if there are any seasonal flowers available. The Irish Growing season is from Approximately March/ April until the end of October.
During the winter months foliage bouquets can look amazing. Try to think a little big outside the box and be open to do something a little bit different then what you see on Pinterest or Instagram for something new and interesting.
Wedding flowers add hugely to the overall 'look' and 'feel 'of your day. Many brides tell me after that they didn't realise how important their flowers were until the actual wedding day.
Pew ends can add up cost quickly. Sometimes some larger statement pieces like a large urn can make bigger impact. Design your flowers specifically to the space. Lots of small arrangements might not be noticeable in a huge church. Set a budget and work with that. Be realistic of what you can achieve within this budget. Flowers are costly and creating wedding flowers is a time consuming process.
MAD ABOUT FLOWERS
Seonaid Renton's studio name says it all – she's mad about flowers 🙂 (that's probably one of the reasons we get along!). Focusing on seasonal Irish-grown flowers, she has an amazing variety of flowers, foliage, grasses and berries on her farm in Co Carlow. Seonaid's designs are fresh, natural and incredibly romantic.
How do you usually pick the flowers and styles for your arrangements? 
Every wedding is so different, some briefs are very specific on colour and types of flowers and others leave it up to me.
I would often start by looking at flowers that will compliment the bridesmaids' dresses and ask if there are any flowers that the bride would particularly like to be included or have a significant meaning to them.
I love working with seasonal flowers and I grow a large variety so I like to include as many of these as I can. I also think that texture and movement are important so I like to include things like grasses, berries, seed heads, dainty flowers and different types of foliage and arrange them in a natural way.
Seonaid's best tips?
Be true to yourself and go with what your heart tells you, you don't have to follow trends.
If possible choose seasonal/Irish grown flowers which will reflect the time of year your wedding is taking place.
Try to repurpose ceremony flowers at the reception to help to reduce costs and create continuity.
AUSTEN FLOWERS
Camelia of Austen Flowers is based in Wicklow and takes her inspiration from this garden county of Ireland. I mean, who wouldn't? She uses both traditional flowers, like roses and peonies, but is also happy to experiment with less common varieties. I love her use of distinct colour palettes. One of the shoots we've worked together on was a La La Land inspired bridal shoot. We obviously went with yellow and purple hues – it's the only way to get these dreamy LA sunset colours in Ireland! Camelia created absolutely stunning arrangements. So if you're not afraid to go for bold colours she is your girl!
What was the inspiration behind the florals?
Fiona chose a muted colour scheme of off whites and greys for a timeless, classical beauty look. The colour scheme complemented both the bridal party gowns and the general wedding theme. Very much 'less is more' idea, and it worked really well. We used garden roses, peonies, baby roses and lisianthus flowers, interspersed with three types of fragrant grey eucalyptus.
For the shoot I started with the colour scheme dictated by the vivid colours from the movie, and then added the chamomile flowers to mirror Mia's personality. The rest of the flowers were chosen also because they were in season at the time, and seasonality is a major factor in my work, as it's more environmentally friendly.
Camelia's best tips?
Trust your florist – they want to create beautiful arrangements for your wedding day, and have the expertise and knowledge to go beyond the more known rose and baby's breath combination. Unleash your florists' creativity boundaries, and you'll receive uniquely designed wedding florals that will enchant you on your wedding day and the years to come.
FLEUR WEDDINGS
Fiona's Fleur Weddings creations never cease to take my breath away. She grows her own flowers, and her arrangements and bouquets always look really personal. Fiona's style is perfect for romantic and vintage weddings but she also experiments a lot with less common flowers if you're looking for something more contemporary. I love how fresh, leafy and natural her work looks!
What was the inspiration behind the florals?
Elaine wanted a loose botanical style bouquet with lush greens and a statement flower for her bouquets. We choose the protea which matched the bridesmaids dresses perfectly and which added a real wow factor element to the bouquet.
The proteas were accentuated by fluffy astilbe, white Delphinus, garden roses and white dahlias which are a beautiful addition and look gorgeous in photographs. I grow these specially for summer and autumn brides.
I also used a mix of Irish eucalyptus for greenery and textured chrysanthemum and bunny tail grasses to add texture and movement.
Fiona's best tips?
Choose the best flowers and floral designer who understands colour and is passionate about what they do. Flowers play such an important part in your day and will feature in many of your photos . The florals are a huge styling element for the day.
Consider styling your reception tables with compotes of florals, matching candlesticks and create interest with fruits and place settings of greenery, herbs or florals. Cakes look beautiful when styled with fresh flowers. Consider also adding lush elevated designs or a hanging installation for a true wow factor.
ONCE UPON A WEDDING
https://www.onceuponawedding.ie/
Laura from Once Upon a Wedding does not only flower arrangements but the whole styling service complete with props, seating plan, centrepieces and more. I worked with Laura on a gorgeous international wedding. The bride and groom had met in South America and then spent two years traveling between Ireland, the States, Canada, the UK and Sweden, so it's no wonder travel was an important theme for their big day! I loved the soft pastels Laura used for the bridal flowers and the world map seating plan.
What was the inspiration behind the florals?
According to Laura, the bride Mei had her own vision board which she shared with her via e-mail as she was planning from abroad. Patrick had proposed with a beautiful rose gold diamond ring which inspired the colour palette for her wedding. Laura and Mei chose peach blush roses and ivory filler for her bridal flowers with grey and sage green foliage and bound with a beautiful lace fabric to best complement her wedding dress and engagement ring. They carried these colours into the ceremony and reception styling for a cohesive look throughout her venue, Wright's Anglers Rest, but added in a few surprise stems for interest into the table centrepieces.
Laura's best tips?
Cohesion! Even if you have to opt for less expensive variety of flower, use the same varieties in your bridal flowers as well as in your ceremony and reception flowers. It makes for better visual impact on the day and makes for a beautiful photography album forever.
Hydrate! Our bridal bouquets are always delivered in water filled boxes but I recommend refreshing this water to keep them at their best for longer. Leave them in situ until just before you leave for the ceremony. Don't forget to pat dry with some kitchen paper to avoid water drips!