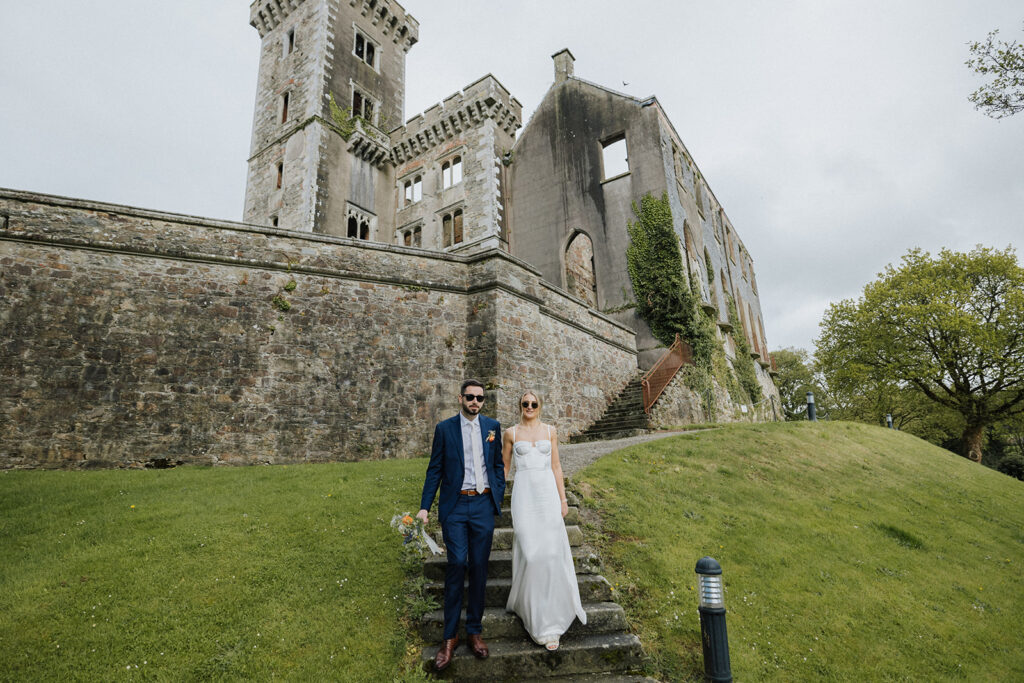 A real hidden gem in the heart of County Wexford, Wilton Castle took my breath away as soon as I arrived. It's definitely one of the most unique wedding venues in Ireland! It dates back to 1274, when the area saw its first fortified tower, and has had a rich and exciting history since (including one of Ireland's last pistol duels!) But its most dramatic event took place in 1923 when it was burnt down by arsonists!
It could have been the end of the castle but thankfully its history continued when the land was sold off to Sean Windsor who grew up on a farm nearby and got the idea to restore the ruin. After years of works and careful restoration, the tower and two-storey wing have once again become a home, while the picturesque ruin next to it reminds us of the rich history of the place.
Wilton Castle is a unique place to host your celebration, and it's no wonder it's such a popular space for a romantic wedding. It has 7 bedrooms in the restored wing and is perfect for both an intimate and large celebration. As soon as Juliette and Stephen saw the charming castle and the stunning fairytale forests surrounding it, they knew they found their venue.
Wilton Castle Wedding Ceremony and Reception
The ruin space is a very popular choice of ceremony space, however due to weather concerns they decided to move their ceremony to the banqueting room. It's a spacious room that seats up to 85 people for dinner but if you have a larger party you can set up a marquee on the grounds.
Wilton Castle weddings are always bespoke celebration, so you won't find traditional wedding packages. There is a minimum hosting fee of €2100 for up to 40 guests, and after that you can include any other additions you wish, like a marquee or catering. Sean will make sure your day is exactly what you dreamed of!
Wedding Photos at Wilton Castle
One thing you'll definitely struggle with is picking locations for your wedding photos – there are just so many unique spots! From the magical ruins to the underground tunnel, from the brook in the woods to the lush rhododendrons… Just see the photos below for yourself!
After the morning showers it turned out to be a gorgeous May day with the most beautiful sun coming out from the clouds and bringing everyone outdoors for the drinks reception. There were cocktails in the sun, a confetti shower, a romantic sunset stroll through the woods and then dancing the night away to the Beatles Tribute Band!
The Vendors