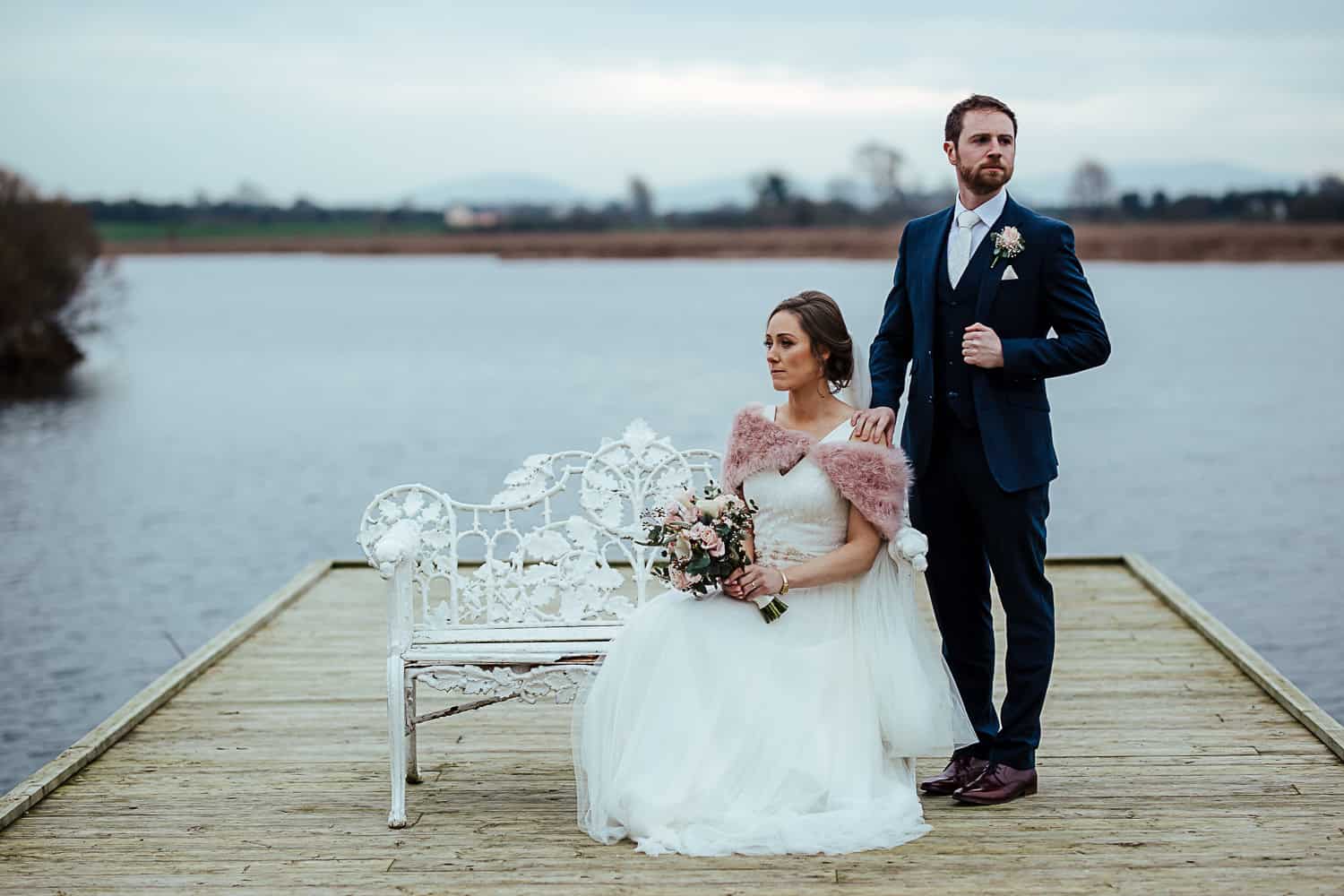 Whenever I get to spend some time with my couples before their wedding day their wedding day just feels like going to a friends' wedding! I got to meet Rachel and Tom as we enjoyed this amazing sunset in Killiney Hill. Their engagement shoot was super fun and relaxed. I could immediately see the deep love and affection between them. We chatted for literally hours (we found out that Rachel and I both love to talk, haha!). They told me how they met through playing tag rugby and how they loved to travel. They planned their Ashley Park House wedding for early January to be able to have all their family around from overseas. They loved their engagement photos so much that they asked me to photograph their Ashley Park House wedding. To say I was delighted would be an understatement!
Irish Country Wedding in Tipperary
Irish country weddings have their own unique charm. Ashley Park House is certainly one of the most impressive wedding venues in Tipperary. You can experience the real heart and feel of the country while having a luxurious experience and some of the best food I have tried in Ireland!
Located beside Nenagh on a beautiful 76-acre estate on the edge of Lough Ourna, it's the perfect romantic setting for your big day. There is a woodlands area, a walled garden and a beautiful lake with a pier. Being a family-run venue, Ashley Park House feels incredibly warm. No request is too small or too difficult for Margaret, the main wedding coordinator. You can have your ceremony on site, too. There is a an amazing structure with glass walls overlooking the lake. This way you can have your ceremony with a view while being sheltered from rain and wind!
Winter Wedding – Mission Impossible?
Now, as much as I love a good winter wedding with Christmas lights and open fires, I'm also not a big fan of those short days. Rachel & Tom had over 200 guests attending, and their church was an hour away from the venue. They wanted to stop for bridal party photos on the way, and they were definitely doing the greeting line! Sounds like Mission Impossible when it gets dark at 4pm. Yet, knowing the guys, I somehow knew it would be fine and things would go smoothly. And they did!
Rachel and Tom both got ready in their homes. While Tom was having a banter with the lads Rachel enjoyed a relaxing morning with her sisters and parents on the family farm. The ceremony was really personal, with lots of hymns, beautiful speeches and Rachel's sister performing a few surprise songs. The greeting line went by smoothly, and we got to do all the family photos right there at the church! As I jumped into the car ready to continue on the journey I couldn't believe how much daylight we still had ahead of us.
King Oak
The special place Rachel and Tom wanted to visit is the King Oak at the entrance to Charleville Castle. It was one of Rachel's favourite places to play as a child, and also happened to be Ireland's 2013 entry for European Tree of the Year! I have to say, it is a truly majestic tree, and seeing it in real life was really exciting. Rachel went and climbed the branches in her wedding dress! Only to go on and toss the rugby ball with Tom and their bridal party. You know what they mean when they say they are having a relaxed wedding!
Wedding Photos at Ashley Park House
With some daylight hours still remaining we also got to explore the grounds of Ashley Park House itself. With 76 acres of land, you'll definitely find some amazing photo spots. My personal favourite is the pier coming out into Lough Ourna. The views over the still water are incredible. The path leads through the woods into a charming walled garden. There is a summer pavilion and a greenhouse for truly Wes Anderson-inspired shots. And then there is, of course, the house itself with its unique veranda and charming green shutters. A romantic place that's hard to beat!
Ashley Park House Wedding
Ashley Park House was the perfect spot for Rachel and Tom's reception. It's a beautiful period building with two large drawing rooms for your drinks reception and spacious bedrooms upstairs. The long colonial-style veranda is where you can drink champagne on a summer's day. Rachel and Tom's guests stayed by the fires in the drawing rooms. As part of the pre-dinner dinner reception there were cups of soup. What a brilliant idea for a winter wedding!
The wedding dinner was held in the impressive pavilion located right next to the main house. The elegant space features wooden floors, fairy lights and floral chandeliers, and seats up to 300 guests. Ashley Park House wedding packages start at €98 per person and include beautiful white linen table covers, crystal glasses, fresh flowers around the venue and Prince Albert crockery.
If you are hosting a smaller wedding of up to 70 guests you can enjoy your meal in the drawing room instead. Full of cozy sofas, vintage crockery and quirky elements, it's bound to wow your guests.
Ashley Park House can also provide ample wedding accommodation for your wedding guests, with 50 bedrooms and cottages available on site. There is also local accommodation available just 10 minutes away via a shuttle bus, so it's really great for a traditional large Irish country wedding.
Scroll below to see more of Rachel and Tom's winter wedding at Ashley Park House.