Ireland is a wonderful place if you're looking to have a castle wedding. Some castles are light and airy, others have an elegant and luxurious feel to them. If, however, you're looking for proper medieval atmosphere not too far from Dublin, Kinnitty Castle wedding is the perfect choice. Located just outside Birr in Co. Offally, this magnificent venue is an easy 90-minute drive from the capital.
Daphne and Dave planned an amazing multicultural wedding. For all Daphne's friends and family coming from Canada being in a real Irish castle must have felt extra special. Daphne and Dave are two impossible lovebirds. After having a chat with them over a coffee and hearing their beautiful story I couldn't wait for the Kinnitty Castle wedding they planned. They chose to tie the knot in the country where they built their home.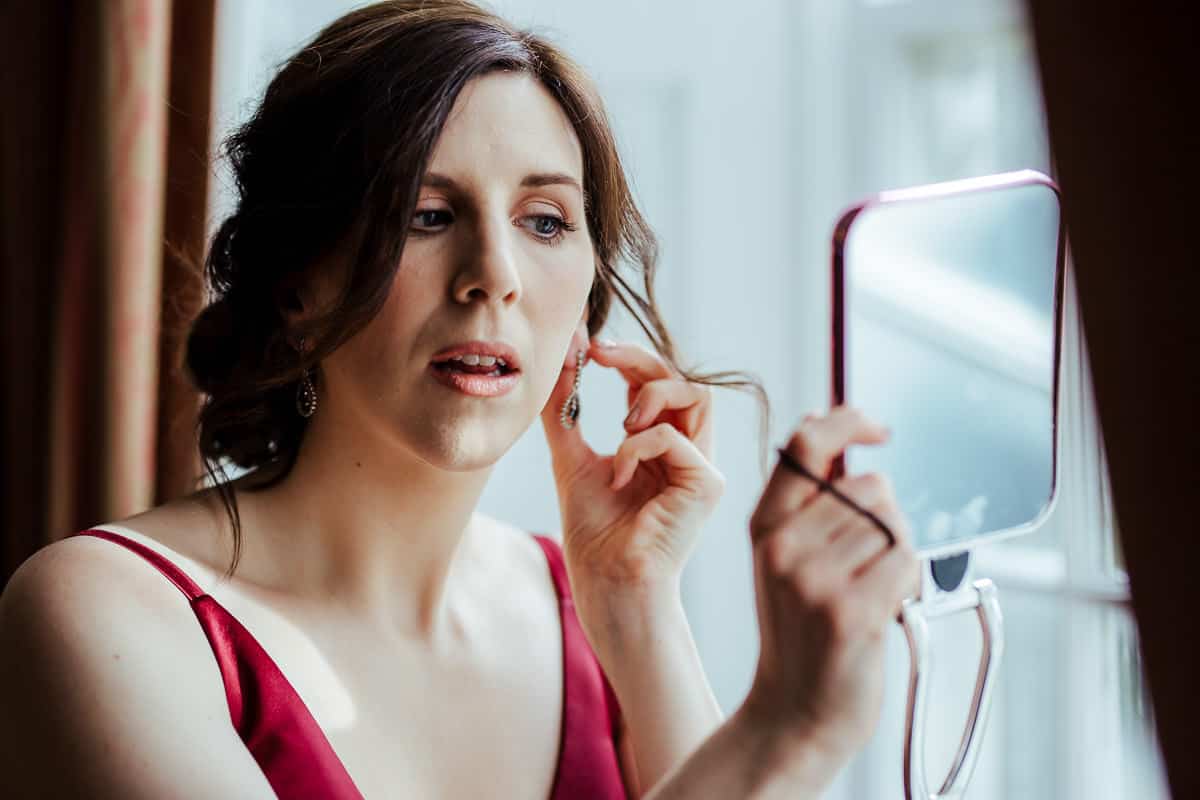 Getting Ready and Accommodation at Kinnitty Castle
Daphne and Dave both chose to stay and get ready at Kinnitty Castle. I always find it the best option. You needn't worry about travelling to your venue in the morning or getting stuck in traffic. You also have an amazing bridal suite for great light, lots of space and beautiful morning preparation photos.
Kinnitty Castle is also a hotel, and unlike many other Irish castles it has a lot of bedrooms to accommodate all of your guests. In total there are 34 bedrooms for at least 74 people. If you have larger numbers, there are several B&B's within a 5km radius, plus more beds available in nearby Birr.
I was hooked to photograph Daphne and Dave's wedding from the moment Daphne sent me that first e-mail. She mentioned they weren't having a very traditional wedding and she wouldn't be wearing a traditional white dress! How fitting and elegant is this incredible burgundy gown from Covet? I absolutely loved Daphne's choice to stay true to her style, and her taste is impeccably elegant. Dave turned a few heads as well, in his navy blue suit coupled with a bow-tie, a top hat and even a real cane! I heard the word "dapper" more than once.
First Look – Kinnitty Castle Wedding Photos
Another plan of Daphne and Dave's that got me hooked was their plan to go with a first look. I didn't even need to convince them! I thought it was one of the sweetest moments of the day. Daphne couldn't wait to see her husband-to-be and positively ran to Dave! Just like magic the storm that had been raging in Ireland for over a week lifted in a second! I often say Irish weather is magical and seems to be quite partial to weddings.
To save time and allow the couple to enjoy their drinks reception we did all of the couple photos in the courtyard before the ceremony. It's a lovely secluded spot between the castle and the Great Hall where the main wedding festivities take place. The courtyard is often used for the drinks reception on a sunny day, or even for an outdoor ceremony.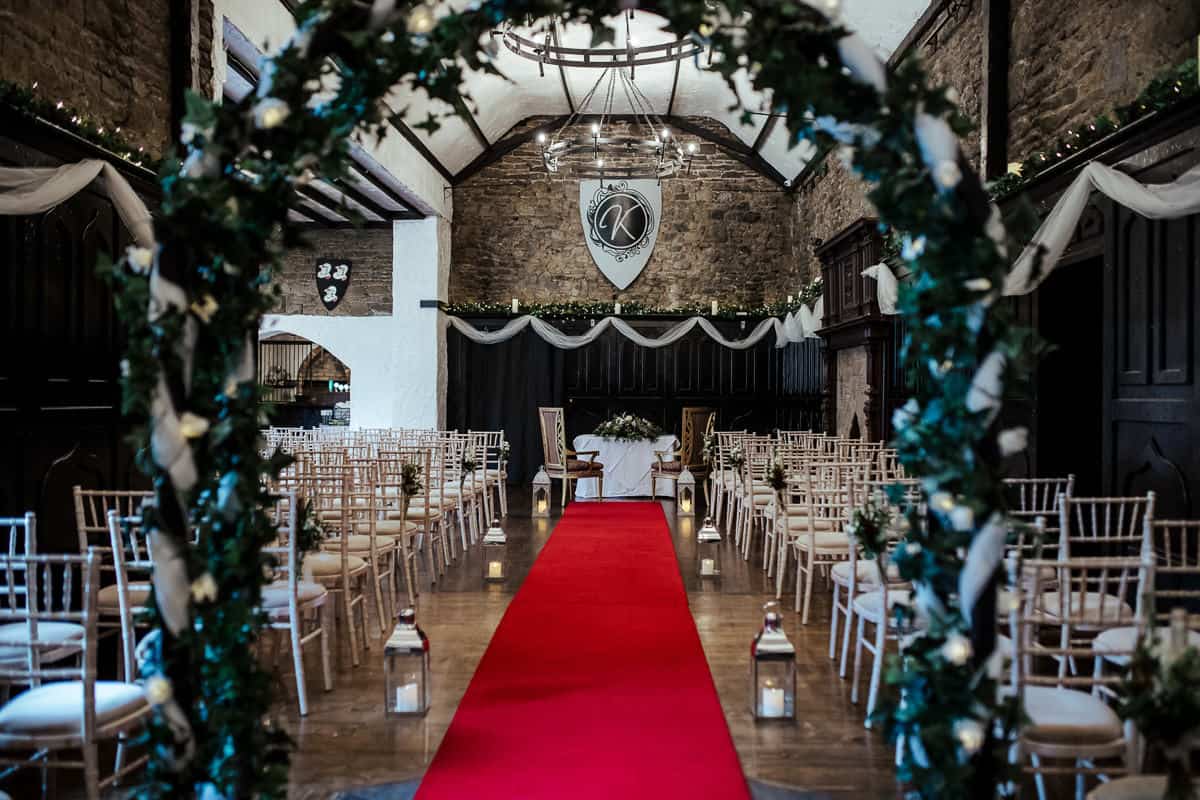 Civil Wedding Ceremony in Kinnitty Castle
When you think of castles, dark medieval rooms might come to mind. The Great Hall of O'Carroll's, which is the most common space for wedding ceremonies, is nothing like it. It's bright, spacious and impossibly elegant. The windows along the wall let in enough light but still allow for romantic candlelight to fill the room. Accommodating 200 guests, it's a beautiful space to say I Do's.
If you heart is set for an outdoor ceremony, the courtyard just outside the hall is a lovely option. Both the hall and the courtyard ceremonies cost an additional €500 to your wedding package. They are fully licensed spaces to hold your ceremony. For smaller non-legal binding weddings you can also use the Drawing Room in the main castle building that seats up to 60 guests.
Kinnitty Castle Wedding Reception
Kinnitty Castle has a few beautiful drawing rooms that are perfect spaces for your guests to mingle and enjoy a drink after the ceremony. The Library is filled with light. The courtyard is a popular space to enjoy the sun on a nice day. Daphne and Dave used part of their drinks reception to host a table quiz, with fun trivia questions about Spice Girls, Shakespeare, Canada and Ireland. It was amazing to see all the guests mingling, sharing their culture and laughing so hard!
The wedding meal is often called a "banquet", and Kinnitty Castle is one venue that definitely justifies this word. Hosted in the Great Hall of O'Carroll's with long tables, candlelight and royal-inspired cuisine, it is a true sight. Even though the guests had seen the space earlier during the day for the wedding ceremony, it was completely transformed and had a new wow-factor at dinner time. The venue's maximum capacity is 200 guests, with a minimum of 100 for Friday and Saturday weddings.